If you are searching for the best things to do in Dubois Wyoming, you're in the right place. This charming town, nestled just 90 minutes away from the South entrance of Yellowstone National Park, is a must-visit destination for nature enthusiasts.
The town of Dubois offers a variety of activities for nature lovers and various events to ensure everyone has a great time.
The Dubois area is just a scenic drive away from Grand Teton National Park and a 90-minute drive from the South entrance of Yellowstone National Park, which makes it a popular destination for travelers.
With a wealth of outdoor recreation, wildlife viewing, and plenty of unique things to do, this small town is one of the best places to visit in the Western United States.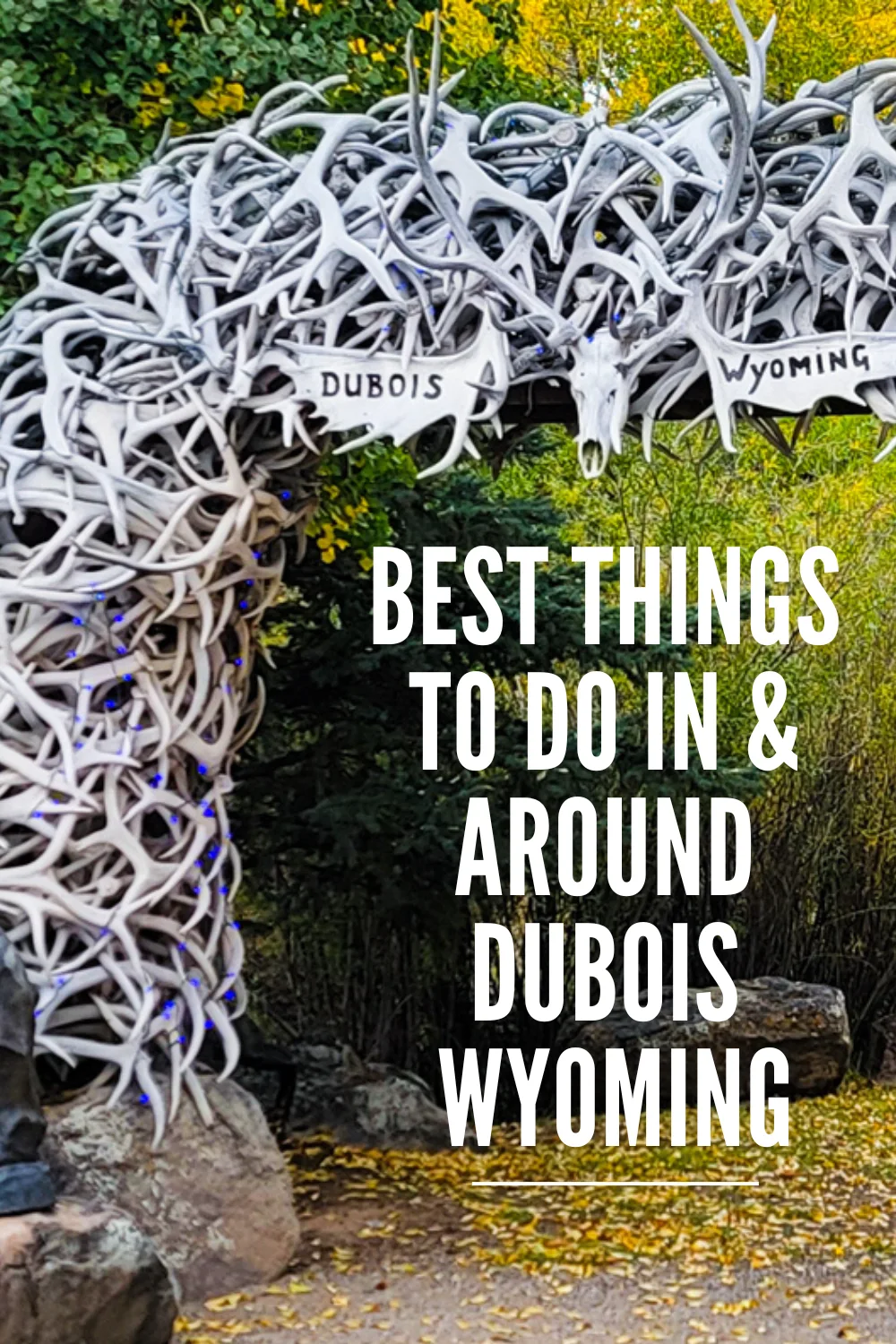 Shopping
Experience small-town living while hitting the main street in the town known as W Ramshorn or US Highway 26.
Mingle with mountain men and pick up an extra set of tees for your adventure. Pop into the coffee shops and browse the unique souvenirs these quaint shops have to offer. Step back in time and embark on a nostalgic journey by visiting the local drugstore.
If you share my appreciation for nostalgia, you'll be captivated by the charming red cushioned seats set against the backdrop of classic black and white tiled flooring.
Then make your way to the Horse Creek Gallery, where you can admire exquisite pieces of art intricately carved into antlers, leaving you in awe of their craftsmanship and creativity.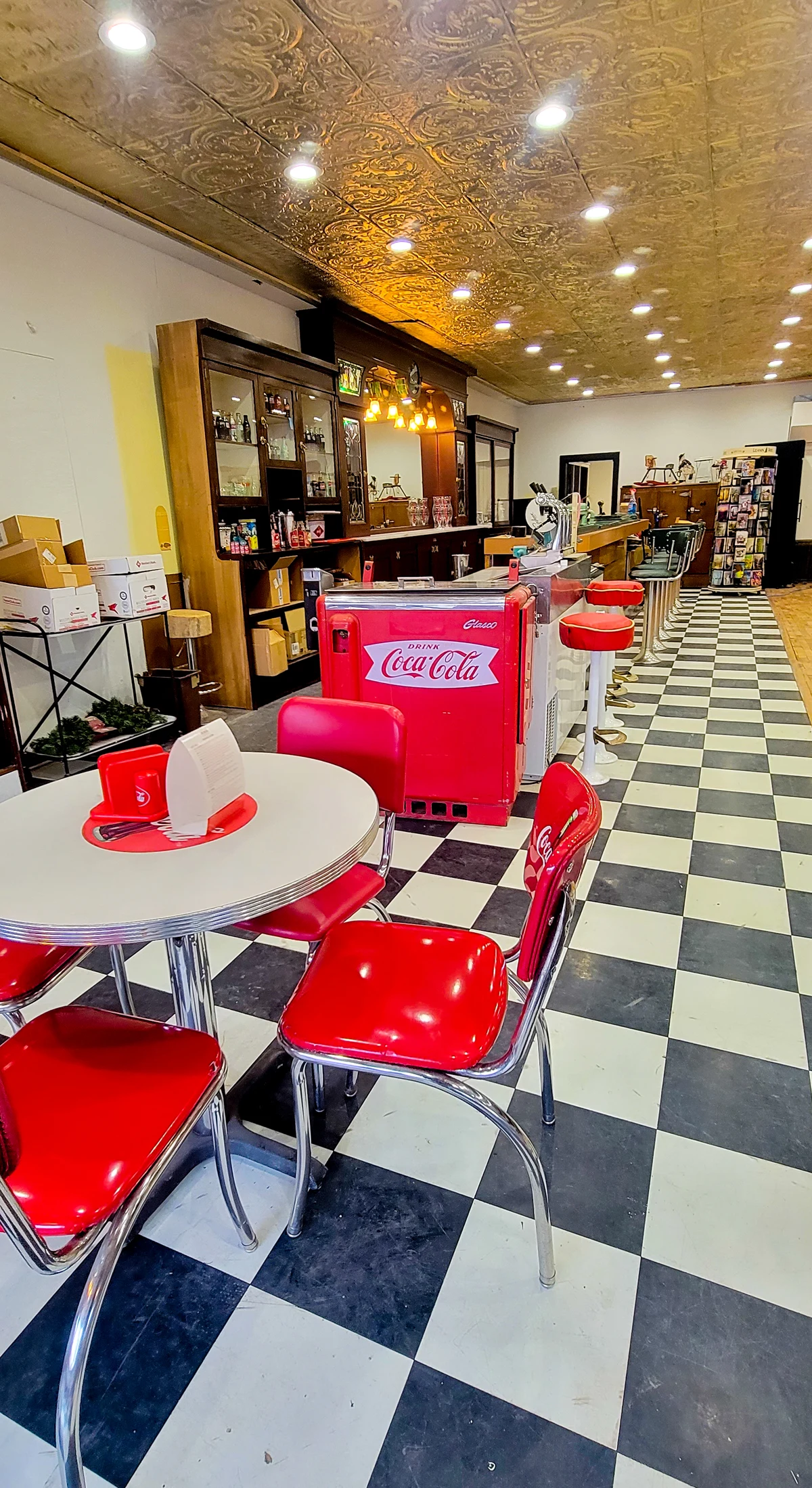 Rock Climbing
Rock climbing in Dubois, Wyoming offers a thrilling and unique experience for outdoor enthusiasts. The area boasts an array of rock formations and climbing opportunities, making it an increasingly popular destination for climbers.
This area has it all, from limestone cliffs to granite crags. This diversity provides opportunities for climbers of all skill levels, from beginners to experienced climbers seeking a challenge.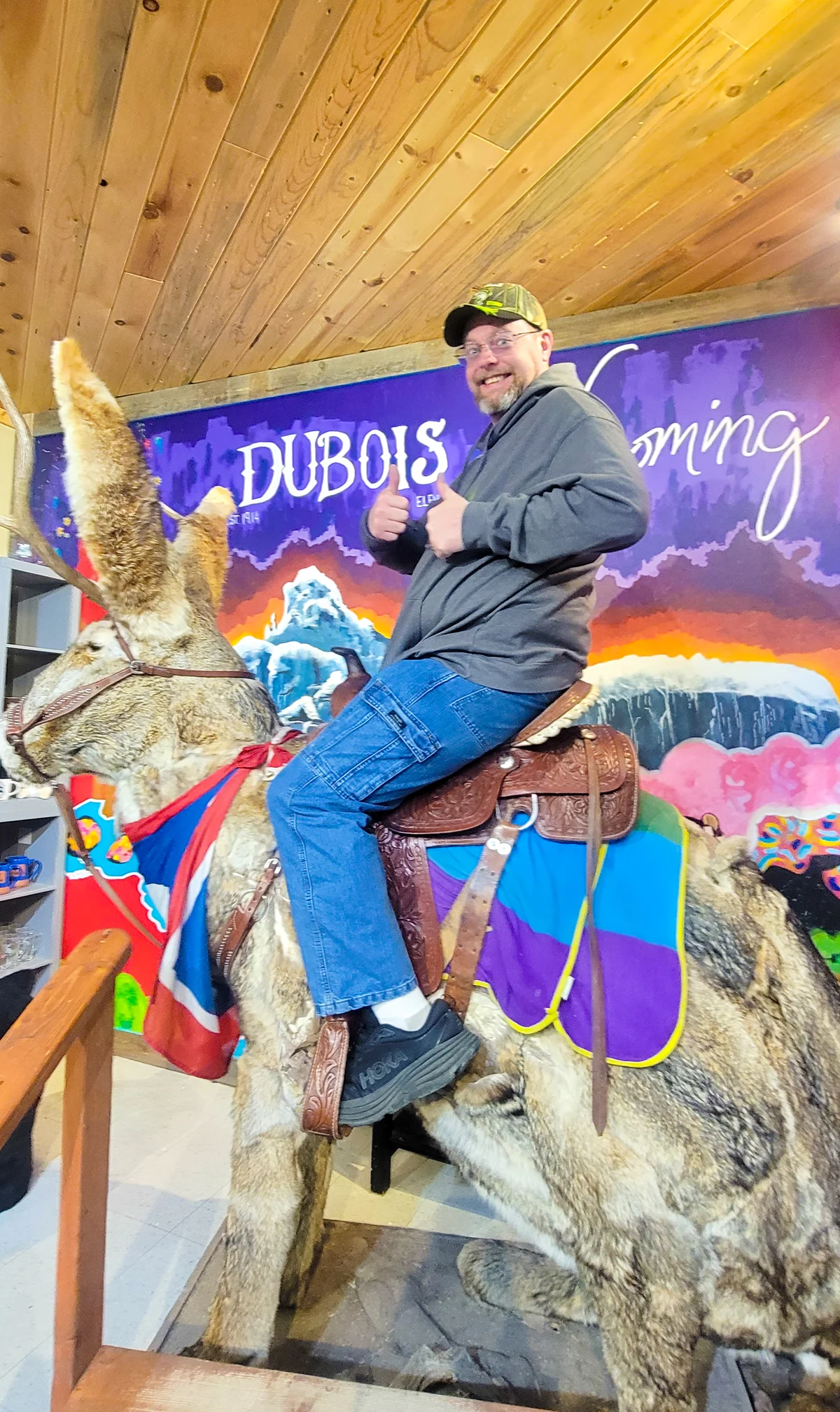 Visit the World's Largest Jackalope Exhibit
Pick up some souvenirs and get a picture on top of the giant jackalope while exploring the area. The store sells a variety of items from snacks and toiletries to unique gifts and plenty of souvenirs.
The biggest draw of this spot is the giant jackalope so don't be shy, hop on top and get a silly picture.
Giant Jackalope Exxon Country Store is located at 404 W Ramshorn, Dubois, WY 82513
Take a Photo Under the Antler Arch
While you're exploring Dubois, be sure to capture a truly unique photo opportunity – standing beneath the iconic antler arch.
This incredible arch, crafted entirely from authentic antlers, greets visitors with its rustic charm and symbolizes Dubois' deep connection to the wilderness.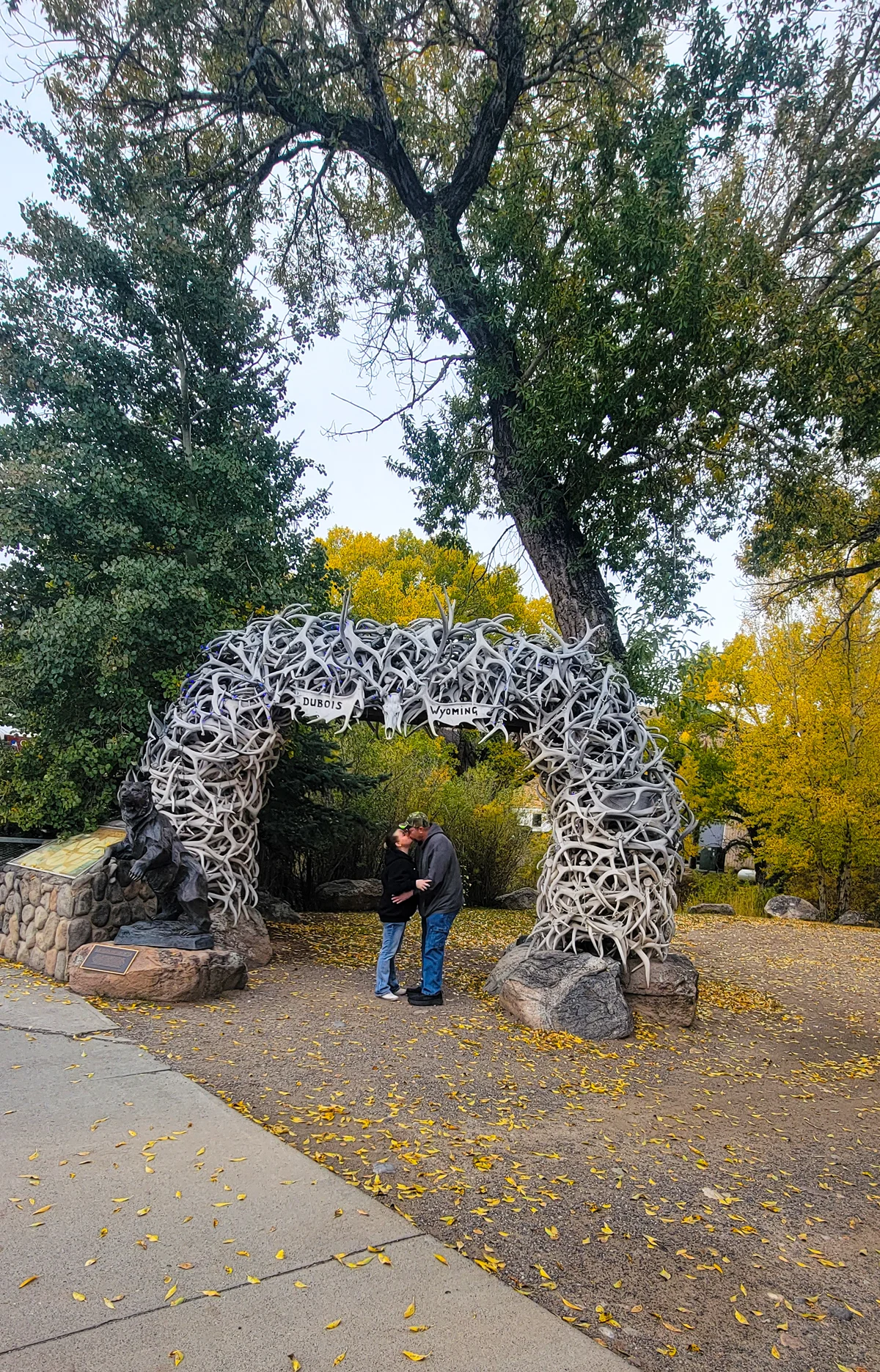 Eat A Buffalo Burger
When you're in Dubois, make sure to stop by the Cowboy Cafe for a true taste of Wyoming – a Buffalo burger. It's not just a meal; it's a genuine Dubois experience.
Buffalo meat is lean and bursting with flavor, offering a delightful glimpse into the Old West.
At the Cowboy Cafe, a local gem, you can savor these hearty burgers with all the traditional toppings, creating a mouthwatering connection to Wyoming's culinary heritage.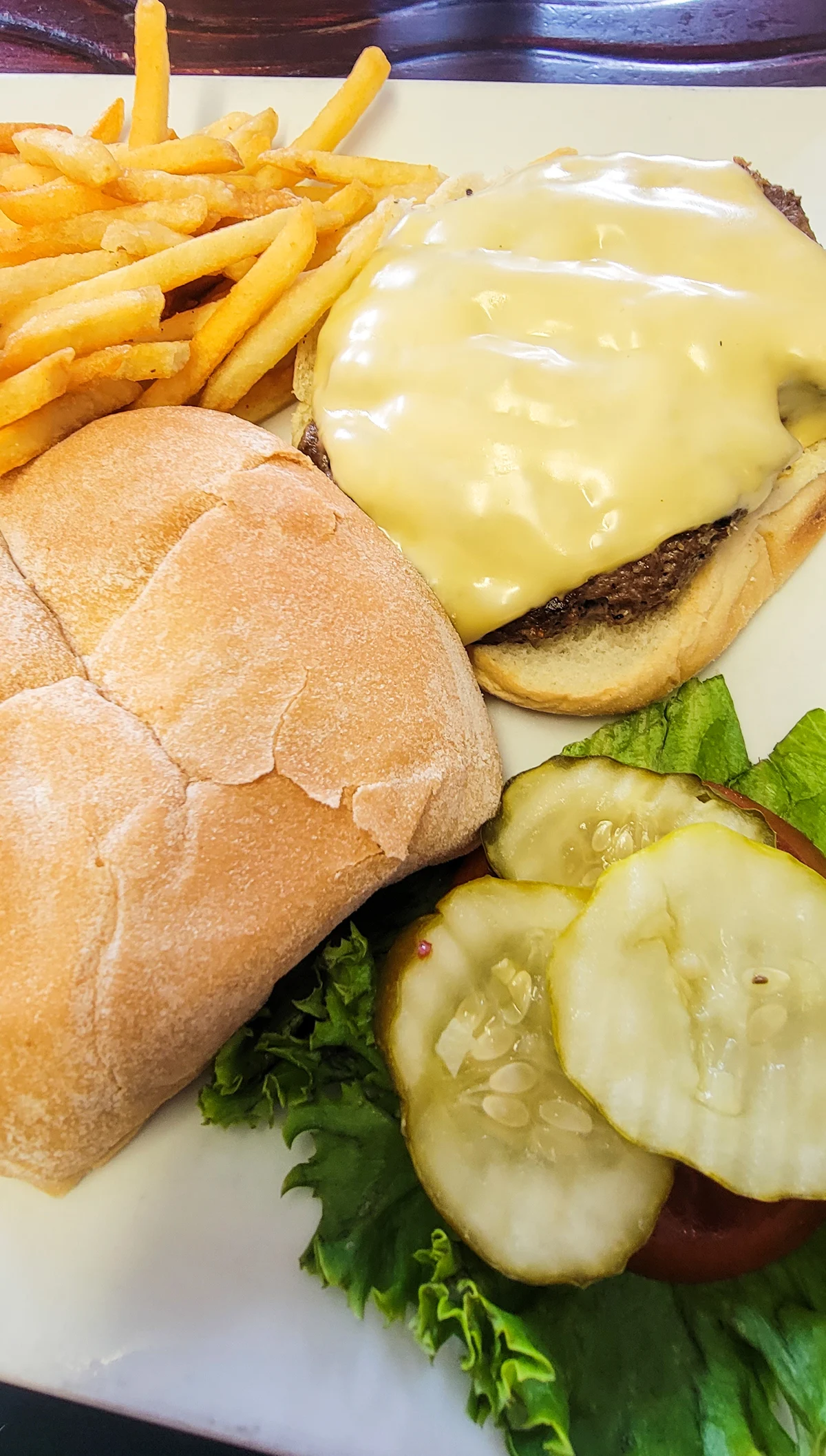 Best Things to Do in Dubois Wyoming for Thrill Seekers
Mountain Biking
Dubois is fast gaining recognition as a premier mountain biking destination. Thanks to the efforts of the local nonprofit Dubois Association for Recreation and Trails (D.A.R.T.), the mountain biking community is flourishing.
The Overlook Trail system, meticulously designed for riders of all levels, stretches 4.2 miles and provides stunning Wind River Range vistas.
Tackle the 48-mile Union Pass Road, which connects Dubois to Pinedale, provides cyclists with a thrilling adventure. This route offers a mix of gravel road, dirt road, and paved surfaces, adding an exciting element to the ride.
Horseback Riding
Horseback riding in Dubois is an unforgettable experience, allowing visitors to explore the scenic beauty of the region while immersing themselves in the Western cowboy culture.
Whether you're a novice or an experienced rider, there are various riding opportunities available, from leisurely trail rides through picturesque landscapes to more adventurous outings that take you deep into the rugged backcountry. Saddle up and discover the Wild West charm of Dubois from a unique perspective.
Some of the most popular guest ranches in the area are the Crooked Creek Guest Ranch, Bitterroot Ranch, and the CM Ranch.
Dog Sledding
Dog sledding in the Dubois area is an unforgettable adventure that offers outdoor enthusiasts a unique blend of natural beauty and a deep connection with the great outdoors and local wildlife.
This is a great place to embark on dogsledding adventures in the Winter season, ranging from half-day excursions to overnight or multi-day journeys through the Shoshone National Forest and the Continental Divide.
Click here to learn more about dog sledding in Dubois, Wyoming.
Best things to do in Dubois Wyoming for History Buffs
National Bighorn Sheep Center
The Bighorn Sheep Interpretive Center in Dubois is a must-visit for wildlife enthusiasts. It's dedicated to the magnificent bighorn sheep, one of the American West's most distinctive species.
Dubois is home to one of the country's largest winter herds of these impressive creatures. The center's exhibits provide insight into their natural habitat and behavior, and guided tours offer a chance to spot them on the cliffs and mountain peaks. Don't miss this opportunity to learn about and witness the largest herd of bighorn sheep during your visit to Dubois.
The National Bighorn Sheep Interpretive Center is located at 10 Bighorn Lane, Dubois, WY 82513
National Museum of Military Vehicles
Visitors to this museum can expect a profound tribute to veterans and active-duty servicemen and women.
The museum features three major galleries with immersive exhibits focusing on World War II, the Korean War, and the Vietnam War. The museum boasts an extensive collection, spanning 160,000 square feet, making it home to the world's largest private collection of over 500 fully restored military vehicles.
Additionally, it houses a historically significant firearms collection, including the authenticated musket that fired the first shot in the Revolutionary War Battle of Bunker Hill.
This unique experience is perfect for those interested in military history and the stories of our nation's heroes.
TheNational Museum of Military Vehicles is located at 6419 US 26 Dubois, WY 82513
Best Things to Do Around Dubois Wyoming
Shoshone National Forest
Explore America's first National Forest, the Shoshone National Forest, spanning 2.5 million acres in northwestern Wyoming.
This vast wilderness offers a diverse range of outdoor activities, from camping and fishing along the North Fork of the Shoshone River to thrilling whitewater rafting adventures in the Summer months.
Hikers will find fantastic trails in the Wapiti District, while winter enthusiasts can enjoy cross-country skiing, snowmobiling, and ice climbing during the colder months.
The forest's rich history, named after the Shoshoni people, adds cultural significance to its natural beauty.
Conveniently located near Cody, Wyoming, the Shoshone National Forest is an easily accessible and captivating destination for nature lovers.
Get up close views of the beautiful Brooks Lake and if you explore at the best time, you may get a glimpse of grizzly bears, mule deer, a mountain lion, or other wildlife that has been spotted here.
Shoshone National Forest is located at 808 Meadow Lane Avenue Cody, WY 82414
Bridger-Teton National Forest
Discover the natural wonderland of Bridger-Teton National Forest Dubois, Wyoming. This vast 3.4 million-acre forest, east of Grand Teton National Park, is renowned for its wild rivers, three breathtaking wilderness areas including Bridger, Gros Ventre, and Teton Wilderness, and abundant wildlife.
With an extensive network of trails and plenty of developed camping sites, visitors can expect scenic views of the Teton range, and the surrounding area the national parks have to offer.
Bridger-Teton National Forest is located at 340 N. Cache Jackson, WY 83001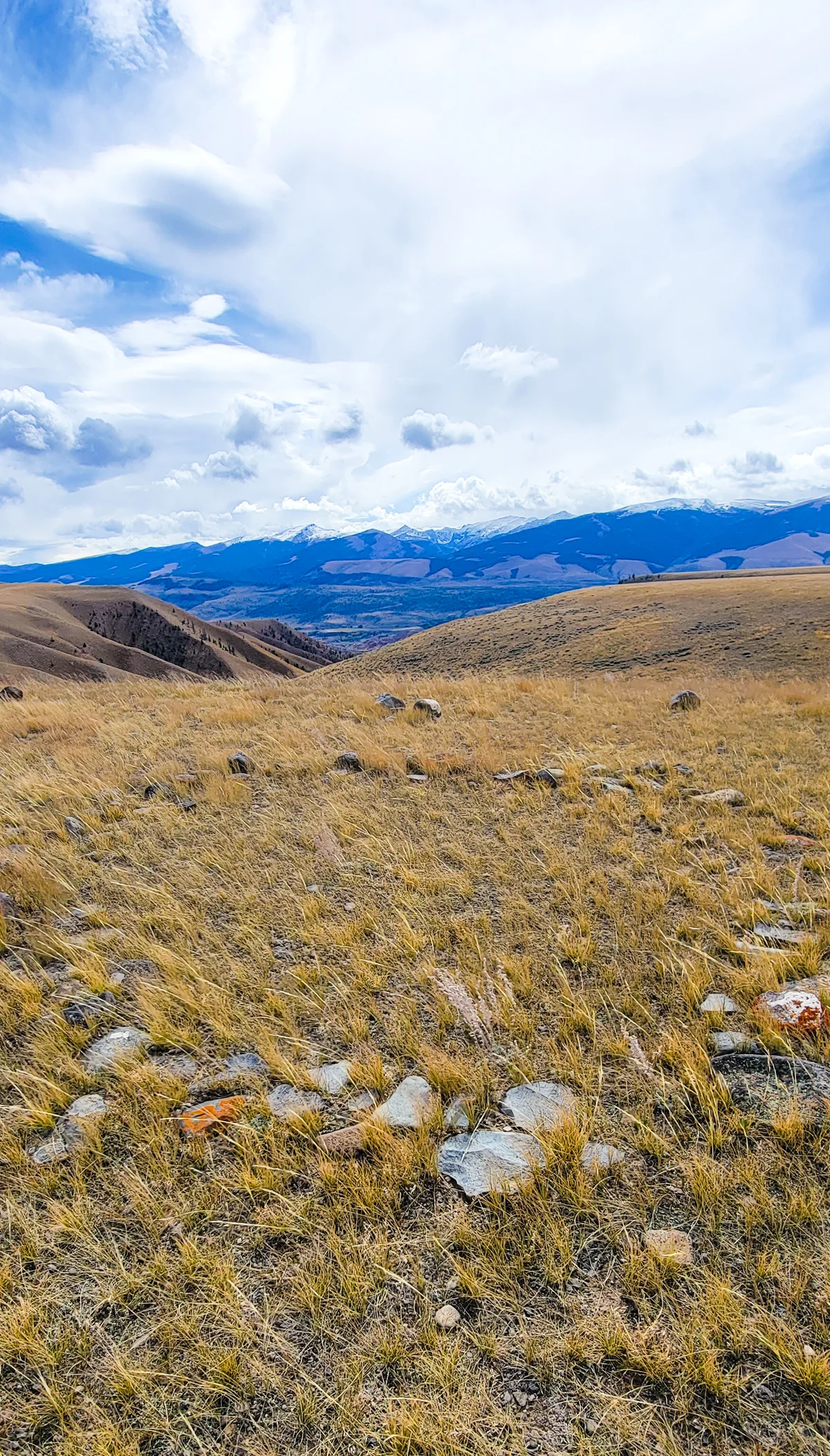 Unique Things to do In Dubois Wyoming
Explore Table Mountain
Tourists have the opportunity to venture across the mesa and get an up close and personal look at Indian tipi rings.
If you are able to rent an off-road vehicle to get to this location it is definitely a once-in-a-lifetime experience.
If you would rather go with a guide, you can participate in educational tours led by the local museum.
The mountain's elevated vantage point offers sweeping vistas of the Badlands, making it a perfect destination for history buffs and those seeking adventure.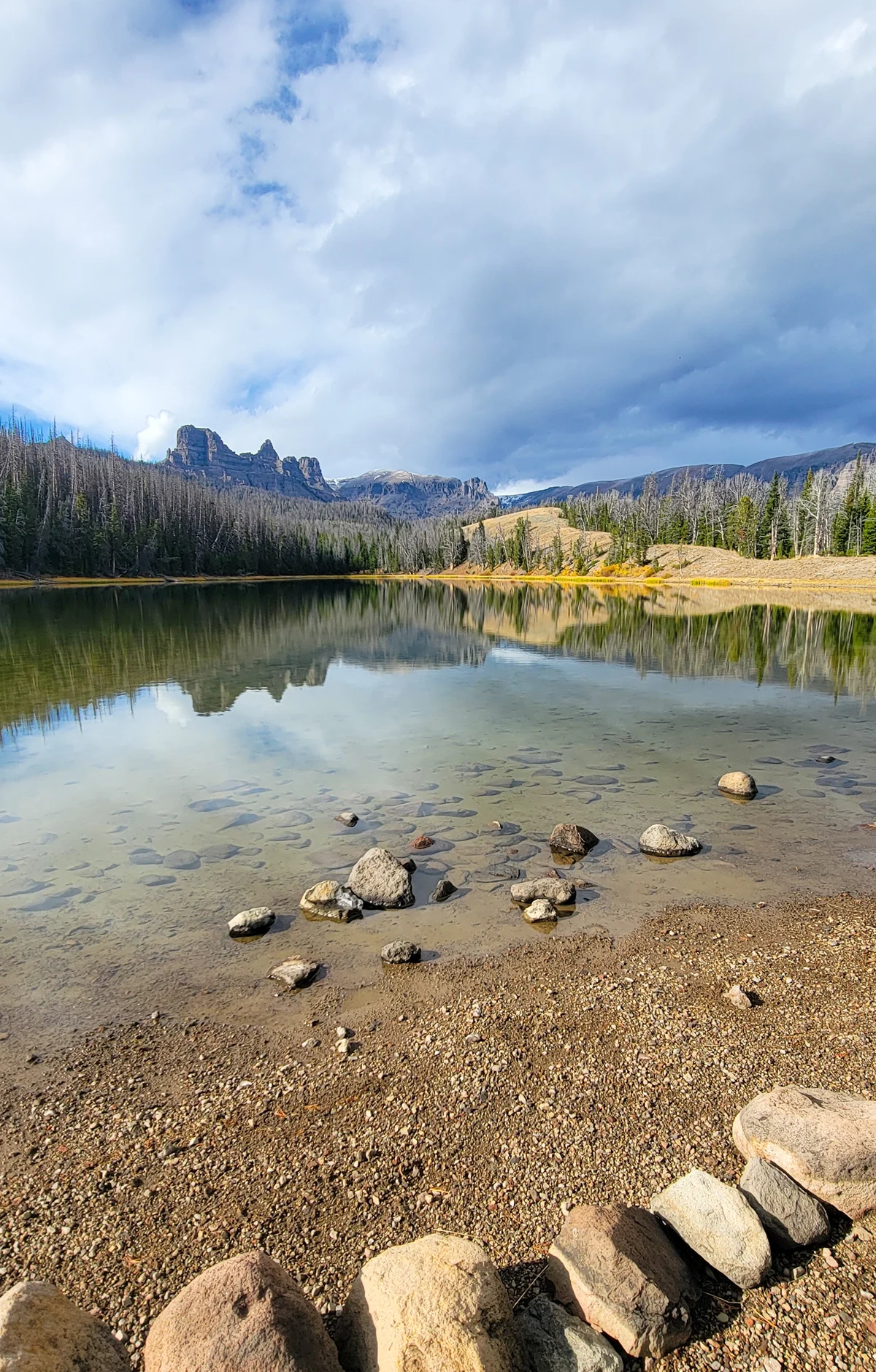 Wind River Mountain Ranges
Spanning around 100 miles and boasting iconic peaks such as Wyoming's highest, Gannett Peak. Nestled between vast national forests and featuring three wilderness areas, it's a vital part of the Greater Yellowstone Ecosystem.
The Wind River mountains offer a rich history, with Native Americans like the Shoshones and Absarokas residing there for thousands of years, and it's been a magnet for explorers and adventurers through the late 1800s.
Wildlife enthusiasts can enjoy a variety of outdoor activities like hiking, climbing, and skiing in iconic spots like Titcomb Basin and the Cirque of the Towers.
The Wind River Mountain Range is located at 29 E Fremont Lake Rd, Pinedale Wyoming 82941
Wind River Indian Reservation
Wyoming's Wind River Reservation offers a unique opportunity to immerse yourself in the culture and heritage of America's First Nations.
With 2.2 million acres, this expansive reservation encompasses communities like Fort Washakie, Ethete, St. Stephens, and Arapahoe, as well as sun-drenched landscapes and culturally significant sites. Explore the Northern Arapaho Experience Room at the Wind River Hotel & Casino or the Wind River Historical Center to learn about the early settlers through the many educational programs offered.
Journey along the Wind River Reservation Trail, spanning 70 miles and featuring vital locations amid breathtaking country, and attend a powwow where dance contests and celebrations provide an authentic Indigenous cultural experience.
The Wind River Canyon Scenic Byways stretch from milepost 100 in Shoshoni to milepost 134, north of Thermopolis, creating a picturesque route.
Whiskey Basin
Not far from Dubois lies Whiskey Basin, a 12,782-acre haven with three glacial lakes and an impressive bighorn sheep population. Explore ancient petroglyphs etched by prehistoric inhabitants, depicting intriguing images that may resemble both wildlife and outer space creatures.
The region is renowned for fantastic fishing and hiking opportunities, including the challenging Glacier Trail leading to Gannett Peak and the picturesque Lake Louise hike, covering six miles round trip.
Dubois also offers captivating trails like the Badlands Trail with panoramic vistas, the Frontier Creek Trail passing a petrified forest, and Union Pass, your gateway to the Continental Divide Trail.
Square dancing
Square dancing is a beloved tradition in Dubois, and you can't visit without experiencing it for yourself. Head to the Frontier Room at Rustic Pine Tavern for a lively night of square dancing.
According to the locals, a Tuesday night here is where the real fun happens and is the only place to be. Join in the toe-tapping, do-si-do action and immerse yourself in the town's vibrant culture.
It's a fantastic way to meet locals, make new friends, and create lasting memories of your trip to Dubois. So, put on your dancing shoes and get ready for a night of traditional Western fun!
More Things to Do in Dubois Wyoming
Other highlights in the area include the Dubois Museum open from January through December and the Dubois Rodeo which takes place every Friday night from mid-June to mid-August.
Explore the Togwotee Pass in the Absaroka Mountains or head down the banks of the Wind River valley for plenty of Winter activities and scenic drives.
While in the area you may also want to head about an hour and a half northwest to visit Jackson Hole, a popular tourist area for travelers from all over the world.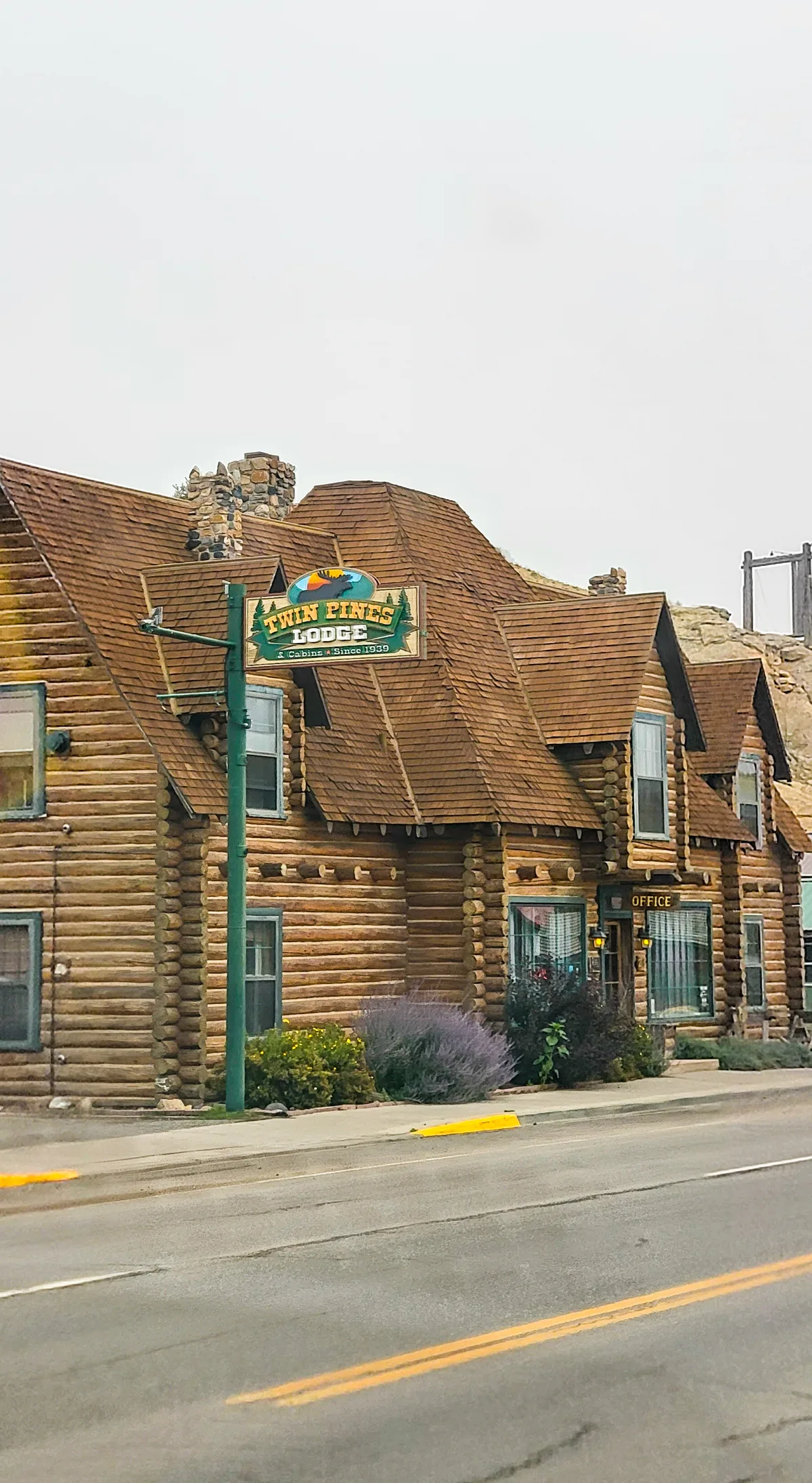 Best Places to Stay in Dubois Wyoming
Choosing the best place to stay while visiting Dubois can be difficult because there are many options to choose from in the area. The Twin Pines Lodge and cabins boast floor-to-ceiling fireplaces for a cozy experience.
If you enjoy staying in the comfort of a traditional hotel, you may want to check in to the Stagecoach Inn & Suites. Or you can stay in one of the many RV parks or ranches offering some of the best fishing the area has to offer.
When planning on where to stay in the area it is best to consider where else you want to travel and what your favorite things to do in Dubois Wyoming are.
If you plan on heading to Thermopolis to hit the Hot Springs, you may want to check out this guide sharing where to stay in Thermopolis.
For those traveling to Yellowstone and looking for accommodations in Montana, you may want to check out this guide that shares what you may not expect from a trip to Yellowstone National Park.
I hope you enjoyed learning about the many things to do in Dubois Wyoming. Consider signing up for the free newsletter so you never miss another post like this one again!