There is nothing more enjoyable than eating delicious guilt free desserts that are made with all natural ingredients. I enjoy making recipes with real foods and leaving out all of the poisonous add ins that are found in most package foods.
Although my family is not following SCD, I love being able to serve them delicious guilt free desserts like our newest favorite, Apples & Cream.

This is a two part recipe but don't let that scare you away, it is so simple to make! All you will need to make this Apples & Cream recipe is:
Ingredients needed for the Baked Apples
4 apples
1/2 Lemon
4 Teaspoons Vanilla Extract
2 Teaspoons Cinnamon
8 Tablespoons of Honey
4 Ramekins
Ingredients needed for the Vanilla Ice Cream Topping
32 Ounces Coconut Milk
4 Tablespoons Vanilla Extract
1/2 Cup of Honey
3 Egg Yolks
2 Tablespoons of Butter
Frying Pan
Ice Cream Maker
Preheat oven to 375 degrees
Slice Apples thinly and place into ramekins. Drizzle lemon juice on top of each pile of apples. ( divide the half of lemon juice between the four) Add 1 Teaspoon of vanilla extract to each dish. Sprinkle a half of a teaspoon of cinnamon as well as 2 tablespoons of honey on each.
Bake in the oven for about 12 minutes, pull out and stir each dish. Return to oven for about another 12 minutes. Let cool in refrigerator for about 2 hours.
In a frying pan add coconut milk, 4 tablespoons of vanilla extract, 1/2 cup of honey, 2 egg yolks, and 2 tablespoons of butter. Stir while heating on medium for about 10 minutes. The mixture will thicken a little bit while cooking but be sure to scrape the sides so that the mixture doesn't stick to the pan.
Remove from oven and let cool in refrigerator for 2 hours. Put into Ice Cream maker when it has cooled completely and churn for about 30 minutes.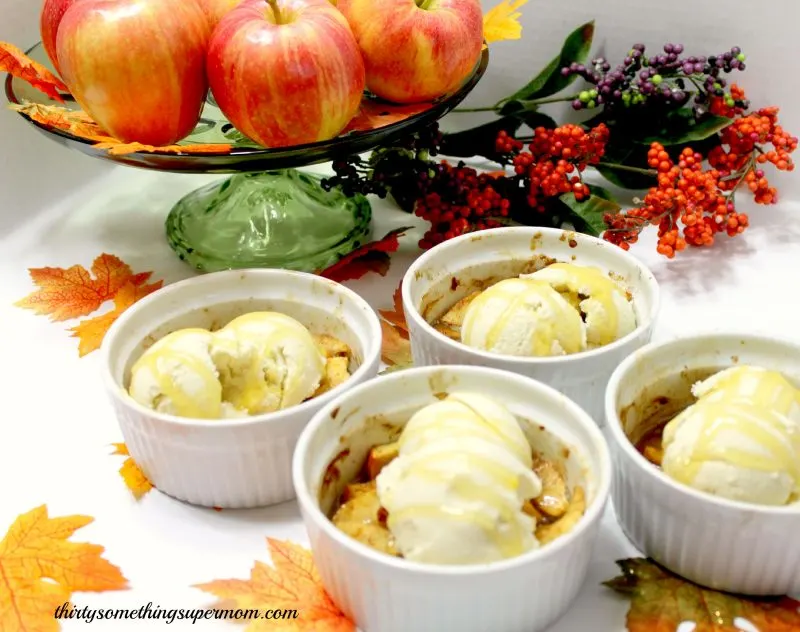 Scoop ice cream on top of the baked apples and serve immediately. Drizzle a little bit of honey on top for the perfect presentation and enjoy!
Are you interested in seeing more of your favorite recipes made healthy? Follow Thirtysomethingsupermom on Facebook, or sign up for my newsletter, so you can be the first to see all of the Guilt Free Desserts.