This DIY Ottoman Makeover contains affiliate links which means that if you make a purchase after clicking a link, I will receive a small portion of the sale at no additional cost to you.
I really enjoy creating and sharing DIY projects so when I have inspiration for a fun project, I like to tackle it right away.
It can be hard to find time to dedicate to a project so I like to keep them as simple as possible. It should come as no surprise that my latest DIY project requires no sewing and it can be done in under one hour!
Last year when building a plank accent wall I decided to create a sitting area with a couple of chairs and a console table.
I love the way it turned out, it looks fantastic, but sometimes I just want to be able to put my feet up so I have been on the lookout for an ottoman to make the seating a little more appealing.
Supplies Needed for this No Sew DIY Ottoman
All you need for this project is a staple gun, staples, some fabric, scissors, and of course an ottoman.
My husband and I went shopping at a local consignment shop and came across this eyesore. It was a perfect size and shape for what I was looking for but it certainly was not the color or pattern I wanted.
The design on this ottoman reminds me of the 80s and not in a good way like the show The Goldbergs.
It's more like in the movie The Butterfly Effect where you have the urge to go back and change things when remembering them.
Although I can't erase the memories it brings back to me, thankfully I am able to change the look of it.
Pick out your fabric and measure it to make sure it will fit your ottoman. I only needed one yard and was able to spread it across my ottoman to see that it would be big enough to cover it.
If your ottoman has little flaps sticking off, just cut them as close to the seam as possible, your new fabric will hide any leftovers.
Starting stapling the fabric to the bottom of the ottoman, there should be a piece of wood where the previous fabric was stapled that you can reuse to secure your new fabric.
The first side you start with doesn't necessarily need to be pulled taught because when you reach the other side you will then be able to fix any wrinkles or loose edges.
Be sure to hold it tight because you want to make sure you are keeping the fabric straight while stapling.
Staple all along the edge and then move to the opposite side of your ottoman. When you are stapling an opposing side to a part you have already worked on you may need a helper to pull the fabric tight.
Just while you staple or you can hold the legs down with your knees to keep it in place, that's what I did.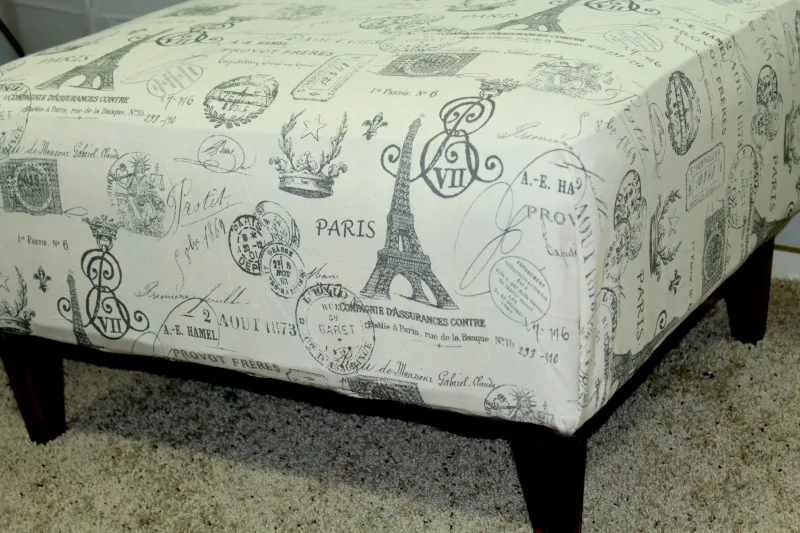 When you get to the corners fold the edge into a triangle underneath the outer layer so you are able to leave a clean straight line behind.
Staple that fabric underneath as well making sure it is pulled tight on both ends.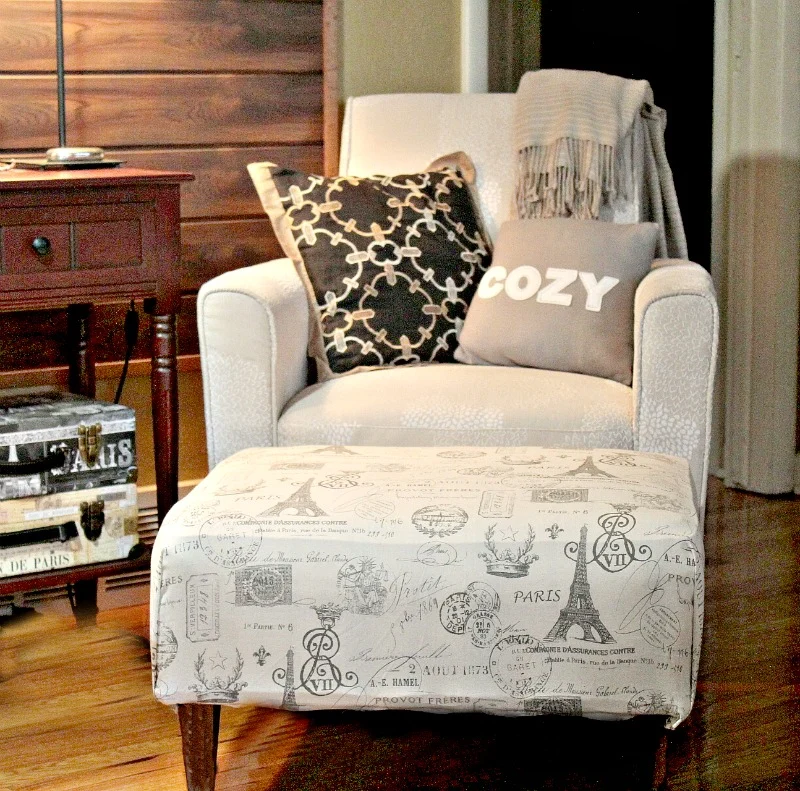 I love the way it turned out and I think the fabric fits in well with my accent wall. This DIY Ottoman Makeover was so easy to do and it has inspired me to make even more easy DIY projects so stay tuned for more fun inspiration!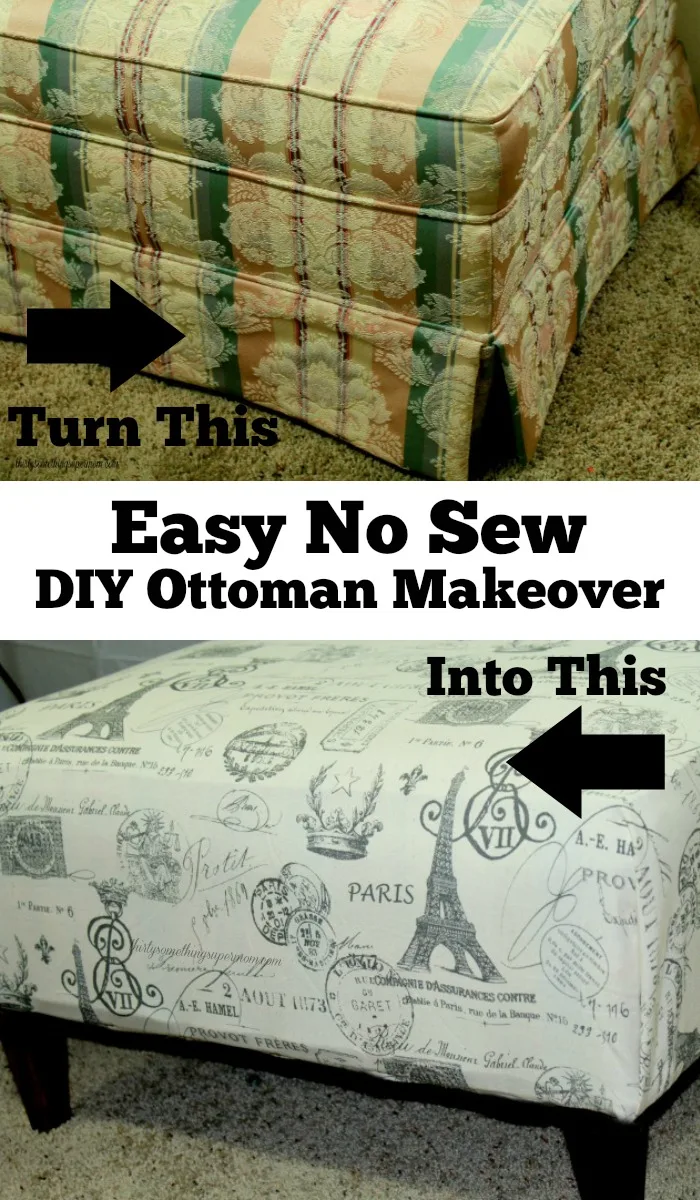 Looking for More Easy DIY Furniture Projects?
Learn How to DIY a Pallet Bedframe here.
This DIY Pallet Coffee Table is easy to make, no matter your DIY skill level.
Make your own sofa table to display decor in an otherwise unused space. This DIY Sofa Table is so easy to recreate!
Be sure to sign up for the free newsletter, share this post on social media and follow me so you never miss a post again!