I have received a gift card from Wayfair to help facilitate this post, all opinions are my own.
DIY Wall Decor-Wood Plank Accent Wall
I love home improvement projects but finding the time to get them done and fitting them into my budget is not always easy. I am really lucky to have a husband who can make the crazy decor ideas I have become a reality and with some careful planning we were able to create this wood plank accent wall for less than $75!
I love the rustic look of wood plank walls but have never attempted this DIY Wall Decor project in the past due to time and money but with this project only taking an hour to finish with such a low price tag, I was excited to get started!
We headed to our local hardware store and picked up our planks. We chose the pre-finished knotty alder planks which we picked up for 2.99 per 8-foot plank. This allowed me to skip right past the staining part which saved me so much money and time.
We also picked up 4 sticks of oak trim as well as a box of trim nails. We already had the tools needed for this project because as a homeowner you are always needing to pick up tools for different household jobs and overtime you accumulate quite a bit.
List of materials and tools needed for this DIY Wall Decor project:
Ball peen hammer
trim nails
compound miter saw
Table saw
Tape measure
Drill
4 ft. Level
Oak Trim
Pre-finished Knotty Alder planks
Measure the wall to decide how many planks you will need, I decided to center my planks and surround them with trim to create a picture frame type accent wall.
This is a great way to create a DIY accent wall for an oddly shaped room or difficult layout. The trim on other doorways sharing the wall in my living room made it difficult to line up the trim around the planks so I decided on the picture frame layout and I love the results.
When purchasing your planks it is always better to pick up a few extra to account for any bad cuts or measurements. Most hardware stores are pretty good about letting you return unused products so if you have leftover you can always return them when your project is complete.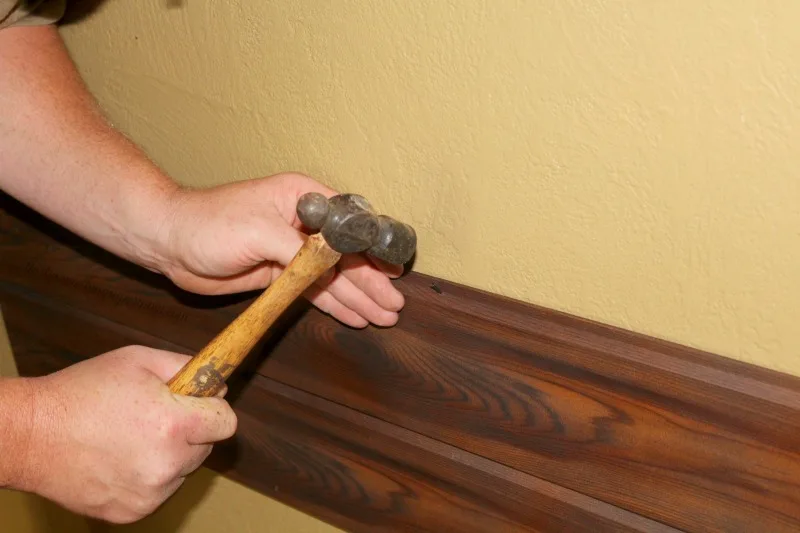 Measure the wall and decide how long you want your planks to be, we went with about 6 feet.
Use your miter saw to cut the planks to fit your wall then add your first plank, starting at the bottom, use a level to make sure it is straight and then secure it with trim nails.
When adding the next plank, line up the tongue and groove sections with each addition of the wood planks.
After you have cut your first plank you should be able to keep that measurement to cut the rest of the planks for your DIY accent wall.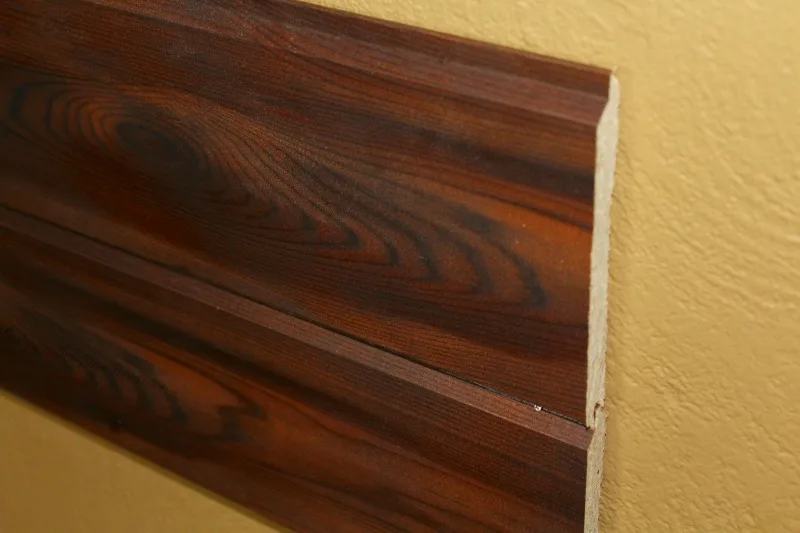 When you reach the top plank, use a table saw to cut the tongue off of the edge to allow the trim to fit the seam.
Since we used pre-finished planks after cutting the ends off you will be left with an unfinished edge, that's where the trim comes to the rescue.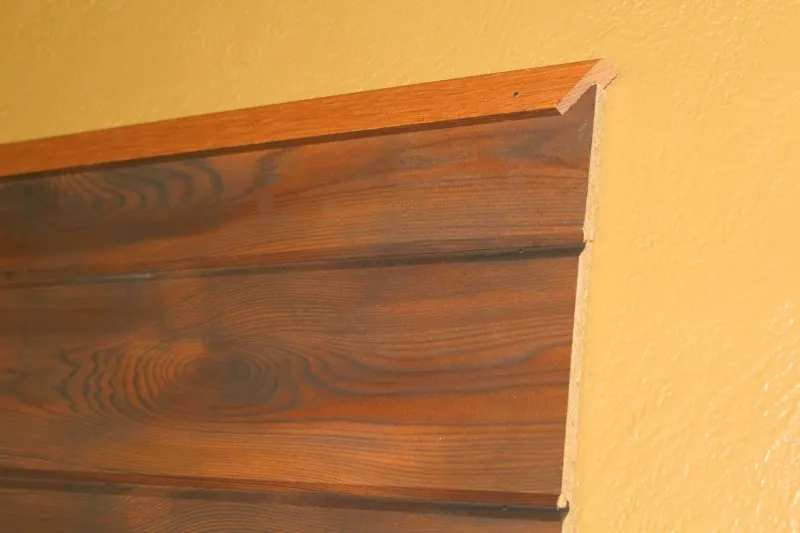 Measure your trim to fit each side of the planks and cut the edges at a 45-degree angle starting with the top plank. Pre-drill holes into your oak trim to allow the trim nails to easily penetrate the wood.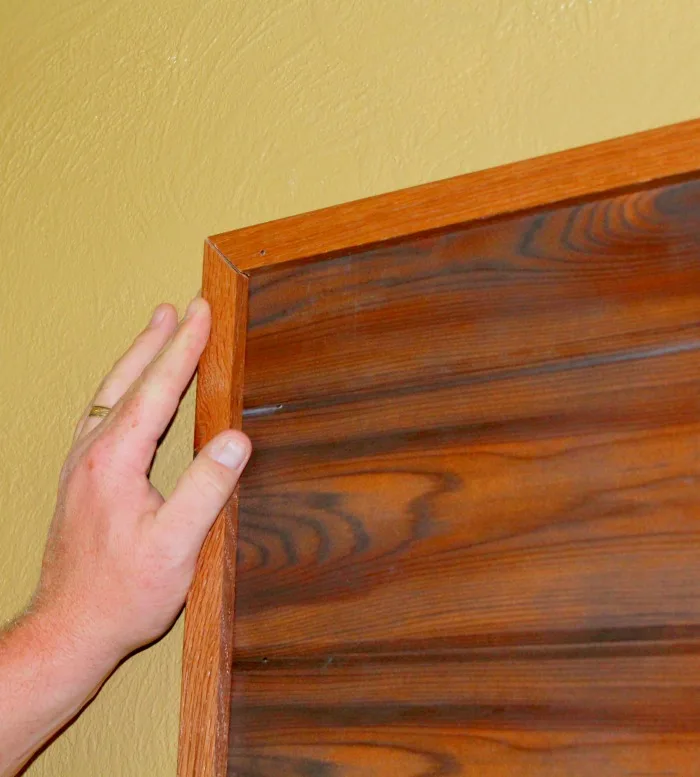 Continue adding trim to each side and securing with trim nails until your entire plank wall has been framed with trim.
Now before I show you the after photo, you have to see what this wall looked like before we began working on it. It was plain and difficult to decorate because of the two doorways that meet on the sides of this wall.
It would have been difficult to paint this wall because there is no clear beginning or end but this DIY Wall Decor using planks is exactly what this wall needed!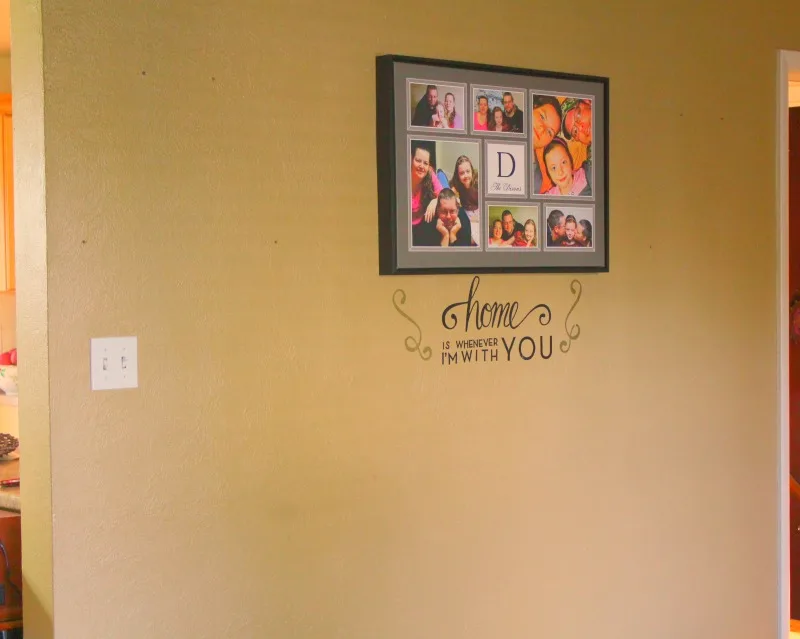 Now for the fun part, decorating this space with some of my favorite finds from Wayfair. I selected this 2 drawer console table and 2 Arm Chairs to add much-needed seating to my accent wall.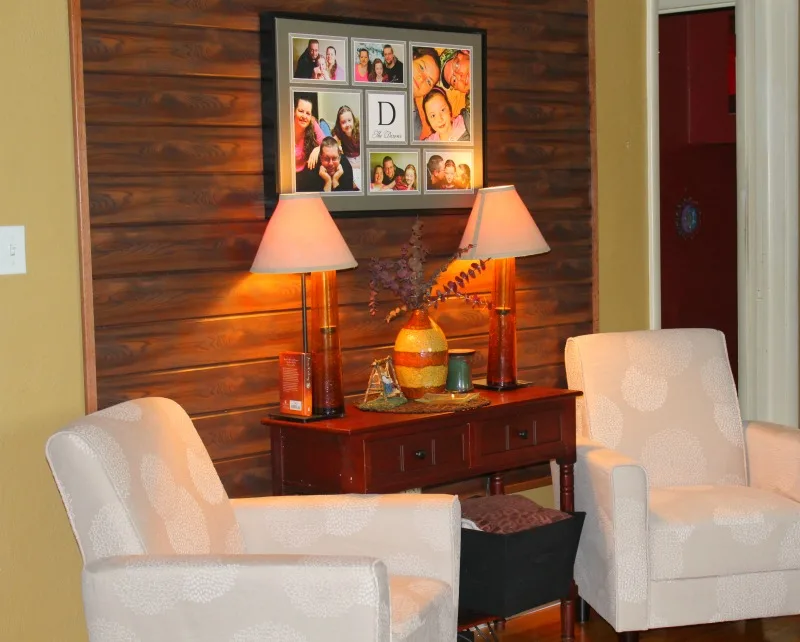 I love the way it turned out and this is space is already getting plenty of use! Now when I have guests over for the holiday's I won't have to pull out the folding chairs.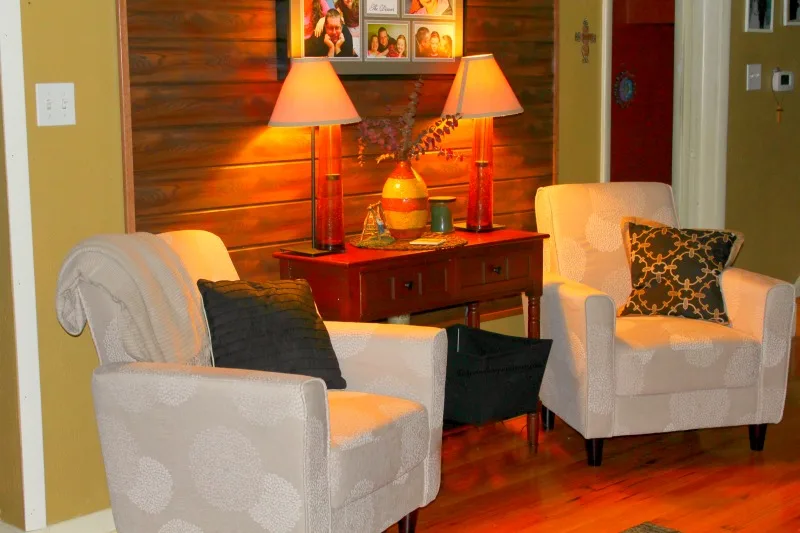 I love the way this DIY Accent Wall looks and the furniture that I picked up at Wayfair really makes this project stand out. Did you know that you could make a plank wall in an hour for less than $75? Are you planning on trying this project out in your home?