These DIY Farmhouse Curtains post contains affiliate links which means if you make a purchase after clicking a link, at no additional cost to you, I make a small percentage from the sale.
It's that time of year again, Garage Sale Season is in full effect.
We already hit a few citywide garage sales and picked up a ton of things to keep me busy crafting with DIY projects all year long.
My most recent find was a gray curtain panel for a quarter and on the same day I found a white curtain panel for one dollar, a roll of fusible bonding web for 50 cents and a black fabric marker for another quarter.
I really wanted a set of gray curtains for a DIY Farmhouse Curtain project that I was working on but also needed white curtains for this project so I didn't want to pay full price at the store because curtains can be really expensive.
So I kept my eyes peeled for gray and white fabric at garage sales with the intention of making my own curtains.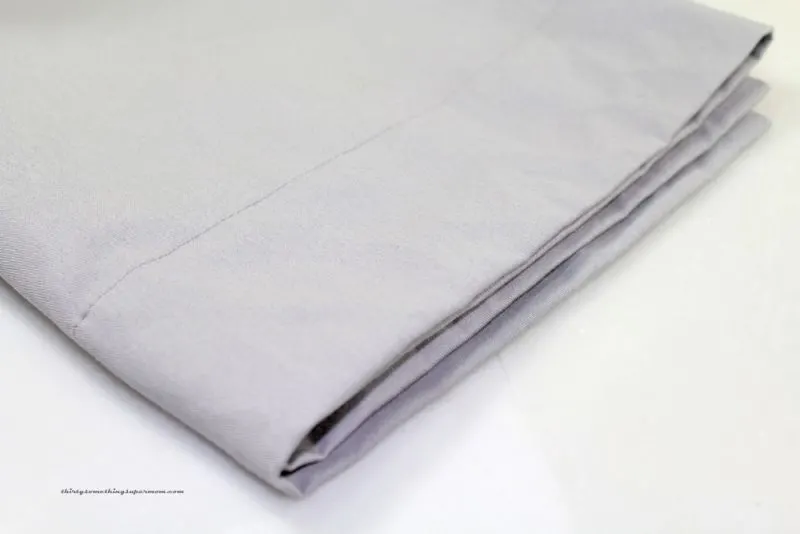 When I stumbled upon a gray curtain panel for just a quarter, my wheels started to turn and I knew I had the first piece of the DIY Farmhouse Curtains puzzle and started planning the project while I picked up the rest of the supplies.
I already had a nice pair of scissors that my husband convinced me to splurge on and I am glad I did because they make a nice clean cut every time, definitely worth the extra couple of bucks.
I also had some jute from a previous project where I upcycled a cardboard box into a decorative tray, you can see that fun project here.
Once I gathered all of my supplies, I got started creating my DIY No Sew Farmhouse Curtains.
How to Make DIY Farmhouse Curtains
I started by measuring the window where I wanted to hang my DIY Farmhouse Curtains, this was located in my kitchen where I have been adding all kinds of farmhouse elements lately.
I love the look of farmhouse decor but I also love cows so I have incorporated them into my home more and more.
My husband and I are working towards owning our own acreage someday and I hope to have some real cows to look at when glancing out of my kitchen window.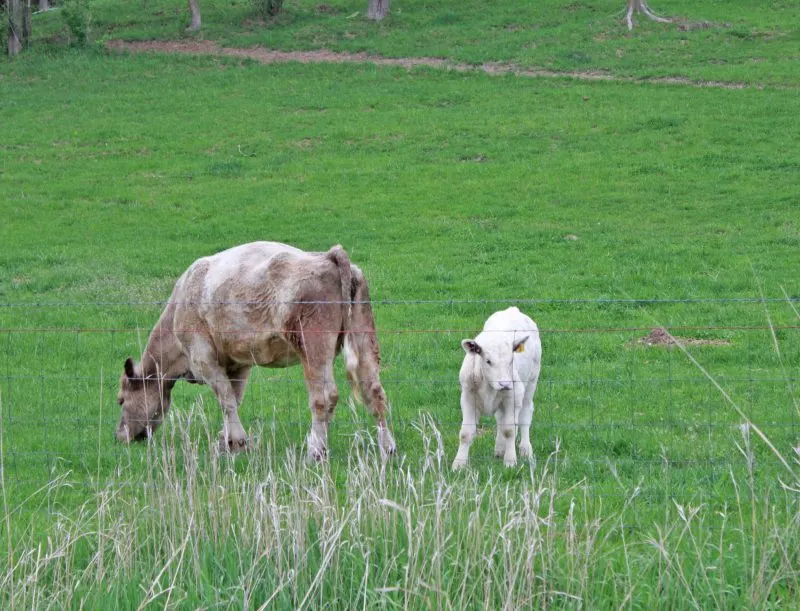 Until then I will stop in front of random strangers houses and take pictures of theirs and occasionally talk to them too.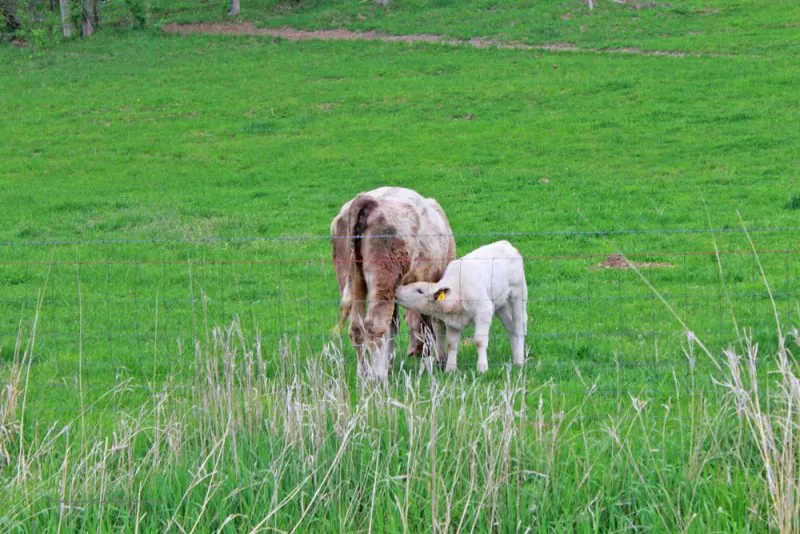 That's another reason why I love going to garage sales, it's fun to drive through the country and see all of the beautiful scenery that Iowa has to offer.
I especially enjoy it when we stumble upon an actual farmhouse having a garage sale, not only will I get a close-up view of the cows and possibly get to pet them but they usually have the coolest things for sale at really good prices.
I think one of the greatest places to go to garage sales would be Kalona, Iowa.
I don't know for sure though because I have missed their sales every year since moving here but I have visited the town, known for their heavy Amish population and wrote about it here.
It was a lot of fun to just visit the town but I would love to experience their citywide sales someday, if you have been to the Kalona sales, leave a comment below letting me know what you found.
For now, I will have to settle for the Farmhouse look in my home, like the saying says, fake it until you make it.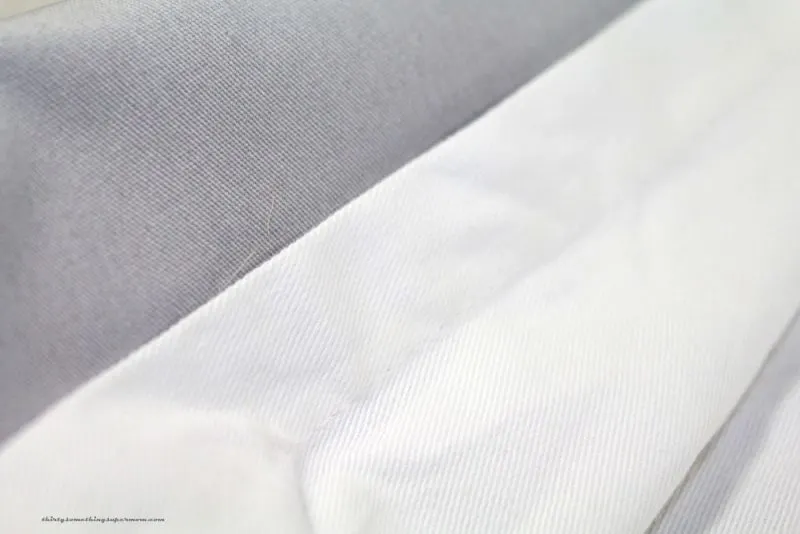 Once I measured my window, I trimmed my curtain to the size I needed and then cut them in half to create two panels.
I was lucky that the curtains I used for this project both had a fold which allowed for me to cut them through the middle and use both the tops and bottoms as the rod holder.
If your curtains do not have this premade fold which allows the rod to be inserted effortlessly, you can create one by folding it over and using the sew tape to fuse it together.
At this point, you should have four separate curtain pieces, two white and two grays.
Using he sew tape, attach the white panels to the bottom of the gray panels, making sure to leave the folded end on top for hanging later.
The next step is to start sketching out your cow.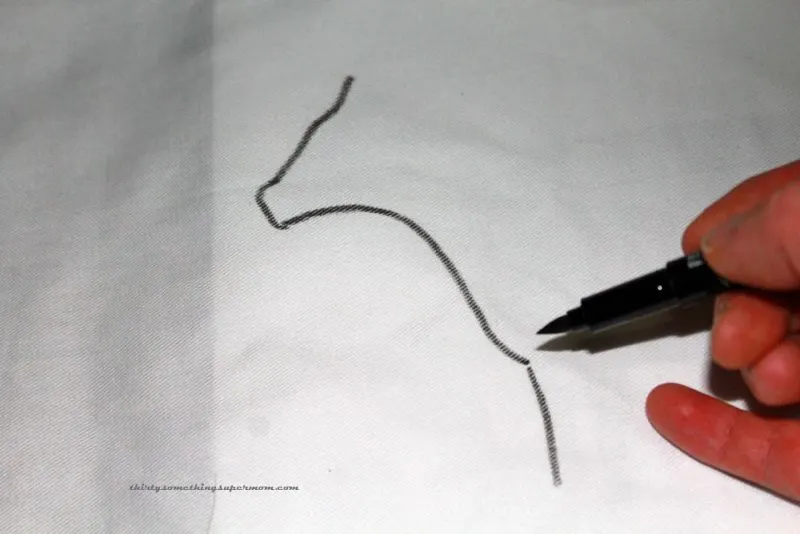 If you prefer chickens or pigs to cows, that's fine, the same fabric marker can be used for any design you decide you would like to see on your DIY Farmhouse Curtains.
Once you have your design sketched out, go ahead and fill in completely.
If you aren't really confident in your freehand skills, you can print out a picture of the design you want to see on your Farmhouse Curtains and trace it since the curtain is white, it should show through pretty well.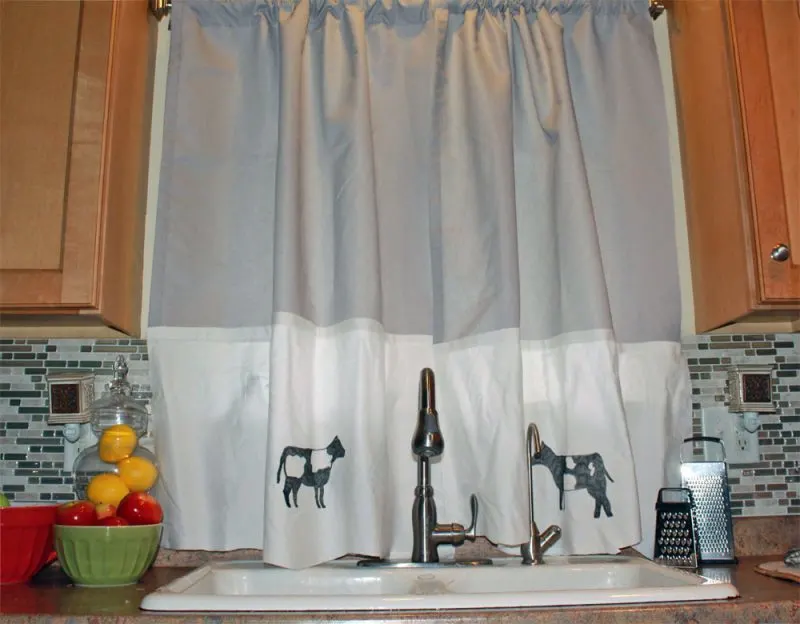 If you have a creepy neighbor within your eyesight you may want to keep your curtains closed but if you have a pretty garden or even better, a farm to overlook, you may want to tie the curtains back.
Using jute, I just tied a bow around the curtain to let some light in and to give me a better view of my garden.
I love the way these DIY Farmhouse Curtains have turned out and I really love how easy they were to make, when your sewing machine is covered in dust because you have no clue how to use it, no sew is always the way to go.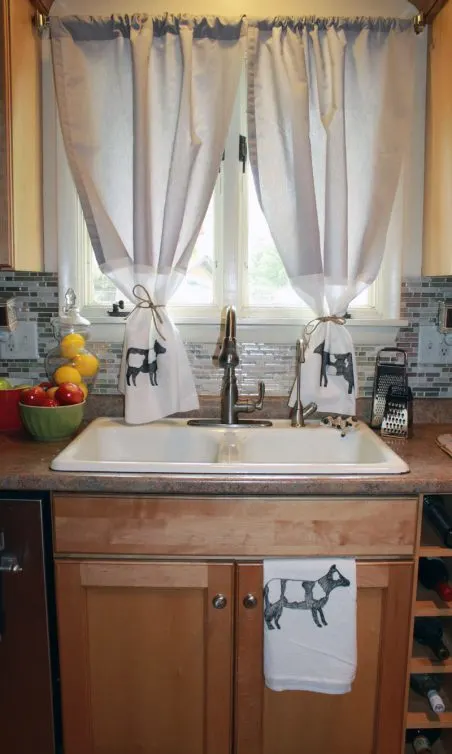 My curtains were large and my window was not so I used the cut offs from the white curtain to create a matching Farmhouse towel.
We are heading to some more garage sales soon so keep checking back for DIY inspiration and fun stories from our adventures, plus let me know what you think of these DIY No Sew Farmhouse Style Curtains by leaving a comment below & sharing with your friends on social media.