This past weekend my family decided to take a day trip to an Amish Paradise, located in Kalona, Iowa. I love to travel to small towns throughout Iowa and take lots of pictures along the way, so this was perfect for me and I was so excited to visit Kalona.
Ever since we moved to the Cedar Rapids area about 5 years ago, I have enjoyed traveling to different areas. My favorite thing to do is see animals, farms, barns, and of course the Amish. Taking pictures of the beautiful sights and checking out the local hot spots have helped create some of my best memories here in Iowa.
Everything is new to me and so different than what I experienced for the first half of my life. I can not wait to see more but for now, I am excited to share some of what we saw while visiting Kalona, Iowa.
Since we were traveling from Cedar Rapids, we went through a town called Riverside and apparently that is known to Trekkies (Star Trek Fans) as the future birthplace of Captain James T. Kirk. I snapped a photo of the landmark while traveling through but I probably don't appreciate it as much as someone who enjoys that show.
I personally have never been a fan of any sci-fi stuff but that may be due to the fact that when I lived in Maryland, we didn't have cable T.V. and the only channel we got in played Star Trek on what seemed like a loop, so I grew to resent it.
I wonder if the Amish feel that way about the sights in their "paradise" that I am so excited to see.
The kids probably don't even think twice about owning farm animals but it has always been a dream of mine. Then again, it is more like work than play to them and for me, farm animals would be my pets, not my staff or food.
I have always fantasized about having a cow with long eyelashes and a big personality. Although I really don't know much about them, somehow I feel like they would make a great best friend, possibly even better than dogs.
Every time we stop in front of a farm with cows, they make their way over to our car, like they can sense that we want them to. Horses tend to do that too but that doesn't seem to come as a surprise to me since a lot of people have horses as pets.
Cows are normally thought of as food but for whatever reason, some people think it's wrong to eat horse meat even though at one point under the Obama administration, some laws were put in place to make horse meat more easily accessible.
Other than sending horse meat off to other countries like Mexico for slaughter, I don't think Americans have really delved into the horse meat business just yet.

I enjoy seeing the horse-drawn carriages in Kalona, Iowa, and especially like the click clock sounds their hooves make on the roads as they cruise on by. It is pretty impressive to see how fast they go and it surprised us to see how many piles of horse manure were left along the roads in Kalona.
It makes sense, obviously, the horse isn't going to hold it until they get home but it is just another one of those things you don't see every day outside of an Amish town.
We visited a lot of shops while in Kalona and I have to say that the gift shop is one of the most reasonably priced gift shops I have ever visited.
They had a little bit of everything for sale there, from Amish dolls to gazing balls for your garden. Everything was so pretty and the woman working at the counter was full of information about the area.
We headed to some other shops in town after getting a map of the Kalona area from the helpful woman at the gift shop.
Our next stop was the General Store, a place where you literally feel like you have stepped back in time, right into a store from childhood.
I was so excited to see so many candies I haven't thought of in years and the old school items I used to drool over as a child.
They had a large selection of sodas in glass bottles, cakes, cookies, and the popular cheese curds everyone in Iowa seems to love.
They even had something that I have been looking for years, something that I have not been able to buy at a store since I lived in Virginia, a food that is highly coveted in my family of East Coast transplants, Scrapple!
I couldn't believe it when I looked into this cooler to see this delicious mystery meat, Scrapple. I have asked people in the Cedar Rapids area about it because when I first moved here I thought they may have heard of it since they had so many farms, turns out most people here have never heard of it.
I got the same reaction when I asked about it here as I did when I asked about it in the Chicago area, people really looked at me funny, so this was quite the surprise.
I was stoked to find it and we headed to the next store, Stringtown Grocery.
This place had a lot of great deals and I was confused at first because I was originally headed for the discount store with ding and dent type merchandise but this place turned out to be a pleasant surprise.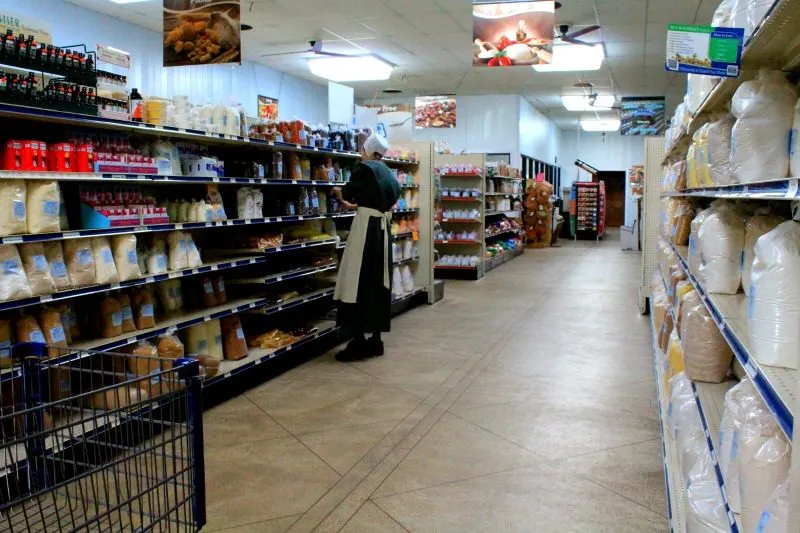 I got some great deals on pastry flour, popcorn kernels, jams, and random things we found throughout the store.
We also picked up a local favorite, the Kalona Bar. Apparently, they are pretty famous for these things so we had to try them.
The outside was a graham cracker-type crust around a chocolate shell which was my favorite part, it reminds me of a vanilla ice cream bar.
After making our purchases, we checked out the bulletin board posted inside with lots of local ads. It's pretty cool to see some of the things for sale and wanted to buy in that area. Does anyone have any lambs for sale?
After leaving Stringtown Grocery we headed to Central Discount where I meant to go in the first place.
This store is known for having ding and dent type merchandise for sale as well as lots of expired goods at discounted prices.
You can buy candy bars 5 for $1.00 and in other sections, you can pick them up for just a dime.
Although the price sounds great and the selection is unbeatable, everything has passed its expiration date so nothing is going to taste quite right.
I was pretty amazed when I first stumbled upon a store like this in Marengo, Iowa. I had no idea it was legal to sell outdated food items to the public no matter how low the price. I guess it is because the store was booming and lots of Amish folk were buying things inside.
We had a lot of fun visiting Kalona and I am excited to plan a day back there when the weather is a little bit warmer so we can spend more time outside, possibly even do a tour or have dinner with an Amish family.
It's places like this that make me anxious for the day that we finally move away from Cedar Rapids and buy our dream house on an acreage in the country. Until that day comes, it is a lot of fun to visit the Amish in Kalona, Iowa. Have you ever visited an Amish town?