I am excited to share another addition to my garden, this Garden Light Post DIY which can be made by upcycling an old lamp.
I picked up the old lamp for one dollar this past weekend while my husband and I were in Springville, Iowa for their annual City Wide Garage Sales.
This is the second year in a row that we did really well in Springville, well I did really well, he only bought a couple of things but he was happy to help me stock up on DIY project supplies.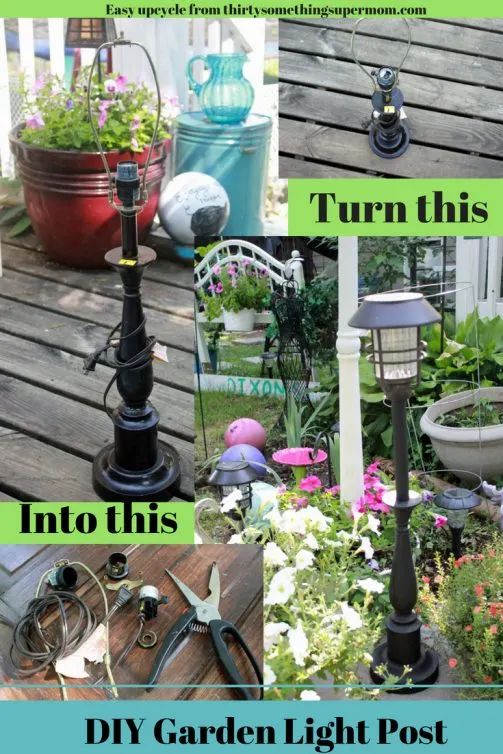 The weather wasn't exactly cooperating but it did seem to scare the crowds away because we were the only people at most of the sales we hit in Springville.
Or maybe that is what it seemed like because we were living the dream together, holding hands and walking to sales surrounded by corn fields.
I like going to garage sales in rural areas, they always have the best stuff in my opinion.
My husband struck deal after deal for me and I ended up with a truck full of doors, windows, bowling balls, and this old lamp.
I spotted it across the garage sale and couldn't believe it when I read the price tag, it was only a dollar, no need to talk them down on that price.
When I got home, I immediately got started turning the old lamp into a garden light post.
The first step in making your own garden light post from an old lamp is to gather your supplies or send your dog out to rummage through the garden in hopes of finding the perfect fitting solar light.
Daisy helped me find a solar light to use for this upcycle, she helped me determine which light to use by destroying the stake on this one that holds it into the ground.
So I measured the pole and the lamp to see which parts needed to be removed in order to create the lamp post with a solar light.
It turns out that you don't need any of the hardware to match up this old lamp with my solar lamp that Daisy picked out.
I just cut the wire and pulled it out of the lamp along with all of the washers and socket parts.
I lined everything up before making the cuts, you may want to do the same thing as each lamp is different and the solar lights vary in size as well.
After you find the right match, pop that bad boy on top and spray paint the entire lamp post as well as the solar light to match.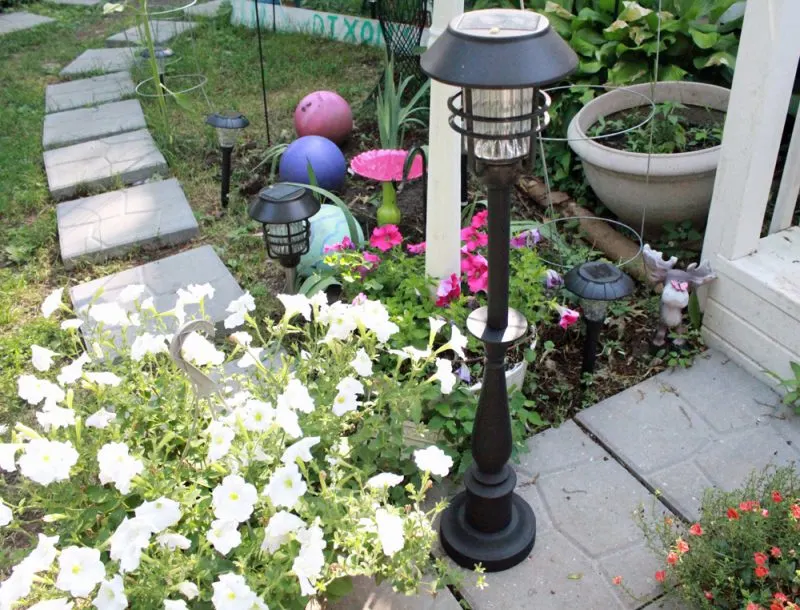 I like the look of a black garden light post, it reminds me of Central Park, I always loved the idea of being able to read the numbers on the side of the lamposts there when you are lost.
The lampposts in Central Park feature a set of numbers on the base where the first two or three digits tell you the closest cross-street, the odd numbers tell you that you are on the West Side of Manhattan, the even numbers mean you are on the East Side.
If you are a little kid visiting the park for the first time and find yourself sans parents, this is a good way to get back to your creepy uncle's house or if you are really brave, it's a great way to get away from your creepy uncle's house.
I thought about making it a bright blue, pink, or even white to match my other lantern but I love the way it turned out and will be keeping my eye out for more lamps to upcycle this weekend when we head to another town for their citywide sales.
Are you finding any good deals at garage sales and are you planning on creating your own DIY Garden Light Post by upcycling an old lamp?