This post sharing how to make a DIY pallet bed frame contains affiliate links which means that if you make a purchase after clicking a link I will receive a small portion of the sale at no additional cost to you.
You won't believe how easy it is to make your own DIY pallet bed frame!
Whether you want to create a toddler bed, day beds, double bed, or a queen size bed for a guest room made from wood pallets, I am going to show you the easiest way to create a wooden pallet bed.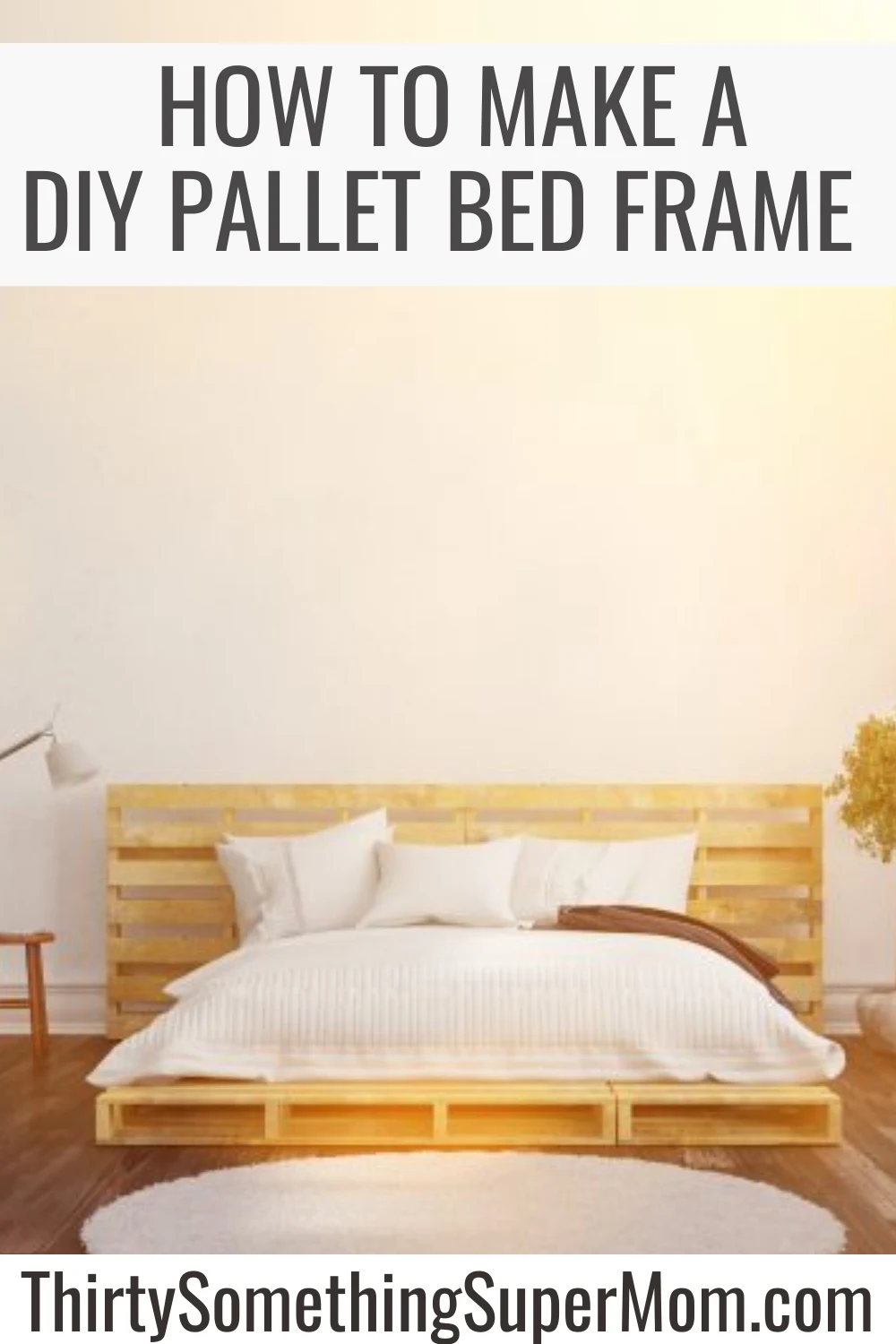 Where to Get Supplies to Make Your Own Pallet Bed
With an estimated 2 billion wooden pallets in use every day, it's no wonder this material is such a popular choice for home do-it-yourself (DIY) projects. From furniture to shelving to storage, there seems to be no limit to what you can build with pallet wood or pallet boards.
A quick trip to the hardware store to pick up a few individual pieces will have you well on your way to creating a new bed frame.
Since making pallet furniture has become a popular thing to do, it can be hard to find good free pallets but the good news is that even with the explosion of pallet bed ideas, they aren't that pricey. Usually, you can head to an industrial area or construction site and find free pallets that would make a great addition to a DIY pallet headboard.
When searching for pallets to replace a box spring, you want to make sure the pallets are in good shape and not just offer the rustic look of pallet bed.
The goal is to create a wooden platform bed that is not just a stylish solution but this inexpensive bed should also be strong enough to last a long time.
When creating your own pallet bed design, you are saving lots of money so if you have to spend a bit to get new pallets, it will be worth it in the end.
The Best Way to Make a DIY Pallet Bed Frame
If you're looking to change up your bedroom, this DIY pallet bed frame is a perfect weekend project.
Follow these steps to create a one-of-a-kind furniture piece to suit your personal style.
Step 1: Gather Supplies for the Whole Project
For this project, you'll need four pallets for the base and two for the headboard. If you want a higher bed frame, you will need an additional four pallets for each layer, about 5.5 inches per layer.
Standard wooden pallets in the U.S. are 48 x 40 inches, so the bedframe platform will be larger than your queen and even king mattress. If you're comfortable with power tools, feel free to trim the pallets down to a size that works best for you, or find a video tutorial to make sure you are doing that step correctly.
When collecting materials, pass on wet, discolored, or odorous pallets. The best things to look for are pallets stamped with "HT." This stands for "heat-treated" — rather than chemically treated — and is generally safer for household use.
Step 2: Sand
Use an electric sander to smooth the surfaces of the pallets, and pay extra attention to the edges. It shouldn't take more than 15 minutes per pallet with an electric sander. You can pick up a cost-effective solution for sanding here if you don't already have one for your pallet projects.
Step 3: Paint or Stain
If you are aiming for a rustic, shabby-chic look, apply a single coat of paint with a brush—the more wood grain you can see, the better.
You can use spray paint to get the job done faster, but keep in mind that this will result in a more finished look. If you want to preserve the natural wood look, simply opt for a nice wood stain. It is a good idea to match the easy wood pallet bed frame to the rest of your bedroom decor.
The next step is to protect the simple pallet bed so it will stay in good condition.
You'll then finish the job with a coat of polyurethane to protect your wooden bed frame.
Step 4: Build A Gorgeous Bed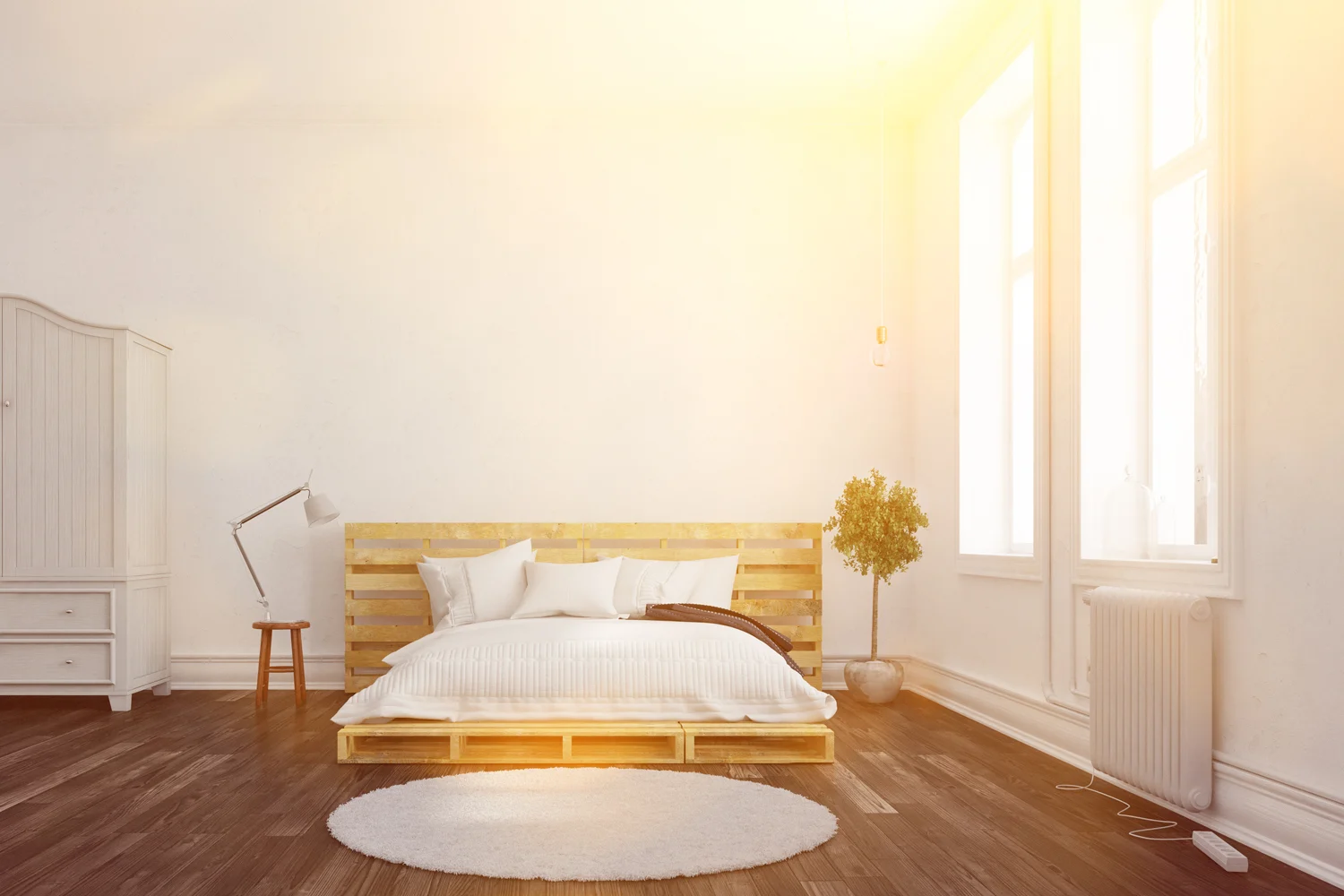 Lay the pallets flat next to each other, and place 4-inch mending braces in the middle sections where the pallets touch. You can use as many or as few braces as you want, but fewer braces will make it easier to disassemble your frame in the event of a move.
Before attaching the braces, create screw holes using an electric drill to avoid splitting the wood.
If your platform is going to be more than one pallet high, attach the layers vertically with 10-inch brackets on each corner in addition to the mending braces between sections.
Finally, the last step is to flip the remaining two pallets on their sides and attach the headboard to the base with the 4-inch braces.
Redecorating Your Master Bedroom?
Worried that your hard work will go to waste if you decide on a different bedframe in the future? No worries, there are different ways to create a different design easily without wasting all of your hard work.
You can upcycle your creation once again: Just detach two of the pallets from the base layer and reattach underneath to create a taller, narrower day bed or window seat. That is the beauty of custom bed designs, you can make the entire room look new with just a little effort.
This DIY bed frame is an inexpensive way to add a big wow factor to your interior design with minimalist bed feels.
As a building material, pallets are highly versatile. From coffee tables to wine racks, there are plenty of dining room and living room ideas for upcycled wooden pallets.
There is so much inspiration online that I feel like I could redecorate my entire house with pallets. Thankfully I have access to as many pallets as I want thanks to a hoarder friend that lives nearby.
He picked up hundreds of these things and doesn't really know what to do with them so I can take as many as I want.
Best Way to Select Wooden Pallets for a DIY Pallet Bed Frame
When selecting the best wooden pallets to use for this project, there are a few simple things you can keep in mind before selecting which ones you want to use.
It is best to avoid pallets that have come in contact with food such as ones that can be picked up at the grocery store. Food spillage and wood pallets don't really mix well so it's best to avoid any pallets that may come in contact with food, just in case of bacteria.
When searching industrial areas for pallets to use be mindful of oil stains, mold, or any kind of residue that cannot be removed. If you are creating a white-painted pallet bed or want a natural look, oil stains may make this impossible.
Check for loose boards and cracked pieces when looking through construction sites for free pallets. You can get away with a few rough ones, depending on what project you are working on. This is especially true if you going to be cutting the ends or removing some wood panels for your project.
Avoid pallets that have been soaked, sitting in the rain, or in a puddle. This wood isn't going to be easy to stain and it probably won't last long either.
The last thing you want to do is put all of this hard work into making your own custom bed from pallets, only to have it crumble to pieces shortly after.
How to Clean Pallets for DIY Pallet Bed Frame
Using a power washer is a great way to get into the grooves of the wood and remove any kind of undesirable residue that made its way into your pallets.
If you want to disinfect the wooden pallets, you can use bleach or strong soapy water before rinsing with the power washer. This may not remove all of the harmful substances that made their way inside the wood but you can at least remove whatever is on the surface.
How to Dismantle a Pallet
Using a crowbar and a hammer, pry the nails out and the pieces apart but be careful not to crack the wood.
This method takes quite a bit of patience and hard work but it will pay off with the most useable pieces for your project.
You can also speed up the process and use a reciprocal saw to cut right through the nails and wood. This will be the fastest method to dismantle a pallet but it requires heavy equipment so this may not be possible for everyone.
Personally, I leave all of the sawing up to my husband, I don't like the sparks flying so close to my head or the loud sounds his saw makes but he doesn't even seem phased by it. I have noticed a lot of people at construction sites do not seem to be phased by this either
I may just have an aversion to loud noises, so I just do it the old-school way with a hammer and crowbar.
Be sure to wear gloves when working with the pallets because they will give you more splinters than you will know what to do with and some of them will go in deeper than you can find. So as uncomfortable and hard to work with as they are, just wear gloves!
Looking for More DIY Furniture ideas?
Who doesn't love a good furniture makeover? The best part about making your own furniture or upcycling is that you can create a unique design that can't be found in stores.
Creating custom pieces also allows you to make sure each piece is the appropriate length for the space you are decorating.
This DIY Pallet Coffee Table is the perfect project to use a long pallet to create a custom piece that is the perfect size for your living area.
If you have run out of storage space and can't start a new project, an easy way to give your piece a new look is by painting it. This Makeup Vanity Makeover is perfect for a small space and a better way to create a new look without a lot of skill or space required.
Give your ottoman a new look with this no-sew DIY ottoman makeover.
Easily transform old patio furniture with a trash-to-treasure patriotic patio set makeover.
Don't forget to follow me on social media sites like Pinterest where I post DIY pallet bed frame ideas, gorgeous beds, and other DIY furniture ideas regularly. You can follow along on your favorite social platform but your best option for never missing a post again is to subscribe to my free newsletter.