I love dessert and no matter what type of diet I follow, I always find a way to incorporate them into my meal plan. Usually, this takes a lot of experimenting to get the recipes right but with Peanut Butter Pie, it was pretty easy to figure out a way to make this favorite keto-friendly.
Since one of my favorite desserts of all time is peanut butter pie it was only a matter of time before I found a way to recreate this recipe. I love this dessert so much that I even remember the first time I ever tried it. That glorious day was when I first met my mother-in-law. She found out how much I loved peanut butter and said that as a peanut butter lover, I had to try peanut butter pie.
She offered to make me one and was excited to see me give it a try. I was completely down for the experiment but I didn't really know what to expect. I had never really been a big fan of pie and since I had never heard of peanut butter pie, I had my doubts that this would be as amazing as she described. Boy was I wrong!
I immediately asked her for the recipe and have even shared my version of her Peanut Butter Pie recipe on the blog.
This has been my go-to peanut butter pie recipe for many years but when started cutting out sugar and eating low carb, I knew I had to experiment with a new version of this delicious dessert.
Low Carb Peanut Butter Pie
I knew that the traditional peanut butter pie recipe could be altered pretty easily. Since this recipe is peanut butter, vanilla, whipped topping, sugar, and cream cheese there were only a couple of changes that needed to be made.
I replaced the sugar with stevia and used a sugar-free whipped topping. I have already switched out my peanut butter many years ago and only use the natural kind so that made things easier on me with this recipe. I also love that keto allows cream cheese and since that is one of my favorite parts of this peanut butter pie, I knew it was going to be a success pretty early on.
Like many of my recipes, this one is so easy to whip up. I just throw all of the filling ingredients into a bowl and mix until well combined. So easy, and the best part is that you get to lick the beaters after your done, that is worth the trouble all by itself!
Low Carb Crust
The crust was a bit harder to figure out because I usually would use a premade Oreo crust when making peanut butter pie. Unfortunately, they have yet to come out with a keto-friendly version so I was left to experiment yet again.
This wasn't the first time I created a healthy pie crust, I love this Paleo & SCD Pie Crust for a variety of pies, but it was the first time I tried to make a no-bake pie crust.
I wanted to replicate the taste and texture of the premade oreo shells that I had always used in the past so added cocoa for the flavor and color, as well as some other keto-friendly ingredients like coconut oil to achieve the texture.
Additional Toppings Ideas
When my pie is prepared and ready to serve, I crushed sugar-free peanut butter cups on top for an extra burst of flavor. Although I have enjoyed this pie without any additional toppings, sometimes you just want a bit more of a crunchy texture on top.
Another great topping idea is peanut butter syrup or low-carb sugar-free chocolate syrup. Although I think you will find that this recipe is perfect just the way it is!
Want more Low Carb Dessert Recipes? Try these!
Easy Low Carb No Churn Keto Chocolate Ice Cream with Peanut Butter Chunks
3 Ingredient Keto Peanut Butter Balls
Blender to Freezer Chocolate Peanut Butter Ice Cream
Zero Carb Sugar-Free Homemade Gummies for Keto
Low Carb Chocolate Chip Cookies Recipe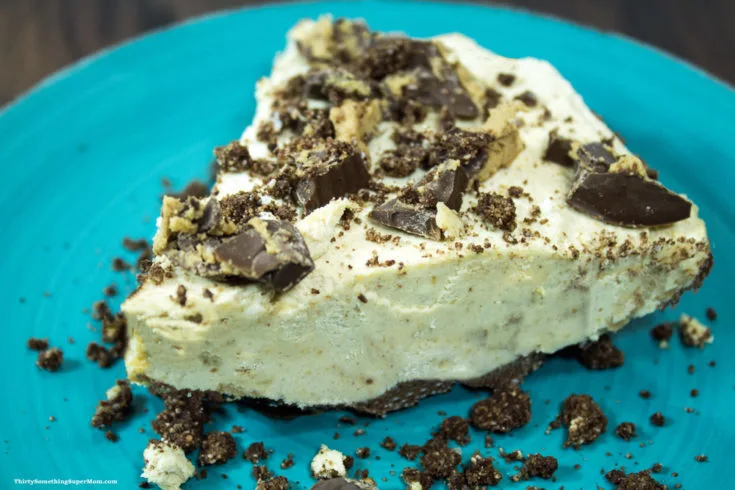 Low Carb Peanut Butter Pie Recipe
Low Carb Peanut Butter Pie
Ingredients
1 Tablespoon vanilla extract
1 Cup of Peanut Butter
8 ounces of cream cheese
3/4 cup of Erythritol
8 ounes of Sugar Free cool whip
For the crust
1 Cup of Almond Flour
1/4 Cup of Cocoa
1/4 Cup of Stevia
1/4 Cup of Coconut Oil
2 Tablespoons of Vanilla
Optional Topping: Crushed Sugar Free Peanut Butter Cups
Instructions
Mix the crust ingredients together and grease pan. Press the crust into the pan. Freeze while working on the filling.
Whip pie ingredients together and pour into the shell.
Refrigerate for about an hour before serving, we like it frozen so we store it in the freezer.
Add the optional topping before serving.