This easy keto chocolate ice cream recipe contains affiliate links which means that if you make a purchase after clicking a link, I will make a small portion of the sale at no additional cost to you.
Looking for a delicious low carb ice cream that's easy and doesn't break your keto diet? This is it! Easy Keto Chocolate Ice Cream has never been better! You don't even need an ice cream maker to enjoy deliciously creamy Keto chocolate ice cream.
Just mix up the ingredients in a blender, make the peanut butter chunks and freeze. It's really that simple! It has never been easier to enjoy a delicious low carb dessert!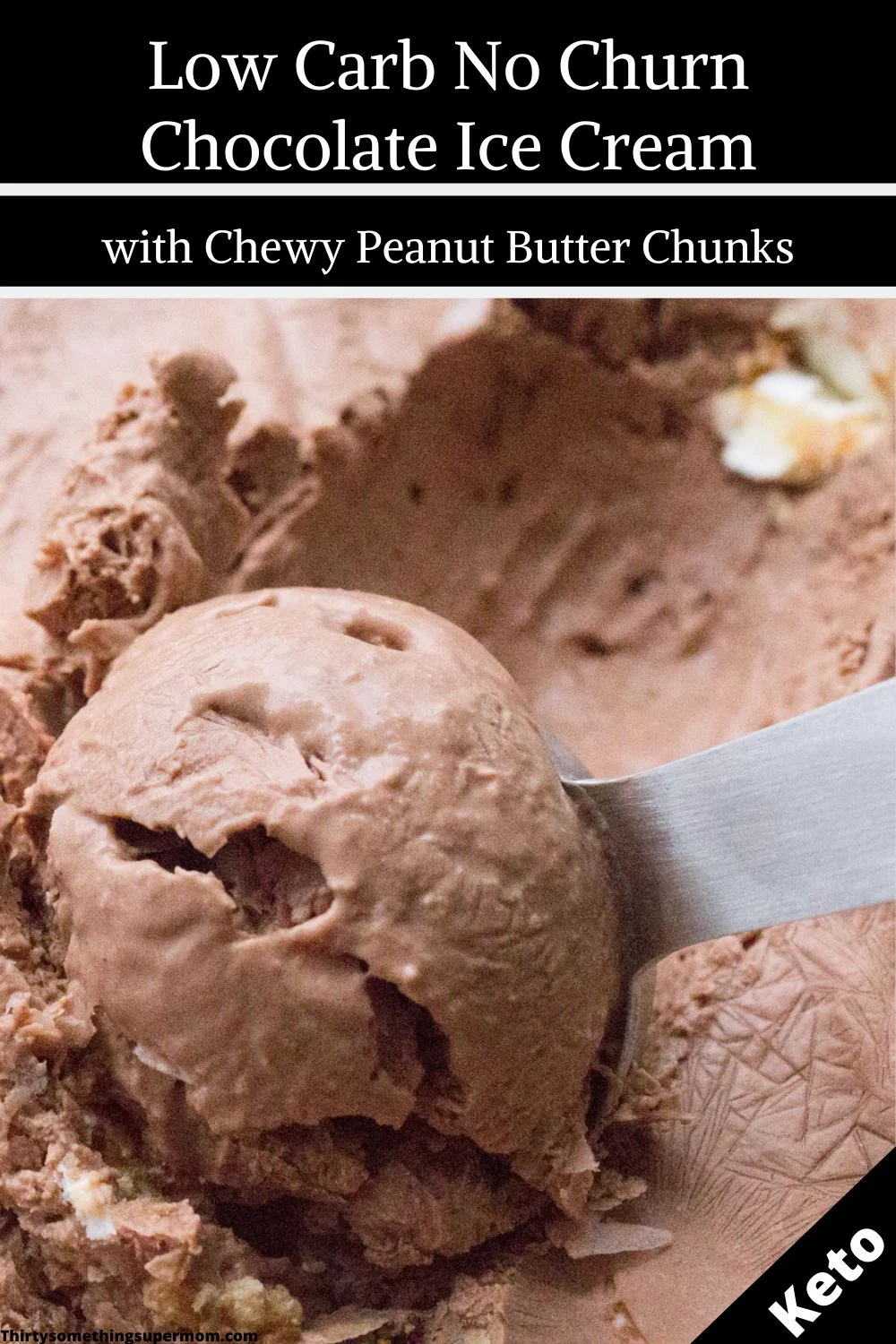 Sometimes you just get a craving out of nowhere and you need to have chocolate or peanut butter, and sometimes you need both. That kind of craving is what inspired this keto recipe. I really wanted to have an easy chocolate ice cream recipe for keto but I also wanted it to be more than just standard low carb ice cream, it had to really burst with flavor and resemble real ice cream despite being low carb.
Plus, I am a big fan of peanut butter and decided to experiment with peanut butter chunks in this low carb ice cream recipe. I am so glad that I did because those tiny morsels of chewy peanut butter really make this keto ice cream stand out.
I love the simplicity of this keto chocolate ice cream. It consists of pouring a bunch of ingredients into a blender and turning it on. You are already well on your way to a delicious low carb ice cream. Pour half of the ice cream into a freezer-safe dish and then begin the next step in this easy keto ice cream recipe.
The next step is to make the peanut butter chunks, this part is pretty simple, too. Just pour the two ingredients into a bowl, stir, and then form peanut butter balls.
After forming the peanut butter balls, spread them across the top of the keto ice cream already inside of the container. Then pour the remaining ice cream on top.
Freeze the keto ice cream for about 2-3 hours. The texture may vary depending on the temperature in your freezer or the dish you use to freeze the keto ice cream. Check on your ice cream after about 2 hours to get an idea of how much longer you will need to freeze.
If you pull the ice cream out and it is too firm, microwave in 30-second increments, stirring in between, to achieve the desired texture. Or you can pull the entire tray out about a half-hour before serving, this usually gets my keto ice cream perfect.
I hope you enjoy this easy chocolate keto ice cream as much as my family did. Please leave a comment telling me your thoughts on this easy keto recipe and don't forget to share the recipe on your favorite social media so everyone can try it out.
If you are looking for more easy keto recipes, you have come to the right place. All of my recipes have two things in common, they are delicious and simple. Check out the tab at the top of this page that says Keto Recipes for more of my favorite low carb recipes and follow along on social media or subscribe to my newsletter so you never miss an easy recipe!
Easy Low Carb No Churn Keto Chocolate Ice Cream with Peanut Butter Chunks
Ingredients
13 Ounces of Coconut Milk
1/2 Cup of Keto Sweetener like Monk Fruit
1/2 Cup of All Natural Peanut Butter
1/2 Cup if Cocoa Powder
1/4 Cup Coconut Oil
1 Pinch Salt
2 Teaspoons of Vanilla Extract
For the Peanut Butter Balls
1/4 Cup of Cream Cheese
2 Tablespoons of Peanut Butter
Instructions
Mix all of the ice cream ingredients in blender until well combined. Pour half in freezer safe container. Mix the peanut butter ball recipe and then form into peanut butter balls. Add them to the layer of keto ice cream already in pan then pour the rest of the ice cream on top. Freeze for about 2-3 hours. Check the consistency of ice cream and if it is too firm, microwave in 30 second increments to achieve desired consistency, stirring in between each additional 30 seconds. You can also remove the ice cream one half hour before serving.
Nutrition Information
Serving Size
1
Amount Per Serving
Calories

2651
Total Fat

238g
Saturated Fat

142g
Cholesterol

59mg
Sodium

3147mg
Carbohydrates

87g
Sugar

29g
Protein

51g