I know I say this with each new entry of Ice Cream flavors but this Strawberry Ice Cream Recipe is
by far my favorite Ice cream that I have ever made.
Plus it is dairy and sugar free and doesn't leave me feeling unsatisfied in fact I feel great after eating it! Ice Cream is one of my favorite foods and I love all of the flavors but when I can master a basic flavor without sugar or milk I get very excited. So, I hope you like this Ice Cream Recipe as much as I do and please let me know what you think of it by commenting below.
So let's get to the good stuff, here is the recipe!
2 Cups of Frozen Strawberries
1 Cup of Honey
2 Tablespoons Vanilla Extract
14 ounce can of Coconut Milk
Mix all of the ingredients in a blender until it is a milkshake like consistency, fight off the urge to drink it!
Add mixture to your ice cream maker for about 15 minutes. Serve and Enjoy! This stores great in a freezer set at 3 degrees in an airtight container.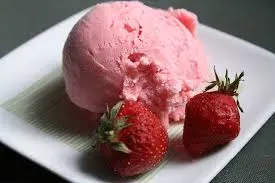 Since this is dairy free and sugar free it is also a SCD friendly recipe!
You may also enjoy learning how to make these 15 easy ice cream recipes or this healthy 3 ingredient coconut ice cream recipe.