If you are looking for an Easy Ice Cream Recipe, you have come to the right place. Whether it's a bowl of Ice Cream, an Ice Cream Cake, or an Ice Cream Sandwich you are craving, you can find all of these Easy Ice Cream Recipes here.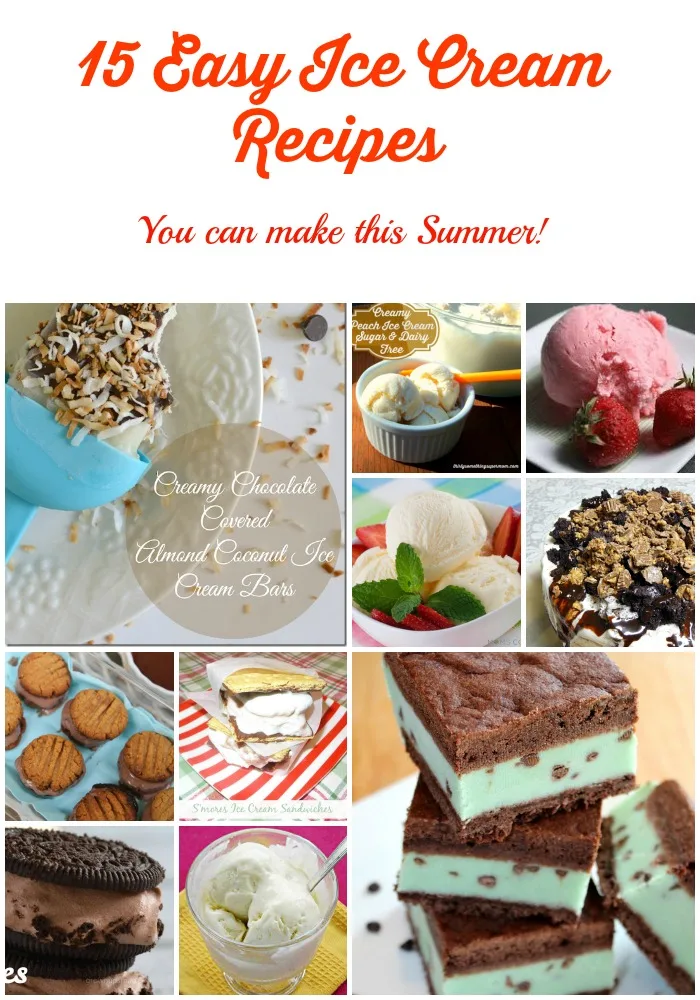 This easy Ice Cream Recipe is sure to give your family a blast of real red raspberry flavor because this recipe includes fresh raspberries. If you are lucky enough to have these tasty fruits in your garden, this recipe is calling your name for sure!
Peach Dairy Free Coconut Ice Cream
It doesn't get much easier than a 3 ingredient recipe for ice cream. This simple recipe proves that homemade ice cream doesn't have to be complicated.
Instead of gathering around a campfire for Smores with the family cool off this Summer with these Smores Ice Cream Sandwiches. All of your favorite things about Smores and Ice Cream Sandwiches combined to make a decadent dessert that is sure to be a new family favorite.
Dairy & Sugar Free Strawberry Ice Cream
If you are dieting or just trying to cut down on the bad foods while still wanting to enjoy the good ones this is the perfect Easy Ice Cream Recipe for you to try out.
Just the name of this recipe has me drooling. Reeses Brownie Ice Cream Cake… every word in that title makes me drool. No more words are needed here.
Classic Vanilla Ice Cream is a favorite of mine and it's a great starter recipe for adding in any of your favorite flavors.
Homemade Creme Fraiche Cheesecake Ice Cream
Cheesecake is one of my favorite desserts and the idea of enjoying my two of my favorite together makes me want to cheat on my diet, like right now!
After eating all of these decadent treats you may want to lay off the sugar for a while and try this sugar and dairy free creamy peach ice cream. It is truly an Easy Ice Cream Recipe that only requires a few ingredients.
Homemade Mint Chocolate Chip Ice Cream Sandwiches
These Ice Cream Sandwiches offer a cool mint flavor with a chocolate chip chaser, my daughter's favorite!
Mini Peanut Butter Cup Ice Cream Sandwich Recipe
Peanut Butter Cups are delicious in every way and they really stand out in this Ice Cream Sandwich Recipe.
Dairy & Sugar Free Ice Cream Sandwich Recipe
All of the sweetness and texture of a sugary Ice Cream Sandwich but without all of the bad ingredients. These are by far my favorite Ice Cream Sandwiches I have ever eaten. They taste great and there is no guilt!
Peach Dairy Free Coconut Milk Ice Cream
Searching for a scrumptious and effortless method to whip up dairy-free ice cream? Your quest ends here with this three-ingredient peach dairy-free ice cream delight!
Creamy Chocolate Covered Almond Coconut Ice Cream Bars
Coconut and chocolate come together to create a delicious frozen treat on a stick that is both easy to eat and taste great. This Easy Ice Cream Recipe can be made in bulk so you can enjoy these treats all Summer Long.
I hope you have enjoyed these easy ice cream recipes. Sign up for the free newsletter so you never miss another post again!