This past weekend my family and I visited the All-American Award winning city of Dubuque, Iowa. During our visit we enjoyed fine dining in the heart of the downtown area and discovered Why You Have to Visit Caroline's Restaurant!
There aren't many things in life that I enjoy as much as a good meal and we are a very picky bunch when it comes to eating out. My daughter usually struggles to find something she will agree to not waste and my husband and I have a hard time finding food that is better than what we can make at home.
Although my meal was complimentary in exchange for my honest review, all opinions are my own. Like I said, we are a picky bunch but as always we were excited to try out a new place to eat and Caroline's Restaurant exceeded my expectations!
We walked to the restaurant since it was only a few blocks from the hotel we were staying in and as soon as we rounded the corner we could smell delicious foods. The downtown area is full of restaurant's, cafes, and diners so I wasn't sure where the smell was coming from but after trying the food, I knew it had to be Caroline's Restaurant.
As we walked into the beautifully decorated restaurant we were greeted very warmly by a friendly woman named Fiona who showed us to our seats. As we sat down and glanced at the menus our waitress Sherry greeted us and took our drink order. She then informed us that the story behind the restaurants name was located inside our menu and that we might enjoy reading it, which we did!
The name is a tribute to the Fischer family Matriarch Caroline (Rhomberg) Fischer, one of Iowa's first business women and the great grandmother of the current owners of Caroline's Restaurant. She was a hard working widowed mom of 5 kids and led an interesting life. I could have read an entire book about this amazing woman and I am glad Sherry brought that to our attention, it was really nice learning about the history of the restaurant we were in.
Our waitress offered us a sample of Malbec wine explaining that is was best paired with the special of the evening, Prime Rib. I absolutely loved the wine and even though I wasn't going to order the Prime Rib, I thoroughly enjoyed every last drop.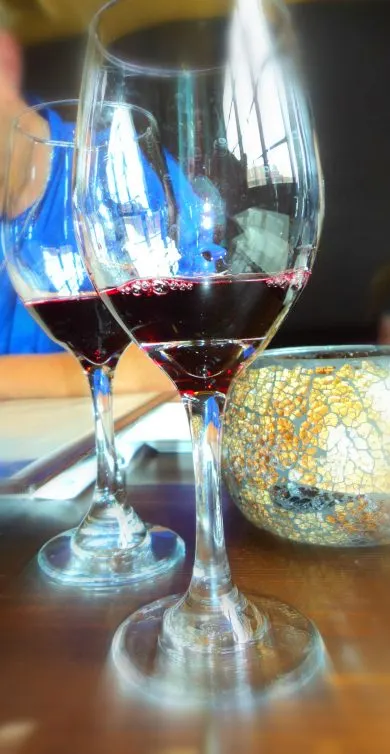 We received our drinks and a warm basket of bread that we drizzled with the best infused olive oil I have ever tasted. We ordered our food, my daughter ordered the Dippin Chicken, my husband and I both had the Porterhouse Steak with a side of Mashed Red Potatoes, and Asparagus.
With our meal we had the choice of soup or salad, he ordered a salad and I chose the soup, Spicy White Bean Chicken Chili. It's the Chef's Signature Soup made from scratch with 20 Fresh Ingredients. How do you not give that a try?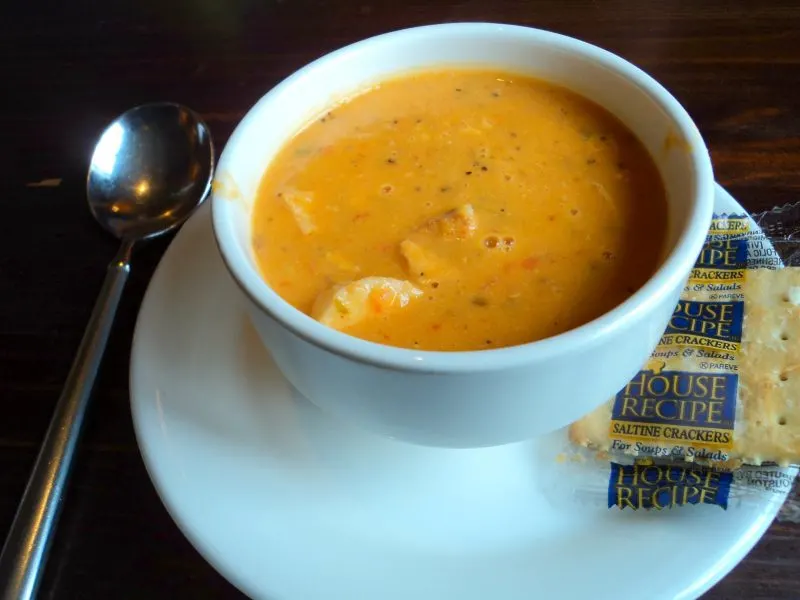 When the soup arrived, it smelled so good my daughter had to give it a try. We ended up sharing it and trying to figure out what was in it so we could try to recreate it at home. I know it couldn't possibly live up to the soup served at Caroline's Restaurant but since we don't live nearby and can't pop in anytime we get a craving, we will have to get by somehow!
Our meal arrived quickly and was cooked to perfection. My husband admitted that they could actually cook a steak better than he could at home on the grill. That took a lot for him to say because grilling is his area of expertise but I had to agree because he was right!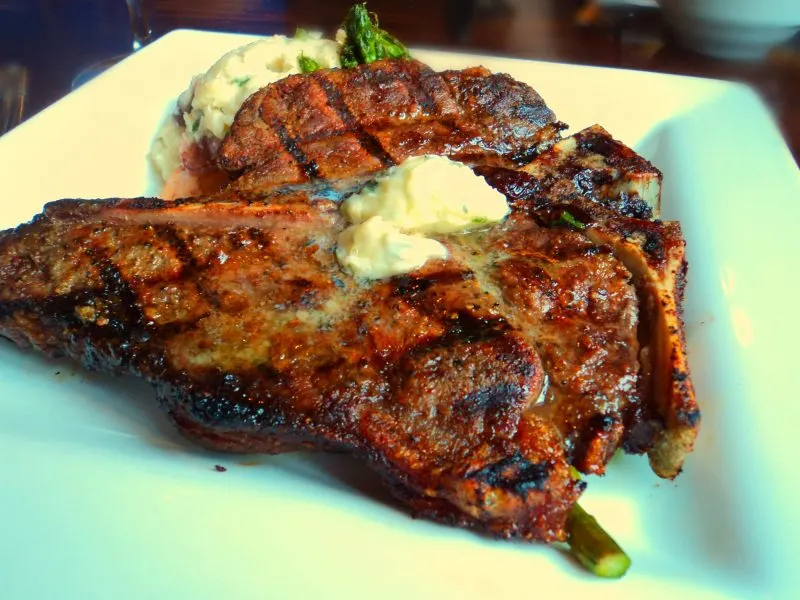 The steak was exactly how I ordered it and it practically melted in my mouth! My husband devoured his asparagus which is unbelievable because he has never eaten asparagus that I have prepared for him.
My daughter loved the chicken and my husband grabbed a sample of the fries because they smelled so good. He said they were the best fries he has had in years.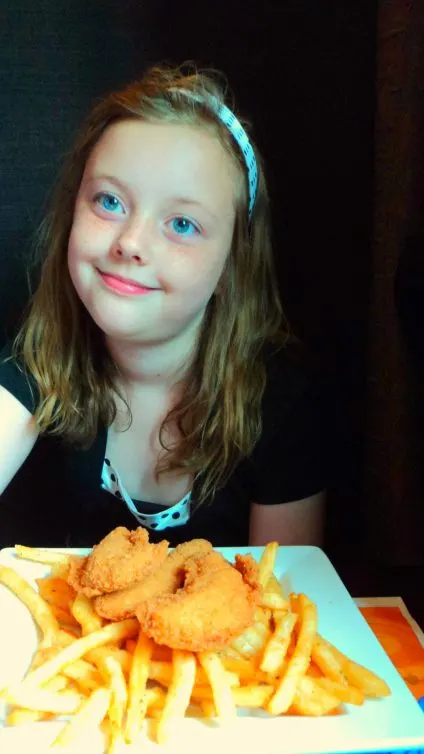 The bottom line is that the food was delicious, the service was excellent, the atmosphere was perfect for a family dinner, and that is why You Have to Visit Caroline's Restaurant in Dubuque, Iowa.
The restaurant is located inside Hotel Julien at 200 Main St., Dubuque, Iowa and according to their site you can get their delicious foods delivered right to your room if you are staying at Hotel Julien. Visit their website to find more information by clicking here.