The best chocolate peanut butter ice cream recipe contains affiliate links, which means if you make a purchase after clicking on a link, I will make a small percentage of the sale at no additional cost to you.
This no-churn homemade ice cream is the best chocolate peanut butter ice cream recipe because it makes the perfect ice cream without all of the trouble of traditional recipes.
You don't even need an ice cream maker or a KitchenAid attachment for this great recipe.
Another reason this is the best ice cream to make is that there is no need to deal with egg yolks like with most homemade ice cream recipes.
This recipe doesn't even require cooking so there is no need to worry about making sure you are tempering eggs at medium-low heat or medium heat.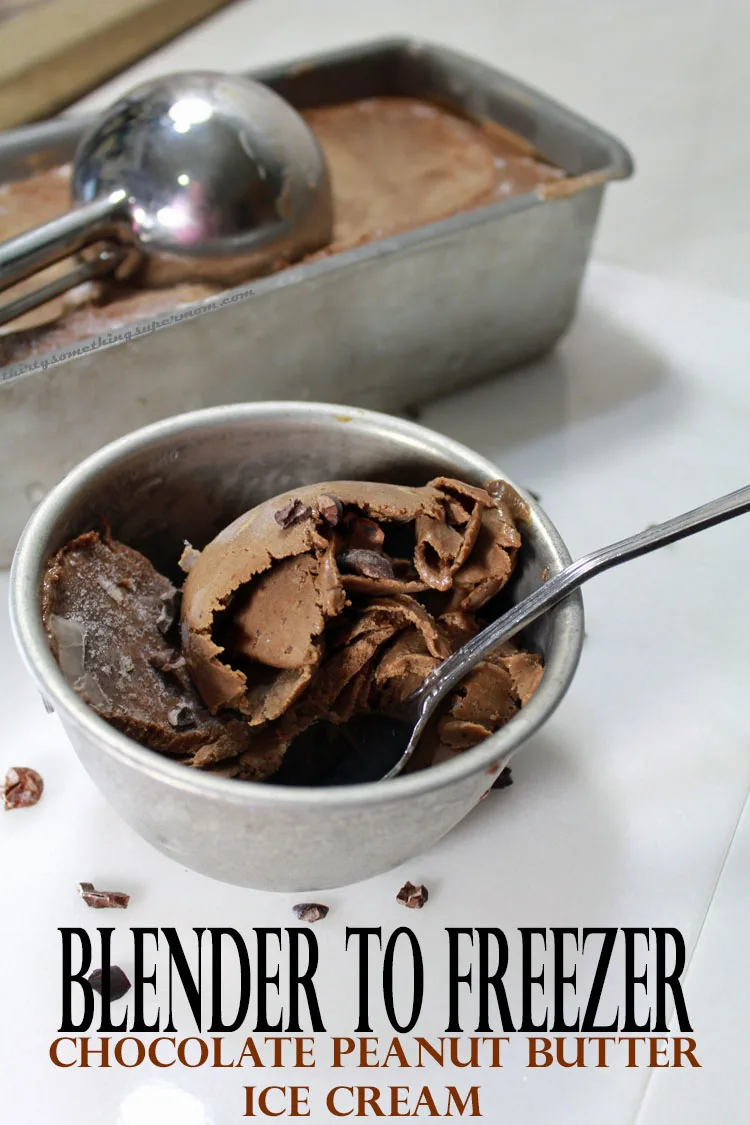 This ice cream base is made up of 6 simple ingredients that come together to create a homemade chocolate peanut butter ice cream that will satisfy your sweet tooth, and that's without any added sugar, artificial sweeteners, or natural sweeteners.
Keep in mind that this is not a sugar-free ice cream recipe although it doesn't call for any added sugar.
Since this ice cream mixture is made up of items like whole milk and sweetened condensed milk, it contains the sugar that those ingredients contain.
This recipe is so simple to make, even if this is your first time making your own creamy chocolate ice cream at home without an ice cream machine.
This will be your favorite ice cream to make when you want the delicious flavors of a creamy homemade chocolate ice cream without all of the trouble.
Ingredients for the Best Chocolate Peanut Butter Ice Cream
The only ingredients you will need to make this recipe exactly how I do is Condensed Milk, regular peanut butter, cocoa powder, vanilla extract, cacao nibs, and milk.
So easy, the best part is that there is no need for an egg mixture, stiff peaks, a ninja creami maker, peanut oil, or vegetable glycerin to create this one.
Be sure to check the recipe card at the bottom of this post to get my recipe for this delicious treat.
Add In Ideas for this Easy Ice Cream Recipe
In my opinion, one of the best flavor combinations is chocolate and peanut butter but this recipe is really versatile so you can experiment with your favorite flavors.
Check out my add-in options and recommendations for chocolate and peanut butter lovers below.
Tips for Chocolate Lovers
I like the strong chocolate flavor that cacao nibs offer and find that this is one of the best ingredients to use in my favorite ice cream recipes, including vanilla ice cream and strawberry ice cream when I want a burst of chocolate flavor.
It's one of those premium ingredients that I always keep on hand and when combined with a sprinkle of sea salt, the flavor can't be beat in most recipes.
If you want to add in more chocolate flavor to create a really rich ice cream just before serving this special treat, pour some chocolate sauce on top.
Room temperature works best when pouring on top but you could also add many types of chocolate to the ice cream base before freezing.
Increase the amount of cocoa powder you use to really bring this rich chocolate ice cream to the next level.
You could also add in chocolate chips or chocolate chunks to give this creamy ice cream a different texture.
Tips for Peanut Butter Lovers
This recipe calls for one and a half cups of creamy peanut butter but you can add an extra cup of peanut butter or peanut butter chunks if you prefer.
Create a peanut butter swirl with one or many swirls of peanut butter.
You could sprinkle some Reese's peanut butter cups on top or add a squirt of peanut butter syrup just before serving to keep the creamy texture while adding a burst of real peanut butter flavor.
Add In Ideas for the Best Chocolate Peanut Butter Ice Cream
Add in some of your favorite protein powder or a little cottage cheese to create a protein ice cream that doubles as a treat.
Once this is frozen it can easily make a protein shake that rivals any ice cream shop milkshake.
Replace the vanilla extract with maple syrup for a significant difference in flavor with little effort.
Or omit the whole milk and condensed milk but use heavy cream to make a high fat content version of this simple recipe.
When paired with natural peanut butter and guar gum, you can create a keto-friendly no churn ice cream. Just be sure to use heavy whipping cream for best results.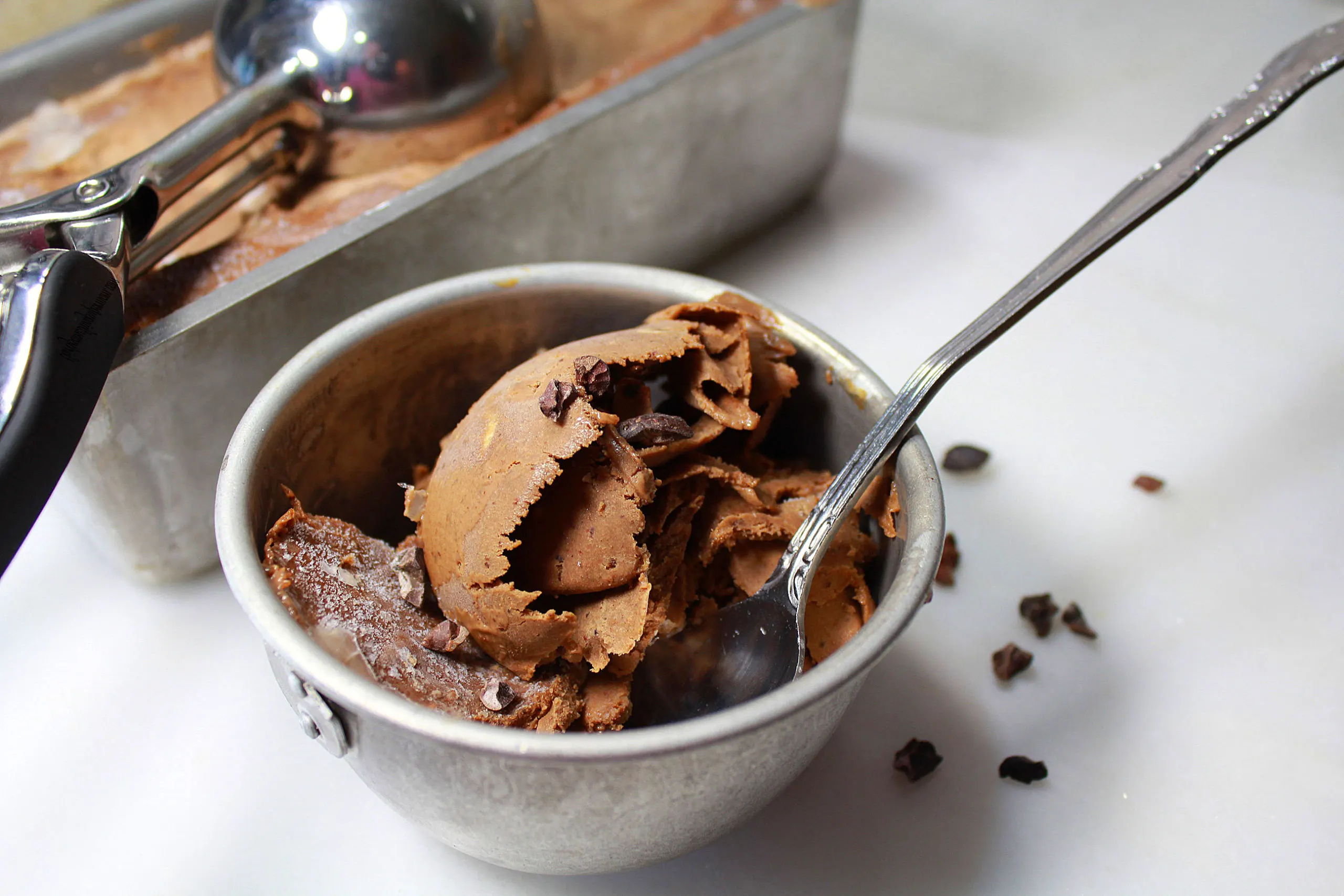 Equipment Needed for the Best Chocolate Peanut Butter Ice Cream
The only tools required to create this blender-to-freezer ice cream recipe are a blender and an airtight container. I use this loaf pan with a lid for all of my no churn ice cream recipes.
Be sure that you're using a freezer-safe container with a lid or plastic wrap so less air will reach your ice cream during the freezing process.
You may also want to invest in a good ice cream scooper.
I have had a lot of ice cream scoopers break in the past so I finally broke down and bought a solid ice cream scoop, it makes things much easier.
Pro Tip: It also helps to dip your ice cream scooper into a bowl of warm water before attempting to scoop ice cream because it digs into the frozen treat a little easier.
How to Make The Easiest Homemade Ice Cream Recipe
Dump all of the ingredients into a blender, there is no need to mix with a wooden spoon in a large bowl first, this is just a waste of dishes.
Blend on low speed and increase the speed to high if needed. Pour the contents of the blender right into a freezer-safe container.
Let it freeze overnight for best results and then pull it out about 20 minutes to allow the ice cream to soften before serving.
More Frozen Desserts
Indulge in guilt-free frozen delights with these sensational easy-to-make ice cream recipes. Elevate your dessert experience with the irresistible combination of cacao, strawberry, and peanut butter in a delectable blend that will satisfy your cravings.
For those following a keto lifestyle, delve into the velvety goodness of an easy-to-make keto chocolate ice cream, perfectly suited to your low-carb needs.
Take your ice cream game up a notch with guilt-free ice cream sandwiches, where you can relish the delightful flavors while keeping your health goals in check.
If simplicity is your mantra, try the luscious three-ingredient creamy peach ice cream, delivering a burst of fruity sweetness in every spoonful.
And for all the coconut lovers out there, savor the creamy, tropical paradise of coconut ice cream, a true delight for your taste buds.
These recipes promise a heavenly indulgence without the need for a complicated ice cream recipe.
Treat yourself and your loved ones to a good time with these delightful frozen treats today, made with ease and bursting with flavor.
If you liked this recipe be sure to sign up for the free newsletter so you will get an email the next time I post an easy recipe or follow along on social media.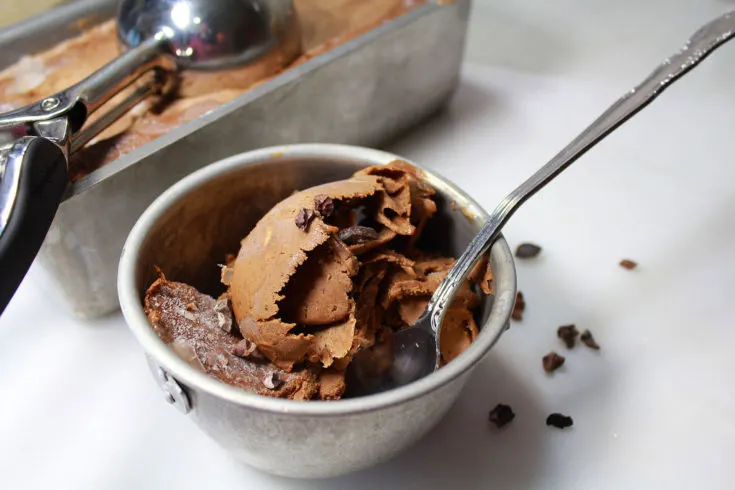 Best Chocolate Peanut Butter Ice Cream No Churn Recipe
Ingredients
1 Can Condensed Milk
1 1/2 Cup of Peanut Butter
1/2 Cup of Cocoa Powder
2 Teaspoons of Vanilla
3 Tablespoons of Cacao Nibs
1/3 Cup of Milk
Instructions
Dump all of the ingredients into a blender.
Blend.
Pour into a freezer safe container.
Let freeze overnight.
Pull out about 20 minutes before serving to allow to the ice cream to soften to a perfect serving texture.