This Blender to Freezer Ice Cream Recipe contains affiliate links, that means if you make a purchase after clicking on a link, I will make a small percentage of the sale with no additional cost to you.
In my opinion, there is nothing better than a chocolatey peanut buttery creamy dessert and this Blender to Freezer Ice Cream Recipe is the perfect way to enjoy this indulgence.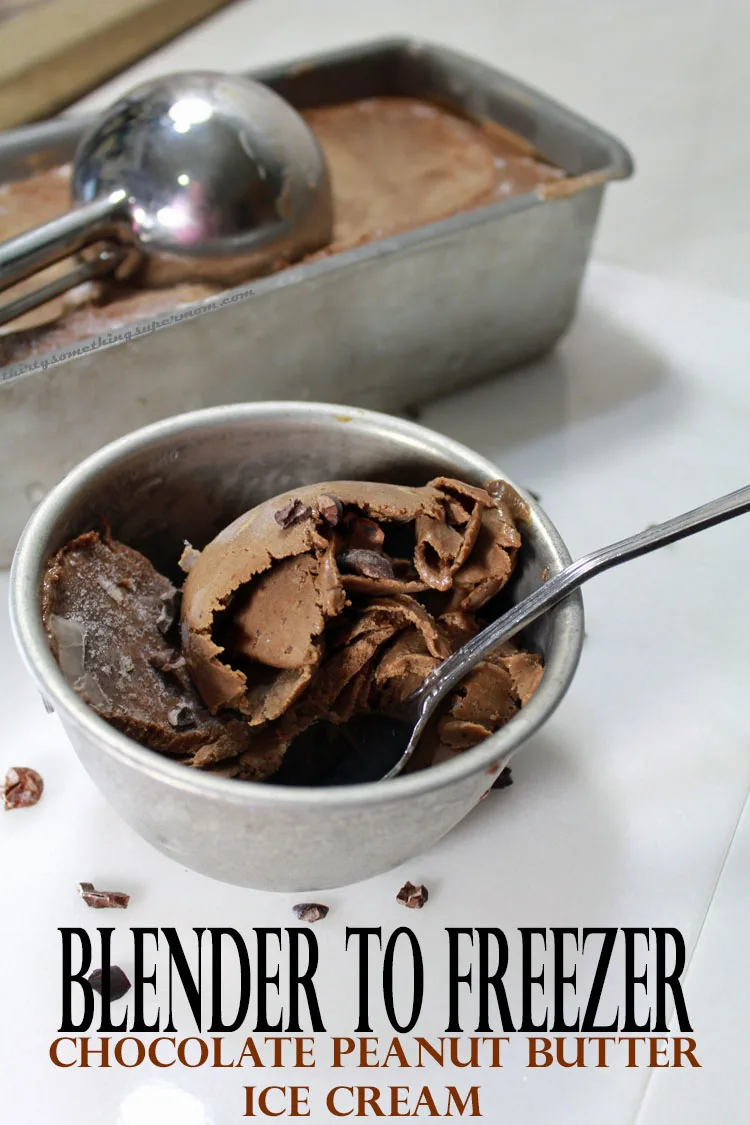 The best part is that this ice cream can be made without an ice cream maker and there is no churning required.
I love a quick and delicious recipe that doesn't mess up the entire kitchen or require a degree in culinary arts, so this blender to freezer ice cream recipe is perfect for me!
The only tools required to create this blender to freezer ice cream recipe are a blender and a storage container.
I use a bread loaf pan with a sheet of aluminum foil on top but you can purchase a bread loaf pan with a lid here.
Another tool that you may want to pick up if you are a big ice cream fan like myself, is a good ice cream scooper.
I have had a lot of ice cream scoopers break in the past so I have figured out which design works best for me, the kind with the swing lever scooper design is best in my opinion.
It also helps to dip your ice cream scooper into a bowl of warm water before attempting to scoop ice cream because it digs into the frozen treat a little easier.
Since you are saving a lot of effort and time on the process by not using an ice cream maker and using the blender to freezer method instead, you can put a little more effort into the presentation.
This blender to freezer chocolate peanut butter ice cream is perfect for any peanut butter and chocolate lover because it delivers a bold chocolate flavor wrapped in a peanut butter cream.
I didn't add any sugar to this ice cream recipe because I like the strong chocolate flavor and think the sweetness takes away from the bold taste that the cacao nibs offers.
When preparing the blender to freezer ice cream, you can taste the treat before freezing to determine if you would enjoy this recipe more with a little sugar or honey added in.
Depending on the peanut butter you use, you may not need to add any at all, some peanut butter brands have sugar already added in, I use this brand which is just pure peanut butter, no sugar added.
Play with this blender to freezer ice cream recipe and make it your own before freezing it, this way you will have the perfect no churn ice cream recipe for your family.
Don't forget to share!
Blender to Freezer Chocolate Peanut Butter Ice Cream
Ingredients
1 Can Condensed Milk
1 1/2 Cup of Peanut Butter
1/2 Cup of Cocoa Powder
2 Teaspoons of Vanilla
3 Tablespoons of Cacao Nibs
1/3 Cup of Milk
Instructions
Dump all of the ingredients into a blender.
Blend.
Pour into a freezer safe container.
Let freeze overnight.
Pull out about 20 minutes before serving to allow to the ice cream to soften to a perfect serving texture.