Are you planning a trip to the beautiful Door County? This post will help you select the best RV parks near oor county, WI with plenty of room for the whole family.
Find out everything you need to know about oor county campgrounds here so you can be sure you are selecting the perfect place for your family to enjoy the great outdoors.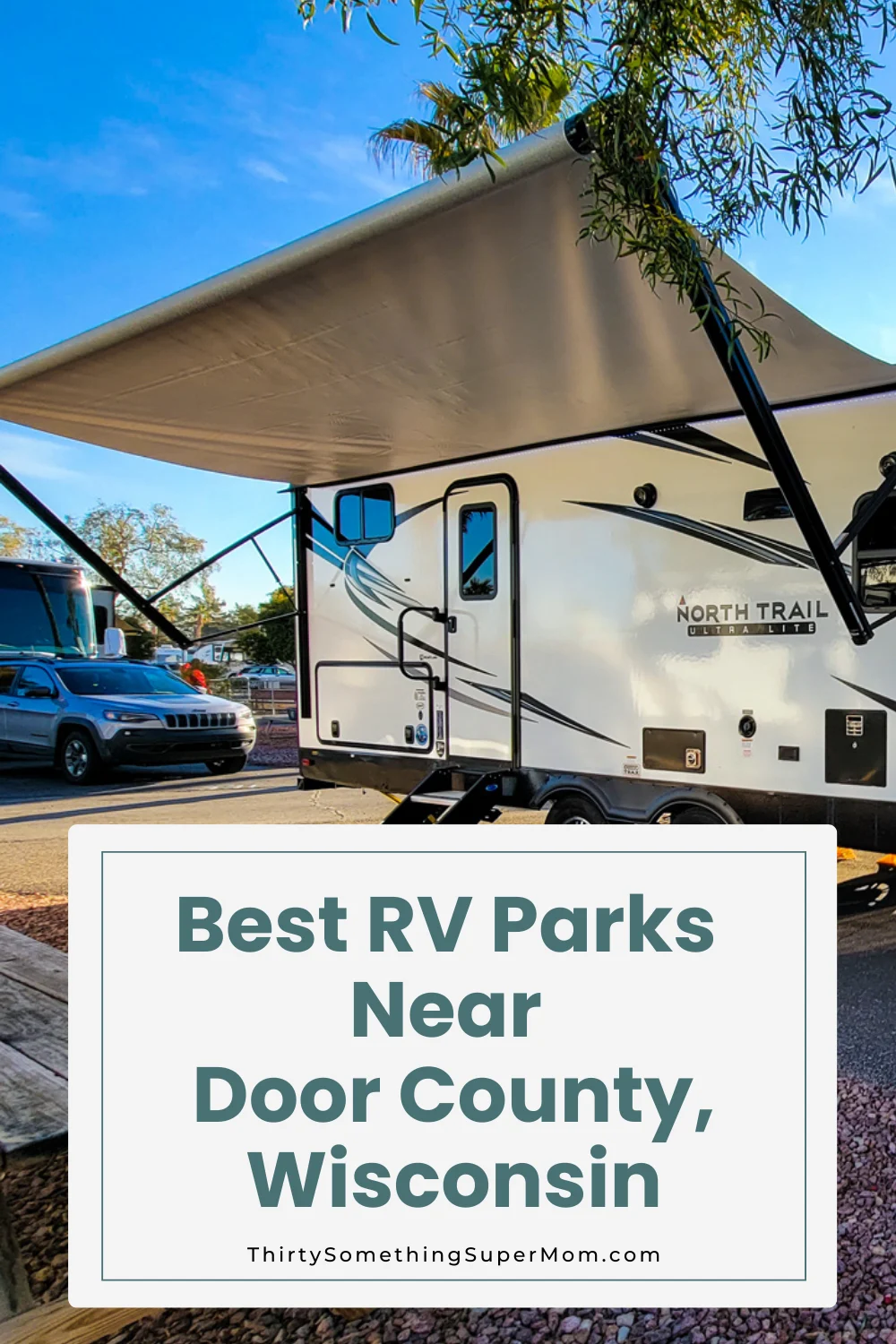 Choosing the Best RV Parks Near Door County WI
When planning your weekend camping trip and booking your rental accommodations, there are many things to consider.
Whether you are looking for private campgrounds in Door County with full hookups or want somewhere to park your big rig that is close to the best state parks in the Door County area, this post is for you.
Here you will learn about the area's many attractions and find the perfect RV campground with great amenities at a reasonable price for your family trip to Door County, Wisconsin.
Plan the ultimate outdoor experience with exciting activities such as hitting the bike trails, exploring the Cana Island Lighthouse in Door County, and making the most of the camping season at some of the best RV campgrounds Wisconsin has to offer.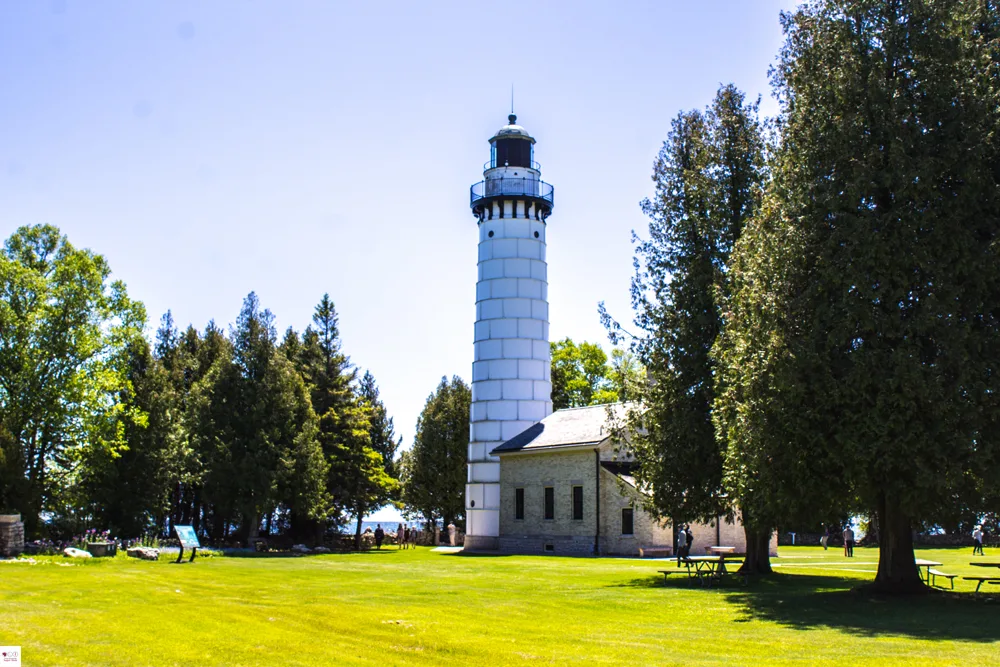 List of RV Parks Near Door County Wisconsin
Door County KOA
If you're planning a trip to Door County and looking for a campground near Sturgeon Bay, Wisconsin, you should definitely check out the Door County KOA.
They have a lot to offer for RV camping enthusiasts like us, with pet-friendly accommodations, and outdoor activities like minigolf, a basketball court, and a volleyball court.
They even have a catch-and-release fishing pond, horseshoe pits, and swimming facilities, which makes this the perfect choice for families who want to have a great time together.
The campsites are spacious, and the campground is surrounded by beautiful woods, creating a peaceful and scenic atmosphere.
Worried about planning your trip on a rainy day? No problem! This facility has a game room that is sure to keep you entertained even when the weather won't cooperate.
This park is just a short drive away from the Gardner Swap State Wildlife Park and Sir Reginald's Sweet Cherry Orchard.
The Door County KOA is located at 9245 Lovers Lane Brussels, WI 54204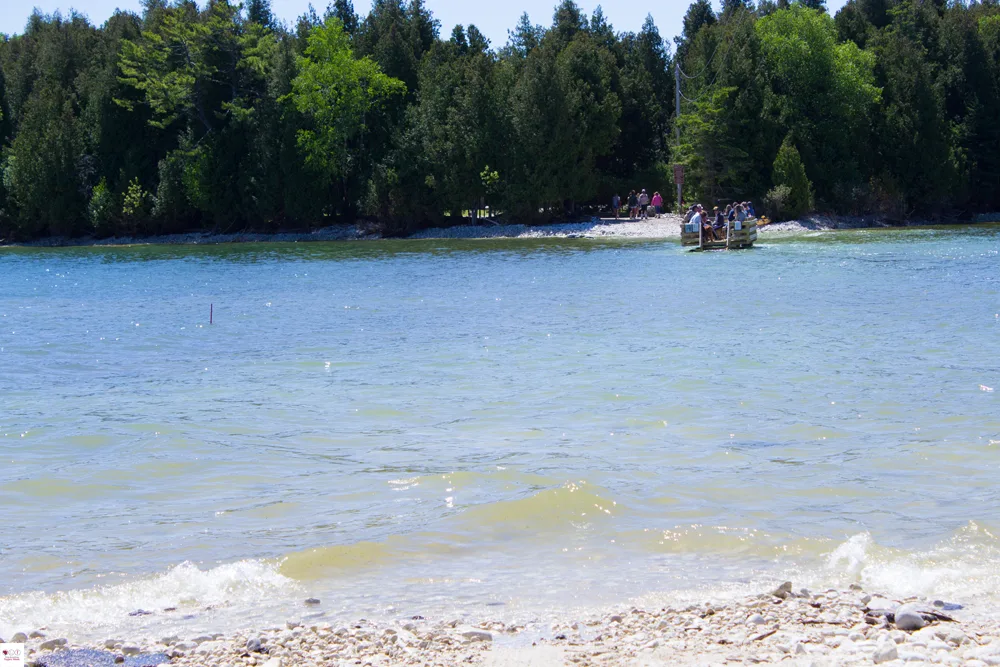 Wagon Trail Campground
Wagon Trail Campground is the perfect destination for unwinding, relaxing, and creating unforgettable memories with your loved ones.
It's a hidden gem located at the Northern tip of Door County that allows you to escape the chaos of everyday life and fully indulge in quality family time. Trust me, this place will capture your heart and leave you longing for more!
One of the remarkable features of Wagon Trail Campground is the sense of privacy that comes with its secluded, wooded sites spread out over 80 acres.
Imagine being embraced by nature's serenity, surrounded by lush greenery, and enjoying the utmost tranquility. The clean bathrooms, adorned with delicate flowers, add a touch of charm to your camping experience.
And the wildlife you'll encounter here is simply magical—it's like stepping into an enchanted forest!
Now, let's talk about the camp store. It's an absolute delight, a treasure trove of camping essentials that ensures you have everything you need for your adventure.
Plus, there's a game room where the whole family can have a blast and a playground where the little ones can let their imaginations run wild.
And here's the best part: Wagon Trail Campground warmly welcomes big rigs! So, if you're cruising in a large RV, worry not, because they've got you covered with spacious accommodations.
If you're in the mood for some sun-soaking and sand-between-your-toes action, you'll be thrilled to know that there are walking trails and a beautiful shallow beach within walking distance.
It's the perfect opportunity to kick back, unwind, and immerse yourself in the natural beauty that surrounds you.
But wait, there's more! If you don't feel like towing your own RV, no problem at all! Wagon Trail Campground offers rental RVs and cozy cabins.
And here's an idea that will make your summer vacation truly unforgettable: why not try staying in a yurt that sleeps up to five people?
This beautiful RV park borders the Mink River Nature Conservancy Preserve, is within walking distance from Liberty Grove Lake, and is conveniently located right by a boat launch.
Wagon Trail Campground is located at 1190 County Rd ZZ Ellison Bay WI 54210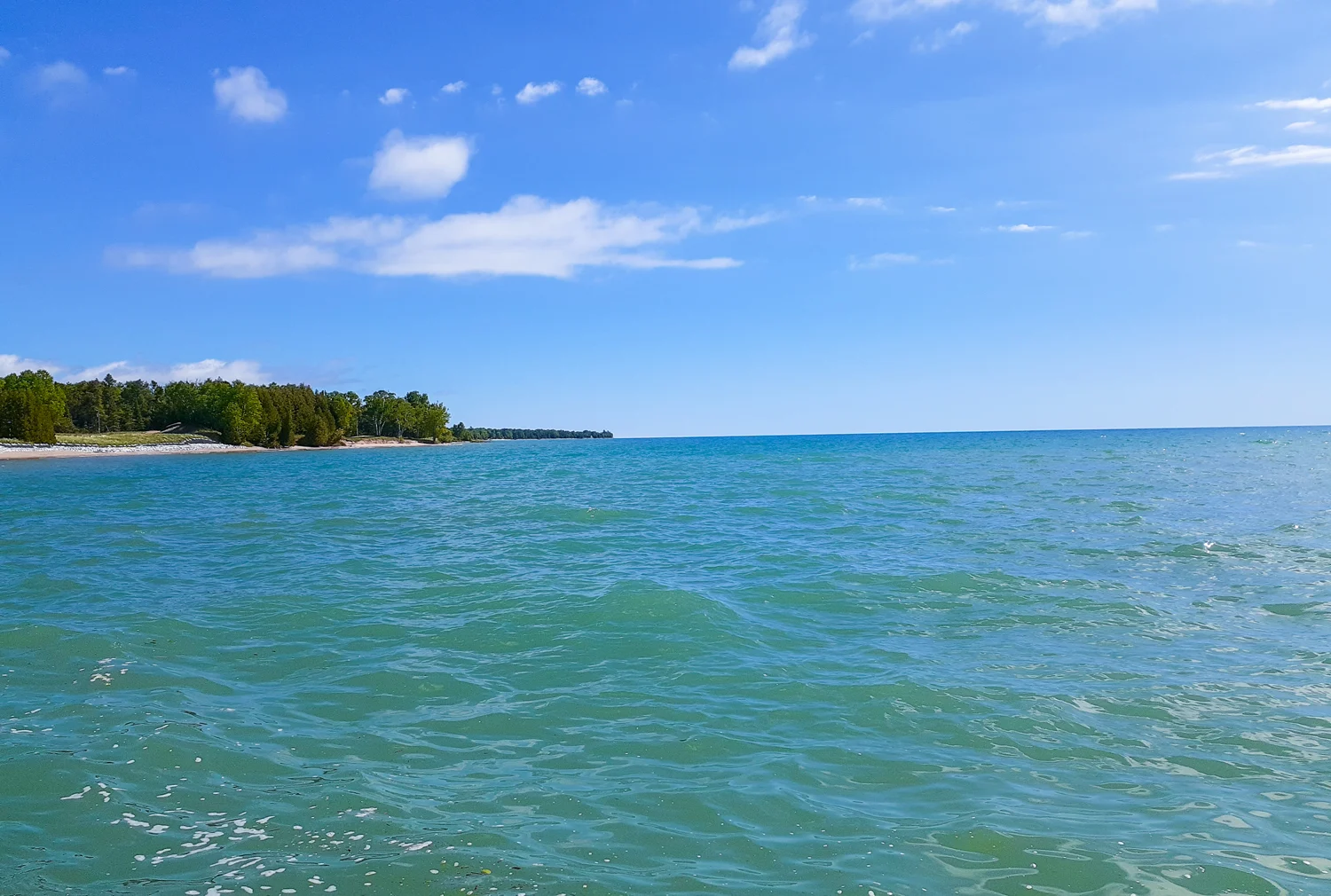 Peninsula State Park
This State Park in Wisconsin is absolutely massive, spanning across 3,776 acres, and offering plenty of space for exploration and adventure.
This place is perfect for group camps or large family gatherings looking for RV parks near Door county WI since they offer not just one, but five campgrounds within the park, boasting over 460 campsites.
But wait, there's more! This pet-friendly state park goes above and beyond camping, there is a lot to do here.
They offer a variety of fun including an 18-hole golf course, bike trails for those seeking an active ride around the local area, and even a lighthouse that adds a touch of history and charm.
The park also offers hiking trails, picnic areas, a general store, and a whopping eight miles of the beautiful shores of Lake Michigan.
Bring along your fishing pole and bathing suit to take full advantage of the calm waters and variety of rentals offered here.
This place has it all, from kayaks and canoes to paddleboards and even free fishing equipment for anglers of all ages with a fishing license.
Peninsula State Park is widely regarded as one of the best camping destinations in Wisconsin so be sure to plan ahead because this is one of the large sites that fill up fast.
If you have specific dates in mind, it's highly recommended to get your credit card out now and make your reservations as soon as possible to secure your desired spot.
Are you interested in experiencing the wonders of this incredible Wisconsin State Park?
This park is packed with plenty to do for the whole family but if you want to fully explore the wild wonder of Door County, this park is conveniently located by Door County Segway Tours giving easy access to those who want to explore the area in a unique way.
Peninsula State Park is located at 9462 Shore Rd, Fish Creek, WI 54212
Hy-Land Court RV Park & Campground
The Hy-Land Court RV Park is a great place to unwind and enjoy the beauty of nature. Nestled within a tranquil wooded area, this campground offers the perfect combination of privacy and serenity.
This reasonably priced campground offers a variety of camping options. Whether you prefer tent camping or bringing your RV, they have you covered.
The RV sites are well-equipped with water, sewer hookups, and electric service ranging from 20 to 50 amps, making it convenient for all types of travel trailers including a fifth wheel.
When visiting the area for the first time, it's reassuring to know that they can accommodate campers of all sizes.
Each campsite is thoughtfully designed, and you'll find a picnic table and fire ring at every site. It's perfect for enjoying meals outdoors and gathering around a cozy fire in the evenings.
The campground even provides firewood and ice for purchase, ensuring you have everything you need for a comfortable stay.
The bathrooms are well-maintained, and the free showers were a welcome treat after a day of outdoor adventures.
They also offer campground amenities like cable TV, so you can catch up on your favorite shows during downtime. Plus, with free Wi-Fi, you can stay connected and share your camping memories with friends and family.
Hy-Land Court also understands the practical needs of campers. They have drive-thru sites that make setup a breeze, as well as a convenient laundry facility for those longer stays. And when it's time to empty your tanks, they have a dump station available for your convenience.
If you're looking for an affordable campground that offers a peaceful and relaxing atmosphere, along close proximity to all the best places Door County has to offer, I highly recommend Hy-Land Court Door County campground.
It's a place where you can truly escape, and recharge while creating lasting memories.
Visiting on a rainy day? No problem! This campground is located just a short walk from the Liberty Grove Historical Society where visitors can learn all about the heart of Wisconsin from the friendly staff making this a great way to salvage a rainy day spent in the area.
Hy-Land Court RV Park and Campground is located at 11503 WI-42, Ellison Bay, WI 54210
Rustic Timbers Door County Camping
At Rustic Timbers Door County Camping, you are invited to experience the beauty of Door County, Wisconsin on a sprawling 80-acre campground.
Offering 100 spacious and wooded campsites that provide plenty of room for you to relax and unwind no matter how you enjoy the outdoors.
They have over 120 seasonal sites available, as well as five charming rustic cabins and 15 stunning deluxe cabins for those seeking a more cozy and convenient camping experience.
The camp store is stocked with everything you need, including a delightful selection of ice cream, a beer bar for refreshing drinks, and a snack shack to satisfy your cravings.
You'll also find an updated and heated pool, complete with a thrilling waterslide that rivals any water park, perfect for cooling off on hot summer days.
Kids will enjoy the two jumping pillows that provide endless entertainment, and fun outdoor games like the trampoline basketball court add an extra element of fun.
When staying at Rustic Timbers Door County Camping visitors can shop at unique places located nearby such as the Mistletoe Holiday House and the Schartner's Farm Market.
Rustic Timbers Door County Camping is located at 4906 Court Rd. Egg Harbor, WI 54209
HTR Door County
If you're planning a camping vacation and are looking for RV parks near Door County WI, you need to consider HTR Door County.
Formerly known as Egg Harbor Campground and RV Resort, this pet-friendly campground offers everything you need for a fantastic getaway. Offering everything from electric sites for parking your RV to cottages with a queen bed.
For those looking to enjoy the ultimate glamping experience in Door County, you may want to book one of their most unique vacation rentals that sleeps 6 people in a glamping tent with a kitchenette and private bathroom.
HTR Door County is the perfect destination for campers seeking an exceptional camping experience in the stunning Door County area. Whether you prefer RV spots, tent sites, or cozy cabins, they have a variety of accommodation options to suit every camper's needs.
The campground boasts modern amenities like electric hookups, flush toilets, and a laundry facility, ensuring a comfortable and convenient stay.
Outdoor enthusiasts will delight in the range of activities available, including a heated outdoor pool, playgrounds, and a game room. Plus, their fully stocked camp store provides all the essentials for a hassle-free camping trip.
Nestled near miles of shoreline and breathtaking lakes, HTR Door County offers easy access to thrilling outdoor adventures and water activities.
The campground's proximity to five state parks allows campers to explore the captivating limestone cliffs and indulge in various recreational adventures at the stunning lakes this area has to offer.
As a pet-friendly campground, HTR Door County warmly welcomes furry companions, making it an ideal choice for pet owners. With a strong commitment to privacy and friendly staff, campers can expect a welcoming atmosphere and an enjoyable experience throughout their stay.
Visitors may enjoy hopping aboard the nearby Door County Trolley to enjoy a scenic tour of the area that offers everything from lighthouse tours, mystery tours, and even ghost tours of the area.
Egg Harbor Campground is located at 8164 State HWY 42 Egg Harbor, WI 54209
Harbour Village Resort Campground & Waterpark
Harbour Village Resort is a captivating destination that offers a range of accommodations and amenities for a memorable getaway. From spacious RV sites to cozy cabins, visitors can find the perfect lodging option.
Families will enjoy the variety of amenities this campground and waterpark has to offer. There is no doubt in my mind that your kids will remember this place as being one of their favorite things from childhood since this place offers plenty of fun for the whole family.
Besides the impressive waterpark, the resort features beautiful surroundings, recreational activities, and modern facilities, ensuring a delightful experience for all guests.
Be sure to check the calendar of events to reserve your spot during one of the many fun weekends planned at this village resort including Disney themes and fun characters.
Kids can enjoy the waterpark all day and parents can shop the closeby Door Penninsula Winery for a relaxing evening back at the campsite.
Harbour Village Resort is located at 5840 WI-42 Sturgeon Bay, WI 54235
Tranquil Timbers RV Resort
At this RV Park, RV campers can expect a range of amenities and services for a comfortable stay. The park offers spacious RV sites with full hookups, including electric, water, and sewer connections.
Additionally, guests can enjoy access to modern facilities such as clean restrooms, showers, laundry facilities, and a convenient dump station.
Don't want to haul your rig? No problem! Experience the perfect blend of outdoor adventure and indoor comfort in this well-equipped yurt.
Nestled in a peaceful location near downtown St. Ignace, this canvas bell tent offers a serene getaway with a cozy queen bed, private restrooms, a fire pit, and thoughtful amenities for a memorable stay.
Want something more rustic? Escape into the tranquil beauty of nature with the rustic tents, ideal for seasoned campers seeking a simplified camping experience.
These tents offer convenient access to the RV Park & Campground's facilities, including restrooms, showers, and a 24/7 laundry room, allowing you to enjoy camping without the hassle of setting up your own tent.
Tranquil Timbers is ideally situated near captivating historical landmarks like Bullhead Point, Empire Shipwreck, and Oak Leaf Barge, allowing guests to easily explore these fascinating points of interest during their stay.
Tranquil Timbers RV Resort is located at 3668 Grondin Rd, Sturgeon Bay, WI 54235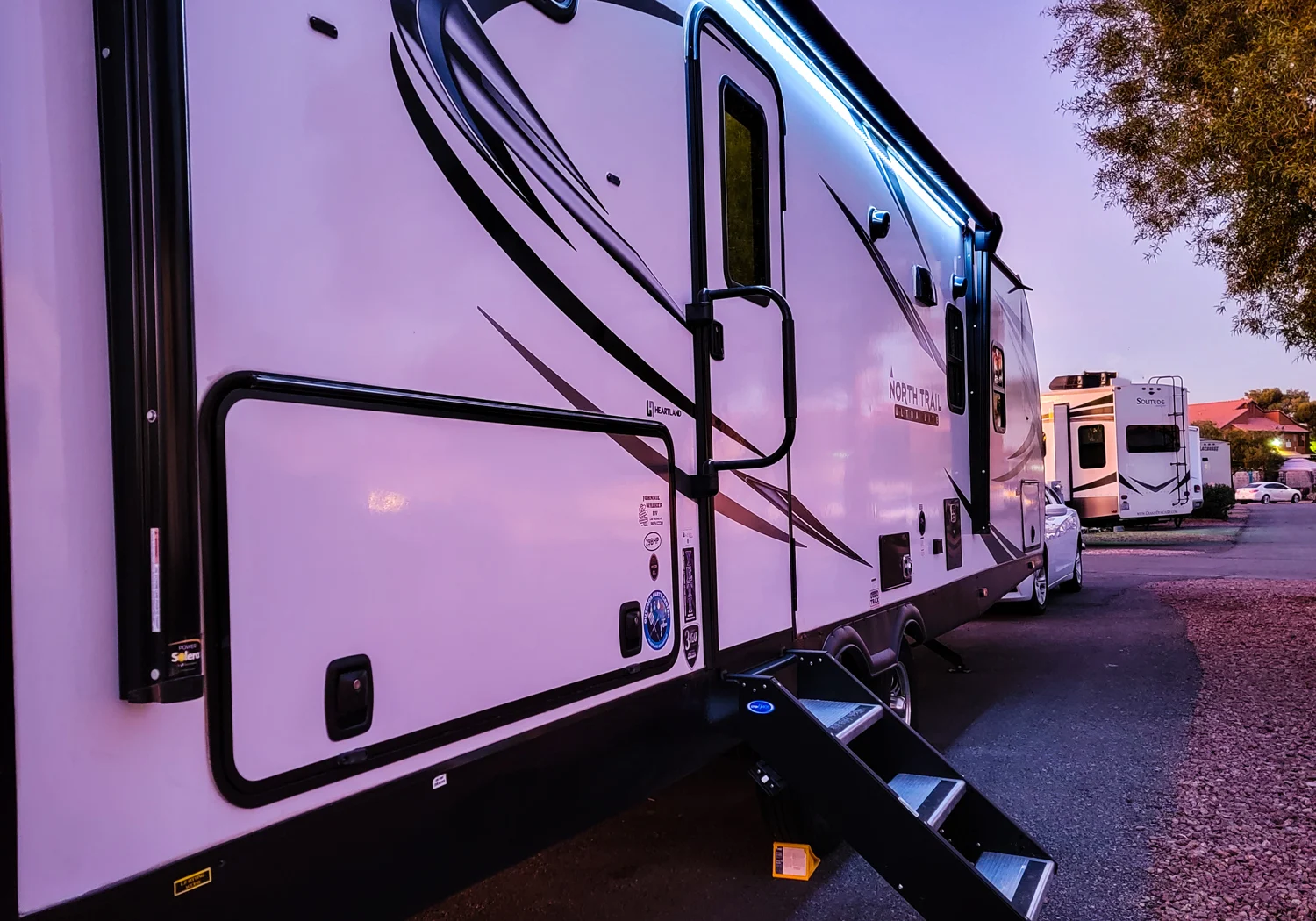 Washington Island Campground
Let's talk about Washington Island Campground, one of the must-visit campgrounds in Door County.
What makes it truly unique is that it's situated on its very own island! With its stunning camping and RV sites, a delightful swimming pond complete with inflatables, playgrounds, and a volleyball area, this campground offers a perfect retreat for both families and their furry companions.
To reach the island, you'll need to take the Washington Island Ferry, crossing the intriguingly named Death's Door passage.
Keep in mind that there is a separate charge for each person, automobile, or oversized vehicle like an RV, so it's essential to consider the ferry costs.
However, if you prefer a more cost-effective option, you can opt for one of the cozy cabins or bring your own tent for a memorable camping experience.
Once you've taken the car ferry to Washington Island, you'll have a plethora of exciting activities to enjoy.
Explore the island's backroads by biking, driving, or even Segway, visit historic museums, marvel at the unique Schoolhouse Beach with its stone-covered shoreline, immerse yourself in the medieval charm of the Stavkirke church, discover Lavender farms, and for a remote adventure, take a second ferry to Rock Island State Park.
Washington Island Campground offers a range of amenities to ensure a comfortable and enjoyable camping experience.
From spacious and well-maintained camping and RV sites, a refreshing swimming pond with fun inflatables, a playground, and a volleyball area, to horse sites for our four-legged companions, there are plenty of activities for everyone.
Additionally, with access to facilities such as cabins, and tent sites, and the convenience of being on an island with its unique charm and attractions, Washington Island Campground provides a delightful getaway for nature lovers.
Washington Island Campground is located at 745 East Side Rd, Washington, WI 54246
Aqualand Campground
At Aqualand Campground, you can enjoy a variety of amenities that will make your camping experience truly memorable.
From spacious and well-equipped campsites to modern shower and restroom facilities, they offer the basics that you need for a comfortable stay including water, electricity, a fire ring, and a picnic table.
Additionally, their on-site amenities include a heated outdoor swimming pool, a playground for the kids, and a loan library to enhance your downtime while staying at the campground.
This campground is conveniently located nearby a couple of points of interest including the Door Karma Farms and the Mudlake Wildlife area.
Aqualand Campground is located at 2445 County Q Sister Bay, WI 54234
Baileys Woods Campground
Located in the beautiful Bailey's Harbor, Bailey's Woods Campground offers a range of amenities to ensure a pleasant and enjoyable camping experience for RVs or tent camping.
With spacious and well-maintained campsites, modern restroom and shower facilities, and friendly and helpful staff, you'll feel right at home.
They also provide a camp store where you can find supplies and essentials, as well as recreational activities such as a swimming pool, playground, and hiking trails to keep everyone entertained.
Whether you're looking for relaxation or outdoor adventures, Bailey's Woods Campground has all of the basics you'd expect from a stay in the RV parks near door county WI.
If you are looking for adventure while exploring Door County, this campground is conveniently located nearby Lakeshore Adventures Zipline.
Baileys Woods Campground is located at 2701 County EE Baileys Harbor, WI 54202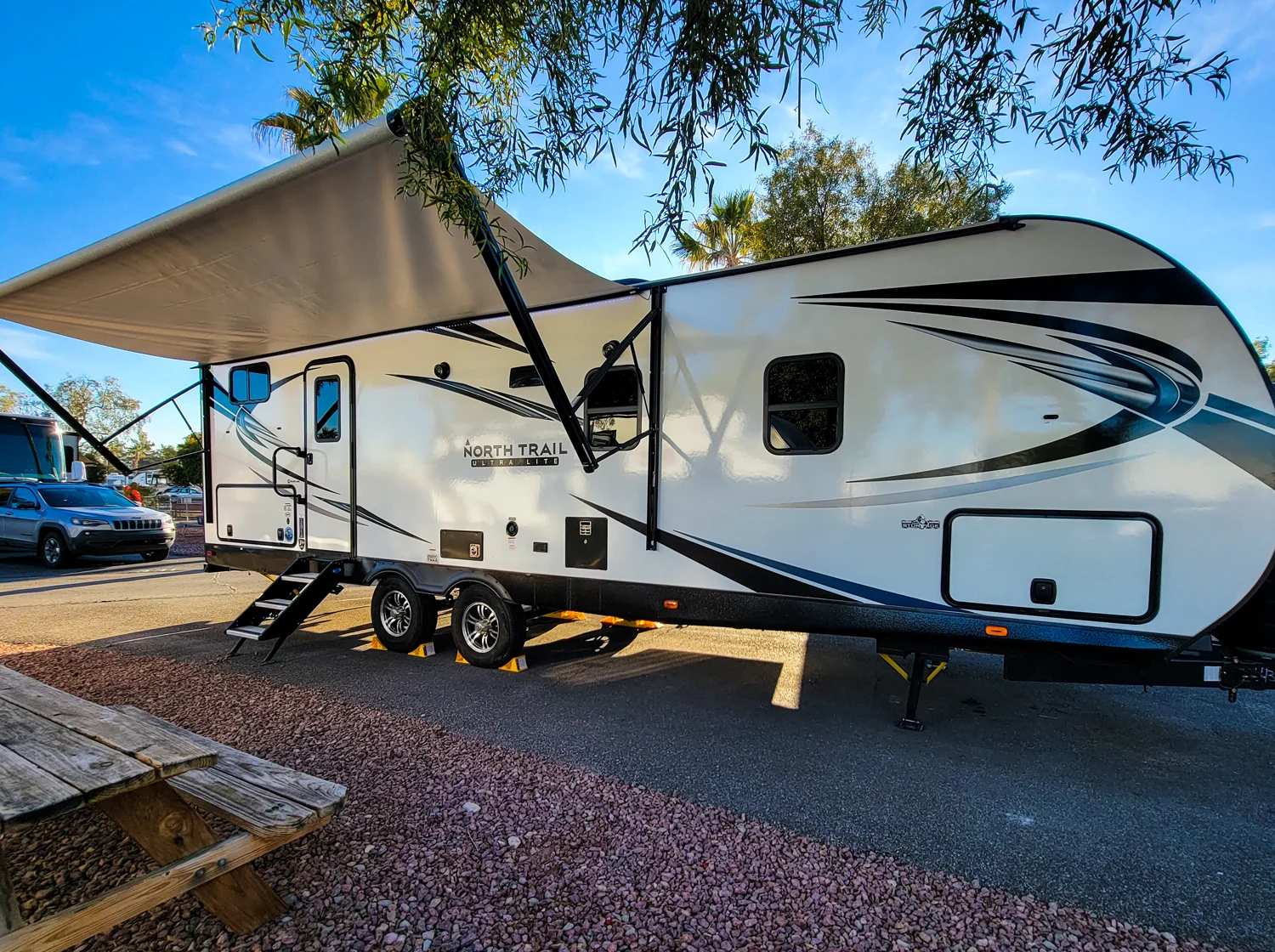 Looking for More Midwest Travel Ideas?
If you enjoyed this post sharing RV parks near Door county WI, you'll love these other Midwest travel ideas.
Don't miss this list of the 15 Best Restaurants in Wisconsin Dells sharing all of the best unique dining experiences in the Wisconsin Dells area that just can't be found anywhere else.
You won't want to miss the Dickeyville Grotto in Dickeyville, Wisconsin while traveling through America's Dairyland. This unique tourist attraction is a must-see stop located in the southwestern tip of Wisconsin.
If you are looking for the ultimate camping experience in Iowa, you won't want to miss Lacey-Keosauqua State Park. Offering pet-friendly cabins and plenty of outdoor fun for the whole family, this hidden gem is begging to be explored.
Music lovers will enjoy taking a Rock N' Roll Road Trip that explores musical points of interest across three states including Indiana, Ohio, and Michigan.
If you have enjoyed this post sharing the best RV parks near oor county WI consider signing up for the free newsletter so you never miss another travel post again.