This post answering the question, can you make popcorn in an air fryer contains affiliate links which means that if you make a purchase after clicking a link, I will receive a small portion of the sale at no additional cost to you.
Yes, you can absolutely make delicious popcorn in your air fryer! With just a little patience, this simple recipe will become your favorite way to make popcorn at home.
Popcorn lovers are going to adore using their air fryer to pop this healthy snack because this is an incredibly easy way to indulge in a healthy treat whenever you desire.
Plus, it eliminates the need for yet another kitchen gadget taking up precious counter space.
Whether you're planning a movie night or simply craving a light and crispy snack, homemade air fryer popcorn is a good idea.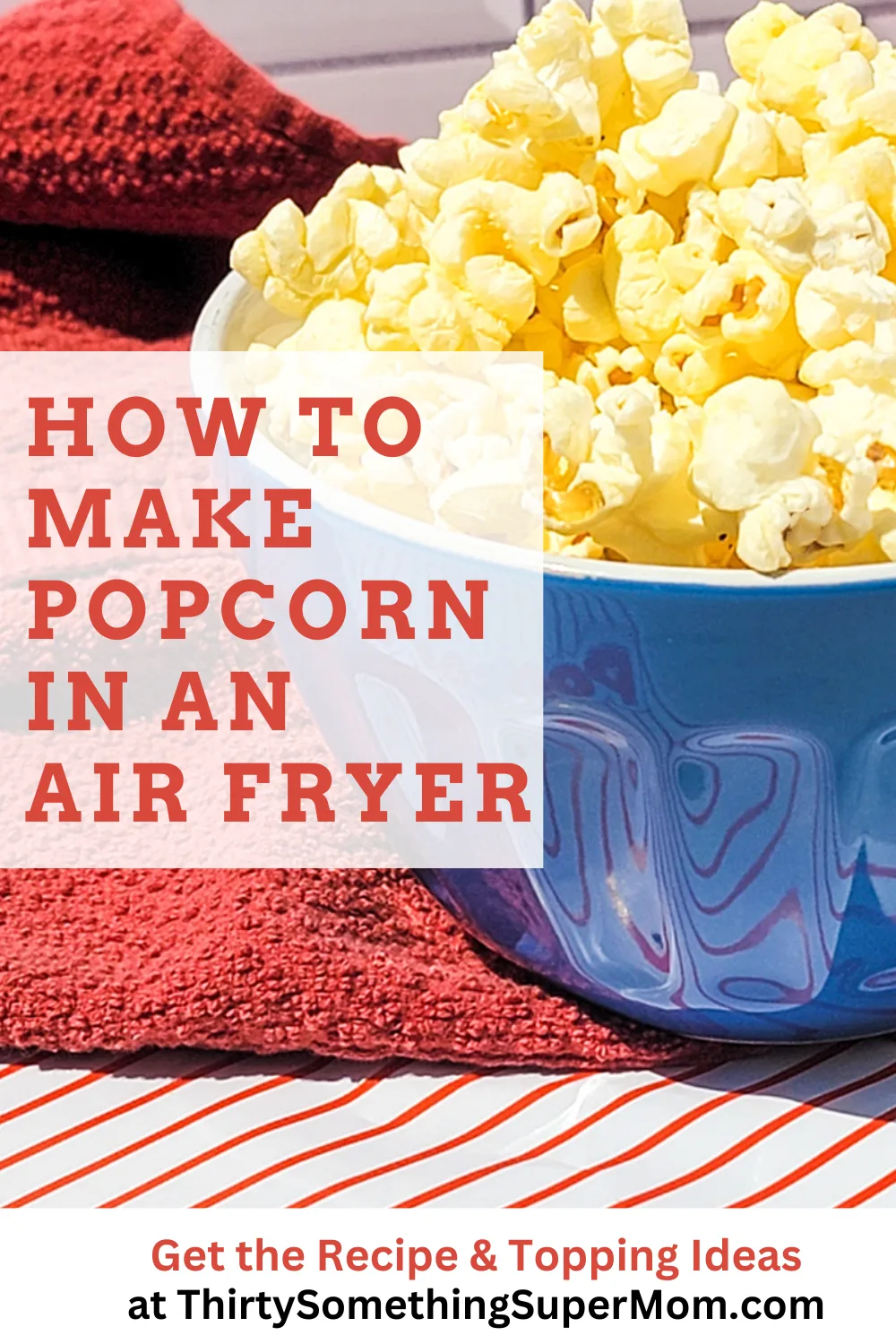 Why Make Popcorn in the Air Fryer?
If you have been following along for a while you probably already know that air fryer recipes are kind of my thing.
I love coming up with different ways to use it and have found it to be the best way to make a lot of my favorite dishes and snacks. It's such a great way to speed up the process of many of my favorite recipes.
Unfortunately, that is not the case with air fryer popcorn because this is not the fastest way to pop popcorn but it is a great alternative to making this easy snack using a traditional method.
It is my favorite although if you have less time on your hands you may try making this quick snack using a stovetop popcorn popper or microwave to make popcorn in a paper bag with a shorter cook time.
So you may ask, if it isn't the fastest method for making homemade popcorn, why is it the best option?
Well through a lot of trial and error, I have found that this method creates the perfect popcorn with a texture that rivals movie theatre popcorn.
I like a nice fluffy popcorn and my air fry popcorn recipe has proven to give me the best results when the craving hits for this tasty treat.
The beauty of air fryers is that they operate on the same principle as an air popper, using hot air to cook the popcorn.
This makes it a healthier option that requires less oil. However, it's important to note that air fryers are best suited for small batches, perfect for one or two people per batch.
If you're preparing popcorn for the whole family, you can just make this air fryer popcorn recipe twice.
I have found that kids who love popcorn find this to be a fun way to help out.
Plus, air-popped popcorn leaves less chance for accidents than the traditional stovetop method when kids are involved.
What You'll Need to Make this Easy Air Fryer Popcorn Recipe
To make air fryer popcorn, you'll need basic ingredients like plain popcorn kernels, a small bowl, tin foil, and some cooking spray or a little oil, such as olive oil, avocado oil, or coconut oil.
Obviously, you will also need an air fryer.
The directions and cooking time may vary depending on the model of the air fryer you are using but this recipe for air fryer popcorn can serve as a starting point for your experimentation.
For example, the Ninja Foodi is a big air fryer with more surface area and different controls than the Philips air fryer, so the first time you do this may need a bit of monitoring until you figure things out.
Some air fryers may only take 8-10 minutes to make the perfect popcorn, which is why you'll need to keep an eye on the cooking process until you have figured out the perfect amount of cooking time.
If your air fryer needs a few minutes to warm up from room temperature to the perfect cooking temperature, this will impact your overall cooking time so be sure to adjust based on the model you use.
After a major fail, I can not recommend using the instant pot to make popcorn or kettle corn just yet. I will be working on this one for a future post but I need to improve the star rating on this one before sharing.
How to Make Popcorn in An Air Fryer
To prevent kernels from falling under the basket and potentially causing damage to your air fryer, a handy trick is to line the bottom of the basket with aluminum foil.
This way, the kernels won't heat up and build pressure, leading to burnt popcorn and potential harm to the basket.
It's a simple yet effective solution to keep your air fryer in great shape while enjoying perfectly popped popcorn.
Start by coating a quarter cup of kernels with one teaspoon of oil. Now, for optimal results, evenly spread the popcorn kernels in a single layer across the bottom of your air fryer basket lined with aluminum foil.
This step ensures that the kernels are well-distributed and have ample space to pop and turn into delicious, fluffy popcorn. By following this technique, you'll achieve the best outcome when making popcorn in your air fryer.
To achieve popcorn perfection, set your air fryer to 400 degrees Fahrenheit and cook the corn for a precise 15 minutes.
This duration allows ample time for the popcorn to pop and reach its optimal state. It's crucial not to exceed the 15-minute mark, as doing so may result in unwanted burning.
When you take out the popcorn from the air fryer, you can expect a similar outcome as with any other cooking method so there may be a few unpopped kernels.
Carefully remove the basket from the air fryer and give it a gentle shake to release any remaining unpopped kernels.
Be cautious as the basket and popcorn will be hot. Transfer the popcorn to a large bowl and season it with your favorite toppings.
Topping Ideas
Some popular choices include salt, garlic salt, or even melted butter for that indulgent movie theater popcorn experience.
Enjoy a variety of delicious popcorn toppings like Parmesan and herb, caramel and sea salt, spicy Sriracha, chocolate lover's delight, taco seasoning, maple cinnamon, buffalo wing, everything bagel, ranch dressing, and BBQ bliss for a flavorful and satisfying snack.
Air fryer popcorn is a quick and satisfying snack that you can enjoy on its own or pair with other treats during movie nights or any casual gathering.
The best part is that you have full control over the ingredients and flavors, allowing you to customize it according to your preferences.
Plus, making popcorn in an air fryer eliminates the need for excessive oil and reduces the chances of burnt or un-popped kernels.
So, the next time you're in the mood for a tasty snack, give the air fryer popcorn a try. It's a fantastic alternative to microwave popcorn and delivers fluffy, flavorful results.
With a little bit of trial and error, you'll find the perfect cooking time and combination of toppings that will make this easy and fun recipe your new favorite snack.
Enjoy your homemade air fryer popcorn and savor every delicious bite!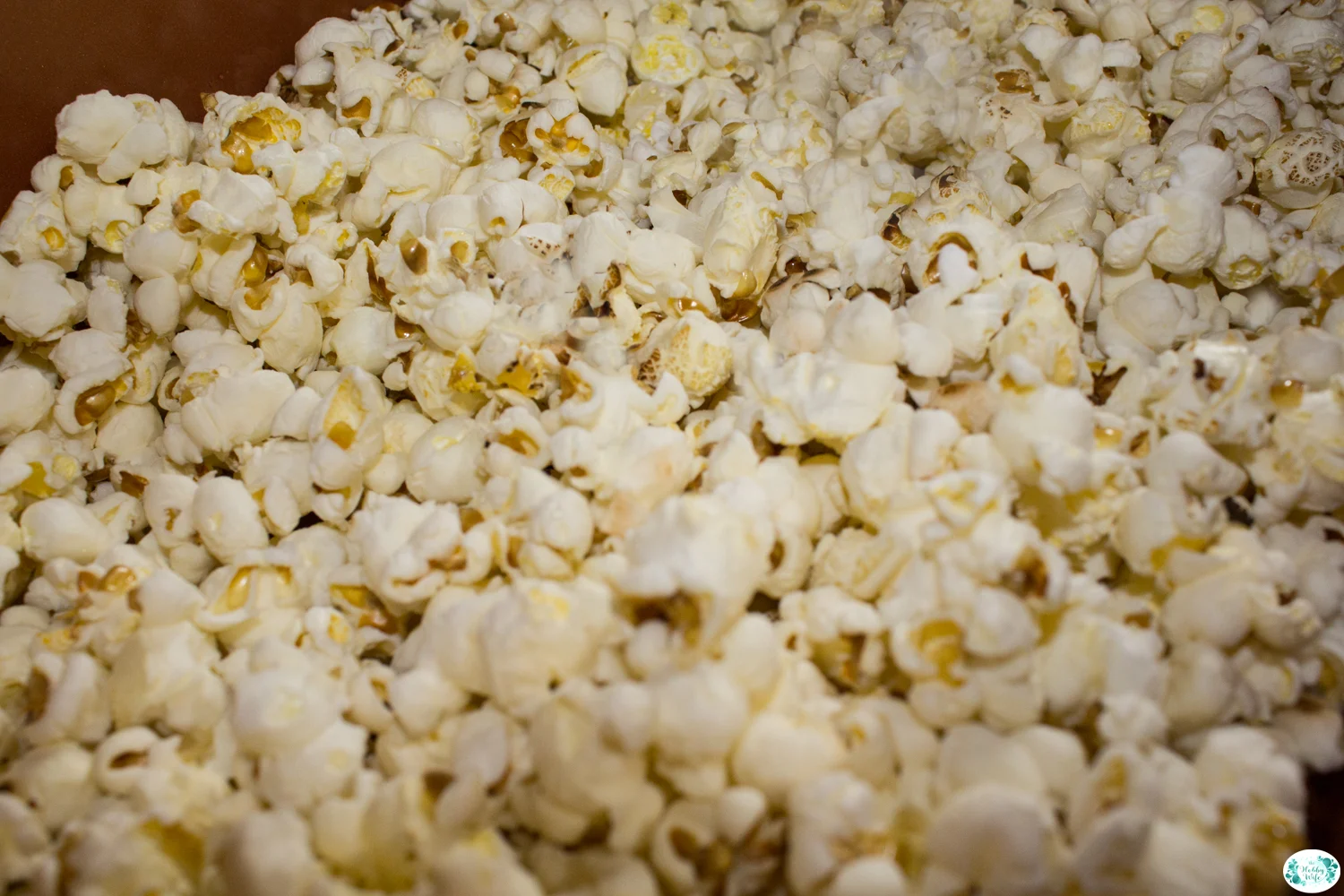 Is it Safe to Cook Popcorn in an Air Fryer?
When it comes to air fryer popcorn, achieving perfection requires a significant amount of experimentation.
However, once you master the technique, it becomes an excellent alternative to traditional stovetop or microwave methods but since air fryer models vary, it may take a few tries to get the timing right so keep a close eye on the air fryer during the cooking process.
Nevertheless, it's important to be aware of a potential downside—air fryer popcorn has the potential to cause damage to your beloved appliance.
Here's why: Unlike enclosed cooking appliances, the design of an air fryer allows for air circulation through the fan and vents situated directly above the basket.
While this promotes even cooking, it also means that lightweight or small foods, such as popcorn kernels, can easily be dispersed throughout the fryer.
Unfortunately, this poses a risk as these kernels can find their way into the heating element, potentially causing a short circuit and even posing a fire hazard.
For better results, be sure to line the air fryer with aluminum foil and keep an eye on the cooking process.
More Air Fryer Recipes You'll Love
Looking for exciting and delicious recipes to try in your air fryer? Look no further! We've got you covered with a variety of mouthwatering options that are sure to please your taste buds.
Check out these incredible recipes using an air fryer!
Craving a healthy snack? Try these irresistible Air Fryer Dehydrator Recipes for a guilt-free treat that's packed with flavor and nutrients.
Looking for a quick and easy snack option?
Indulge in these 30-Minute Apple Chips Recipe, a crispy and sweet delight that will satisfy your cravings.
Want a tasty and nutritious snack that's easy to make?
Don't miss these Air Fryer Banana Chips, a simple recipe that transforms bananas into a crispy and delightful snack.
Ready for a finger-licking feast? Dive into these Air Fryer Baby Back Ribs, where tender and juicy ribs are perfectly cooked to perfection in your air fryer.
Don't discard those pumpkin seeds! Instead, try these Air Fryer Pumpkin Seeds recipe for a crunchy and flavorful snack that's perfect for autumn.
Looking for a healthier alternative to potato chips? Give these Air Fryer Zucchini Chips a try, and enjoy a crispy and savory snack without the guilt.
But wait, there's more! For those following a keto lifestyle or looking for low-carb options, Thirty Something Super Mom has you covered: Celebrate the season with their Keto Crustless Pumpkin Pie, a delightful and indulgent dessert that's low in carbs and high in flavor.
Craving a satisfying and guilt-free sweet treat? Try these Air Fryer Low Carb Peanut Butter Bars, a delicious option that won't derail your healthy eating goals. And finally, for the burger enthusiasts out there:
Take your burger game to the next level with this tantalizing Air Fryer Burger Recipe. Juicy, flavorful, and cooked to perfection, it's a must-try for burger lovers.
Ready to embark on a culinary adventure with your air fryer?
Sign up for the Thirty Something Super Mom newsletter and get the latest air fryer recipes right in your inbox.
Happy cooking and enjoy these mouthwatering creations!
Yield:

3 cups popped
Air Fryer Popcorn Recipe
Additional Time:
20 minutes
Ingredients
1/4 cup of white or yellow popcorn kernels
1 teaspoon of avocado oil or any high-heat oil
Salt, butter, and other seasonings of your choice (See toppings section of the post for interesting topping ideas)
Instructions
If your air fryer has a basket with large air holes, grab some aluminum foil and line the basket, securing it in place. This step is important, be sure to read the full post for warnings on skipping this step.
In a small bowl, combine the popcorn kernels and coat with the oil evenly.
Transfer the kernels to the air fryer basket, spreading them out in a single layer across the bottom of the air fryer basket.
Set the temperature to 400°F and set the timer on your air fryer to 15 minutes. This should work for most air fryers but depending on the style you are using, the time may vary. Keep a close eye on the air fryer, you should start to hear the popcorn popping after about 5 minutes.
Now comes the fun part! Sprinkle some salt and drizzle melted butter over the popcorn, or get creative with your favorite savory or sweet toppings.
Grab a bowl, sit back, and savor every crunchy bite of this amazing homemade air fryer popcorn.
Recommended Products
As an Amazon Associate and member of other affiliate programs, I earn from qualifying purchases.
Frequently Asked Questions