I have always loved religious art and shrines so when I discovered the Dickeyville Grotto in Dickeyville Wisconsin, I knew I wanted to explore it right away.
My daughter and I took a day trip through Dubuque Iowa and since we were so close to Wisconsin, we decided to explore the southwest corner a bit. I did a quick google search for attractions in the area and stumbled upon The Dickeyville Grotto.
What to Expect from a Trip to The Dickeyville Grotto
The Dickeyville Grotto is a beautiful display of the work of Father Matthias Wernus, a catholic priest that sits on the grounds of Holy Ghost Parish. Father Matthias was the pastor of the Parish from 1918-1930 and his handiwork in stone was built from 1925-1930.
The grounds are open for visitors to take a self guided tour any time and guided tours are available June 8th through August 31st, seven days a week, 11:00am to 4:00 pm. September weekends only.
There is no fee to walk the grounds but donations are appreciated. There is a gift shop located on the grounds that is open from 9:00am to 4pm seven days a week. April 1st through October 31st. Inside you will find a complete line of religious gifts as well as many beautiful reasonably priced souviners.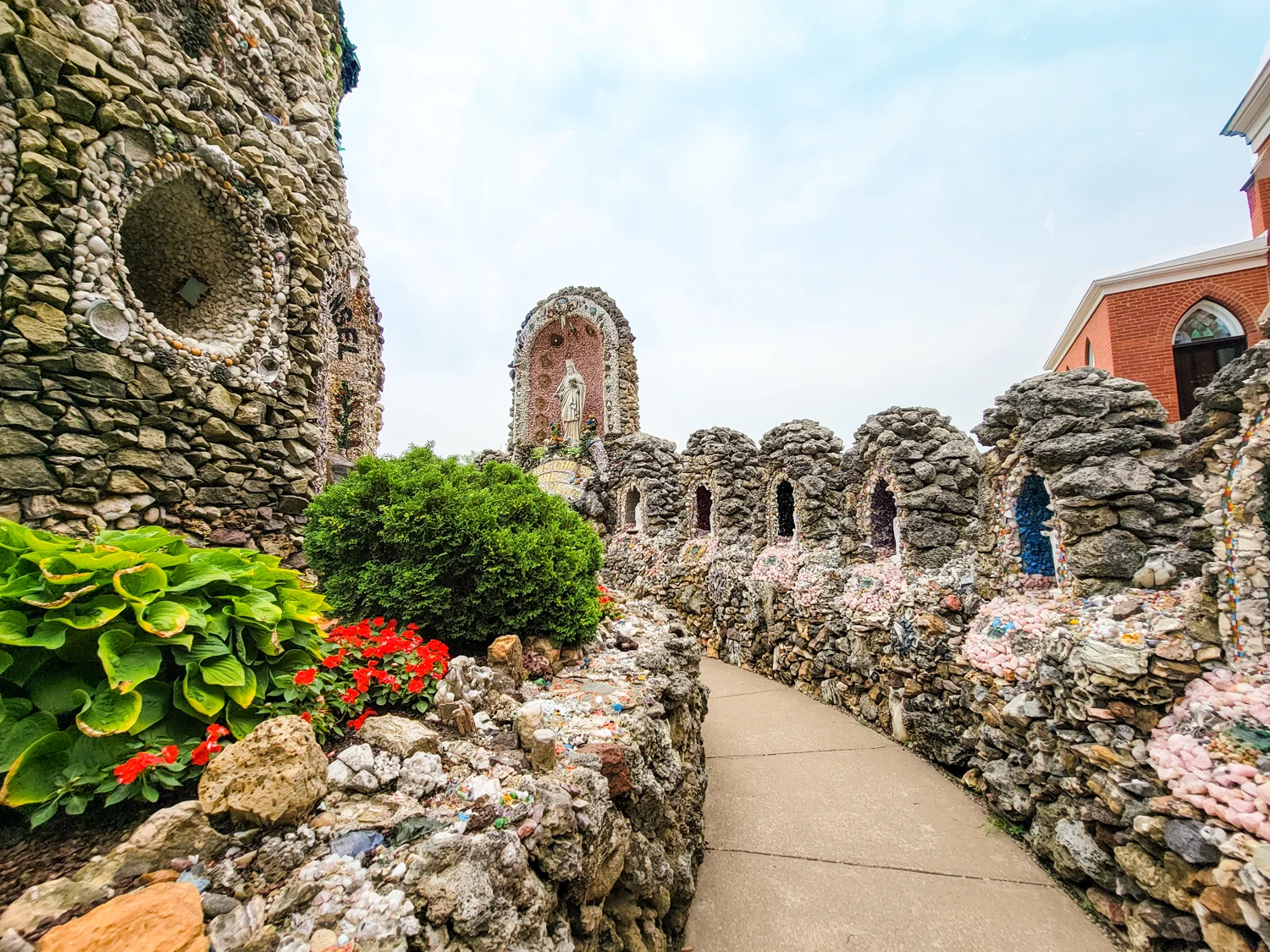 Walking through the paths adorned with beautiful art and religious symbols was a fun way to spend the day. We thoroughly enjoyed taking in the art while enjoying the beautiful, unseasonably warm day.
There are several shrines to see in the Grotto Garden including the main shrine that houses the grotto of the blessed mother.
You will find a patriotic shrine, the sacramental shrine of the Holy Eucharist, the Sacred Heart Shrine, Christ the King Shrine, Fatima Shrine, and the Stations of the Cross.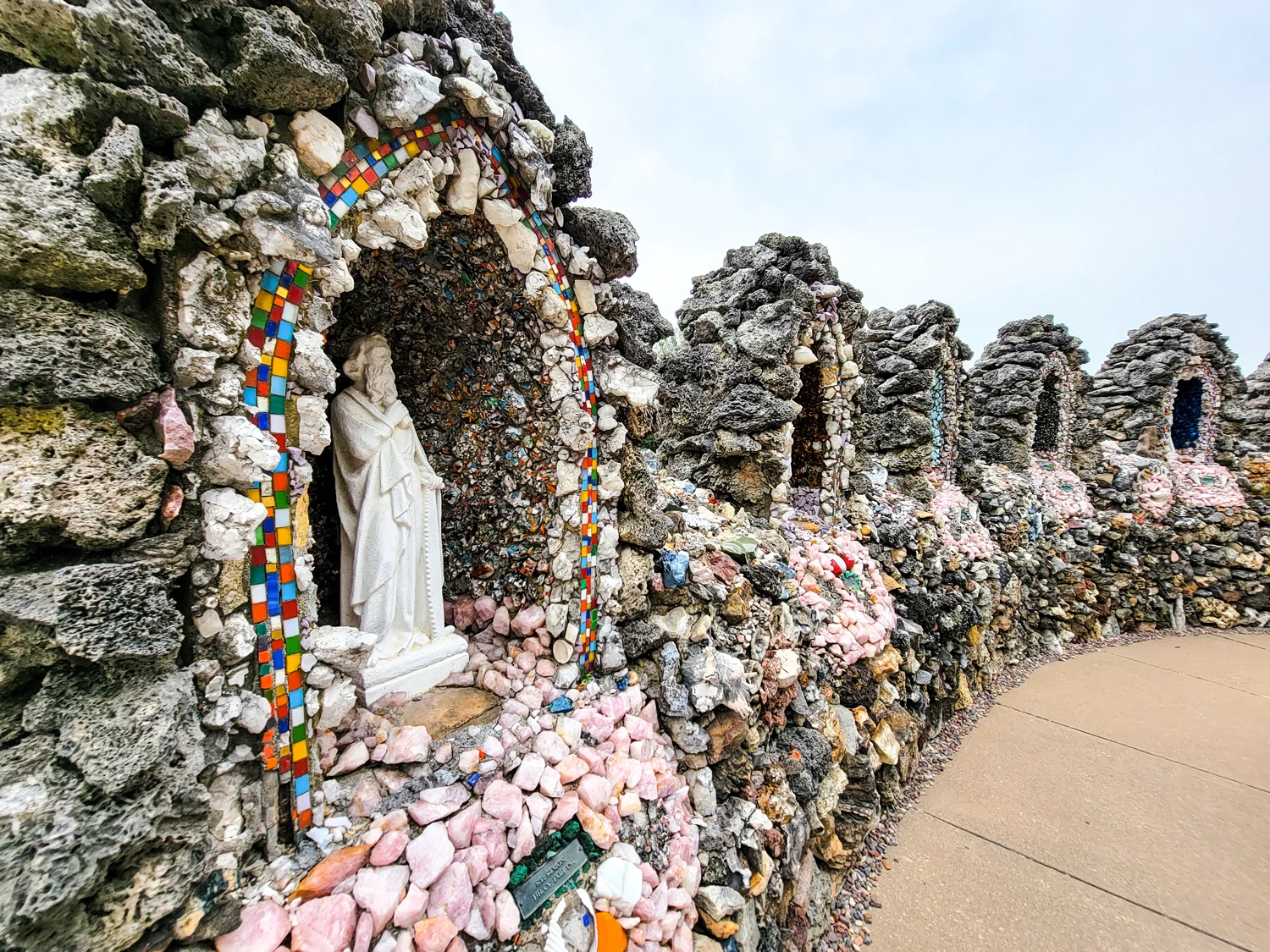 The Dickeyville Grotto consists of stone, mortar, bright colored objects, colored glass, gems, antique heirlooms of pottery and porcelain.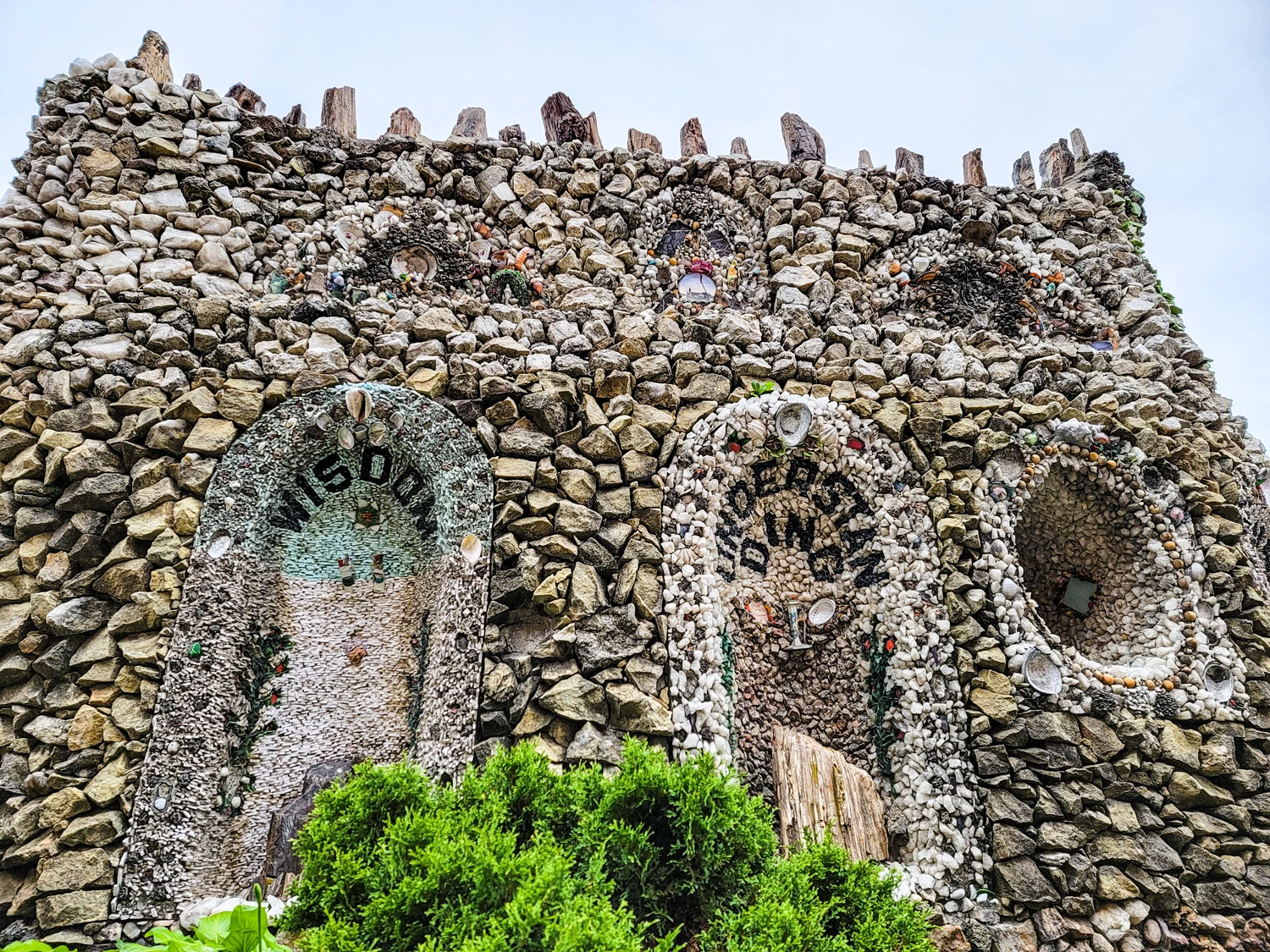 You will also find plenty of stalagmites and stalactities, sea shells of all kinds, starfish, petrified sea urchins, and fossils.
You will find a variety of corals, amber glass, agate, quartz, ores such as iron, copper and lead, fool's gold, rock crystals, onyx, amethyst, and coal. You will even find petrified wood and moss, as well as the ball off of antique stickshift cars.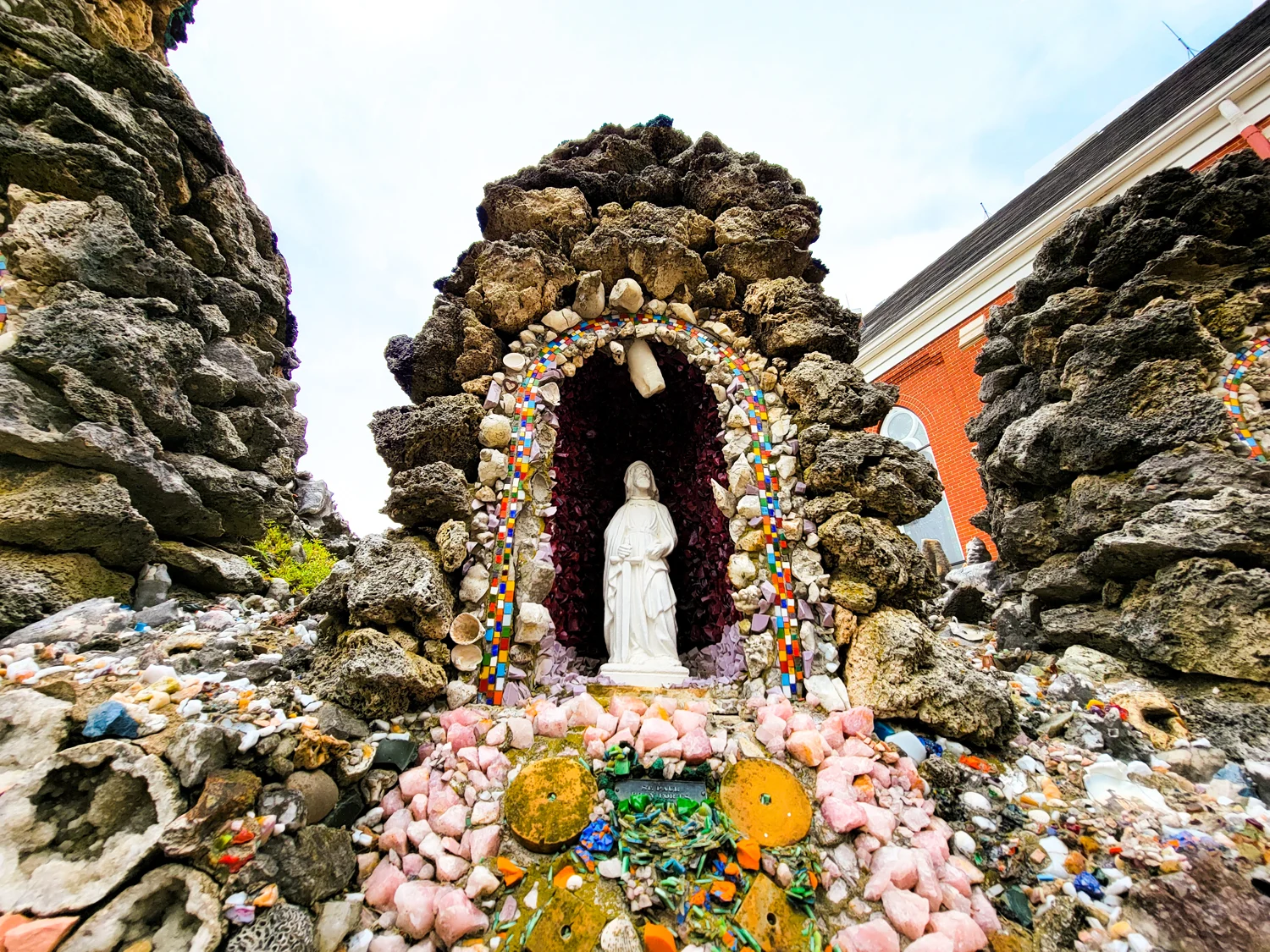 What is Nearby Dickeyville, Wisconsin
While Dickeyville is a small town with very few attractions, it is a quick drive from a few other areas of interest. Dickeyville, Wisconsin is about an hour and half southwest from Madison, Wisconsin and only a 15 minute drive from Dubuque, Iowa.
If you are interested in taking a day trip from the Cedar Rapids area, getting to the Dickeyville Grotto will take you about an hour and a half. You will pass by many restaurants and attractions when coming in from Linn County. My family enjoys spending time in Dubuque so this is where we usually plan our meals.
There are a few options in the town of Dickeyville if you prefer to spend your time there. You can visit Katina's Kitchen, Sunset Lanes & Hall or Shultzie's Supper Club.
Where to Eat When Visiting Dickeyville, Wisconsin
While on the road, if you are looking for a couple of restaurant options in the Dubuque area, I have a few tried and true suggestions.
If you are looking for a fancy, high-end experience, there is no place better than Carolines Restaurant located inside Hotel Julien which is at 200 Main St, Dubuque, IA 52001.
For those who enjoy Mexican food as much as I do, you have to try Salsa's Mexican Restaurant located at 1091 Main St, Dubuque, IA 52001.
When traveling through the area, if you are in the mood for pizza, Gino's East of Dubuque is not only a delicious option but it also offers a beautiful atmosphere. You can find this Chicago style pizza place at 333 E 10th St Suite 110 in Dubuque.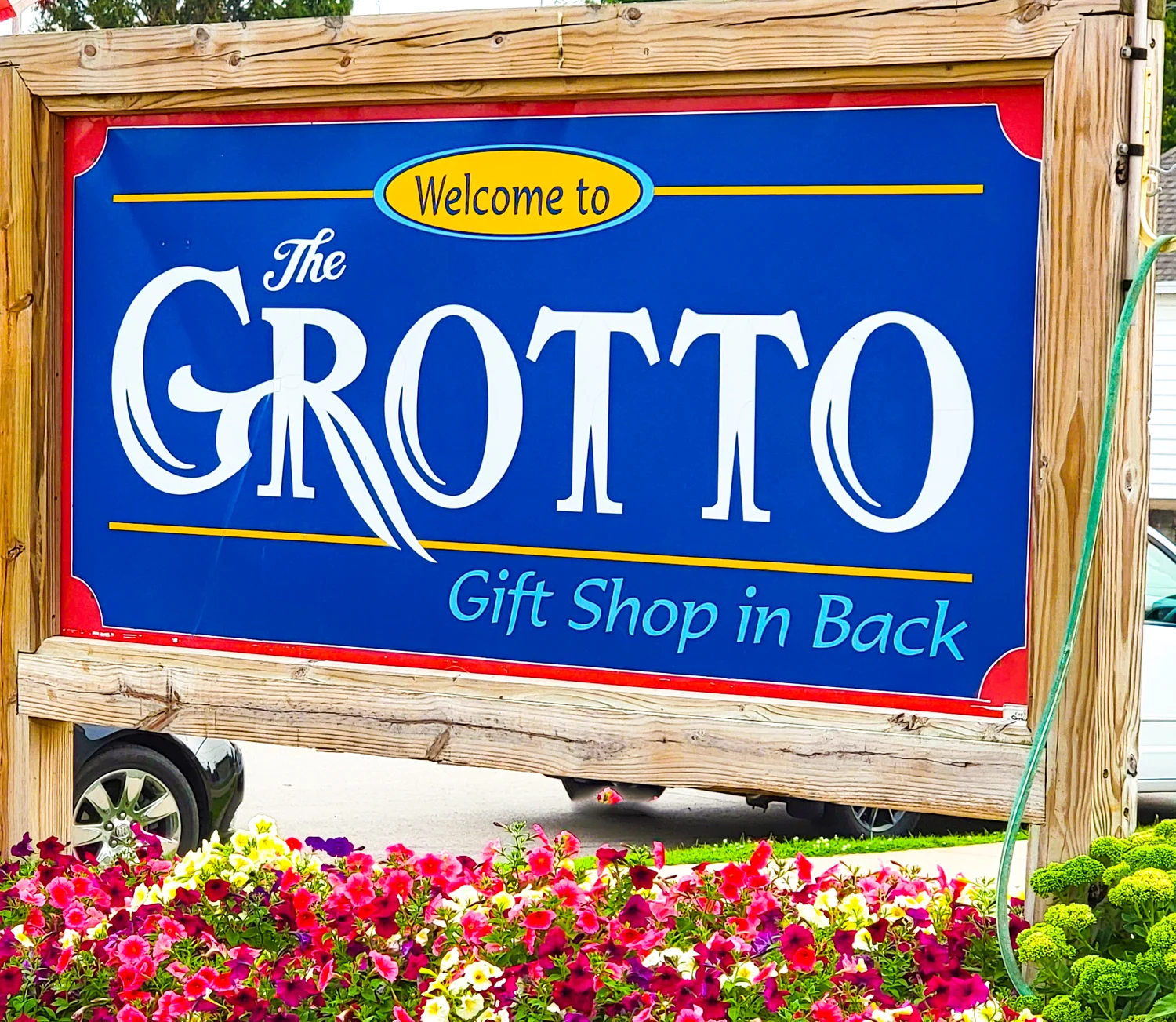 Have you visited The Dickeyville Grotto in Wisconsin or any other grottos? I would love to hear about it, be sure to leave a comment below to tell me about your experience.
Also, don't forget to subscribe to the free newsletter and follow along on social media so that you never miss a post again.