This post sharing The 7 Best Things to Do in & Around Dubuque Iowa is brought to you through a partnership with Travel Dubuque. Although I received a complimentary stay in Dubuque, Iowa, and tickets to facilitate this post, all opinions are my own.
The 7 Best Things to Do in & Around Dubuque Iowa
My family recently had the chance to explore Dubuque, Iowa and I was really impressed by how much there is to do in the area for the whole family.
As my daughter gets older, it has become more difficult to find things to do that the entire family enjoys and I am happy to say that Dubuque exceeded our expectations.
Iowa's oldest city has something for everyone to enjoy!
Ride the Fenelon Place Elevator
If you are even a little bit familiar with the area of Dubuque, Iowa, you have probably heard about the famous Fenelon Place Elevator.
If not, don't let the word elevator fool you, this small adventure is often described as the world's shortest, steepest scenic railway.
I really want to emphasize the word steepest, because when you are at the bottom, the idea of boarding this elevator is quite intimidating.
The elevator was built for private use by the original owner who had the cable car made in order to cut down on transit time.
Mr. J. K. Graves lived at the top of the bluff but worked at the bottom and if you have ever seen this in person, you would know that scaling this bluff is no easy task.
Back in the days of horse and buggy rides, Mr. Graves needed a faster way to get to and from work during his breaks, which was the inspiration for the Fenelon Place Elevator.
The original elevator burned in 1884, it was rebuilt and then burned again in 1893, then another time in 1962.
In 1977 the cable cars were rebuilt and the exciting elevator rides were once again one of the 7 Best Things to Do in Dubuque.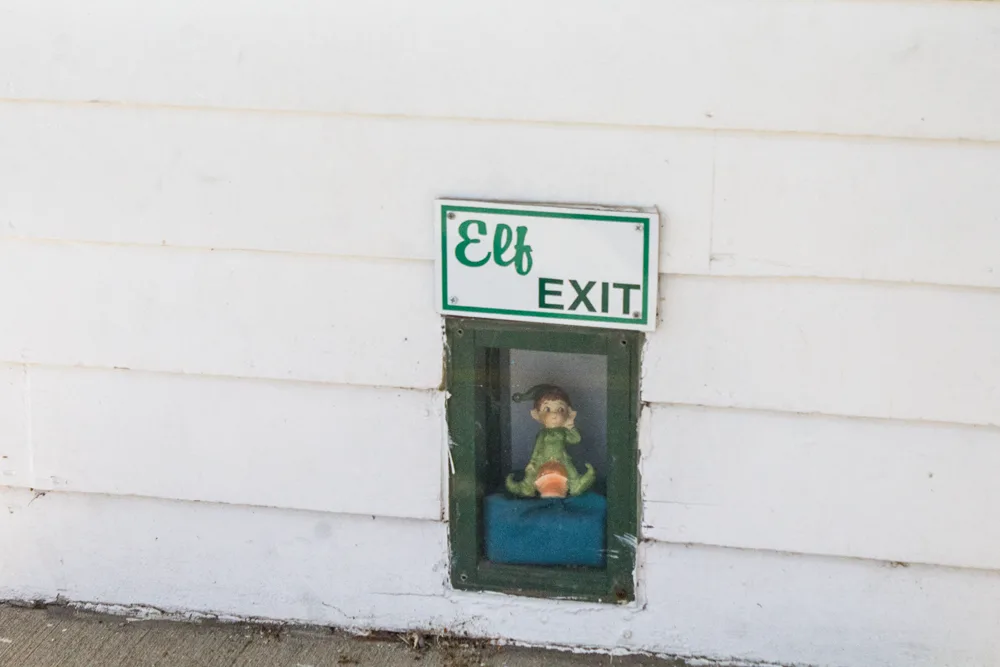 The Fenelon Place Elevator now offers one way or round trip tickets and is listed in the National Register of Historic Places.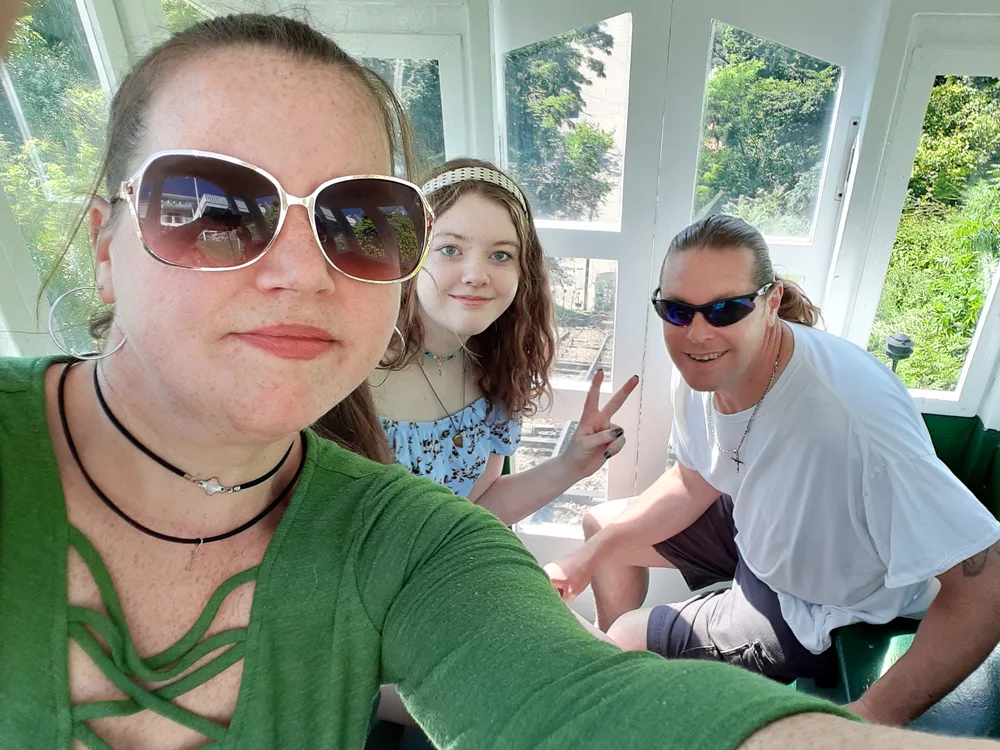 It serves as an easy way to get your bike to the top of the bluff or a great backdrop for a family selfie while visiting Dubuque.
Check out the Street Art in Dubuque Iowa
One of my favorite and most memorable things to do in Dubuque is to check out the street art.
I am always amazed by the talent and creativity the area showcases on buildings throughout the city.
The newest addition is the solidarity mural that can be seen on Main Street in downtown Dubuque.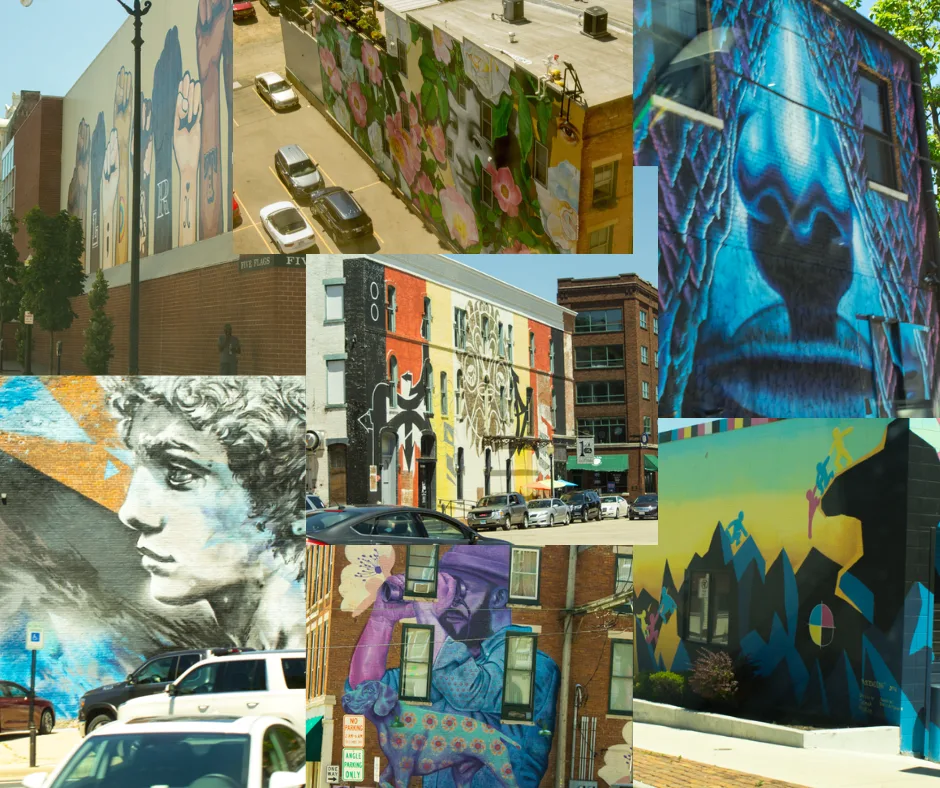 Visit The National Mississippi River Museum & Aquarium in Dubuque, Iowa
My absolute favorite thing to do in the Dubuque area is visiting the National Mississippi River Museum & Aquarium.
You can spend the entire day reading about the history of the area and visiting the creatures housed in this beautiful attraction located right by the Mississippi River.
Due to the safety concerns regarding Covid-19, there is no touching allowed but the Stingray area is still worth checking out.
These little fellas don't seem to understand the restrictions as they still come right up to the sides of the tank, looking to make a new friend.
It's really interesting to see them communicate and I swear they waved at us as they swam by each time.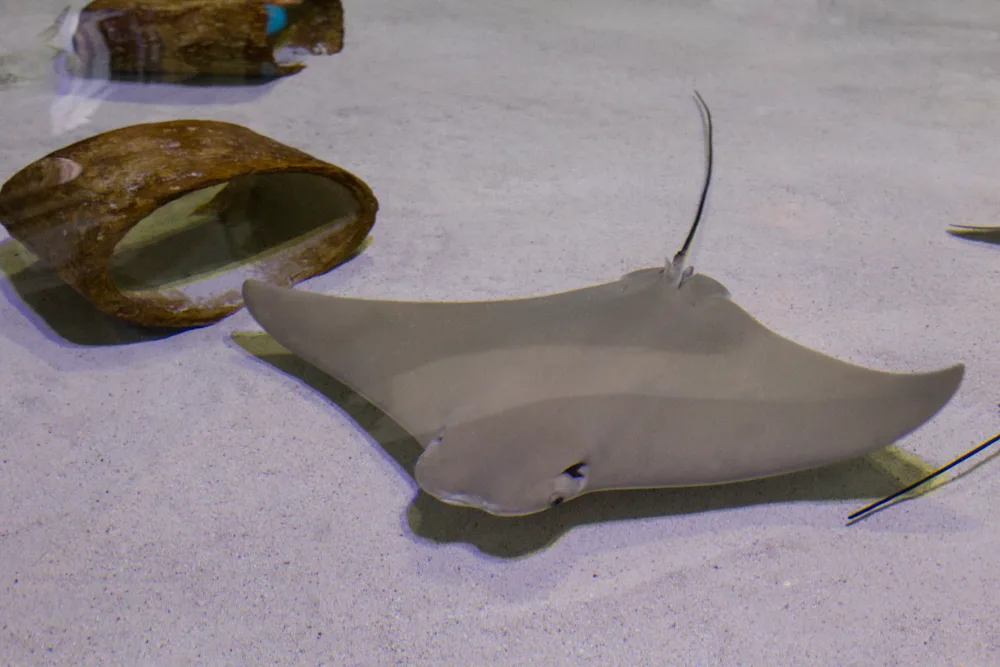 Right around the corner from the stingrays, you can get up close with an Octopus.
While watching this sea creature roam around, we observed it excreting waste and one of its tankmates consuming it.
It was quite an interesting occurrence to observe.
It's best to keep your camera out at a place like this, you just never know what you'll see.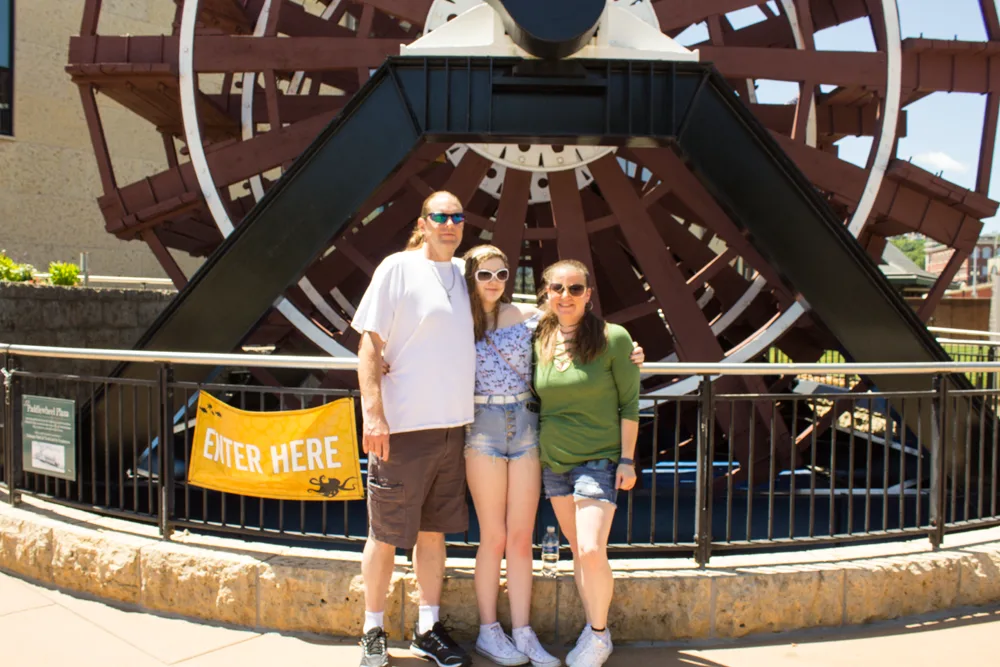 Our entire family really enjoyed our time at the National Mississippi River Museum & Aquarium and I am sure we will be heading back to visit the creatures inside again soon.
Check Out the Local Cuisine
Anytime we travel, one of the highlights is trying new restaurants that we don't have near our home and while visiting Dubuque, we experienced a few new family favorites.
We have always loved Caroline's Restaurant but since they were closed while we visited, we tried out a few new restaurants in Dubuque.
The Sunshine Family Restaurant on Central Avenue had some of the best french fries I have ever eaten. It has been quite a while since I have eaten a french fry due to the keto diet but when in Dubuque... you must try these fries!
We also hit up a local pizza place called Falbo Brothers and tried out their stuffed pizza as well as their thin. I think the consensus was that the thin was my favorite but I enjoyed both.
We spoke with a local and he suggested we try the Shot Tower Inn Pizza, apparently, whenever a former resident visits the area, this is the place they go for pizza.
We didn't make it there this time but he said they are best known for their sauerkraut pizza.
That isn't really my thing but if you want to eat like the locals, apparently this is the place.
Field of Dreams Movie Site in Dyersville, Iowa
When I was a kid, growing up on the East Coast, the only thing I knew about Iowa was that this was where the famous Field of Dreams was located.
I have always wanted to visit and while we were in the area, just 15 minutes out of our way, we stopped by the site.
Even if you aren't familiar with the movie, there is something so beautiful about this farmhouse and baseball diamond surrounded by cornfields, that it's definitely worth a visit.
In front of the famous farmhouse hangs a sign with the beginning of the quote from the movie, If You Build It.
If you have watched the movie you know the quote ends with They will come. This is in reference to the ghosts of baseball player greats like "Shoeless" Joe Jackson.
In the movie, the ballplayers emerge from the cornfield to play a game on the beautiful ball field outside that the main character, played by Kevin Costner, built on his property.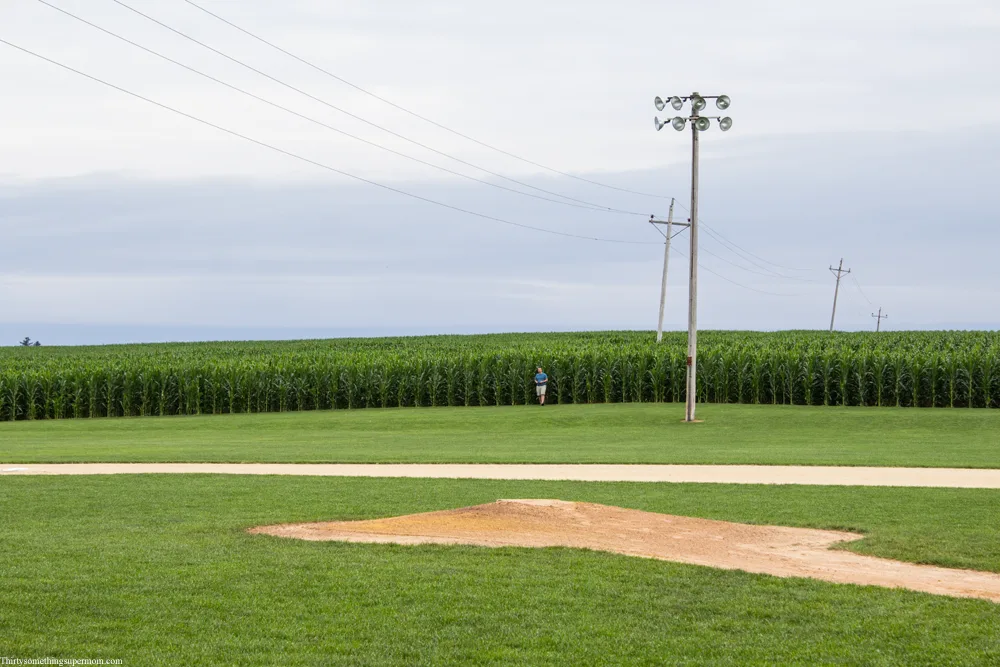 So you can imagine my surprise when I was taking photos of the ball field, and this guy emerged from the cornfield.
It turns out, he is a catcher, although he was not a ghost, you never know what kind of interesting characters you will meet at The Field Of Dreams which is why this is one of my favorite things to do near Dubuque Iowa.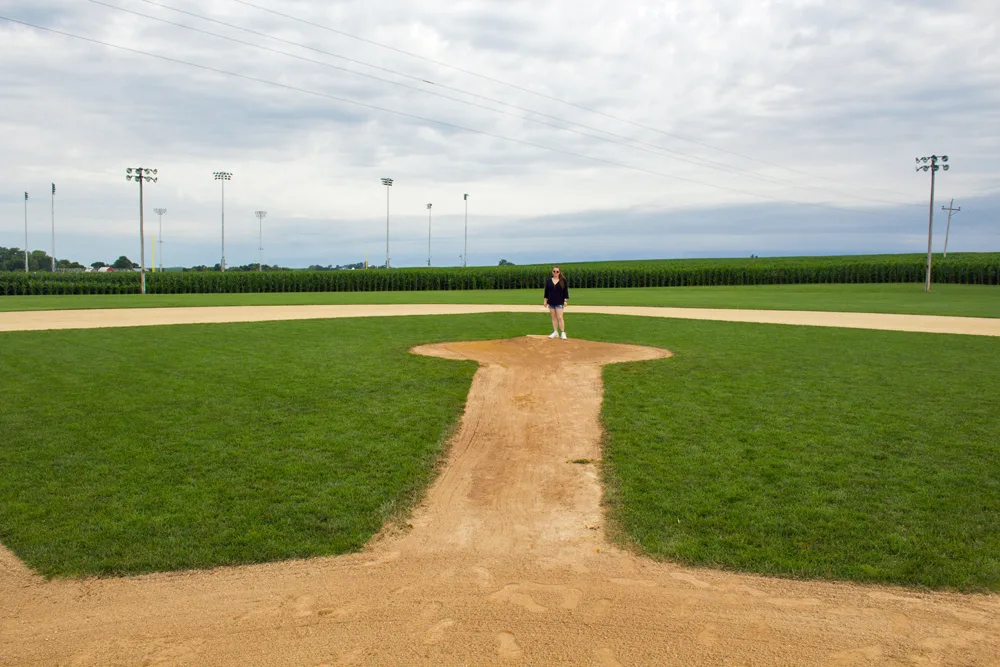 Take a River Cruise in Dubuque Iowa
There is no better way to get an up-close view of the Mississippi River than being on the Mississippi while enjoying a cruise.
There are many options for cruises and tours of the Mississippi, you can visit Travel Dubuque to see which option works best for your stay in Dubuque.
See A Show
Whether you want to take in a musical, play, concert, or comedy show, Dubuque has it all.
You can visit the Grand Opera House or Five Flag Center for schedules and availability.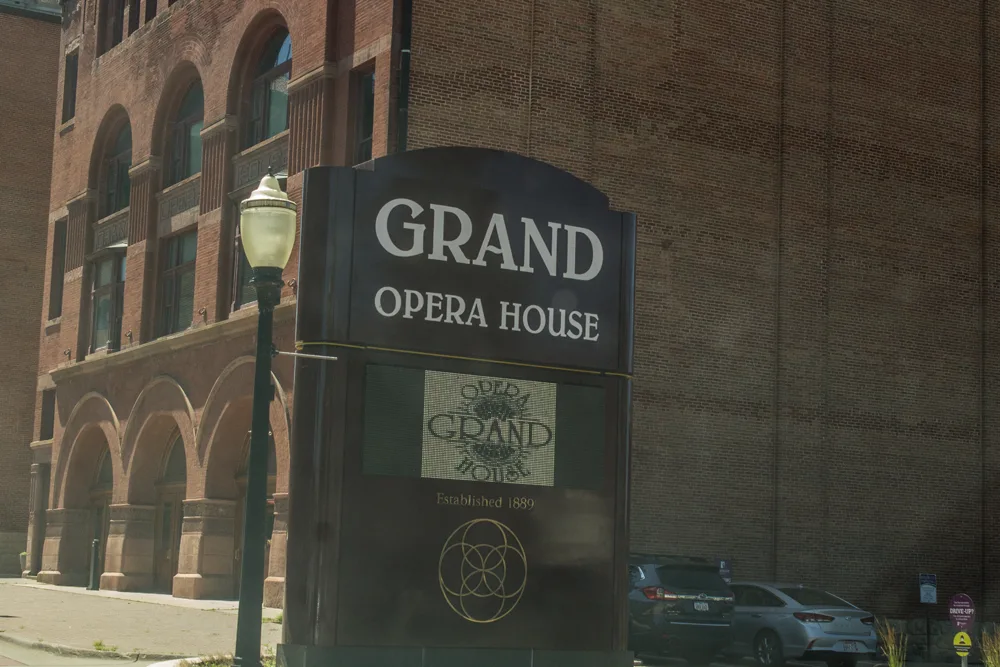 I hope you enjoyed learning about The 7 Best Things to Do In Dubuque Iowa and take a trip to explore this area with your family.
What is your favorite thing to do with the whole family in Dubuque Iowa?
I would love to hear about your favorite Dubuque things to do, leave me a comment below and maybe we will explore it. I love hearing about fun things to do near me, exploring them, and then sharing them on the blog.
Now that you know what to do in Dubuque Iowa check out this guide that shares the Best things to do in Eastern Iowa.
Want more Midwest travel ideas? Sign up for the free newsletter or follow along on social media so you never miss another post again.