I received a complimentary stay in exchange for my honest review of Hotel Julien. All opinions are my own.
Hotel Julien is a luxury hotel offering elegant accommodations, located in the historical town of Dubuque, Iowa. Located on the beautiful Mississippi River, Dubuque offers gorgeous views and plenty of fun activities for the whole family.
With so many activities and attractions in this area, you will want to plan a stay for at least a couple of days. Make a plan to enjoy The 7 Best Things to Do In & Around Dubuque, Iowa, and book your stay at the Hotel Julien.
What to Expect from a stay at Hotel Julien
The Premier Suite
Offering a full kitchen with all of the essentials as well as some bonus perks like a dishwasher, garbage disposal, and a breakfast bar. The cabinets are fully stocked with all of the dishes, utensils, and cookware you will need to stay in and not worry about ordering out.
The full-sized refrigerator will hold everything you need for the weekend and beyond. The microwave is perfect for quick meals, and the dishwasher makes cleanup a breeze!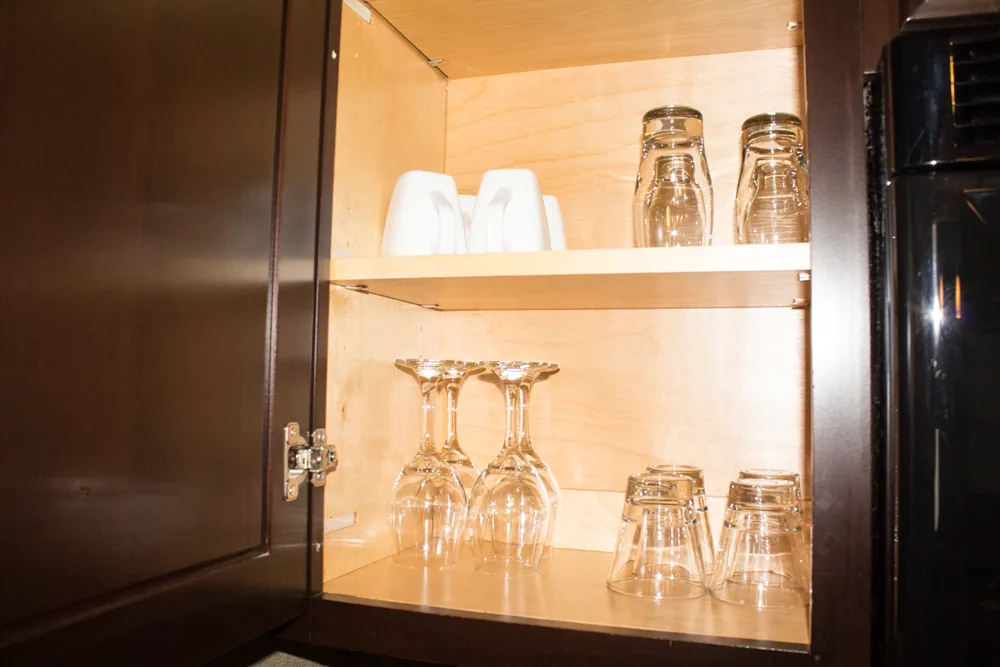 I was pretty excited to find glassware for our drinks, including wine glasses which is not something usually found in a hotel room. I have spent many weekend getaways sipping our favorite wine or soda out of paper cups, so this was a real treat.
Another thing I loved about the kitchen at Hotel Julien, was the beautiful countertops and full-sized sink. I really felt like I was at home, preparing and serving meals for my family.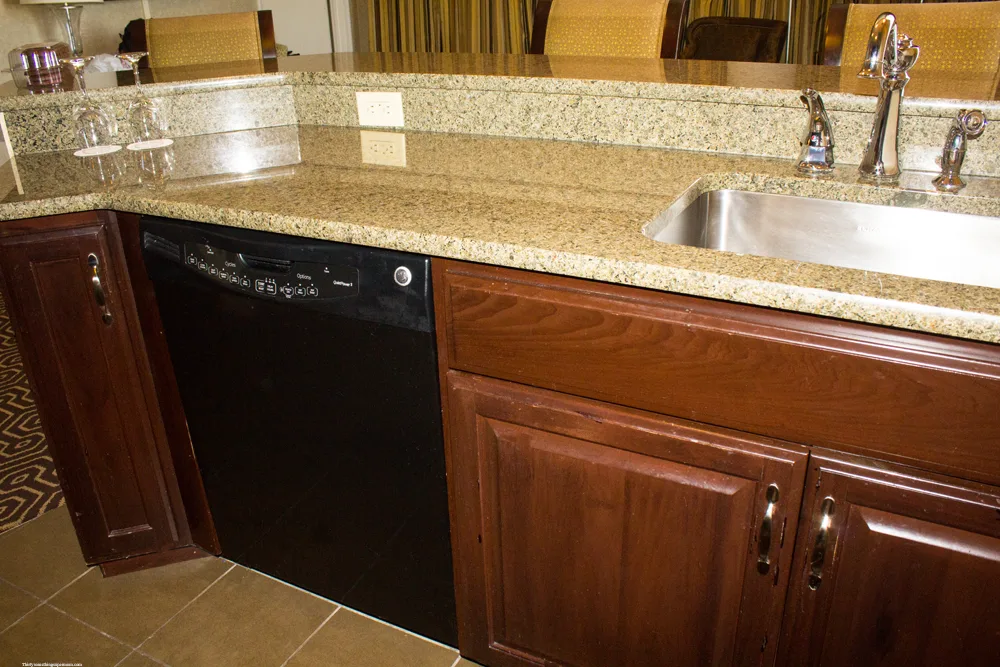 The living room is a cozy place to relax and watch television or get some work done at the desk that boasts the comfiest and stylish chair I have ever found in a hotel.
I try to take it easy and relax while away from home but this desk was too comfortable to not take advantage of, it didn't even seem like work.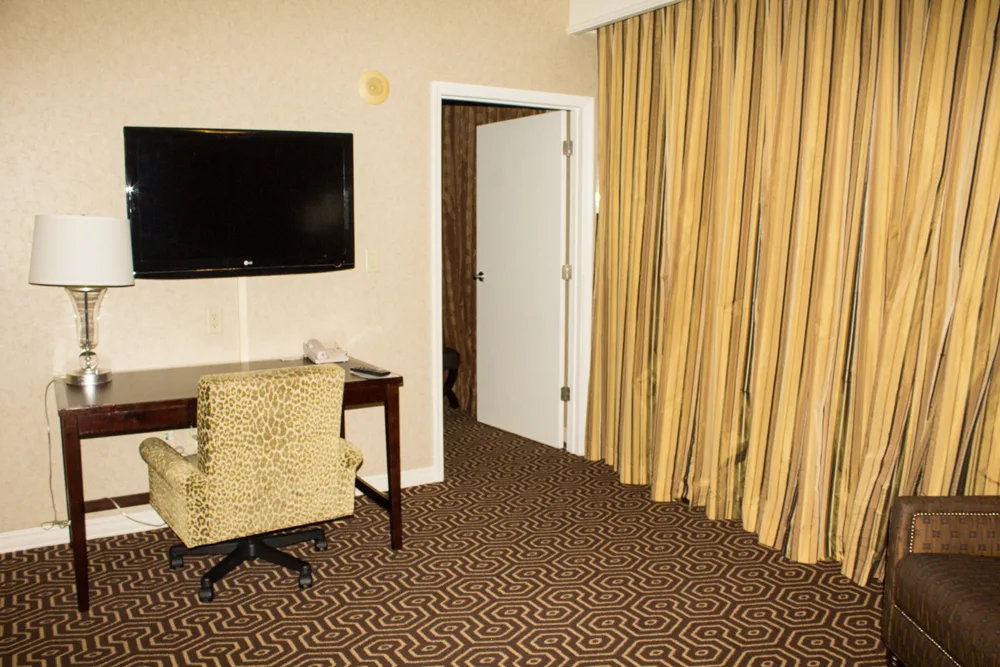 I enjoyed all of the furniture at Hotel Julien, especially the pull-out couch and side chair located in the living room. The breakfast bar chairs were also a great place to relax and enjoy a meal.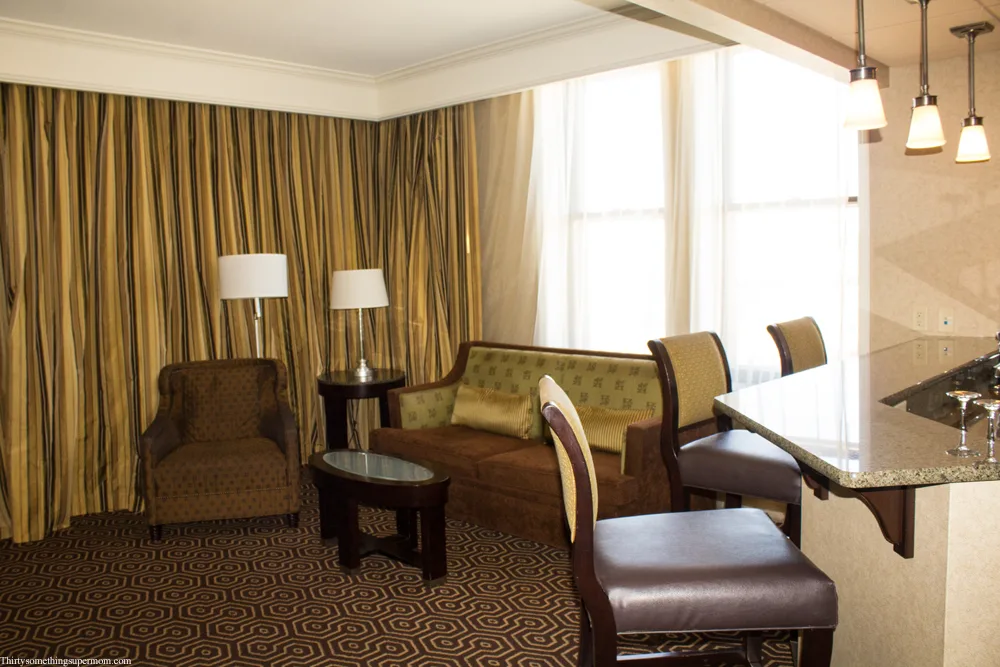 I really enjoyed the view of Dubuque out of our 8th-floor window, it was nice to see the sights while eating breakfast and drinking our morning coffee in the room.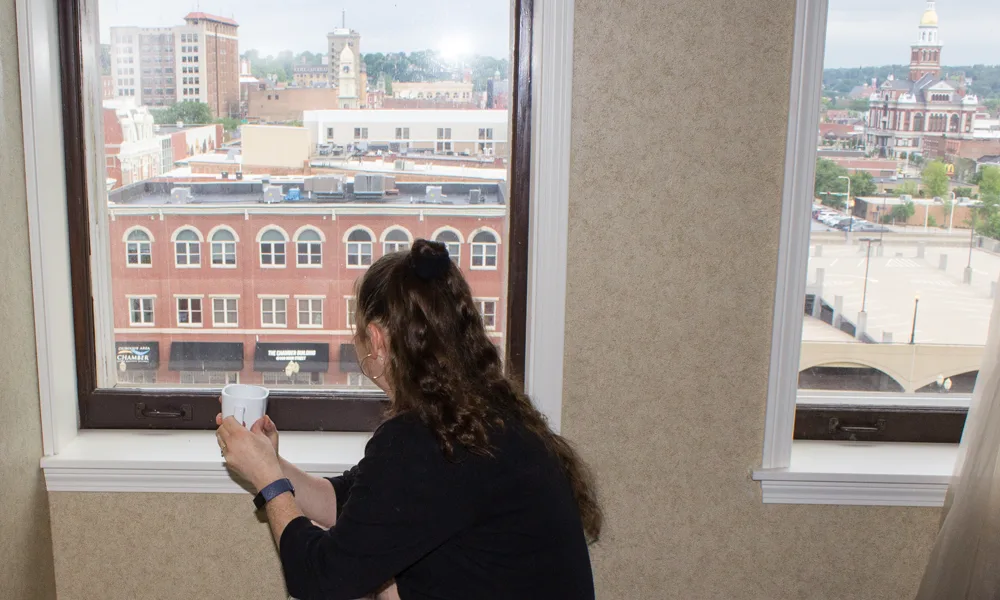 I spent the morning and some of the night taking in the sights out of our windows.
I couldn't decide which view I preferred, one offering an up-high view of the beautiful historical buildings during the day or the other one giving us a nighttime glimpse of the river and nighttime sky surrounded by lights.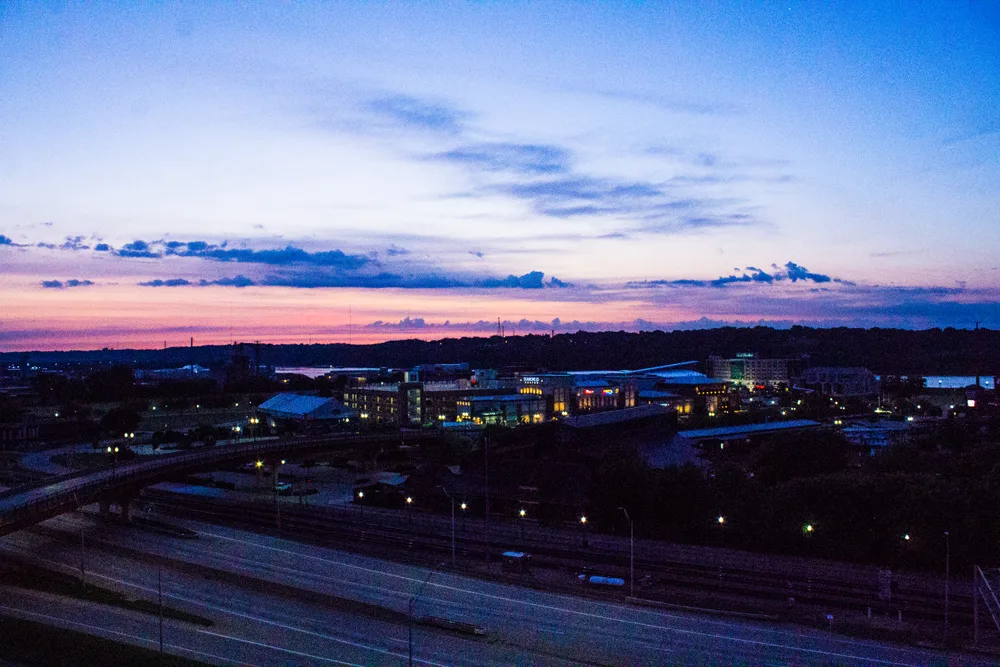 I was happy to get the chance to see both views from the windows in our room. It really felt like we had a unique Dubuque experience, getting to see the town from a different perspective than most.
I felt like I was able to see everything all at once, and that really made navigating the area much easier on me.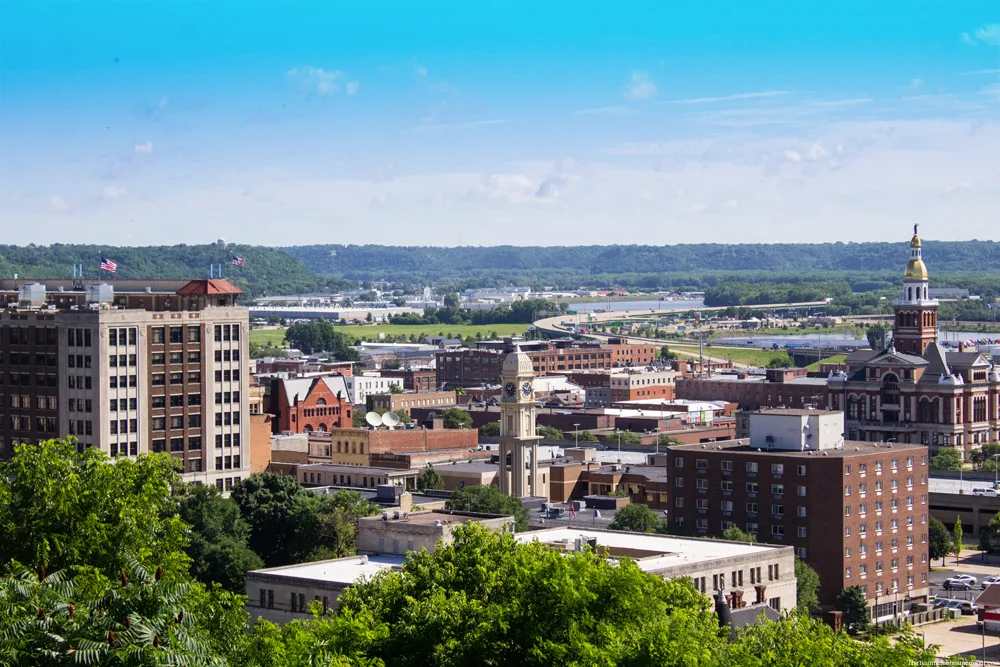 We spent a lot of time taking in the sights, eating delicious food, and exploring the area. It was quite a weekend and there is nothing more appreciated than a comfy bed after a long day.
Thankfully we had one waiting for us in the premier suite at Hotel Julien.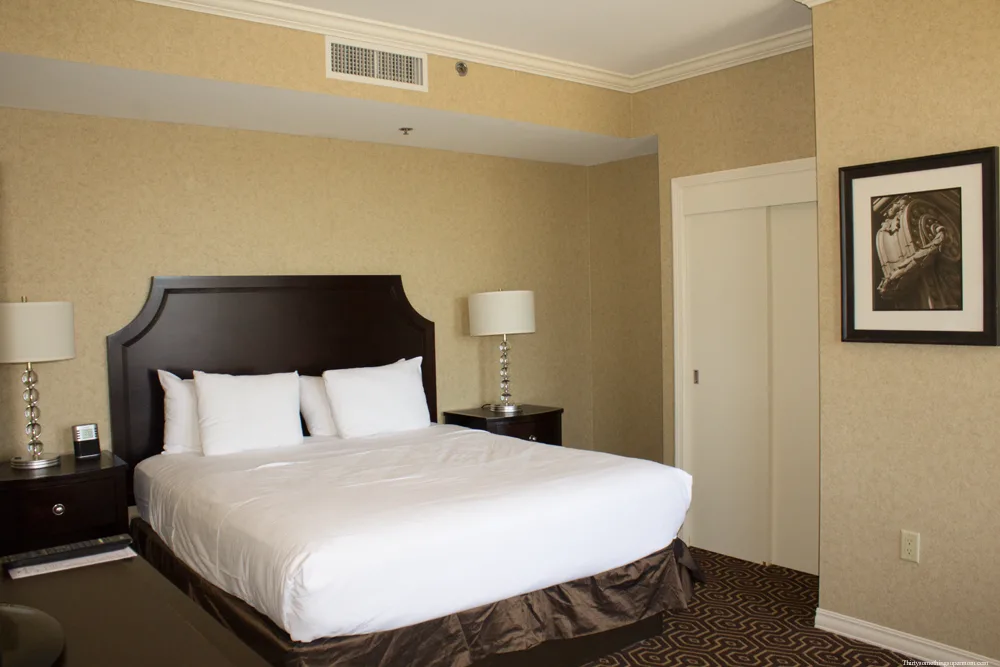 I slept great in the King-Size bed and really appreciated the extra fluffy pillows along with soft blankets. We also enjoyed winding down from our big day in Dubuque by watching a movie on the 37" LCD Flat Panel HDTV. It really feels like home when you have all of the amenities you are used to and especially when you get to enjoy the extras that Hotel Julien offers.
The bathroom offered a nice luxurious shower and plenty of complimentary samples to ensure our needs were taken care of while getting ready for the day.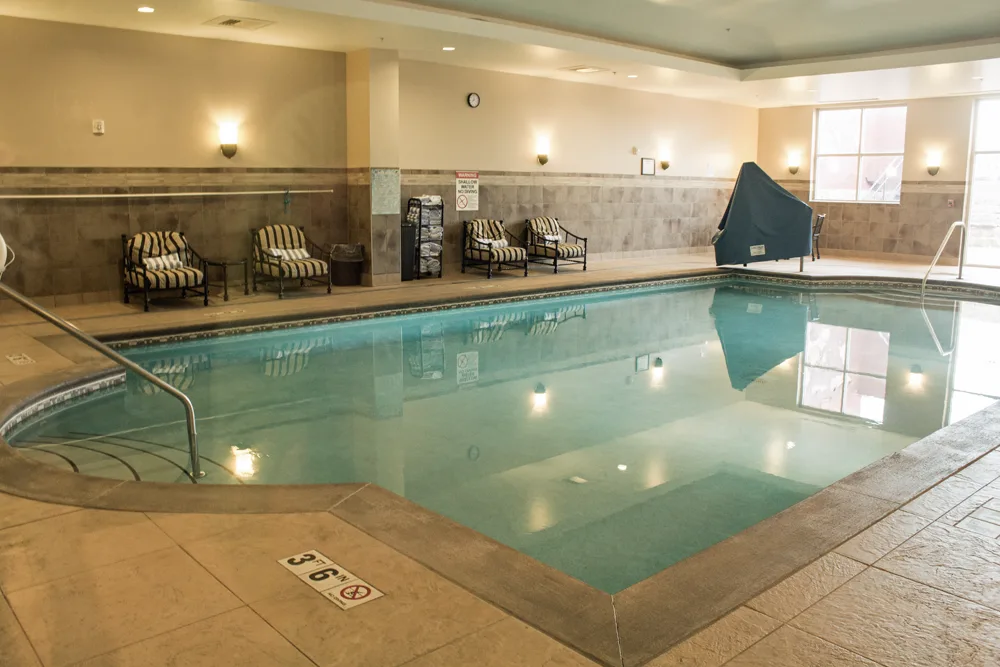 The swimming area was beautiful and it offered plenty of places to lounge by the pool. We brought down the complimentary robes from our room to wear to and from the pool, we really enjoyed having these for the trip down to the pool. I enjoyed the soft lighting in the pool area, it really created a relaxing environment to make swimming even more enjoyable.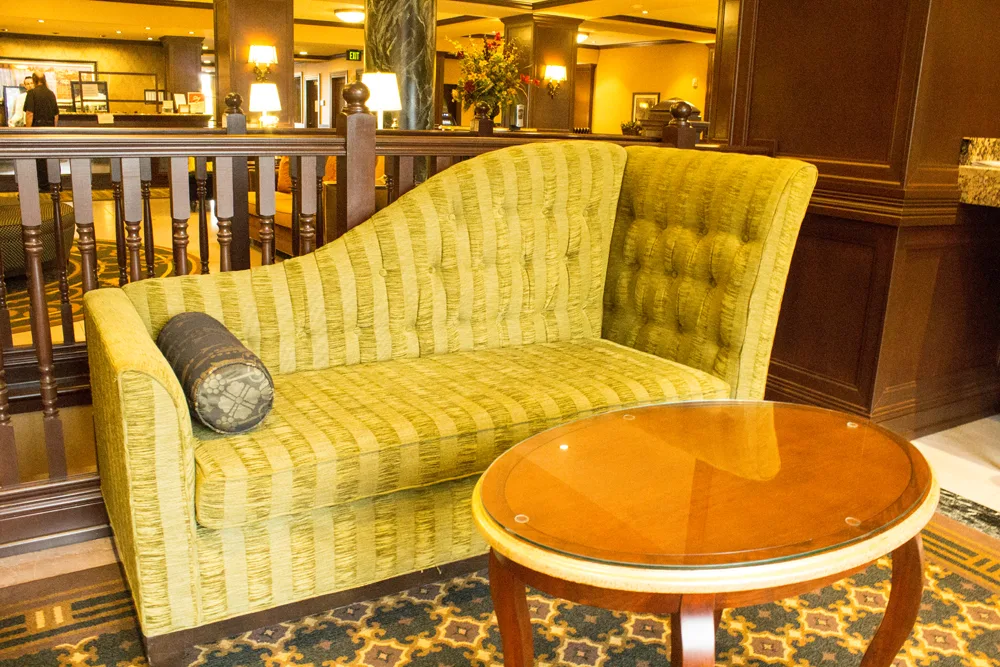 We thoroughly enjoyed swimming in the beautiful pool and lounging in the lobby. I loved the decor so much that I just couldn't stop taking pictures, I want to recreate the vibe of this lobby at some point, in my own home.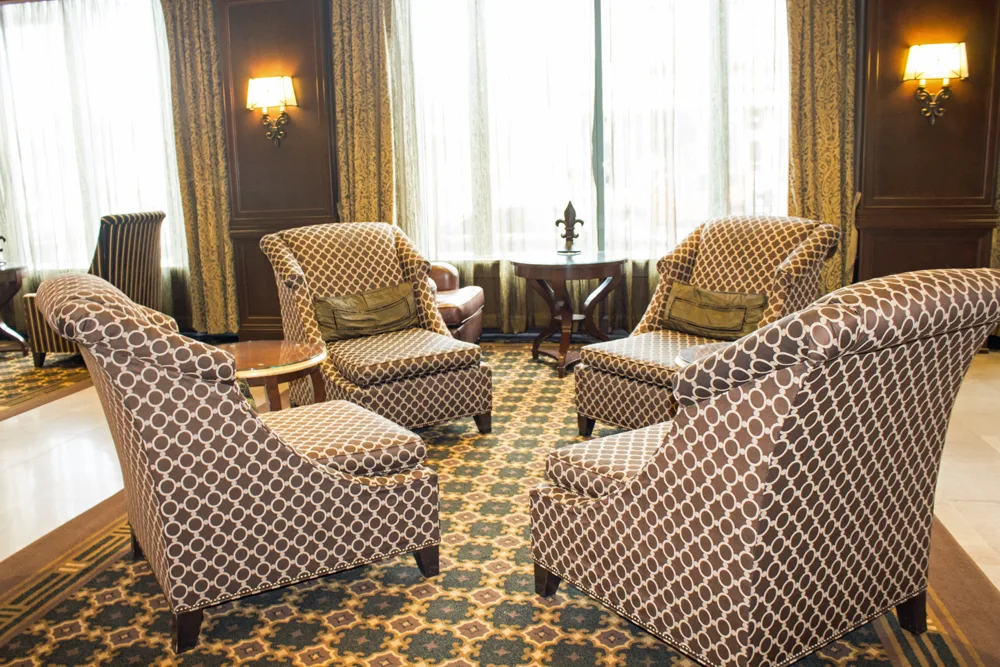 I loved the colors throughout the hotel, all of the browns, and yellows coming together really do create a warm, cozy ambiance. I wanted to take the couch from the center of the lobby home with me. I have always wanted a circle couch like this one, although I could not imagine where in my house it would fit.
Maybe someday I will find a space for it and recreate this look that we loved so much at Hotel Julien.
There are plenty of areas to hang out and even a business area for those of us who like to get some work done while away from home.
Although I do enjoy putting the work away for the weekend and relaxing, it is nice to have the option to access a computer when needed. It seems like something always comes up, even while taking time off so I like to have the option to access anything that I may need while away from home.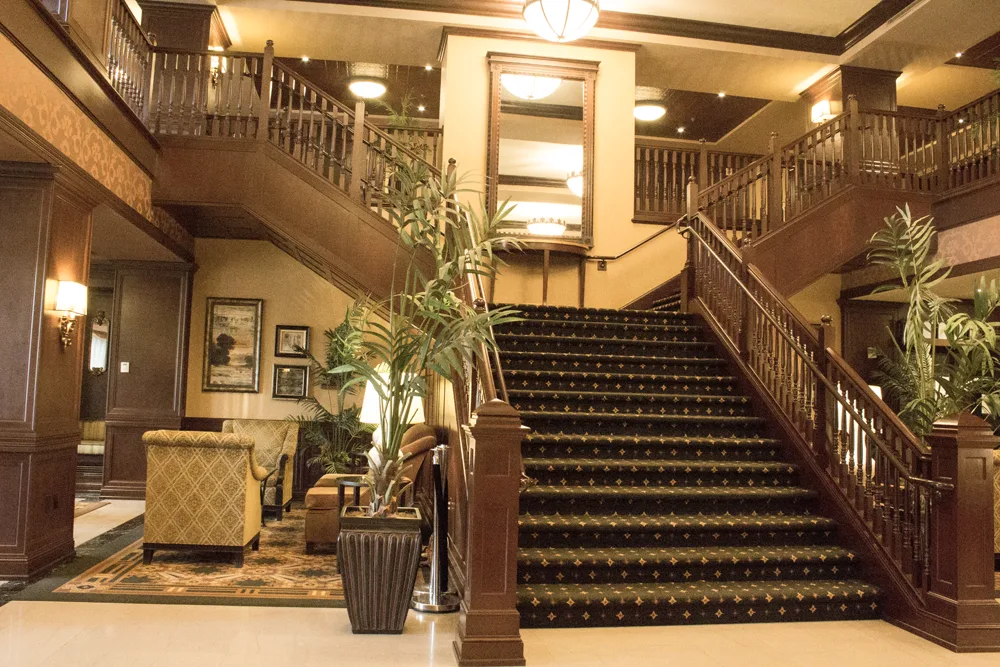 Rejuvenate your mind and body while staying at Hotel Julien by including a stop at the Potosa Spa located on the lower level of this hotel. The spa offers a variety of services to guests from facials to massages and signature services that you can only find at this location.
If you feel like taking the night off from cooking while staying at Hotel Julien, you can head to the on-site restaurant, Carolines, or order your meal right to your room. Caroline's Restaurant offers a Spicy White Bean Chicken Chili. It's the Chef's Signature Soup made from scratch with 20 Fresh Ingredients, I would suggest trying that out while staying at Hotel Julien.
Have you visited Dubuque, Iowa, and stayed at Hotel Julien? What is your favorite part of this luxurious hotel?