This recipe for Refrigerator Garden Pickles is brought to you through a partnership between thirtysomethingsupermom.com and Aqua Joe. All opinions and typos are my own, as usual.
Making the perfect garlic refrigerator garden pickles has never been easier or tastier if you enjoy a bold, crispy pickle. This easy to follow recipe can be enjoyed on the same day that it is made, no need to wait overnight for the flavors to set in. The longer the pickles sit in the vinegar mix, the tastier your pickles will be, but this recipe can be enjoyed within hours of preparing.
My garden yielded a variety of cucumbers this year although my favorite varieties to grow for pickling are the National Pickling Cucumber, Boston Pickling Cucumber, and The Bush Pickle.
All of these varieties make for a tasty batch of refrigerator garden pickles and are super easy to grow. This is especially true if you have the right tools to help you get the job done right. Some of my favorite tools are the FiberJacket™ Max garden hose, Fireman's hose nozzle, Multi-function tap adapter, and the Tripod sprinkler from Aqua Joe.
Watering my garden this year has been easier than ever before thanks to these awesome Aqua Joe products. I have especially enjoyed having a kink & twist-free hose that stretches out to 100ft.
I had a lot of fun tending to my garden this year, thanks to the Aqua Joe FiberJacket™ Max GET EQUIPPED® Kit and the most fun I had was using the Fireman's hose nozzle.
The pull-down lever and adjustable nozzle made it easy to water my plants. I really appreciated how I could control the stream depending on which area of my garden I was watering. The cucumber plants can't seem to get enough water so another tool that came in handy was the Tripod sprinkler.
I liked being able to set it up and go about my business while my plants were still being watered. I had a lot of weeds to pull this year and once I had the tripod set up to do all of the watering, I had no excuse not to pull the weeds. I also had plenty of time to rummage through my garden, collecting the harvest of beautiful cucumbers.
This has been the perfect year for making homemade refrigerator pickles out of my garden. I was really happy with the yield of my plants and have the chance to not only make a healthy supply for my family, but I was able to make a few jars for friends, too.
I love the simplicity of this recipe and not having to wait very long to bite into one of these crispy garlic pickles. They never last long around my house but I would guess that they would only stay crispy for about two weeks. It is best to enjoy these homemade refrigerator garden pickles right away, but be sure to wait at least 3-6 hours after making them to let the flavors soak in.
You can use this recipe a few times, adding new cucumbers to soak up the flavors without having to make a new mixture each time. I enjoy these homemade pickles on sandwiches, hot dogs, and hamburgers, as well as by themselves as a tasty snack. They really hit the spot when I want something with a bold flavor that always satisfies.
If you gave this Garlic Refrigerator Garden Pickles Recipe a try, please leave a comment letting me know how it worked out for you. Don't forget to share on your favorite social media so everyone can give this easy recipe a try.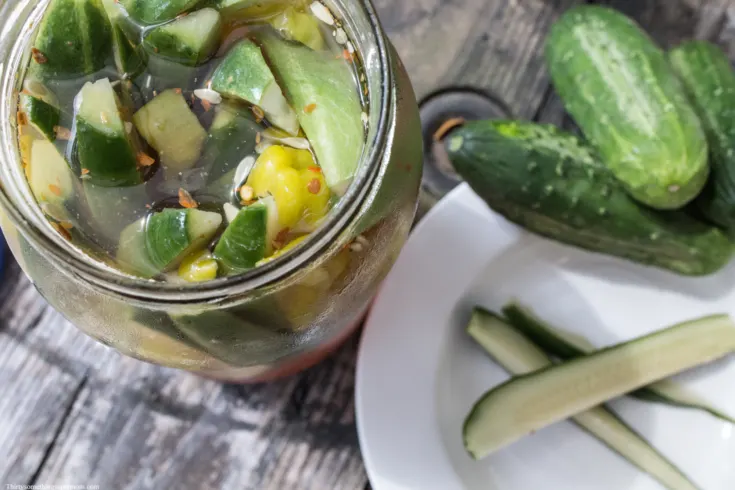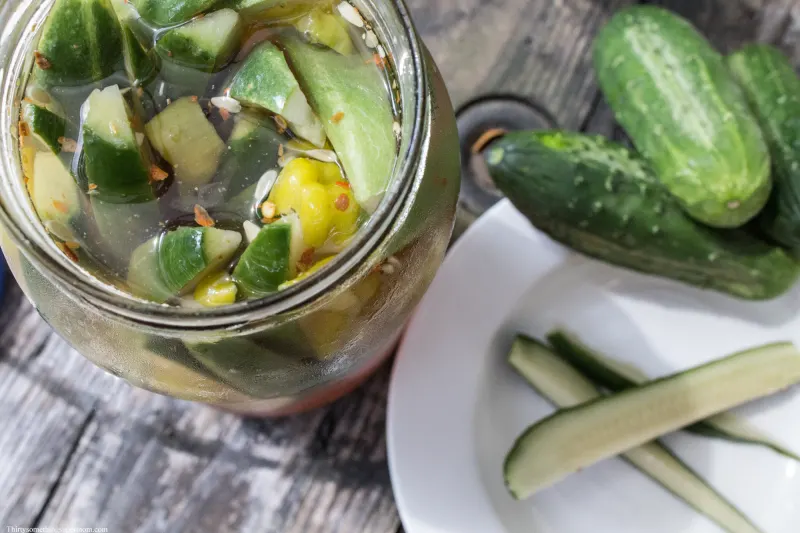 Garlic Refrigerator Garden Pickles Recipe
Ingredients
3-6 Pickling Cucumbers, sliced
2/3 Cup of Apple Cider Vinegar
2/3 Cup of White Vinegar
2/3 Cup of Red Wine Vinegar
8 Cups of Water
1/3 Cup of Stevia in the Raw
1/2 Cup of Salt
2 Tablespoons of Red Pepper Flakes
2 Tablespoons of Onion Powder
1 Tablespoon of Garlic Salt
6 Pepperoncini Peppers, diced
3 Tablespoons of Diced Garlic
Instructions
Mix all of the vinegars then add in all of the seasoning. Slice cucumbers and add to the jar. Allow to sit for about 3-6 hours for full flavor. Enjoy the pickles within the first two weeks for crispy, delicious pickles. Reuse the vinegar mixture with fresh pickles a few more times before tossing out.