Whether you are just passing through on your way to another travel destination or you want to explore a beautiful place with a rich history, this post will help you figure out where to stay in Thermopolis, Wyoming.
This little town is a must-visit travel destination with a lot to see including the world's largest mineral hot springs.
While this isn't the world's largest hot Springs it is the largest of the mineral hot springs making this destination a truly unique place.
Before heading out to explore the area be sure to find out all about the must-see places for the whole family, where you should stay for world-class accommodations and where to eat as well as what you can't miss when visiting.
This post offering tips for planning a trip to Thermopolis, Wyoming is brought to you through a partnership with Best Western Hotels & Resorts. While I have received a stay in exchange for coverage that partnership in no way influences my opinions, all thoughts are my own.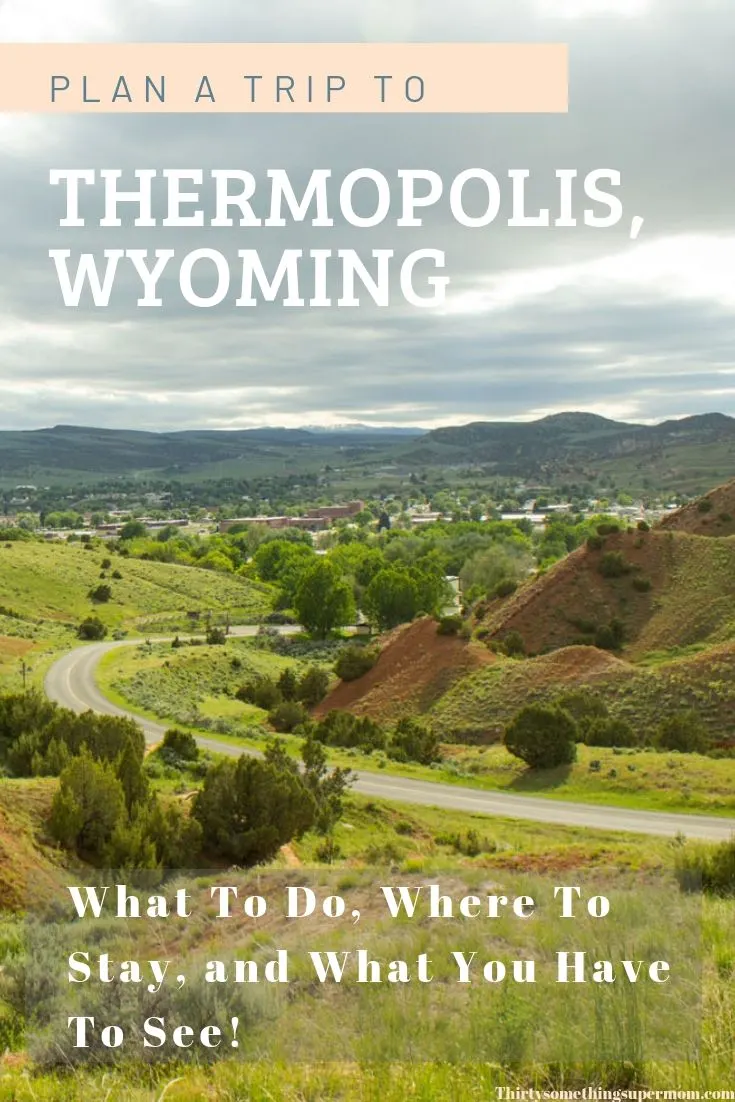 What to Do In Thermopolis Wyoming
Visit Hot Springs State Park where you can bathe in the State Bath House, go swimming at the Star Plunge, play in the game room, or just enjoy the wildlife that the area has to offer.
When heading East of the Big Horn River you will come to Buffalo Street which loops around a beautiful sprawling landscape that houses wildlife like bison, pronghorn, and a lot of prairie dogs.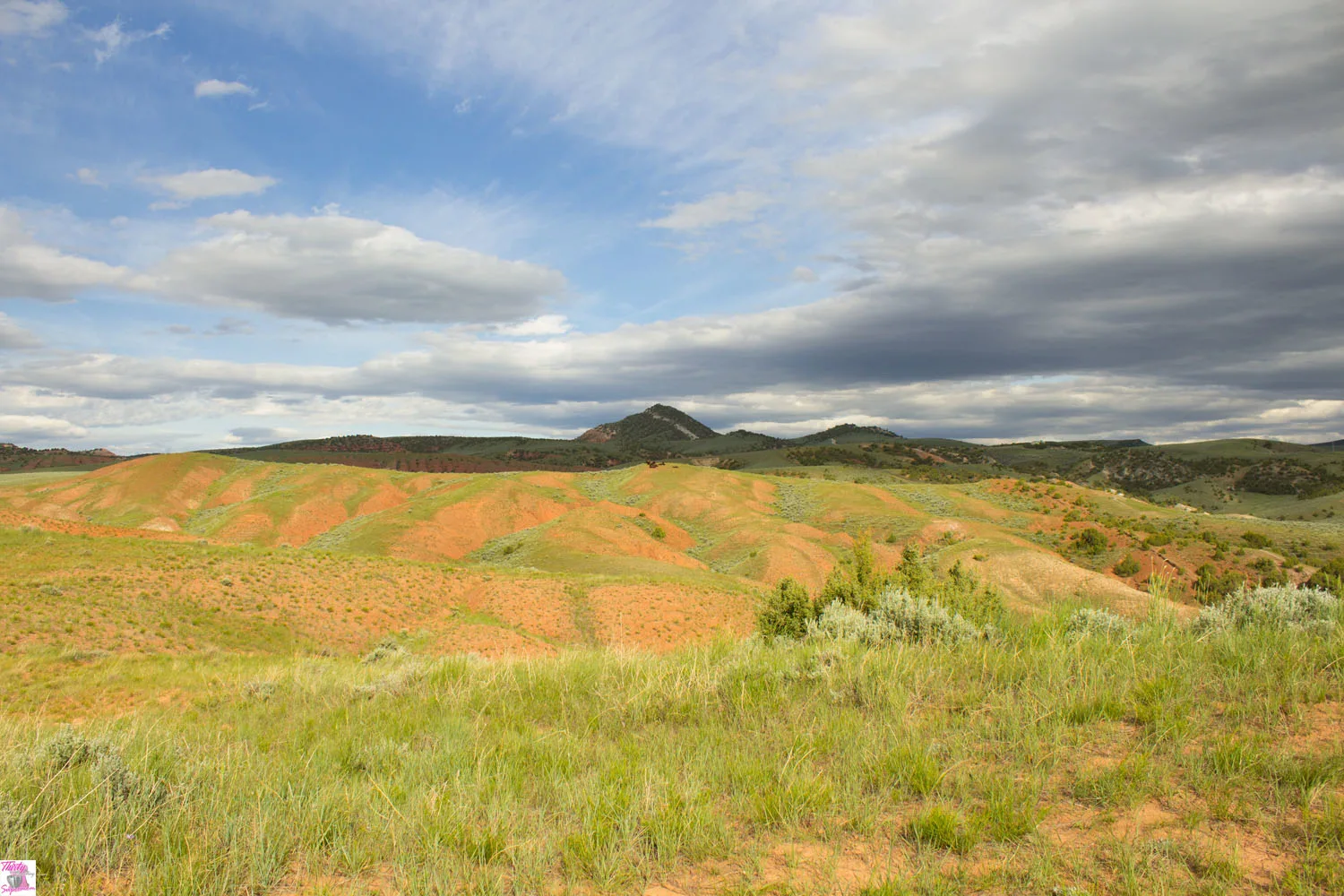 If you are anything like my family, checking out the local wildlife hot spot and observing them in their natural habitat is worth the trip to Thermopolis, Wyoming all by itself.
There are many signs in the area letting you know how dangerous buffalo are to approach and we even heard stories about the local tribes.
Apparently, on occasion they have been known to challenge the buffalo, trying to ride them while under the influence, resulting in their demise.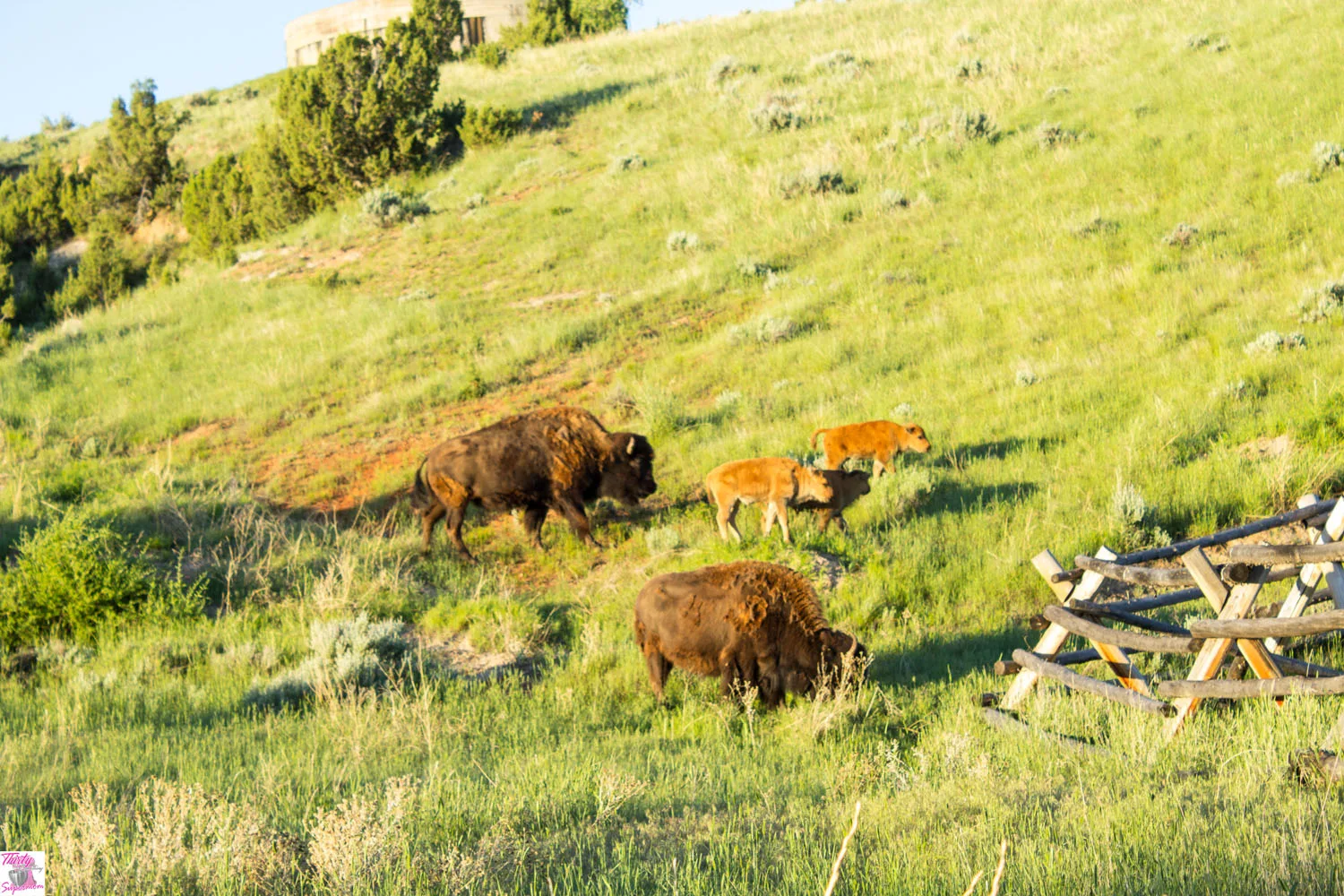 Don't let that scare you away, the buffalo seem to keep to themselves if you don't approach them.
You can still get a real picture-worthy experience, even if you stay in your car.
Be sure to head into Hot Springs State Park at the right time of day, feeding time is best.
Wait by the entrance in the morning around 7 am and you will get an up-close view of the buffalo making their way down to the edge of the property.
You can also walk across the swinging bridge, feed the koi in the pond, or take a hike on the numerous walking trails in the area.
Visiting the Smokey Row Cemetery and hiking up trails were highlights of our trip to Hot Springs State Park.
Golf at the Thermopolis Golf Course which is conveniently located right by the nearest airport serving the Thermopolis area.
Families would enjoy visiting the Wyoming Dinosaur Center aka the Wyoming Dinosaur Museum offering tourbook guides, a gift shop, dinosaur digs, and displays of the Thermopolis Specimen of Archaeopteryx.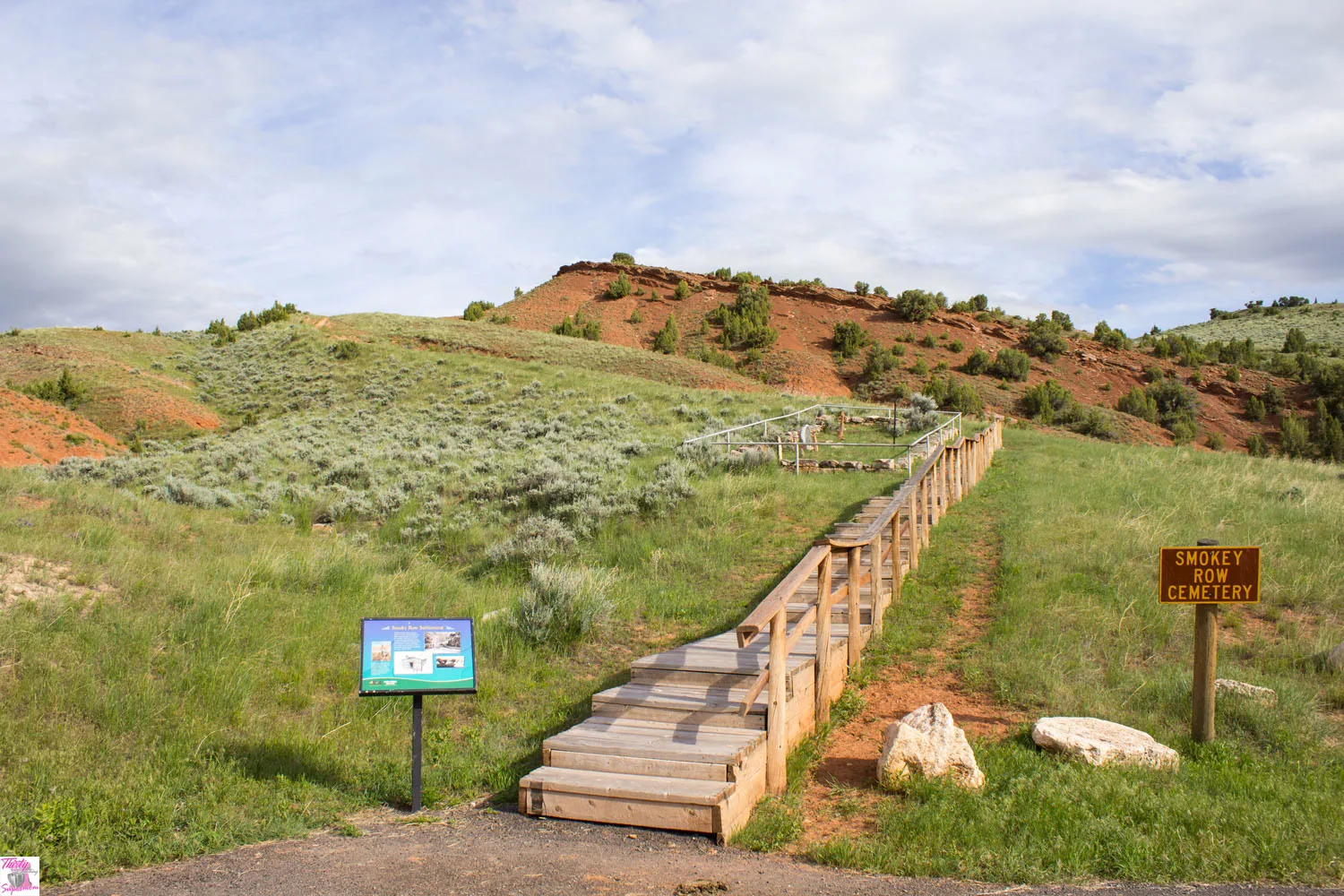 Popular Destinations Near Thermopolis Wyoming
Yellowstone National Park, Shoshone National Forest, Grand Teton National Park, Bridger-Teton National Forest, and Bighorn National Forest are all beautiful places to spend the day outside of Thermopolis, Wyoming.
You could spend days exploring the beautiful scenery nearby and visiting the historical places in other towns like Cody, Wyoming which is about an hour outside of Thermopolis.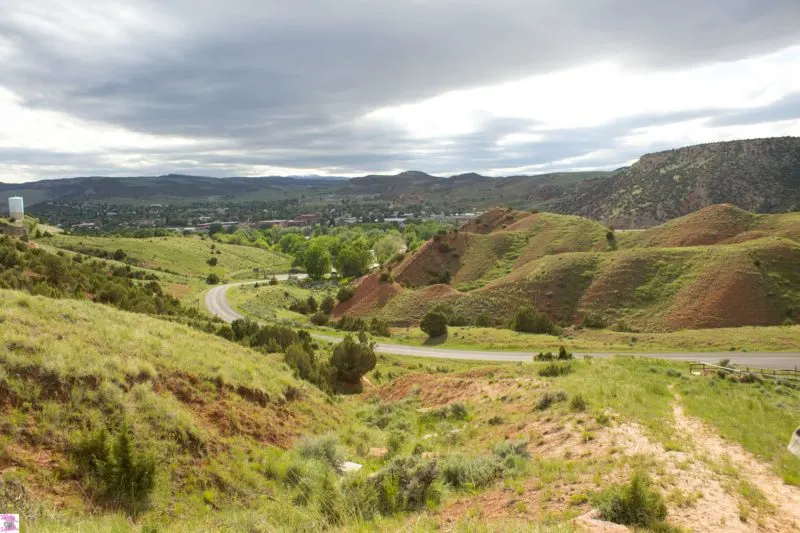 The nearby areas are rich in historical places from museums featuring natural history to firearms and the heritage of the area.
There are so many things to do in and around Thermopolis, Wyoming that you will want to spend more than a few nights there in order to take in everything the area has to offer.
If you are short on time or want to just stop in for a night, it's best to plan ahead to make sure you have time to see what you are most interested in while visiting the area.
Narrow down what you want to see most and get your travel plans mapped out, due to inclement weather that time of year may make some roads inaccessible so be sure to keep that in mind when planning your trip.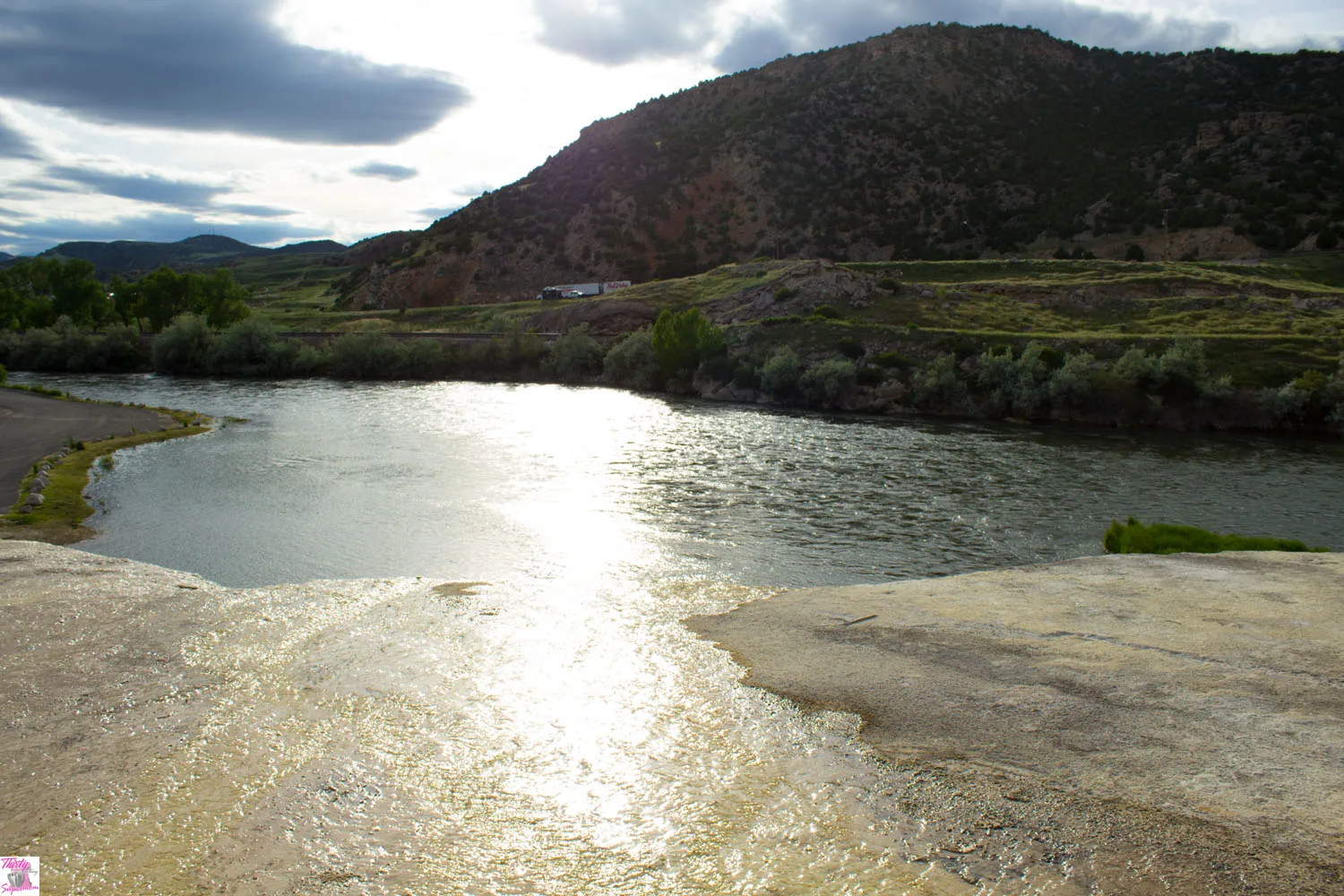 Where to Eat
While you can get some of your hometown comforts in the form of fast food, it's more fun to try something new while away.
Thermopolis has a few different options ranging from Mexican to Thai food as well as a few spots that offer traditional American fare.
Visitors may enjoy the following dining options in Thermopolis
Los Cabos Mexican Restaurant located at 942 Shoshoni St, Thermopolis, WY 82443
P6 Station located at 544 Park St, Thermopolis, WY 82443
7 Lazy S Cafe and Bar located at 109 S 6th St, Thermopolis, WY 82443
Black Bear Cafe located at 111 N 5th St, Thermopolis, WY 82443
148 Bistro located at 148 E Arapahoe St, Thermopolis, WY 82443
One Eyed Buffalo Brewing Company located at 528 Broadway St, Thermopolis, WY 82443
We ate dinner at the Safari Club which was right across from our hotel. My family enjoys wildlife and since we like viewing them whenever possible, this seemed like the place to do it.
There are feeders set up right outside of the dining area to draw in deer and other wildlife that may wander onto the property.
The biggest draw to this restaurant is for taxidermy enthusiasts because the dining area is packed full of mounts from around the world.
Thankfully our hotel was located right across from this restaurant so it made the choice of where to eat dinner an easy one.
Plus while staying at the Best Western we were able to look on at the feeders across the street in hopes of seeing wildlife while visiting.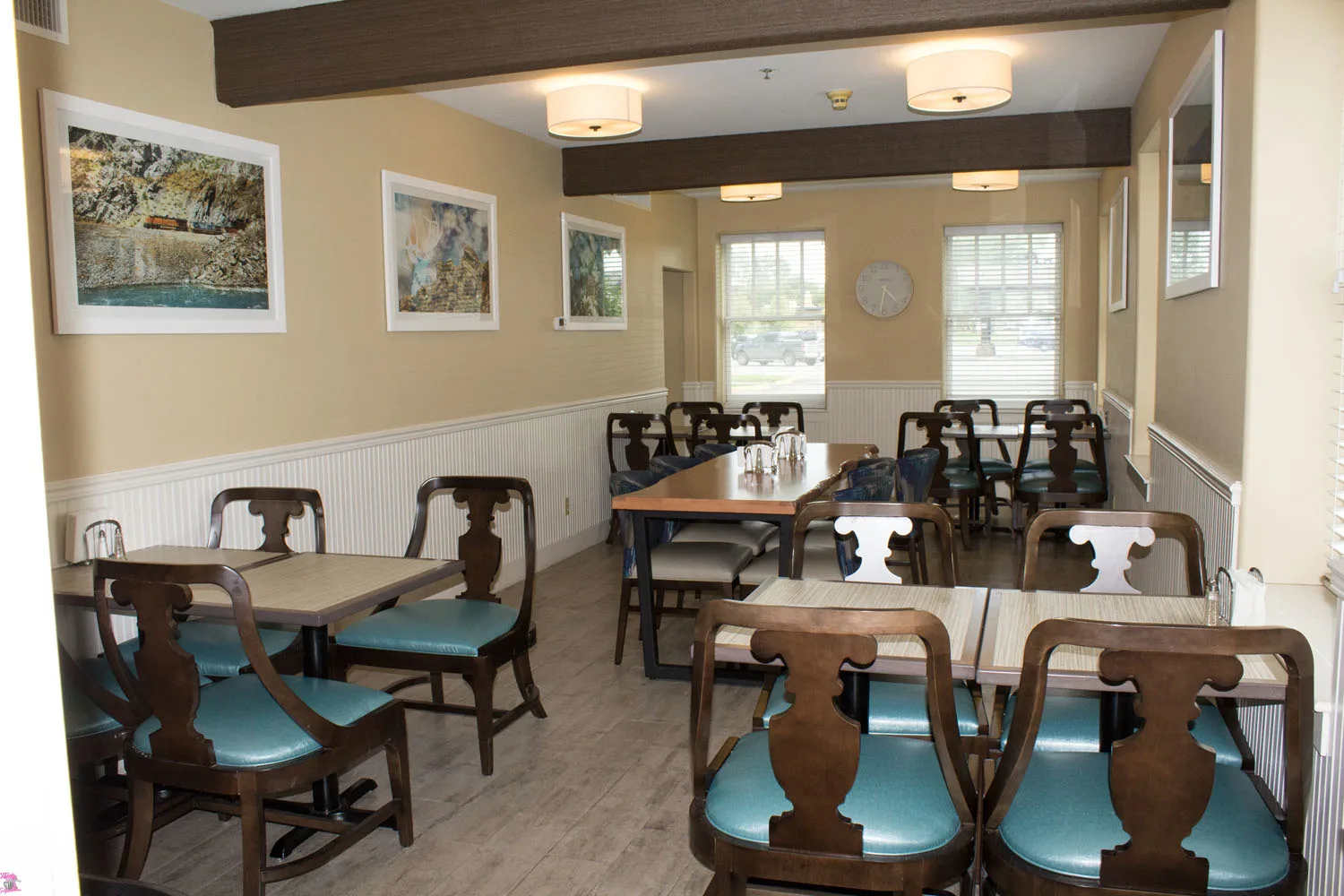 When heading out for lunch, you may be better off packing a picnic so that you can eat it in one of the many scenic locations that Thermopolis, Wyoming has to offer.
There is nothing more fun to me than enjoying a snack with my family while observing the wildlife and taking in the sights that were in walking distance from our Thermopolis hotel.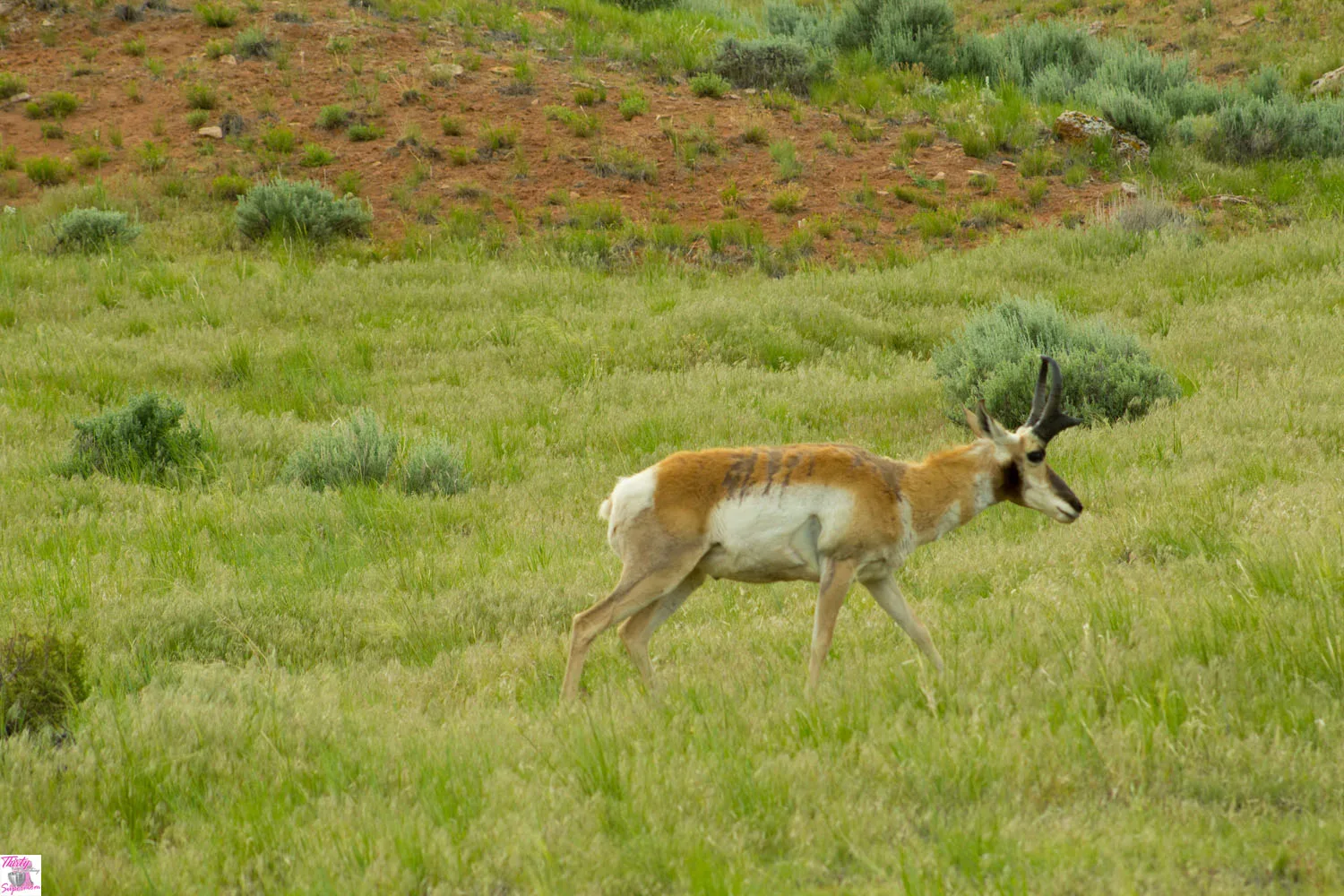 Since we stayed at the Best Western in Thermopolis, Wyoming, we enjoyed a free breakfast right by our first floor room.
I have never had a more delicious sausage link in my life and the scrambled eggs were cooked just right.
If you are in a rush to explore the area in the morning and don't have time to sit in the dining area, you can grab a pastry or bagel before heading out on your adventure.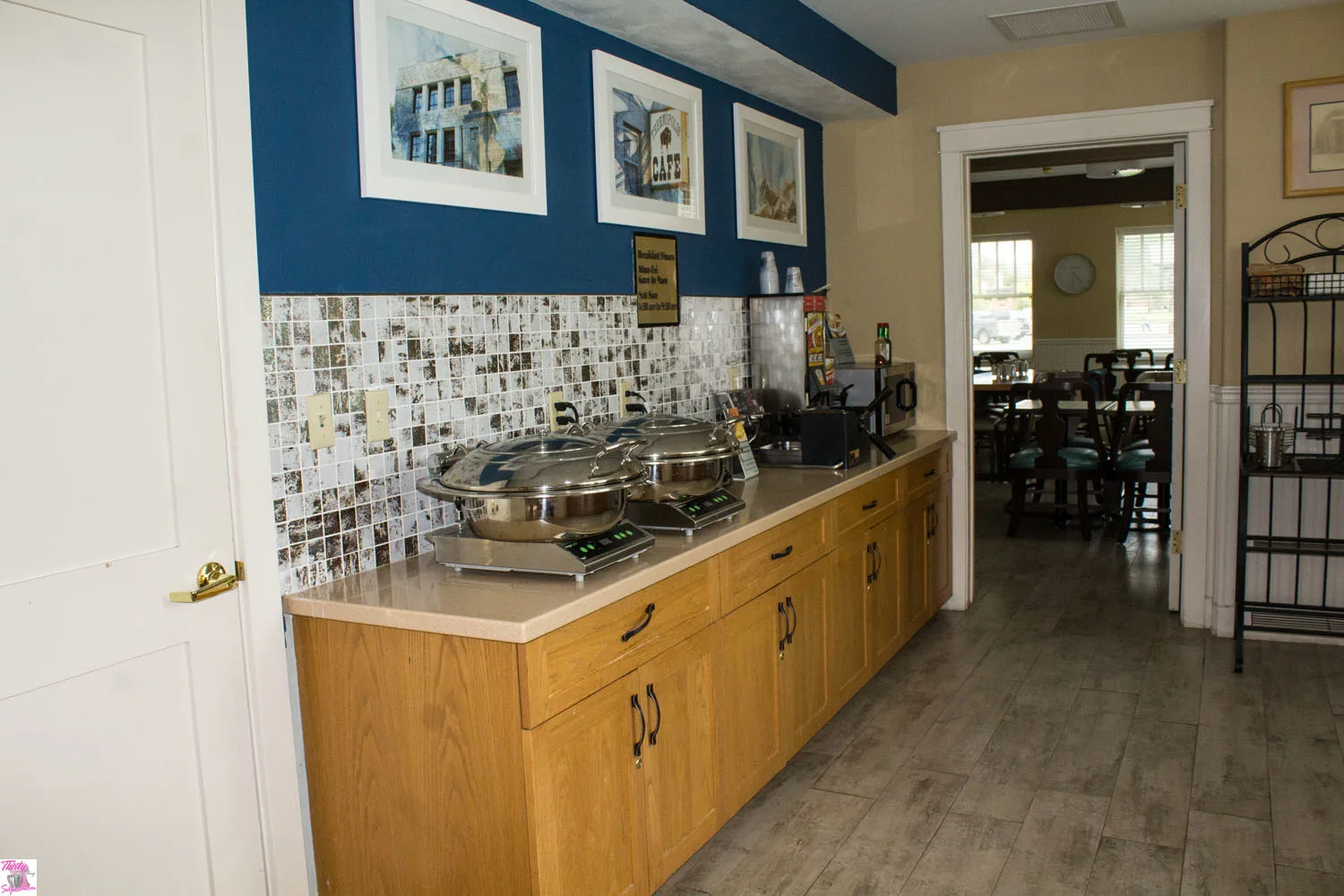 Best Places to Stay in Thermopolis Wyoming
When planning a trip to Thermopolis, Wyoming you have to stay at the Best Western Plus Plaza Hotel!
This is one of the best hotels I have ever stayed at and it is conveniently located at 116 E Park Street Thermopolis, WY 82443
Not only was it a great value but the guest rooms were decorated beautifully and I really enjoyed the log furniture look and the complimentary wireless internet access since I had no signal in the area.
Some of the other perks of staying here were the free continental breakfast with fresh fruit, flat-screen tv with plenty of cable channels, easy access guest laundry, comfortable rooms, and comfortable queen beds.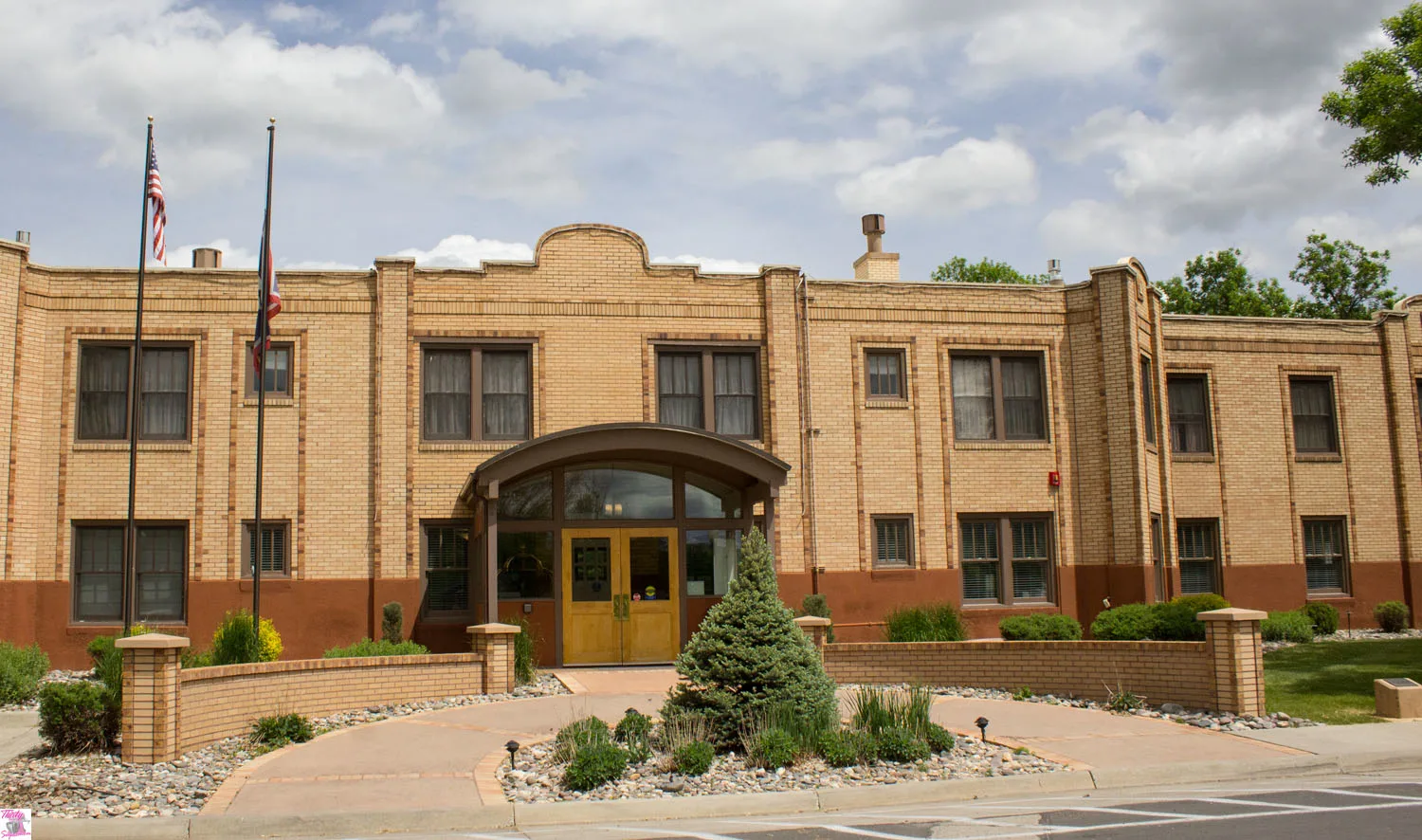 The hotel is listed on the National Register of Historic Places and is fully modernized.
This historic hotel offers immaculate accommodations located next to the Big Horn River, inside Hot Springs State Park, and is within walking distance from the Thermopolis city center.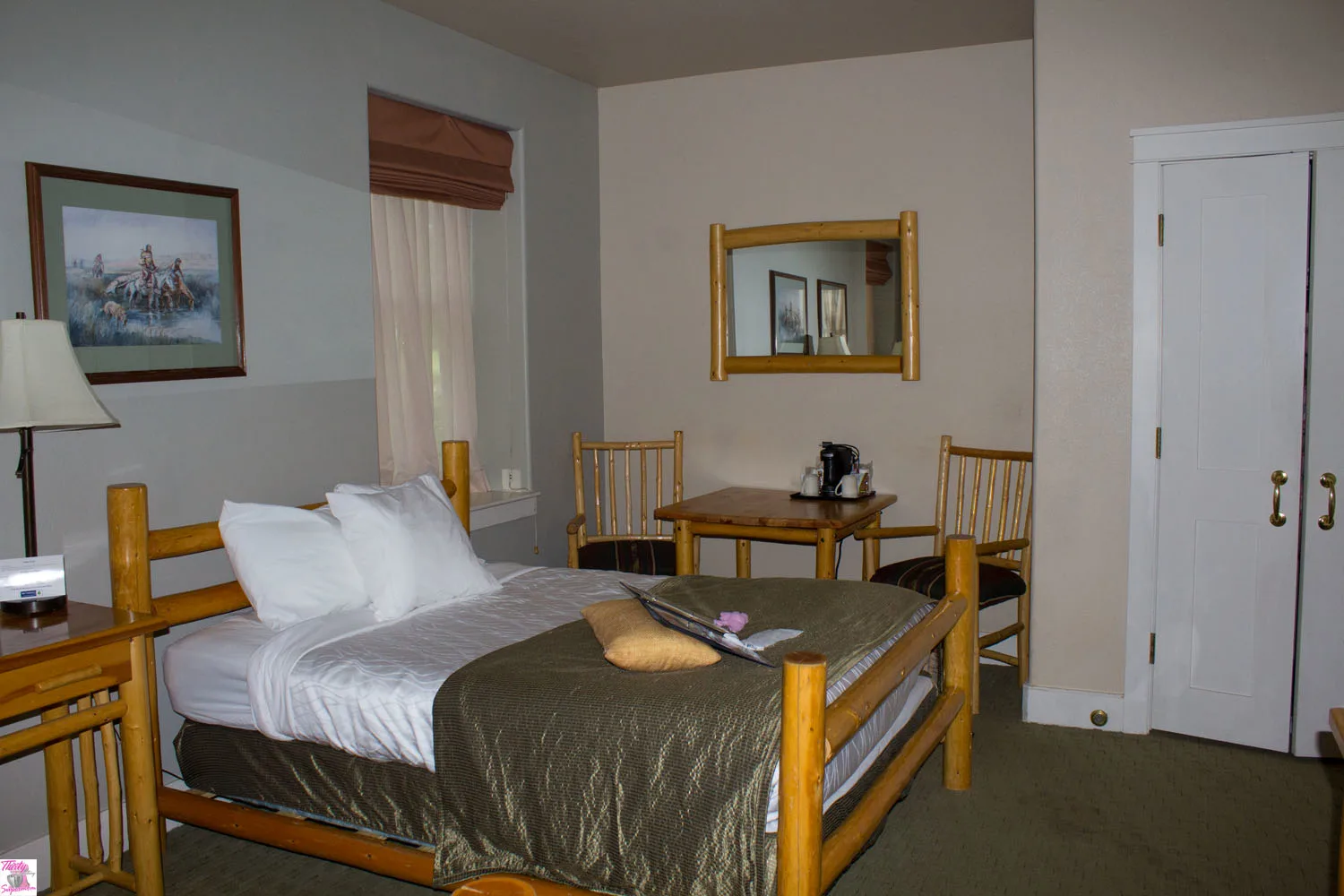 Although the seasonal outdoor pool is a great place for family fun in the warmer weather and is closed during the Winter, the hot tub is accessible all year long.
That beats an indoor pool with water slides in my book, which is why this is one of the best places to stay, even in the Winter.
The hot tub draws its water from a local natural hot spring. The temperature reached 104° while we were there and it is said to have healing powers.
Pilgrims, for thousands of years, have been coming to the area to experience the waters, you just can't get that kind of perk with most hotel rooms.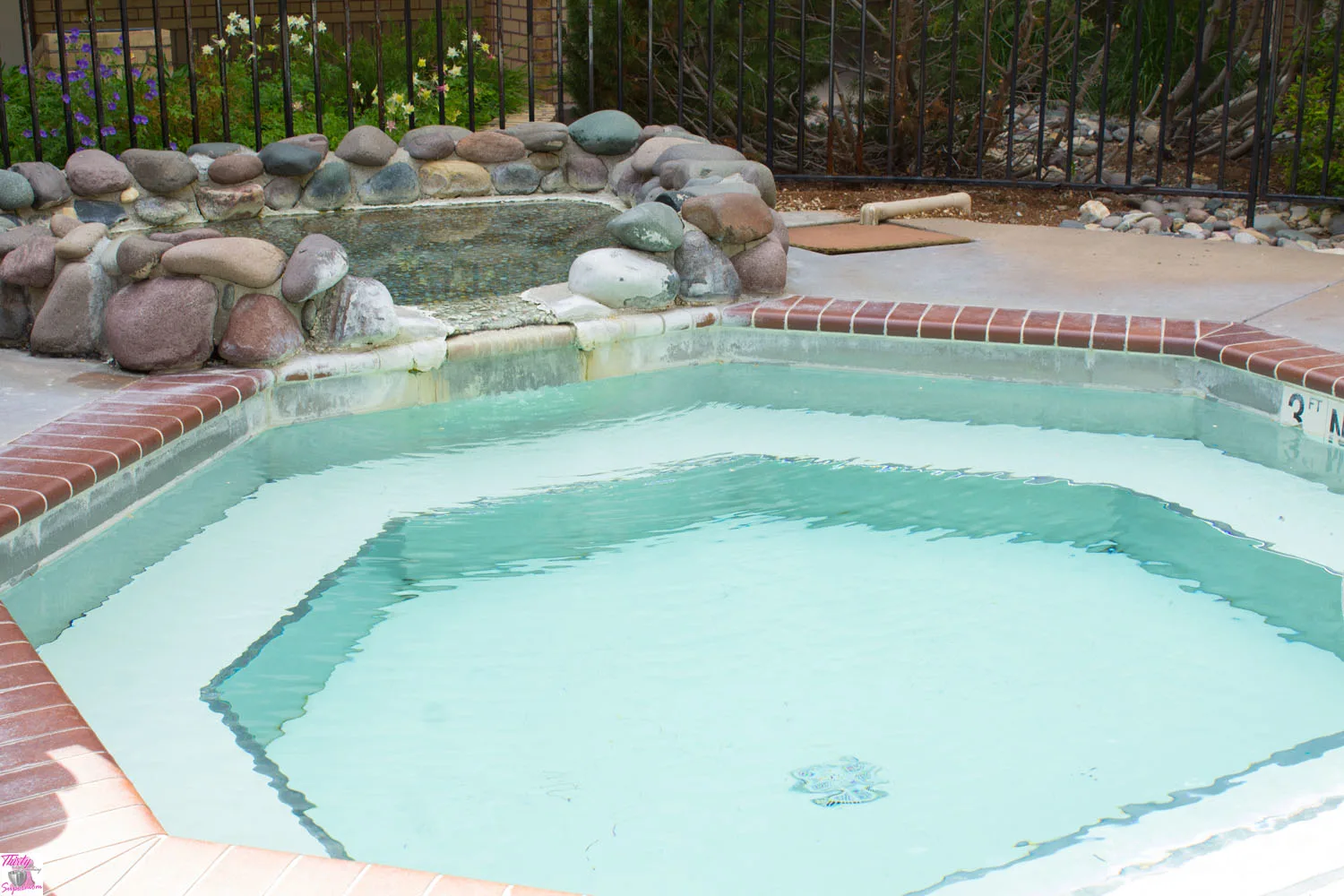 There is nothing more relaxing than soaking in a hot tub and thanks to the location this hotel is able to directly access the "Big Spring" from Hot Springs State Park, for use in its mineral water spa.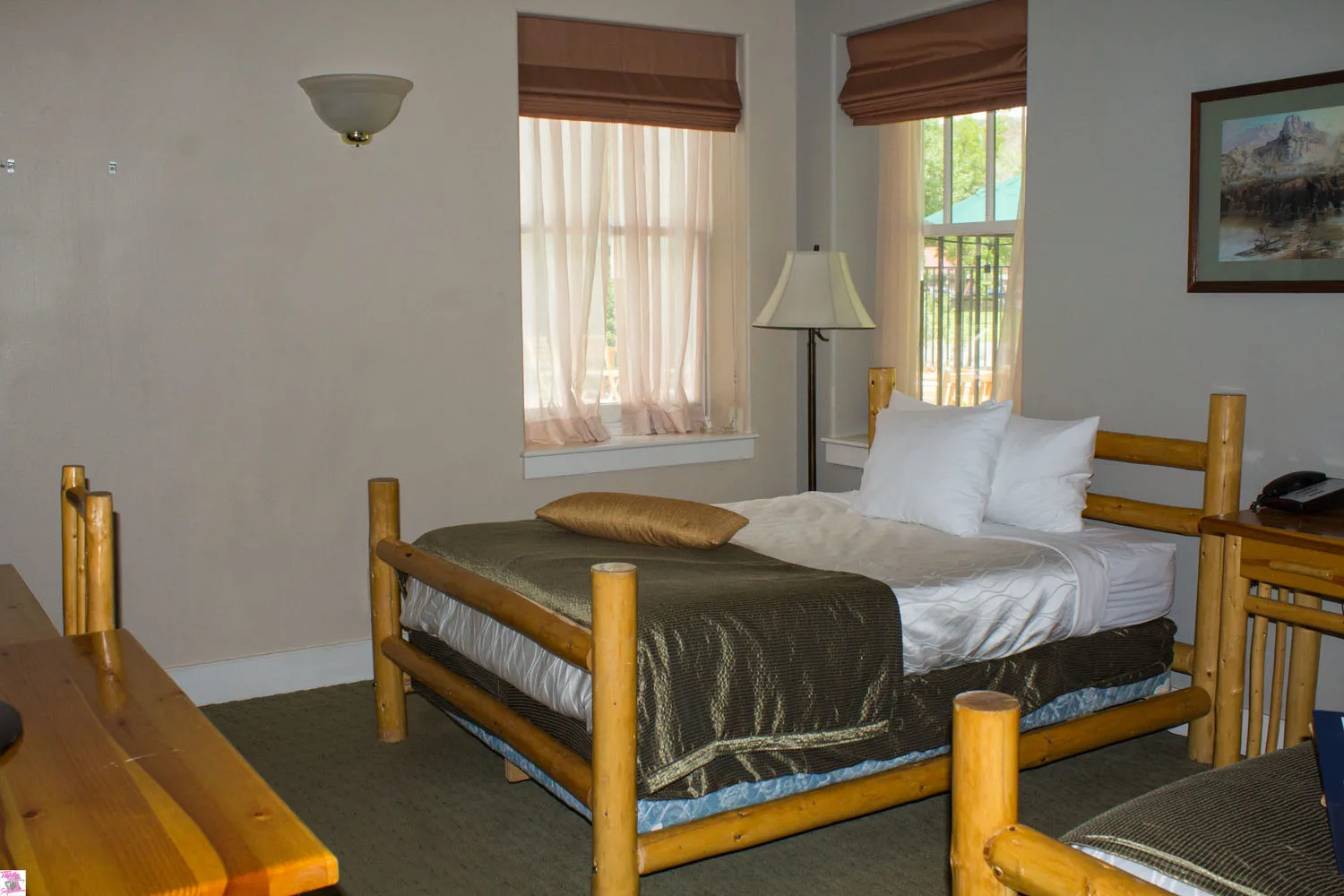 The rooms are beautifully decorated, and fully stocked with everything you will need at your home away from home including a coffee maker, microwave, refrigerator, and fresh linens.
Our room overlooked the pool area and it welcomed us with a warm, cozy feel.
There is even a nice picnic area for families to enjoy a meal by the pool, including the delicious complimentary breakfast.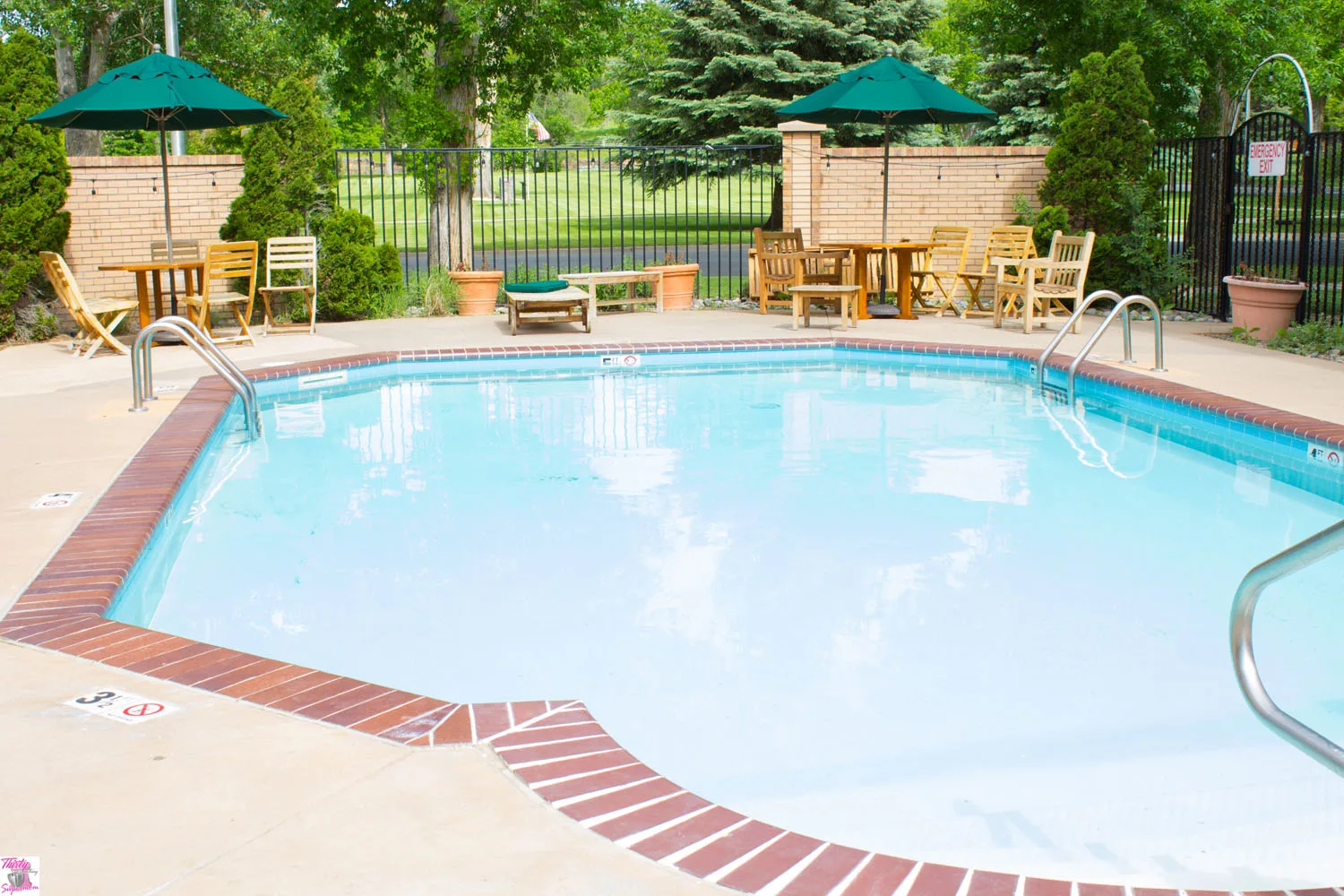 The front desk offered fresh baked cookies and the staff was always ready to point us in the right direction of our next adventure, offering suggestions and insider tips to make the most of our stay.
The location could not have been better, no matter what you want to do or see while in the beautiful town of Thermopolis, this is the place to stay.
Where to Stay in Thermopolis Wyoming with Pets
These pet-friendly hotels are a great place for those who are traveling with their whole family, especially the furry kind.
Quality Inn Thermopolis is located at 166 US-20, Thermopolis, WY 82443
This hotel boasts an indoor pool, fitness center, laundry with washing machine and dryers for guests, and spacious non-smoking rooms.
Roundtop Mountain Vista – Cabins are located at 412 N 6th St, Thermopolis, WY 82443
The Roundtop Mountain motel has a 2-star rating offering cabins with kitchenettes, bbq grills, and is perfect for those looking for cheap hotels that allow pets.
Budget Host Elk Antler Inn is located at 501 S 6th St, Thermopolis, WY 82443
This family and pet-friendly hotel offers a variety of rooms and suites including a family room with a bunk bed for the little ones.
El Rancho Motel is located at 924 Shoshoni St, Thermopolis, WY 82443
This hotel boasts air conditioning, comfortable beds and is within a 5-minute drive of Merlin's Hide Out and Hot Springs County Museum.
Rainbow Motel is located at 408 Park St, Thermopolis, WY 82443
This pet-friendly hotel offers reasonable rates and is conveniently located just 1 mile from the Wyoming Dinosaur Center.
Fountain of Youth Inn is located at 600 Broadway St, Thermopolis, WY 82443-2720
Located near Wind River Canyon this hotel boasts a pet-friendly stay with dining and free parking lots located just 4400 feet away from TePee Pools and Spa.
More Suggestions of Where to Stay
Hot Springs Hotel & Spa is located at 115 E Park St, Thermopolis, WY 82443
This hotel boasts a spa, fitness center with a racquetball court, and restaurant with free parking and free wi-fi.
Days Inn by Wyndham Thermopolis is located at 115 E Park St, Thermopolis, WY 82443
This 3-star hotel offers an average price and is a 6-minute walk to the Star Plunge Water Park and a 15-minute walk to the Wyoming Dinosaur Center.
Paintbrush Inn is located at 605 S 6th St Thermopolis, WY 82443
This hotel offers cheap rates and is located by grocery stores and has lots of dining options nearby.
Have you ever visited Thermopolis, Wyoming? Tell me all about it by leaving a comment below, I can't wait to hear more about this must-visit travel destination.
Can You Soak in Thermopolis Hot Springs?
Yes. There are several options for soaking in the hot springs in Thermopolis.
Also, if you want to see more posts like these, don't forget to sign up for the free newsletter so you never miss another post again.