This Paleo & SCD pie crust is perfect for many different kinds of pies from open-faced fruit pies to chicken pot pies for the whole family.
Those on the specific carbohydrate diet or the paleo diet will find this recipe to be delicious and easy to incorporate into their diet.
Why Make a Paleo Pie Crust?
I started experimenting with paleo and SCD recipes when I was diagnosed with an auto-immune disease called Ulcerative Colitis. When I was first diagnosed I was handed a large number of pills and told that I needed to take those for the rest of my life. Three times a day.
I was told when that stopped working, I needed to move on to heavier medications that are known as biologics. The idea of taking those terrified me!
The side effects were pretty scary including illnesses like cancer and even death.
As soon as I got home from my doctor's appointment with my initial diagnosis I began researching natural remedies and came across the Specific Carbohydrate Diet, also known as SCD.
Long story short (It may be too late for that) I began following SCD. Which meant eating only foods that were part of the Specific Carbohydrate Diet.
You can find more SCD Recipes throughout the site as I have shared many in the past and I enjoy making recipes this way. It is truly a healthy way to eat, even if you haven't been diagnosed with IBD.
I have shared many recipes for the Specific Carbohydrate Diet on this site and you can find them all under SCD Recipes.
If you are curious about the Specific Carbohydrate Diet, you can click here to see the book by Elaine Gottschall that started this healing journey for so many illnesses.
How to Use this SCD Recipe
When my husband had a craving for a Banana Pie, I decided to whip up this SCD Pie Crust and couldn't wait to share it!
You can see how I made the pie filling for the SCD banana pie recipe here. Even if you aren't following a Paleo diet or the Specific Carbohydrate Diet, you can use this SCD Pie Crust recipe for lots of different pies.
You will not believe how easy it is to make!
The first step is to gather all of your ingredients, I am pretty excited about this picture because it showcases one of my favorite items, these measuring spoons.
There is something about the ceramic that really makes them fun to cook with in my opinion.
Add all of your dry ingredients together in a bowl. Mix the ingredients together and set them aside.
I really enjoy this SCD Pie Crust Recipe as it allows me to use some of my favorite mixing bowls that I picked up at a local hardware store on clearance. I just love the fun colors and shapes, some people get excited about technology, and I get excited about housewares.
This page on Amazon makes me drool, seriously I could fill up twenty kitchens with my favorite items.
It can be hard to find ingredients that are SCD-safe as you need to be sure there are no additives in your products because even if something says it is just cinnamon, it may not be.
It may contain anti-caking agents and other foods that are referred to as illegal when following the Specific Carbohydrate Diet.
I have found a lot of similarities between the paleo diet and SCD, so if you are following a paleo diet, you are in luck because not only is the pie SCD-friendly, but this pie crust is also perfect for those on the paleo diet.
There are no changes needing to be made in order to make this pie crust paleo, just follow my simple gluten-free pie crust recipe to accommodate either diet.
Ingredients Needed
This recipe uses a combination of Almond Flour and Coconut Flour. Using this combination of flours instead of traditional all-purpose flour is a great step in the right direction when it comes to making a pie crust paleo friendly or for the Specific Carbohydrate Diet.
Some of the other ingredients in this recipe are pretty basic ingredients that you may already have around. This includes salt, baking soda, cinnamon, honey, egg, vanilla, butter, and coconut oil.
How to Make a Pie Crust for the Specific Carbohydrate Diet
This pie crust comes together by adding all of the wet ingredients to a bowl, preferably a really cute one like one of these gorgeous bowls, and set aside.
Something about having cute housewares to cook with really makes it more fun for me. Plus, this recipe requires a couple of different bowls to make, so why not use cute ones?
The next step is to mix the dry ingredients in another bowl.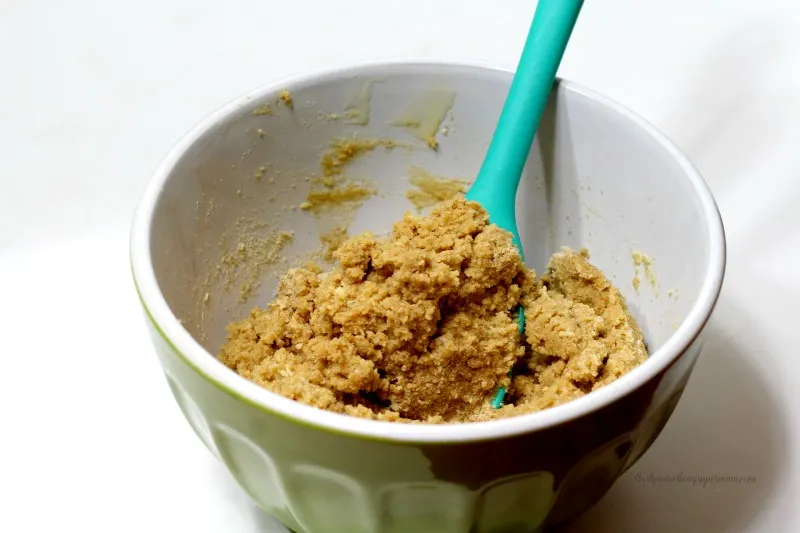 Then mix both wet and dry ingredients together until well combined. You will start to notice the color and texture changing.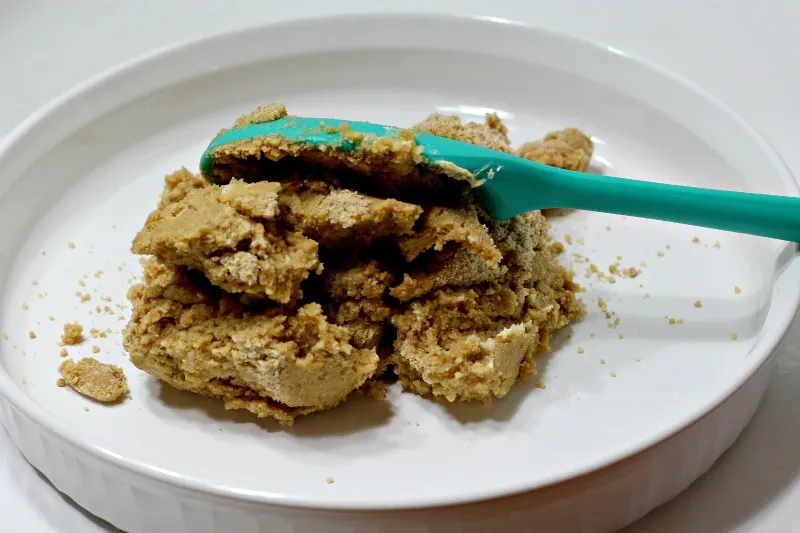 Add that mixture to a pie pan, and if you are as lucky as me you will have also scored a pretty cool one from a local second-hand store on the cheap. The only thing that makes me as happy as housewares is a good deal.
When I get a good deal on housewares, I couldn't be happier.
Ever since I picked up this pie pan, I have been trying to create the perfect gluten-free pie crust to get some use out of it.
I was really happy with the way this pie crust came out, the shape of this pie pan is perfect for this paleo pie crust. I found one on Amazon that is similar, see that pie pan here.
It seems like it would be the next best thing to picking up this vintage pie dish at a garage sale.
How to Form the Pie Crust
The next step is to press the mixture into the pie pan by pressing into the corners and bottom as well as the sides of the pie pan.
If you break a piece of the crust and push a hole through the bottom of the pie pan, be sure to smush the dough together and cover the hole before baking or filling this pie crust.
Bake in a preheated oven on the top rack at 350 degrees for about 18 minutes.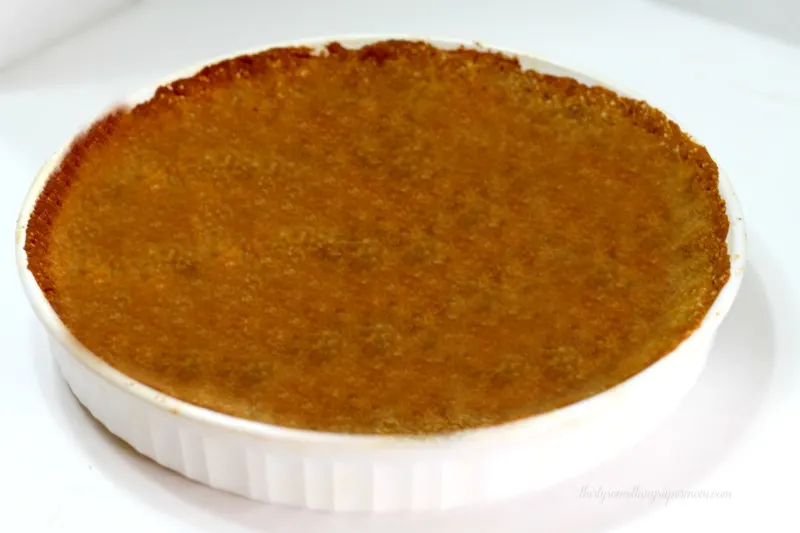 Add pie filling and refrigerate for fruit pies.
If you are creating an SCD Pot Pie for the whole family or a dessert pie that needs to be baked, cut the pie crust baking time in half then add ingredients before returning your SCD Pie Crust to the oven.
I hope you enjoyed this recipe and have found it easy to make all of your favorite pies without having to compromise your diet.
Be sure to follow along on social media and sign up for the free newsletter so that you never miss another easy recipe post again.
This pie crust is perfect for those following a paleo or scd diet.
Ingredients
3/4 Cup of Almond Flour
1/2 Cup of Coconut Flour
1/4 Teaspooon of Salt
1/2 Teaspoon of Baking Soda
1 Tablespoon of Cinnamon
1/4 Cup of Coconut Oil
1/2 Cup of Honey
1 Egg
1 Teaspoon of Vanilla
1/3 Cup of Butter
Instructions
Preheat oven to 350 degrees
Mix all of the dry ingredients together and then set aside.
Mix all of the wet ingredients together and then set aside.
Mix all of the ingredients together in a bowl making sure to combine completely.
Press into a pie pan.
Bake for about 18 minutes on the top rack and now your pie crust is ready to use for fruit pies, open-faced pies, and if you are baking a pie cut the baking time in half to prevent over-baking the crust.
Recommended Products
As an Amazon Associate and member of other affiliate programs, I earn from qualifying purchases.
Nutrition Information
Amount Per Serving
Calories

304
Total Fat

22g
Saturated Fat

12g
Trans Fat

0g
Unsaturated Fat

8g
Cholesterol

43mg
Sodium

172mg
Carbohydrates

25g
Fiber

3g
Sugar

19g
Protein

5g
The nutrition in recipes is caluculate by AI, mistakes happen. It is highly recommended to check carb counts to make sure these recipes fit into your diet.