Reheating chicken wings in your air fryer is the best way to get that crispy texture with leftover chicken wings. These simple steps will share how to reheat wings in an air fryer for delicious wings the next day.
Keep reading to learn how to reheat wings in an air fryer for crispy perfection, every time.
This post sharing how to reheat wings in air fryer contains affiliate links which means that if you click a link and make a purchase, I make a small portion of the sale at no additional cost to you.
Why Learn How to Reheat Wings in Air Fryer
Reheating leftover wings in an air fryer is the best way to get crispy chicken wings with minimal effort.
This amazing kitchen appliance makes the reheating process simple, always delivering crispy wings every time.
Not only is this a great way to enjoy delicious chicken wings but this cooking process is much faster than using traditional methods.
With just 5-7 minutes of reheating time, this perfect appliance uses hot air circulation to turn leftover hot wings into crispy perfection.
Plus, you can treat your taste buds without having to put in a lot of effort or time that conventional ovens require.
Plus, this method works for reheating fried chicken and a variety of side dishes, perfect for game day leftovers.
How to Reheat Wings in Air Fryer
Other than an air fryer and some juicy chicken wings, the only other thing you will need is cooking spray. This ingredient is essential for getting that crisp exterior when air frying cold wings.
I like to use olive oil and usually only need about a tablespoon of oil but you may need additional oil depending on the size of the wings.
The cooking time will also vary slightly by the amount of wings cooked in the basket of the air fryer.
Easy Steps: Preheat your air fryer oven to 350 degrees. Preheating ensures that the wings start cooking immediately and helps in achieving a crispy exterior.
Spray or brush the air fryer basket with olive oil then place the chicken inside the basket of your air fryer in a single layer.
Then spray olive on top of the chicken to ensure crispy skin.
Cook for a total of 5-6 minutes, flipping them halfway through the cook time.
Use a meat thermometer to check the internal temperature of the wings.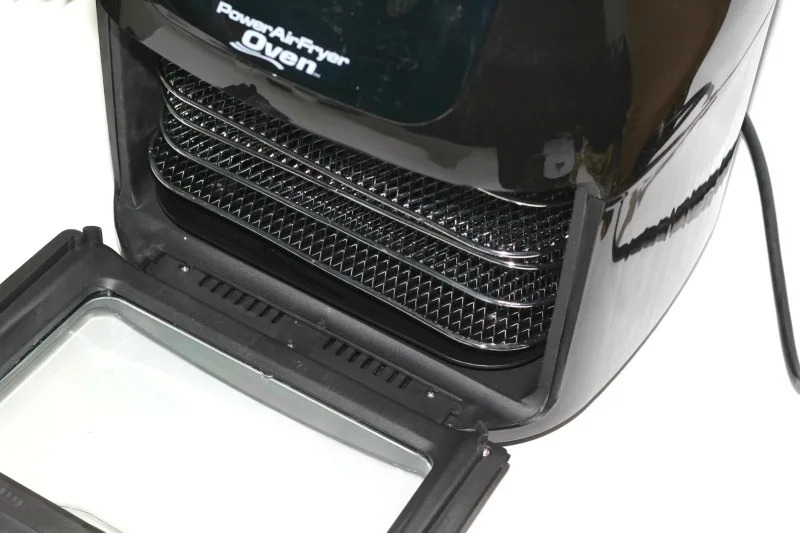 Tips for Reheating Wings in an Air Fryer
For best results, set your air fryer temperature to 350 degrees and allow it to warm up. This is the same basic process you would use for a recipe that calls for a preheated oven.
Although an air fryer only takes about 2-3 minutes to heat up when set to medium-high heat while a traditional oven can take up to 10-15 minutes.
An easy way to help your chicken stay juicy during reheating is to add water to the bottom of your air fryer.
Most air fryers allow you to do this while avoiding the heating element. If you are not working with a standard air fryer such as the Ninja Foodi or Power Xl air fryer oven, be sure to read your manual before adding water.
Be Careful: Do not add a damp paper towel, this is a fire hazard.
Check Air Fryer Compatibility: Not all air fryers are designed to accommodate water, so it's essential to check your air fryer's user manual for specific guidelines.
Be Cautious with Oil: If you mix water with oil or cook foods with added oil, be careful, as water and hot oil can splatter and cause burns.
Helpful Tips for Storing Wings to Reheat
Be sure to store wings in an airtight container and only reheat as many wings as you are going to be eating. Put the rest back in a container until next time because reheating wings are only crispy the first time.
For proper storage of saucy wings, lay down a piece of parchment paper or wrap it in plastic wrap to avoid drying out.
For leftover saucy hot wings, dip the reheated wings in room temperature hot sauce after cooking them.
Frequently Asked Questions
Can You Reheat Saucy Wings in an Air Fryer?
When reheating wigs dipped in your favorite sauce, you may not want to put them right in the air fryer basket.
This can lead to soggy skin and all of the extra sauce may rub off. So it's a good idea to use a small air fryer pan, aluminum foil, or an air fryer-approved baking sheet to ensure your delicious snack doesn't dry out.
To add more sauce, pour into a dish and place on a microwave-safe plate to reheat for about 30 seconds before dipping wings into the sauce.
Sprinkle some garlic powder on top for an extra burst of flavor.
How do You Reheat Chicken Wings to Make them Crispy?
Spraying the leftover wings with oil helps to achieve a crispy texture. Unlike using the microwave, reheated wings can become crispy when cooked in an air fryer.
Using an air fryer is one of the best methods for reheating foods because it utilizes hot air circulation to achieve a crispy texture.
What Kinds of Wings Can I Reheat in an Air Fryer?
You can reheat all kinds of wings including boneless wings, buffalo wings, leftover wings from Buffalo wild wings, or Wingstop wings.
Adjust the amount of time depending on the size and type of wings you are reheating.
Check the printable recipe card at the bottom of this post for the full process that shares how to reheat wings in air fryer.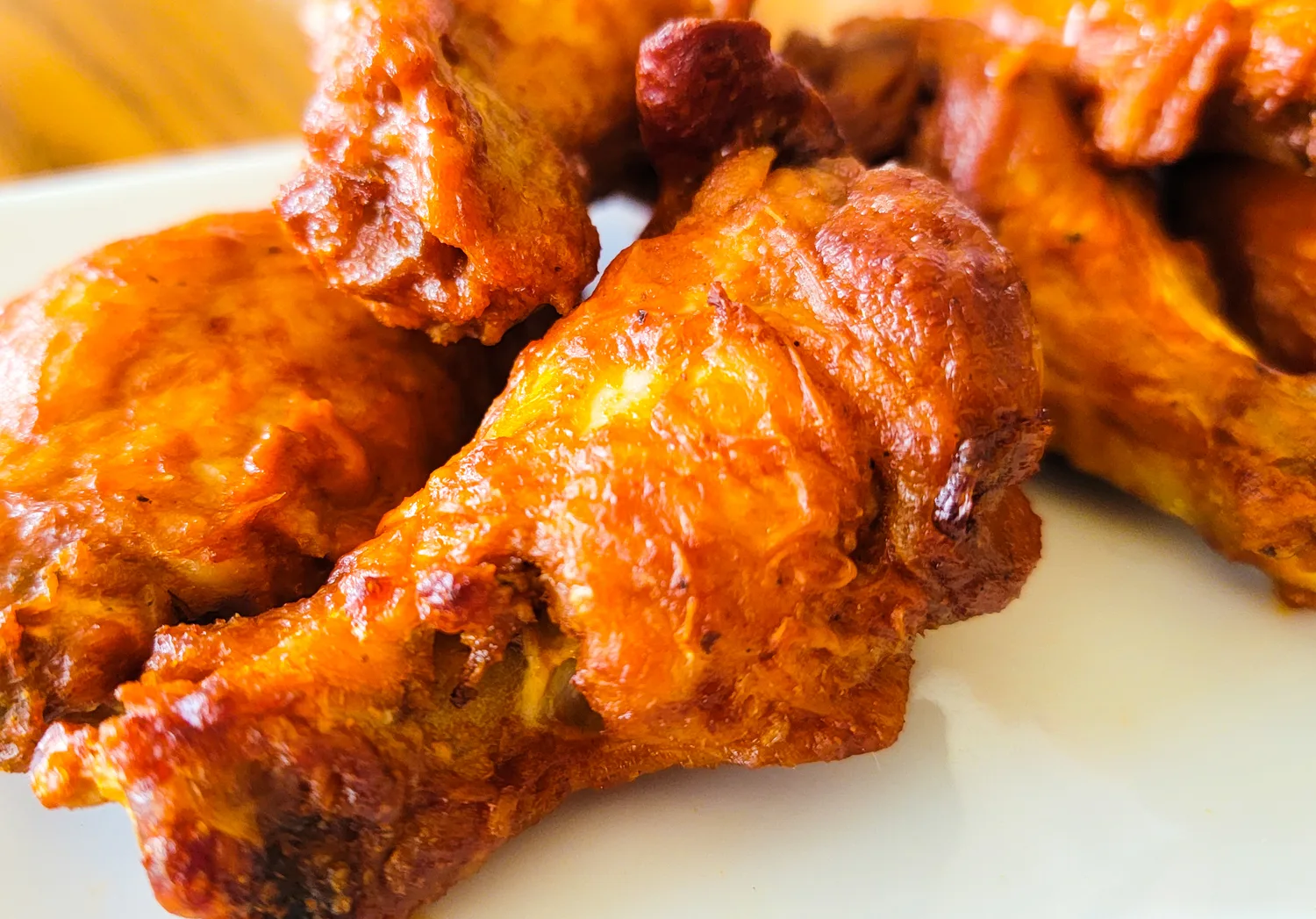 More Easy Air Fryer Recipes
Learn a variety of different ways to make chicken wings in the air fryer. Short on time? No need to defrost those wings before cooking them in an air fryer.
These Air Fryer Frozen Chicken Wings are easy to make in the air fryer without any planning ahead.
No need to pull out a frying pan, a large skillet, or use a toaster oven, these wings go from frozen to ready-to-eat in minutes using just an air fryer.
If you are following a low carb diet you will love these Easy Keto Chicken Wings made in the air fryer. Don't let the fancy food image fool you, this recipe is so simple to follow!
Looking for an air fryer dessert? Try these air fryer chocolate chip cookies or these air fryer low carb peanut butter bars.