It's so easy to whip up a batch of homemade dog treats for your furry friends when using this simple homemade chicken dog treats recipe.
This easy recipe uses simple ingredients to create tasty treats that your pet will love.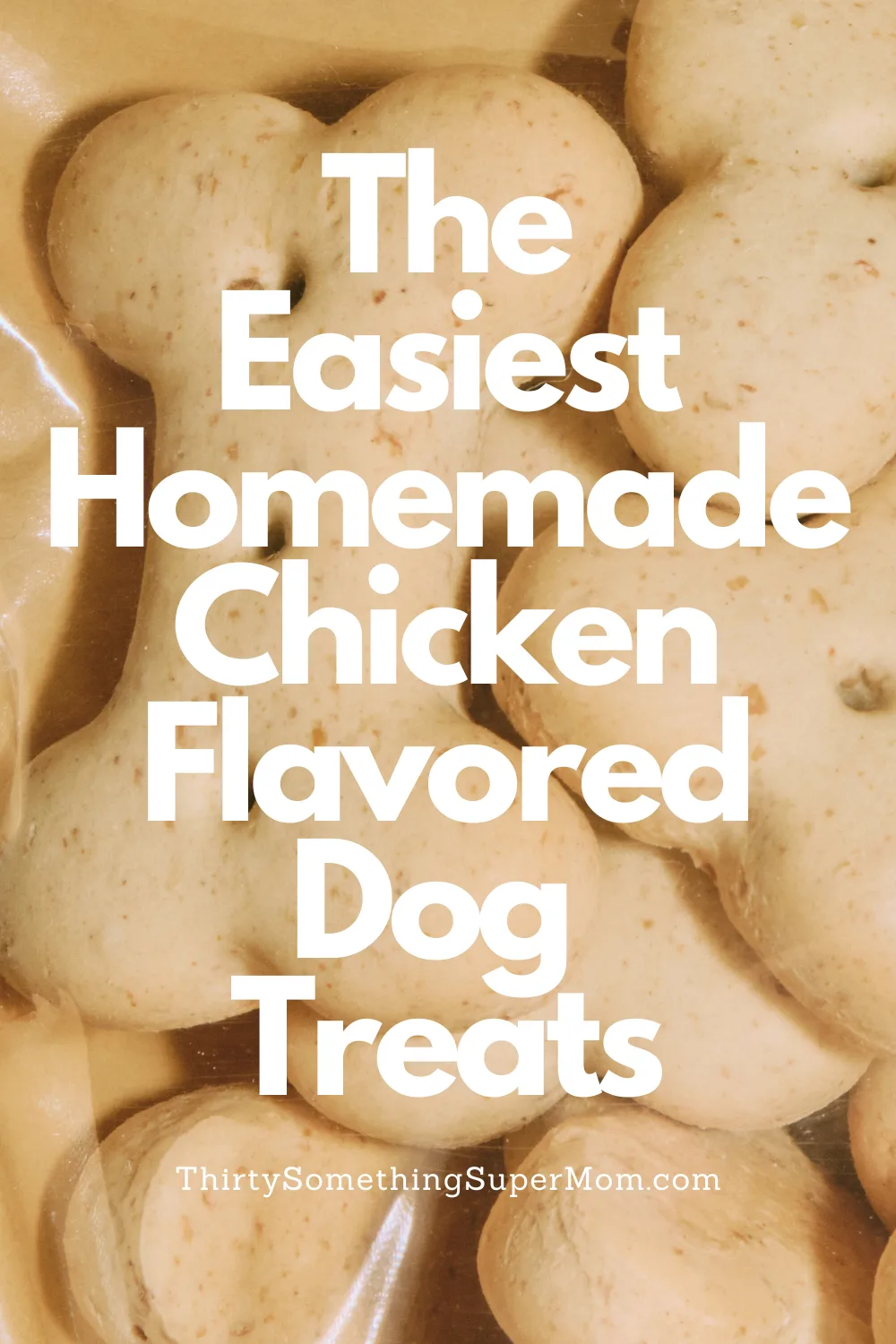 This homemade chicken dog treats recipe contains affiliate links which means that as an amazon associate I receive a small commission on qualifying purchases at no additional cost to you.
Why Make these Homemade Chicken Dog Treats?
These homemade treats are a great way to reward your pet with a healthy treat that they will love. I have found these to be a great option for most dogs and even a picky eater will love these homemade dog biscuits.
While working in animal rescue I have experimented with many simple dog treat recipes in an attempt to appease the picky eaters and these chicken dog biscuits were always the favorite.
I even offered this recipe as a reward after dealing with the unfortunate but common situation of having to give dogs a skunk bath.
If you ever find yourself in this situation you will want to save this skunk bath recipe for dogs.
It can be hard to find new foods that can be introduced into a dog's diet when you know very little about their medical history. Oftentimes I would have dogs with special dietary needs from diabetic dogs to emaciated dogs and everything in between.
It can be difficult to create one simple recipe that all of these dogs could safely eat and actually enjoy, that's what makes this such a great recipe. The best part is that whether you have smaller sizes like a Shih Tzu or larger dogs like a golden retriever, this recipe will please them all.
You can make the dough ball sized for small dogs and use whichever fun cookie cutters you prefer to create your own dog biscuits perfect for your pet. That's the great thing about making your own dog treats, you can personalize them, using the cookie cutter of your choice
When I first made this recipe I was already cooking a Healthy Homemade Chicken Soup for myself, so I just used some of the broth for the chicken treats.
This isn't a necessary step because you can just purchase chicken broth in the soup aisle for quick & easy homemade dog treats that can be made anytime. But I know that my dog loves homemade chicken broth and since she has to smell it all day while I cook it, I like to share it with her.
Homemade Dog Treats Recipe Ingredients
The following ingredients are needed to create these homemade chicken dog treats.
I told you it was easy! These three ingredients are the only ingredients needed to make this recipe.
You may already have all of the ingredients you need to make this recipe in your kitchen right now. You will also need a cookie sheet lined with parchment paper and a traditional oven to make this recipe.
Variations on this Dog Biscuit Recipe
You can customize this recipe by swapping out some ingredients for a different flavor to create new recipes with little effort.
An easy way to do this would be to you can swap out the chicken broth for beef bone broth. Everything else would remain the same in this recipe making this swap a simple way to create a new recipe next time you want to treat your pet.
If you choose to, you can use a different type of flour such as brown rice flour, all-purpose flour, or coconut flour, or even make your own oat flour.
I prefer to use whole wheat flour because it came highly recommended by the vet I used to work for and it seemed to be well tolerated by all of the dogs I cared for, plus they seem to love the taste!
Whole wheat flour fiber can be found in many types of dry dog food for this reason. Plus it contains protein, vitamins, minerals, and fiber. So this is a good choice for a dogs recipe or for any homemade food you want to create in your kitchen.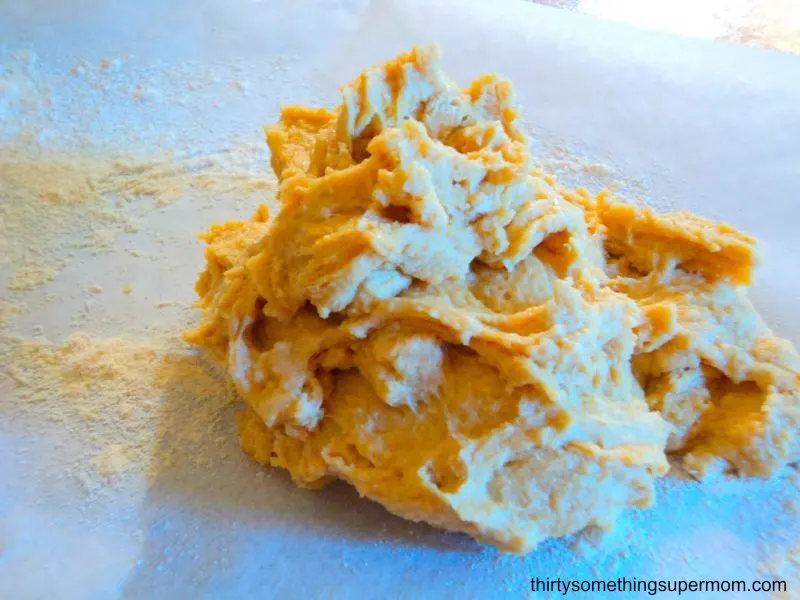 How to Make Homemade Chicken Dog Treats
This recipe comes together by mixing all of the ingredients together with a mixer or food processor, whichever works best for you.
You could also use a spoon and mix by hand but this requires a bit more effort.
Once the dough ball forms and all of the ingredients are mixed well, you will need to lightly flour your work surface for forming the dog biscuits. Or you can form the dough into a ball and coat it with whole wheat flour until the dough is workable and not too sticky.
Roll out the dough to desired thickness and use the cookie cutters of your choice to create fun shapes. Or use a pizza cutter to cut strips and create small pieces perfect for training.
Be sure to keep the thickness of the chicken treats uniform to ensure they cook evenly.
Add the treats to a parchment paper-lined baking sheet and bake in an oven preheated to 350 degrees.
Bake the treats for about 12- 15 minutes depending on the thickness of your homemade dog biscuits.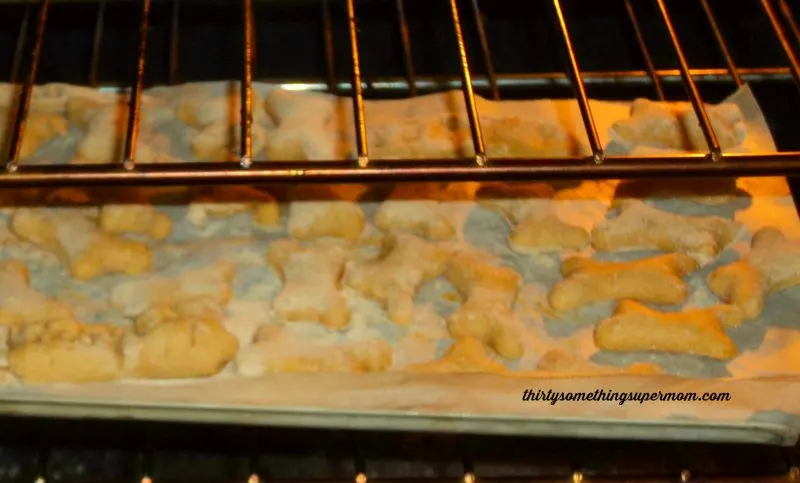 More Dog-Friendly Recipes
I like to keep things simple so I can spend less time making treats and a long time watching her enjoy them.
Keep in mind that these treats are not meant for human consumption but they are perfect for training sessions with your pet or a healthy snack for dogs any time of day.
These sweet potato chews for dogs are made in the air fryer and are the perfect jerky treats recipe with a longer shelf life than most recipes. As with most dehydrated food, if stored properly this jerky recipe can last a couple of years.
I love using the air fryer to create jerky dog treats like these and sometimes I use leftover chicken breast cut into chicken strips to create chicken dog jerky. It's a simple way to create a healthy meat treat that your dog can chew for a long time.
Be careful with premade chicken like a store-bought rotisserie chicken as it may contain spices that are not safe for your pet to consume.
These type of treats are best for younger dogs with a good set of teeth, older dogs tend to struggle with homemade chicken jerky so use your best judgment before making the first batch for your dog. Or make the first recipe in smaller batches so you don't waste any ingredients.
For those who may have a harder time chewing, a peanut butter treat or this four-ingredient dog treat recipe may be best. While this is still considered a dry food, it is easy to soften this recipe by adding in more baby food which is the main ingredient.
With all of these delicious dog treat recipes, you may want to create your own DIY Dog Treat Photo Cube with this easy DIY.
Storage Instructions
Be sure to allow the treats to cool to room temperature and then store them in an airtight container for about a week.
If you would like to keep your treats for longer, you can vacuum seal them and freeze them for up to a year.
This is perfect for making big batches now and saving lots of time later. Or if you have a light eater who doesn't want to eat this full batch within the first week of making them, just pop them in the freezer so your dog can enjoy them at a later date.
If you don't have a vacuum sealer, you can store these treats in a freezer bag for up to six months.
Just be sure to defrost the treats completely before serving them to your dog.
I hope your dogs enjoy this homemade dog treats recipe as much as mine did!
Don't forget to follow along on social media and subscribe to the free newsletter so you never miss another post like this one again. If this is your first time visiting the site, welcome!
Be sure to look around and leave a comment letting me know what else you would like to see posted in the future.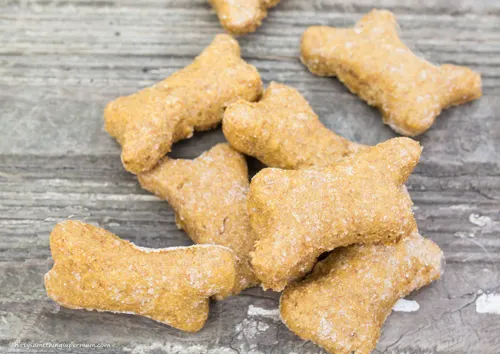 Homemade Chicken Dog Treats
Ingredients
1 egg
1/3 cup of Chicken Broth (or whatever flavor your pets love the most)
1 cup of Whole Wheat Flour
Additional 1/2 cup of Whole Wheat Flour for rolling the dough
Instructions
Mix all of the ingredients together with a mixer.

Preheat your oven to 350 degrees.

Form the dough into a ball and coat it with whole wheat flour until the dough is workable and not too sticky.

Roll the dough out onto a floured work surface and sprinkle flour on top. Keep some extra flour nearby because this dough can get really sticky! Cut out whatever shapes and sizes you would like but be sure to keep the thickness of the chicken treats uniform to ensure they cook evenly.

Place the treats on a parchment paper-lined baking sheet and pop them in the oven.

Bake the treats for about 12- 15 minutes depending on the thickness of your homemade chicken dog treats.