This four ingredient dog treat recipe contains affiliate links which means that if you purchase something after clicking a link, I will receive a small portion of the sale at no additional cost to you.
I love giving my dog a treat but she is so picky when it comes to store-bought treats. Unfortunately, I don't always have the time to make everything homemade so I have bought quite a few boxes of treats that she turned her nose up to. So I started experimenting with different ingredients that she has enjoyed in the past and then I stumbled upon this four ingredient dog treat recipe.
Using baby food for dog treats is a great way to pack in a lot of vitamins and flavor without spending a bunch of time prepping meat or other fresh ingredients. Daisy loves chicken and rice so I picked up a can of chicken and rice baby food to give this homemade dog treat recipe a flavor I knew she would love.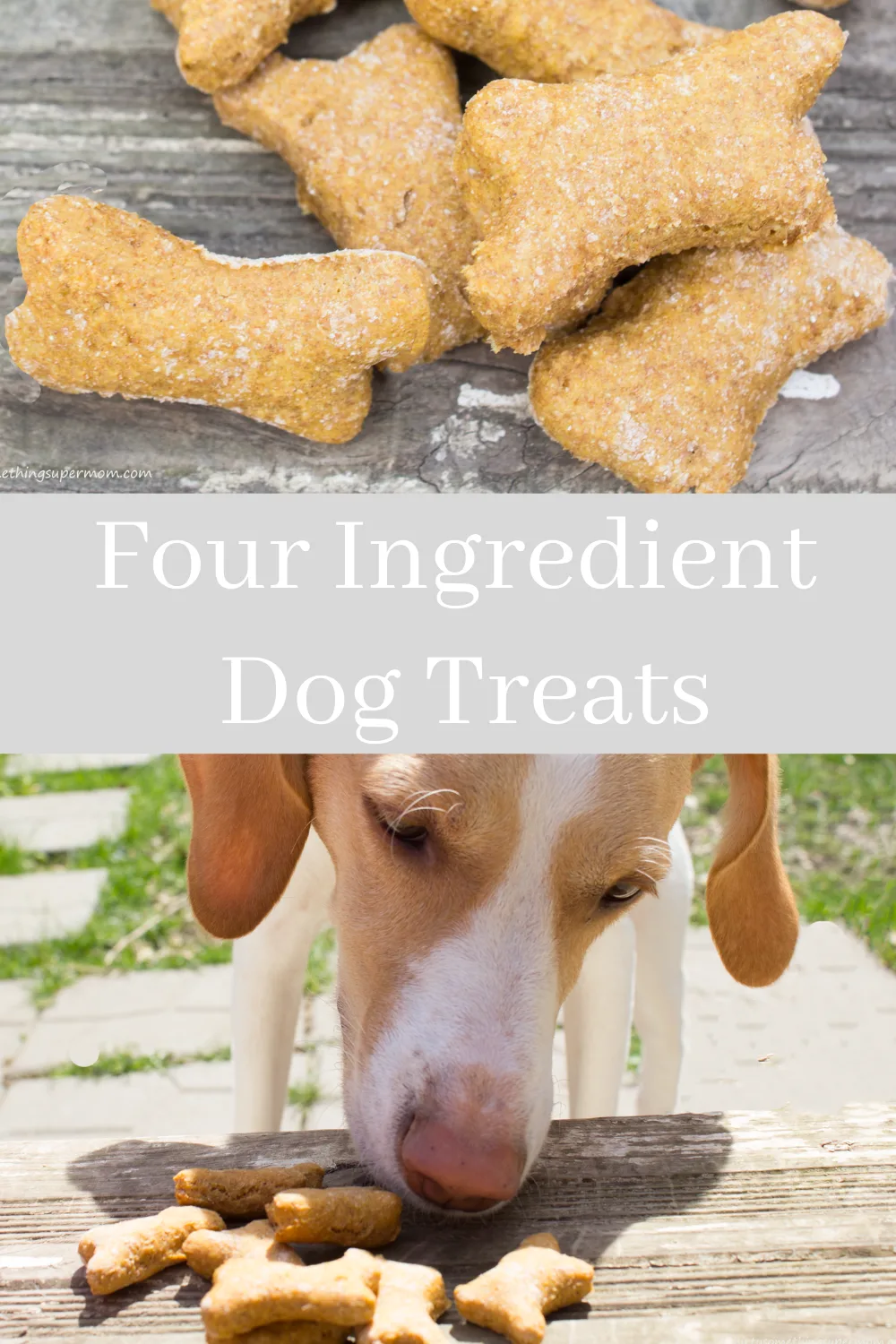 She has always been kind of picky with most store-bought treats and although I have found a few things that she really loves, I always have better luck making it myself. I hate to waste things and once a bag of treats is open it usually doesn't last long. So I have been experimenting with ways to reuse those treats that she doesn't like instead of throwing them away.
Right now I am experimenting with a squirrel that hangs out in my yard. I have been trying to get him to eat all of the gravy biscuits that Daisy refuses to chew. She gets the treat and then takes off, usually leaving it in an undisclosed location that will be uncovered later by a very confused robot vac. I was surprised when the squirrel actually ate them, I may have to continue to buy them for my new furry friend.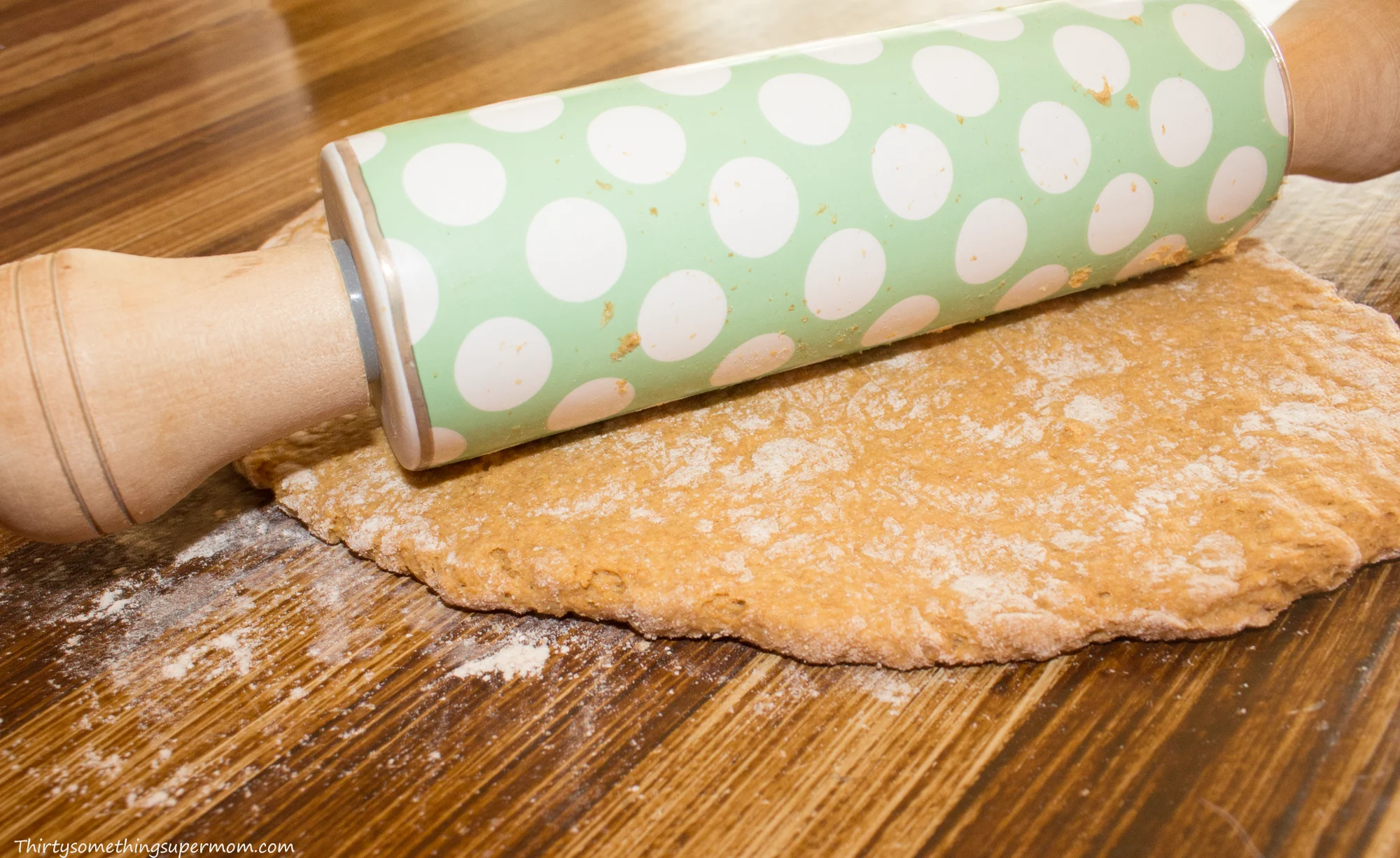 My dog Daisy's, absolute favorite foods that I have discovered so far are hard-boiled eggs, cheese, meat of any kind, and she really loves these sweet potato dog chews that I made for her in the air fryer. You can see that full recipe here.
When making this four ingredient dog treat recipe, be sure to keep some extra flour handy, the dough can get kind of sticky. I usually grab a handful of flour and lay it on the surface I am rolling the dough on. This way I can easily grab a little more as I work and I don't have to touch my canisters with sticky hands.
Another bonus to making homemade dog treats is that you can create any shape you want. I did the standard bone shape but you can experiment with funny cookies cutters like this one that I found on amazon. It made me giggle.
Keep in mind that the thicker your dog treats are, the longer they will need to cook. This could also affect the overall texture of the dog treats. If you want soft fluffy cookie-like dog treats, make them bigger, if you want them more crunchy, make them flat and small.
It will be fun to experiment with different shapes and ingredients that you know your dog will love. If you have a few batches that just don't turn out right, I bet your dog wouldn't even mind testing them, so nothing goes to waste, of course.
If your dog enjoyed this treat recipe, please share it on your favorite social media and leave a comment below to tell me any tips or tricks that worked for you. Did you add in another ingredient that your dog loves, what is it? Daisy appreciates your input!
Four Ingredient Dog Treats
Ingredients
1 Cup of Whole Wheat Flour
2 Ounces of Baby Food
1 Egg
1 Teaspoon of Baking Powder
Instructions

Preheat the oven to 350 degrees. Mix all of the ingredients together and then roll out, if too sticky add in more flour to coat your hands. I find that this recipe varies from time to time, probably depending on the type of flour I buy. It's best to have some flour reserved for the rolling out portion of this recipe. Cut out shapes and bake on a parchment paper-lined baking sheet, for about 20-25 depending on the size of your dog treats. Allow to cool and store in an airtight container.