If you have ever considered making homemade dog food, this grain free dog food recipe is a great place to start.
If you suspect that commercial dog food is causing allergic reactions it's a good idea to try this grain-free recipe. Making your own dog food puts you in control and lets you use natural ingredients to sort out those food allergies.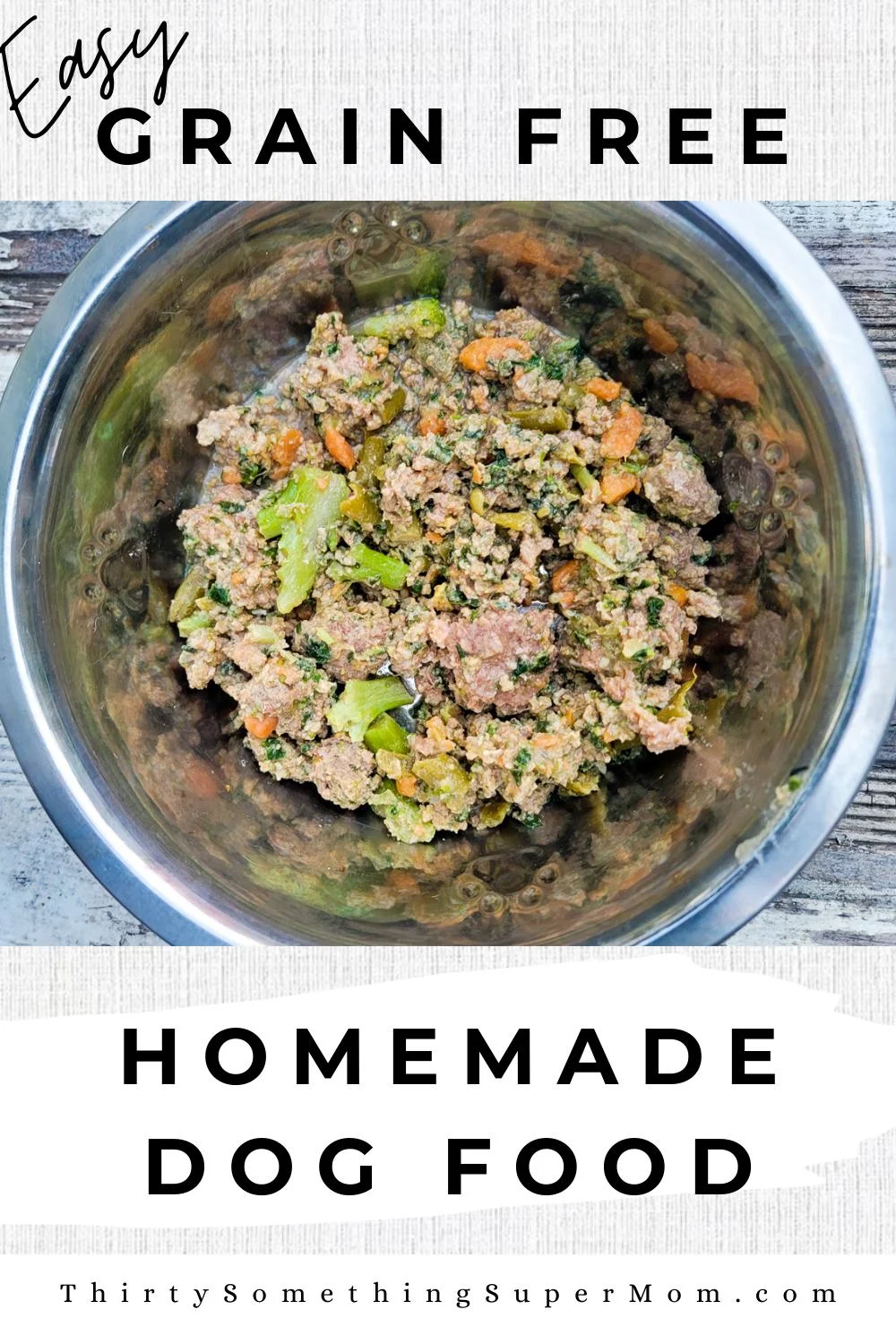 Why I Feed My Dog a Grain-Free Dog Food Recipe
While working as a vet tech I noticed that many of the dogs that I saw regularly had the same type of ailments. Chronic ear infections, itchy skin, visible dander on their coats, and a lot of digestive problems.
Many times the vet would medicate the dogs with various medicines to treat the conditions. Many of these dogs were labeled with a chronic condition. This meant that they had to be on a specific medicine for their entire lives.
Occasionally the owners would switch to a different food. Unfortunately many times this would not eradicate the condition they were treating.
Sometimes we heard good results with specific diets that the vet would recommend. Oftentimes this was a special food that could only be purchased at the vet clinic.
Unfortunately, this is still a game of trial because what is a good option for one dog's overall health may not be what's best to address your pet's specific health conditions.
Like many dog owners, I found myself switching my dog's diet constantly. It seemed I was always switching foods, trying to find the best possible food for my pet's health.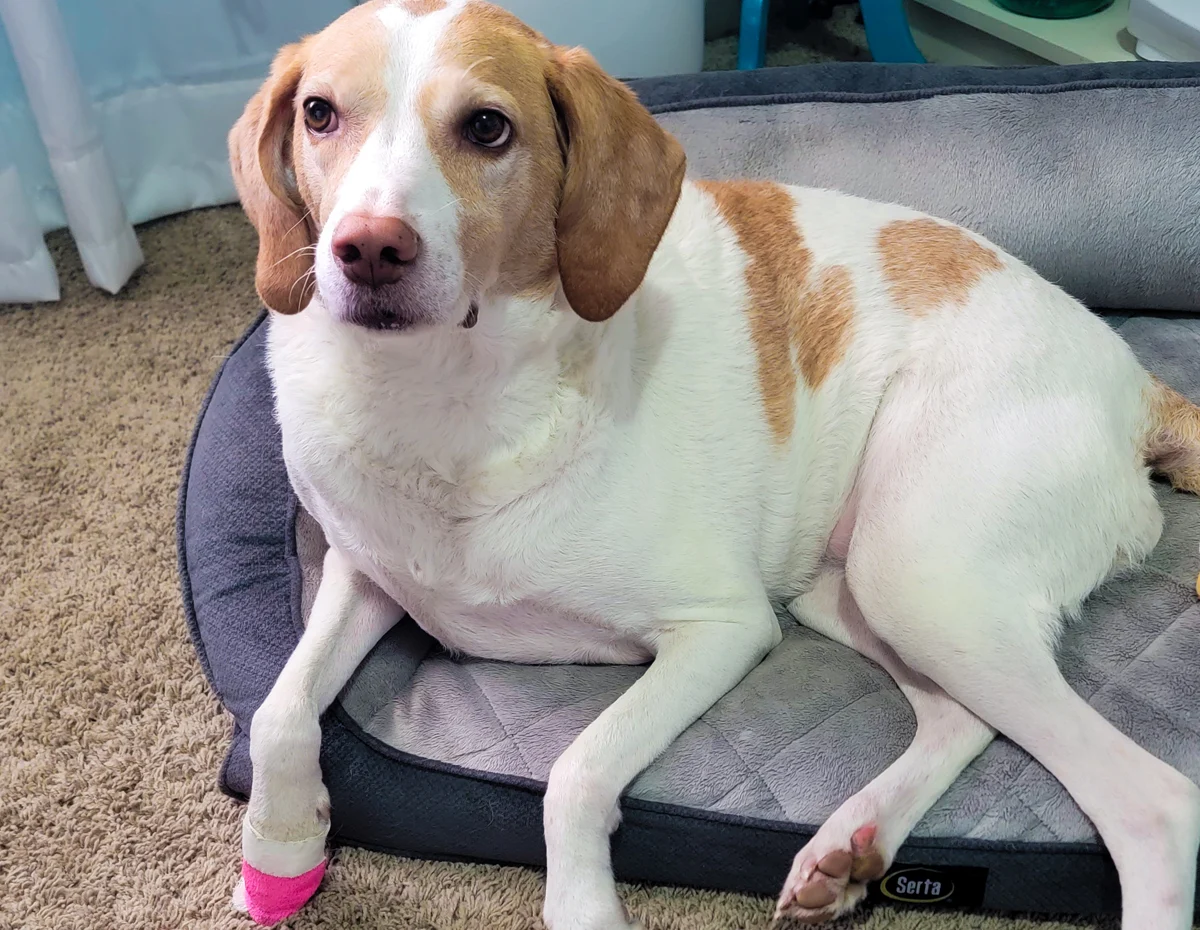 Unfortunately, it seemed that every wet or dry dog food I tried caused Daisy to have ear infections and irritated skin.
Even the vet-approved, store-bought grain-free foods would not help. They all left her with constant ear infections and obsessively chewing her paws to the point of ripping the paw pads open.
Even worse, the prescribed medicine to treat her allergies caused digestive upset, and I couldn't watch her suffer anymore.
So I decided to experiment with a homemade meal plan and I am excited to share it with other pet parents who find themselves in a similar situation.
Warning about Feeding Human-Grade Dog Food
Although I have worked in the animal care industry most of my life, I am not a certified animal nutritionist.
The following grain-free dog food recipe is provided for informational purposes only. I am sharing this recipe based on my research and experiences. Your experience may vary.
It is essential to understand that each dog's nutritional needs can vary based on several factors. These include age, size, breed, activity level, and specific health issues.
Before making any dietary changes or introducing homemade dog food into your pet's diet, it is crucial to consult with a qualified veterinarian or a board-certified veterinary nutritionist to make sure you are feeding a balanced diet.
Healthy Ingredients in this Homemade Food
This homemade grain-free diet is made up of the following clean ingredients:
Ground Beef– Beef can be a source of high-quality protein for dogs when it's lean and cooked thoroughly. It's essential to use lean cuts to avoid excessive fat content. Protein ingredients are crucial for muscle development and the overall health of your best friend.
Spinach– Spinach is a leafy green vegetable that can be included in your dog's diet in moderation. It contains vitamins like A and C, as well as minerals and folic acid. However, it should be cooked and provided in small amounts to prevent any potential issues related to oxalates.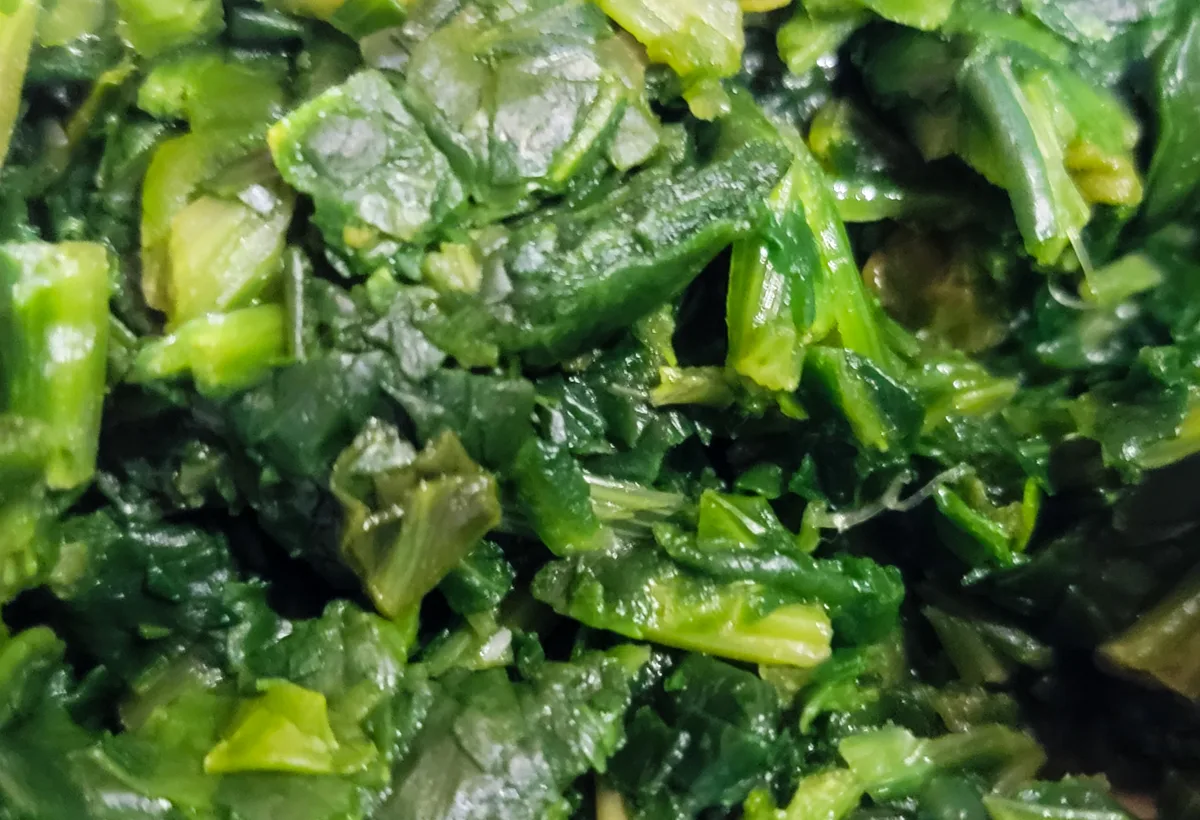 Green Beans– Green beans are a source of fiber and certain vitamins. They can be a healthy addition to your dog's diet. They can help with digestion and provide some nutrients.
Sweet Potatoes– Sweet potatoes are a good source of complex carbohydrates and fiber. They can be included in a dog's diet in moderation. They provide vitamins and minerals to your dog's meals and the best part is that you can buy them already cooked without syrup which speeds up the cooking process.
Broccoli– Broccoli is a nutrient-rich cruciferous vegetable that can be a valuable addition to your dog's diet. It's packed with essential vitamins, such as vitamin C, which supports the immune system, and vitamin K, which aids in blood clotting.
Olive Oil– Olive oil can be a beneficial addition to a dog's diet as it provides healthy monounsaturated fats that support healthy skin and a shiny coat. It also aids digestion and offers a source of extra calories for active dogs to maintain a healthy weight.
Eggs– Eggs are an excellent source of protein and can contribute to your dog's overall protein intake. They are also a source of essential amino acids and various vitamins and minerals.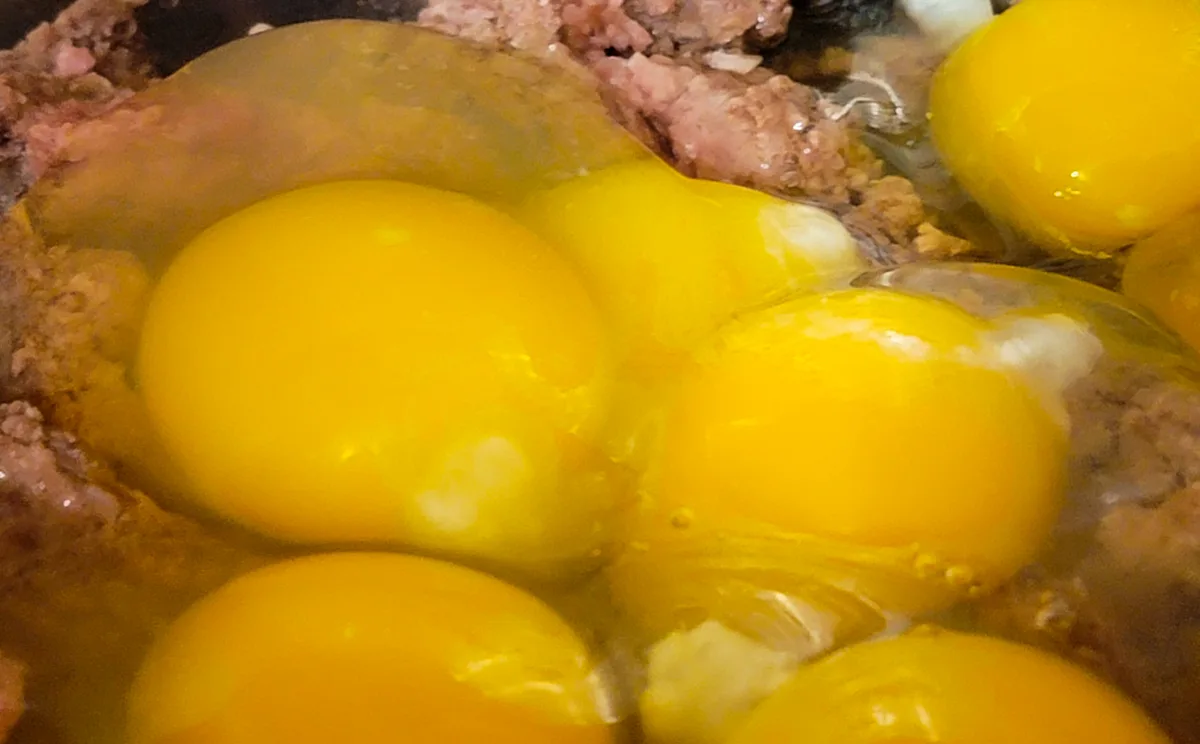 Easy Homemade Dog Food Recipe
Making this fresh food is very simple, with just a little bit of effort you can easily create a delicious meal for your dog.
Begin by cooking lean ground beef gently, using low to medium heat, and minimizing the cooking time to retain nutrients.
I have found the best way to do this is to brown the meat in a skillet. No need to worry about the pink center, as it will complete the cooking process with the other ingredients.
While the beef is browning, steam the vegetables.
Next, in a large stockpot, combine the meat, steamed vegetables, and sweet potatoes.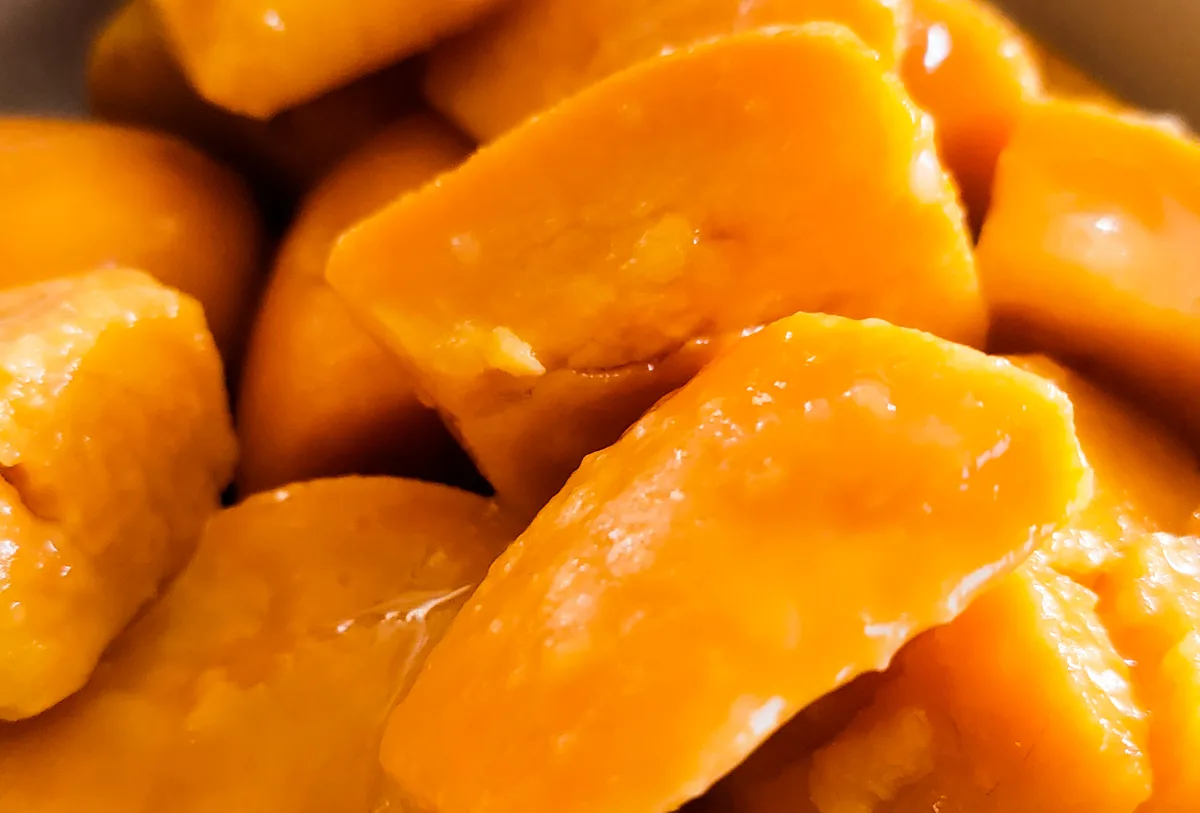 Set the heat to low, and thoroughly mix the ingredients, breaking up larger pieces of meat.
I employ a meat masher to blend all the ingredients, enabling me to monitor the gradual browning of the meat.
You can use a food processor to break down the food more after it has finished cooking if needed.
Subsequently, turn off the heat and introduce the eggs into the mix. Stir the ingredients thoroughly, as the residual heat within the pot will gently cook the eggs.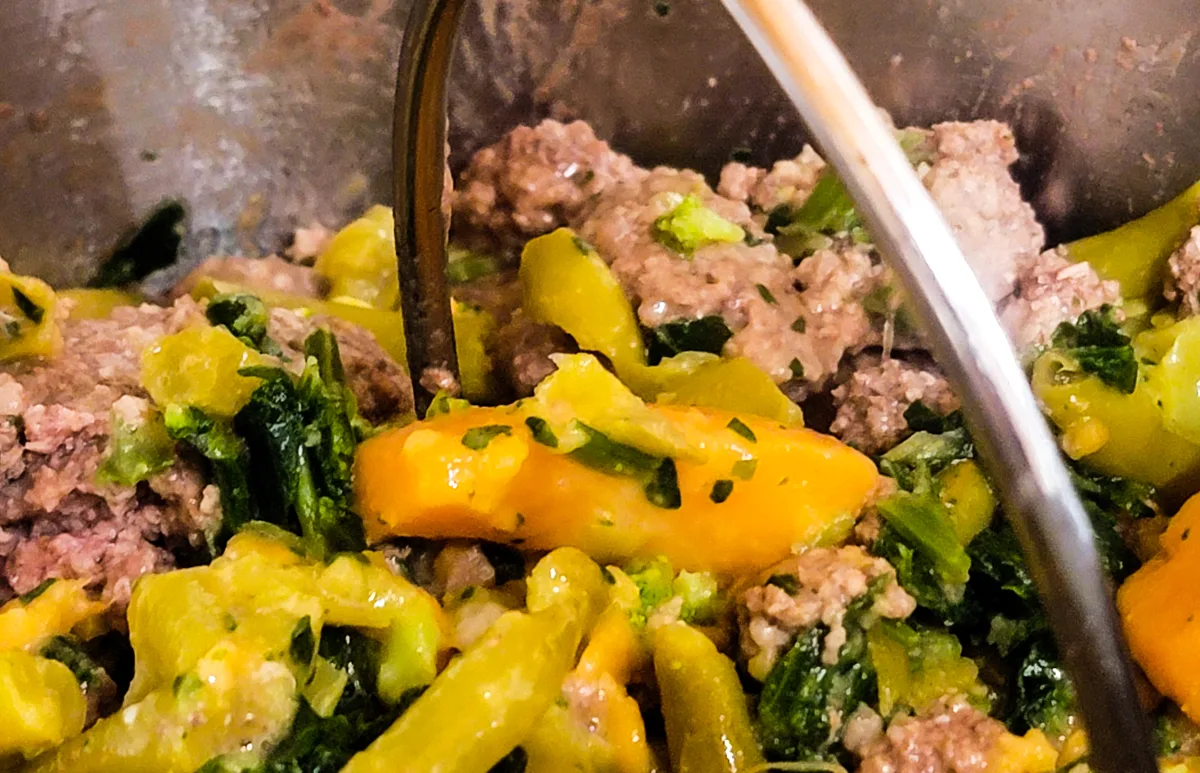 Storage & Feeding Instructions for a Homemade Diet
The following step involves portioning out the meals for the entire week.
This recipe yields slightly more than 200 ounces of finished food. It's important to note that the variability in meat fat content and egg size may cause some variation in weight.
Ensure you consider these factors when dividing the food for your dog's servings.
Store the food in an airtight container or several airtight containers. It's best to measure and store each portion separately to maintain freshness.
When determining how many cups of food to feed your dog it is important to consult a veterinarian or board-certified pet nutritionist so that they can advise you on your specific dog's needs.
They will take important factors into consideration, such as weight, age, and activity level when deciding what is best for your dog.
A 5 lb dog will need less food than a 50 lb dog but there are other things to consider when making your own dog food that goes far beyond dog weight.
Older dogs have distinct dietary needs, particularly during their senior years. Those with special requirements like kidney problems require a different diet so consulting a professional is advised.
This recipe consists of 80 ounces (ground beef) + 12 ounces (spinach) + 48 ounces (green beans) + 40 ounces (sweet potatoes) + 14 to 16 ounces (eggs) + 12 ounces (broccoli) which equals about 206 to 208 ounces of cooked food.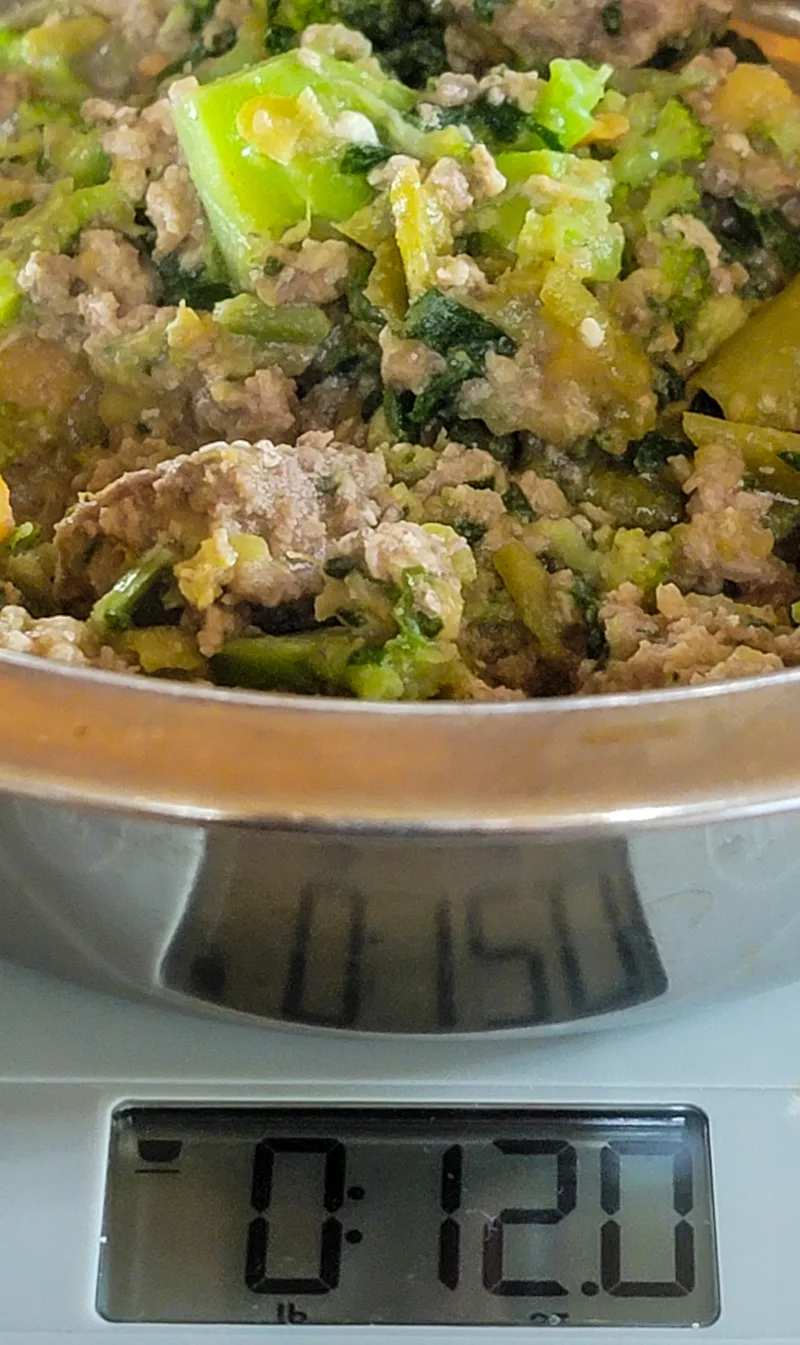 Substitutions & Varirations
There are quite a few adjustments that can be made to this recipe to create a new food that your dog will love.
If you aren't concerned with feeding grain free recipes consider adding in brown rice or white rice for a more filling dish.
Use a different meat such as ground turkey. This dark meat poultry will create a turkey-based dish that your dog will love.
Organ meats, like chicken livers, can be a valuable addition to a dog's diet as they provide high-quality animal proteins and essential fatty acids.
It is important to use them sparingly as they are also rich in certain vitamins and minerals like vitamin A, which can be harmful in excessive amounts.
There are many great options for oils such as sunflower oil, coconut oil, and fish oil. These oils can offer various health benefits and enhance the nutritional profile of your dog's homemade meals.
Some pet owners decide to buy supplements to add to their dog's food since potassium chloride, zinc proteinate, linoleic acid, and a dried Lactobacillus acidophilus fermentation product—are commonly found in commercial dog foods.
You can also consider using salmon meal as it provides concentrated protein and essential fatty acids for your dog's health.
However, it's essential to consult with a veterinarian or canine nutritionist before introducing any supplements to your dog's diet to ensure that they are used in the right proportions and are appropriate for your dog's specific needs.
This professional guidance can help maintain a well-balanced and healthy diet for your beloved canine companion.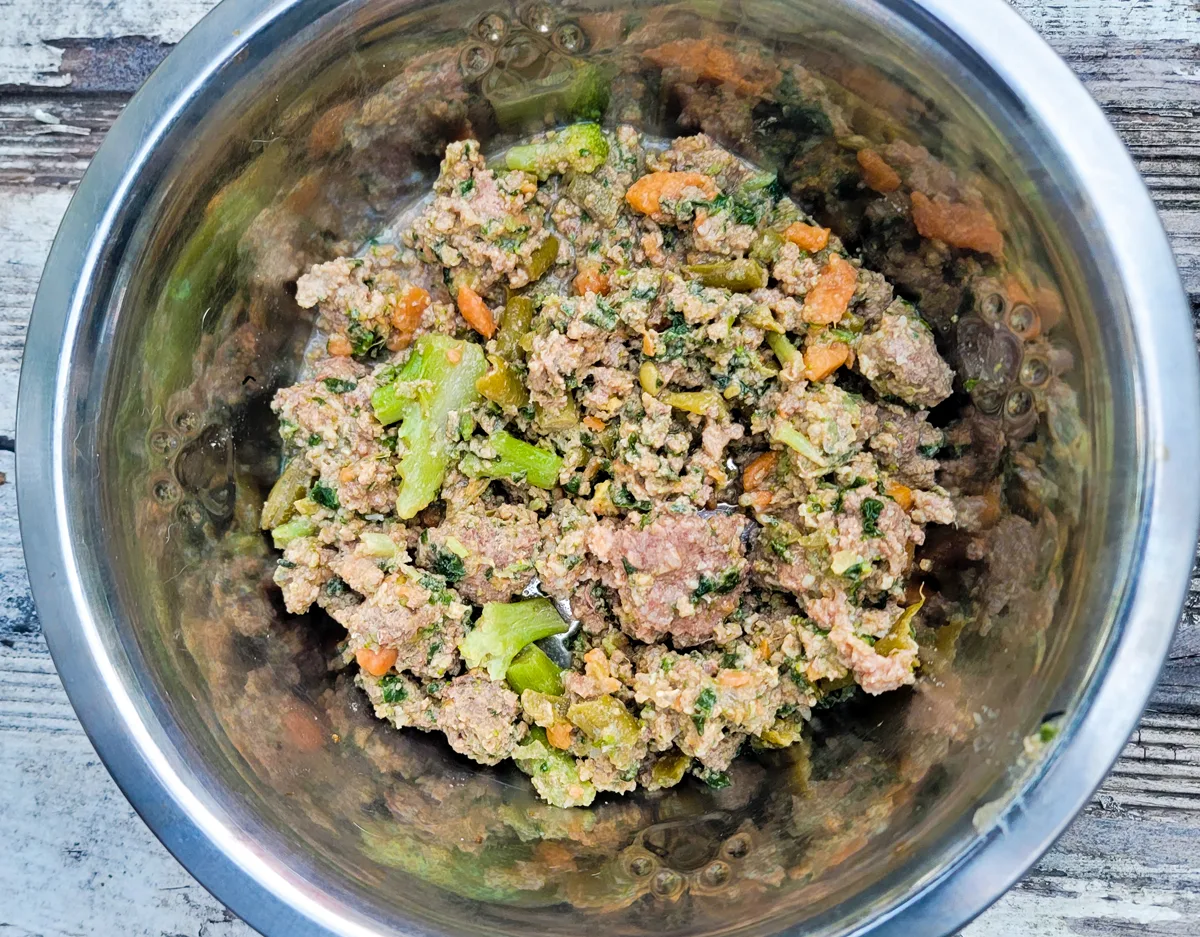 What Human Food is Good for Dog Snacks?
A range of foods can be offered to your dog as snacks or in addition to their meals. Among the most favored options are peanut butter, cottage cheese, dried pumpkin, and hard-boiled eggs.
What is Better for Dogs Grain or Grain Free?
The choice of a grain-free diet and one with grains depends on the individual dog's specific dietary needs. Age, weight, activity level, and any existing health conditions should be considered. There is no one-size-fits-all answer, and both options have their advantages.
However, if your dog has a grain allergy, opting for a grain-free diet is not just advantageous but essential.
Can I Give My Dog Raw Meats?
When feeding raw meat to dogs, you should follow proper food safety measures. This is important to reduce the risk of foodborne illnesses for both your dog and yourself.
While raw dog food recipes have gained popularity in recent years, raw meat and bones carry bacteria that can make both animals and humans ill. So it is best to do your research to find out what is best for your pet.
More Recipes for Dogs
If you are looking for grain free dog treats and your dog doesn't have issues with chicken these homemade chicken jerky dog treats are great.
If you are on the lookout for chicken-free dog food, these sweet potato dog treats are a perfect snack.
Both of these options are a healthier alternative to storebought dog cookies and your pets will love them.
If you loved learning how to make this grain free dog food recipe, consider signing up for the free newsletter so you will get all of my upcoming dog food recipes straight to your inbox.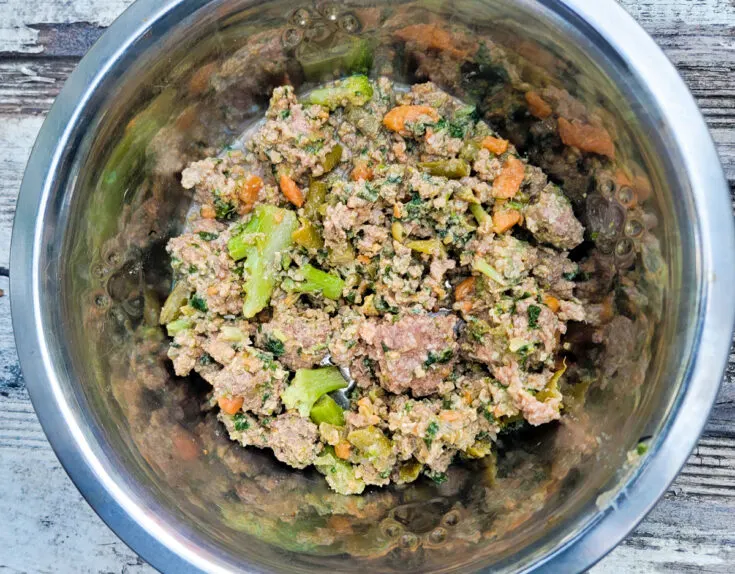 Easy Grain Free Dog Food Recipe
Additional Time:
5 minutes
This easy homemade grain free dog food recipe simplifies the process and is perfect for dogs with food allergies who need a grain free diet.
Ingredients
5 Lbs. Lean Ground Beef
48 Ounces of Green Beans
40 Ounces of Sweet Potatoes
12 Ounces of Broccoli
12 Ounces of Spinach
8 Eggs
Instructions
To begin, cook lean ground beef over low to medium heat, being mindful of minimizing cooking time to preserve the nutrients. The ideal method is to use a skillet for browning the meat without concern for the pink center, as it will finish cooking with the other components.

While the beef is browning, steam the vegetables to retain their flavors and nutrients.

Subsequently, combine the browned meat, steamed vegetables, and sweet potatoes in a large stockpot. Maintain low heat as you meticulously blend the ingredients, breaking apart any larger meat chunks.

A meat masher proves helpful in achieving a consistent texture, ensuring you can monitor the gradual browning of the meat. For finer consistency, a food processor can be employed after cooking, if desired.

Finally, turn off the heat and gently introduce the eggs into the mixture. Thoroughly stir the ingredients, capitalizing on the residual heat within the pot to gently cook the eggs to perfection.
Notes
This recipe results in a bit over 200 ounces of finished food, but it's crucial to bear in mind that variations in meat fat content and egg size might lead to some weight differences. Be sure to factor in these variables when portioning the food for your dog's meals.
For optimal freshness, store the food in airtight containers, or even multiple airtight containers, as it's advisable to measure and store each serving individually.
When determining the appropriate cup measurements for your dog's food, it's highly recommended to seek guidance from a veterinarian or a board-certified pet nutritionist. They will consider vital factors like your dog's weight, age, and activity level to determine the best dietary approach for your specific canine companion.
Nutrition Information
Yield
14
Serving Size
1
Amount Per Serving
Calories

534
Total Fat

23g
Saturated Fat

9g
Trans Fat

1g
Unsaturated Fat

11g
Cholesterol

250mg
Sodium

239mg
Carbohydrates

27g
Fiber

7g
Sugar

9g
Protein

54g
The nutrition in recipes is caluculate by AI, mistakes happen. It is highly recommended to check carb counts to make sure these recipes fit into your diet.