This DIY Skunk Bath Recipe for Dogs is the easiest and most effective way to deskunk your furry friend.
You can get your dog smelling normal again with just a few household ingredients and a whole lot of holding your nose!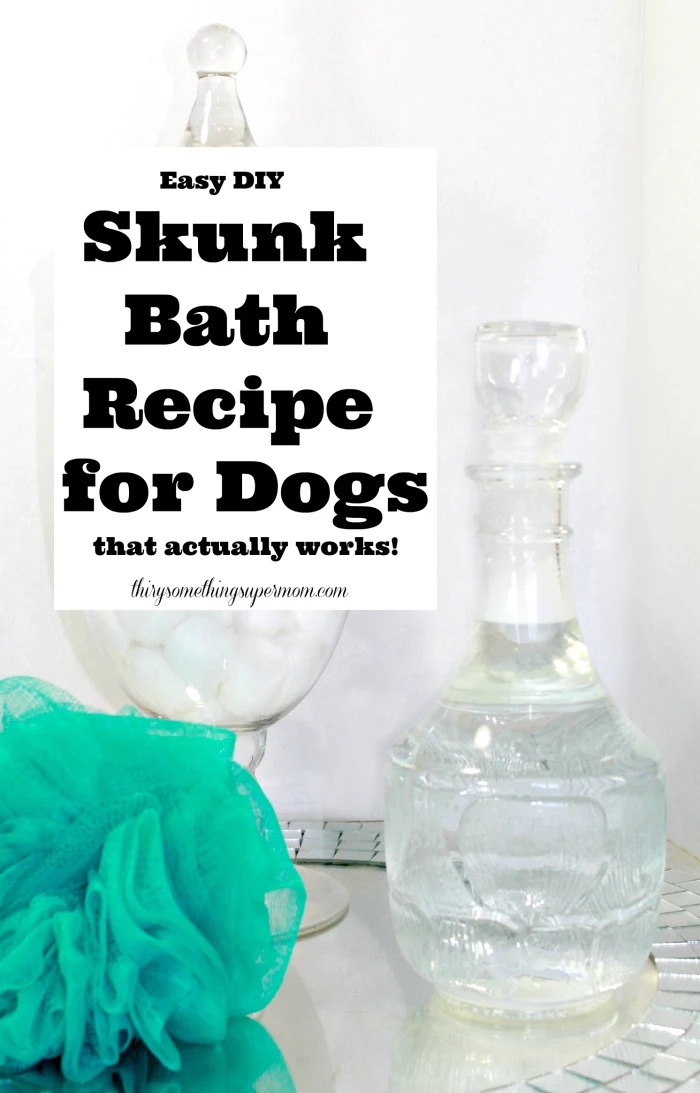 While working as a dog groomer, I came across a lot of dogs who were "skunked" but somehow I managed to keep my own dogs from actually being "skunked".
That is sure to change now that I have Daisy because she exhibits all of the symptoms of a dog that is bound to get skunked one of these days.
She is so curious, constantly putting her face into holes, tree trunks, and other likely hideouts for Pepé Le Pew and his homies.
Plus she is always chasing things as if she needs to win the race and I think that may be the best way to get hit in the face with a skunky butt bomb.
If you have ever smelled a dog who has been skunked then you understand the urgency in combatting that skunky smell on your dog.
While working at the animal hospital, I received a lot of calls from pet owners during the warmer months requesting our go-to recipe for skunk baths and I always shared this skunk bath recipe for dogs because it works!
Deskunk Your Dog with this Skunk Bath Recipe for Dogs
Mix 1 Quart of 3% Hydrogen Peroxide
1/3 Cup of Baking Soda
1 Teaspoon of Dishwashing Liquid
Pour the mixture on a dry dog and then rub in, allow to sit for a few minutes, then rinse.
Repeat if necessary and follow up with a normal wash with your dogs regular shampoo.
Then let your dog go back to being a dog, getting into ridiculous situations like this one.
It's alright if they get skunked, it's just inconvenient, you know like when a human traps you in their house forever?
It is a good idea to keep the ingredients to make this skunk bath for dogs on hand because if your dog is the type to get skunked once, it will probably happen again and again.
Lucky you.