I received the Copper Chef for the purposes of creating One Pot Meals and sharing my honest experience with the product, all opinions are my own.
As a busy mom I am always looking for ways to save time when it comes to daily chores. When you are cooking two to three times a day and cleaning up the mess left behind each time it would help to be able to cut down on time spent doing these chores.
The idea of cooking one pot meals has always interested me but I didn't want to sacrifice quality or flavor just to save some time cleaning up extra dishes.
I just recently had a birthday and when my mom was looking for a gift she came across the Copper Chef then told me that it seemed like it was made for me. She was asking me questions to see if it would be a great gift and then the day after our conversation I received an email asking if I would like to try it out for my next recipe post.
I was excited about cooking one pot meals for my family to save time, space, and the extra work of washing a bunch of dishes after each meal. After my mom clued me in and let me know just how fantastic this product was, I was thrilled to try it out.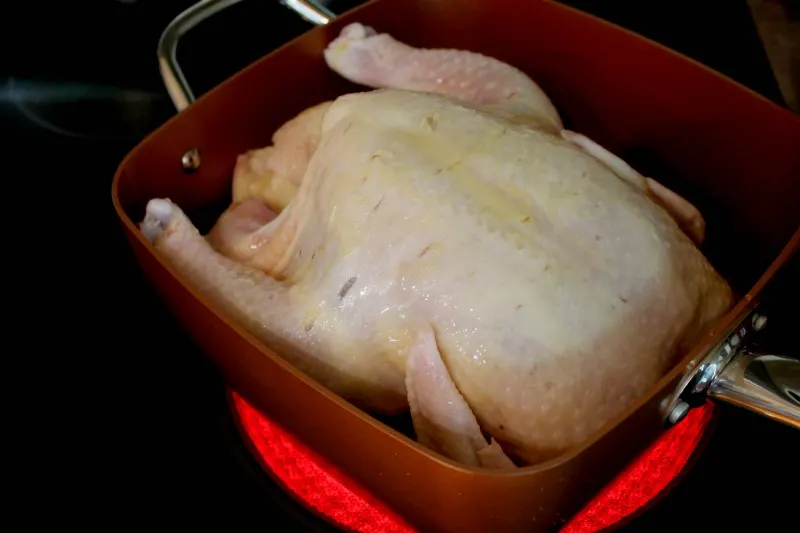 The Copper Chef 5 piece set includes the 9 ½ inch square pan with lid, a steam and roast rack, fry basket and recipe book.
I am excited to try out all of the recipes that I found in the recipe book but I really wanted to make a Chicken without using my rotisserie. I always dread the cleaning of the rotisserie so I really wanted to see if the Copper Chef can deliver a perfect chicken dinner without the hassle and I am so excited to tell you that it has exceeded my expectations.
I love one pot meals and with the Copper Chef it is so easy to make a delicious chicken and veggies dinner for my family without much effort which saves me a ton of time.
First I preheated my oven to 350 degrees. I cleaned the chicken and placed it into the pot. I then browned the sides on the stove top after adding a little olive oil.
I then set the chicken aside onto a plate while I did the same with the veggies for a couple of minutes.
I then added all of the ingredients back to the pot and added my seasoning before popping it into the oven.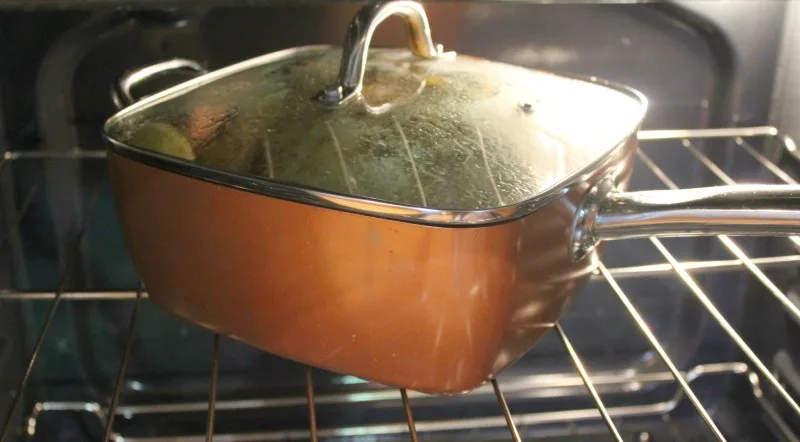 I cooked the chicken for about 1 hour with the lid on then removed it for the last hour of cooking to make sure I got the crispy texture that my family loves.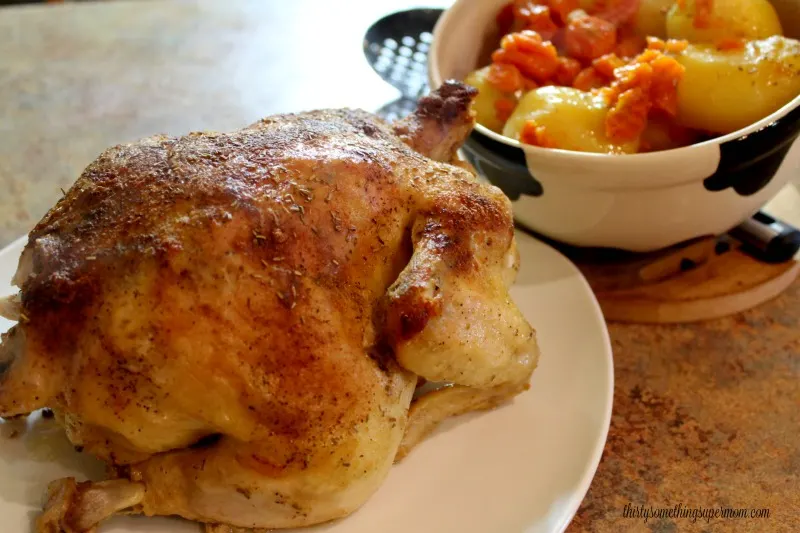 My house smelled amazing the entire time it was cooking and when I pulled it out of the oven I was so excited to serve my first of many one pot meals to my family.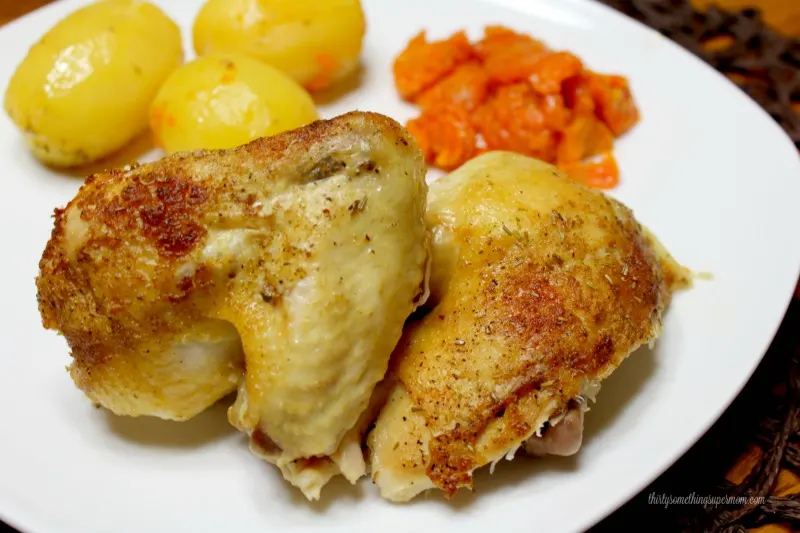 Thanks to its versatile features and uniquely shaped design, you can enjoy an aggravation-free cooking experience and save scarce cabinet space by eliminating the need for several different pots and pans. Along with its accessories, Copper Chef functions as a roasting pan, rice cooker, steamer, stock pot, wok and baking dish – all in one!
Saving time in the kitchen has never been easier and cooking dinner with this multi-purpose kitchen tool has made one pot meals part of my weekly rotation.
You can find out more about the Copper Chef by clicking here and be sure to check back to see all of the one pot meals I create using my new favorite pot!
One Pot Meals – Chicken & Veggies
Ingredients
1 6 Lb. Whole Chicken
4 Tablespoons of Olive Oil
1 Bag of Carrots
About 12 small potatoes
1 Teaspoon of Salt
1/2 Teaspoon of Paprika
1/2 Teaspoon of Black Pepper
1 Teaspoon Rosemary
2 Teaspoons of Garlic Powder
Instructions
Preheat oven to 350 degrees
Clean and remove giblets from chicken center.
Place Chicken in Copper Chef and brown on stove top for about 5-10 minutes on each side.
Set chicken aside and add veggies to copper chef while browning on stove for a few minutes.
Add chicken back to copper chef on top of the veggies and add seasoning to top of chicken.
Bake for 1 hour with lid on and then remove lid and bake for another hour.
Enjoy!
Nutrition Information

Amount Per Serving Calories 129Total Fat 14gCarbohydrates 1g