There seems to be a debate on what to call these red, white, and blue treat much like the soda vs pop battle. I have always called them bomb pops, most likely due to the fact that my mom calls them bomb pops too but it seems a lot of people call them fireworks.
It may just be easier to refer to them as red, white, and blue popsicles but I think I will stick with the name I grew up with and call them bomb pops.
No matter what you call them, these bomb pops are so good and they are actually good for you because they are made from real fruit!
For whatever reason, my popsicle maker only makes 4 so my recipe is for that but to be completely honest I had extra that I ended up eating with a spoon straight out of the blender so I think you can make six with this recipe no problem.
Classy, right? I bet it would have looked a little better if I was wearing this apron instead of a Foo Fighters t-shirt that is so worn out it looks like it says Poo Fighters, I think I smell a cover band in the making.
If you are worried about not having enough just throw in some extra fruit, no measuring needed just a few extra will do the trick.
Also, you can use frozen or fresh fruit depending on the season and your own preference. I like frozen because it is easier and something I can always have on hand without a trip to the store if the midnight craving for bomb pops hits.
Keep in mind that frozen may look a little more purple than blue, I just don't know why that is but frozen blueberries always look purple. You can really get crazy and add a little food coloring if you are really wanting a true blue.
All you need to do to make these all-natural bomb pops are lemons, water, strawberries, blueberries, and some popsicle forms.
The first thing I do is blend the blueberries with a tiny bit of water to make them move around then blender freely, then add them to the bottom of the popsicle mold. Place a popsicle stick inside and freeze for about 30 minutes.
I then squeeze a lemon into water and mix. Pour that mixture into the popsicle mold and freeze for about an hour or until it is solid.
The last step is to blend the strawberries and then add them to the top of the popsicle mold using a little bit of water if needed to make the strawberries move freely around the blender and to be pourable.
Pop them in then the freezer for another hour or so and you have delicious All Naural Bomb Pops made from real fruit!
These Bomb Pops will be a hit at your Fourth of July party for sure and they are always good to have in the freezer for a quick and healthy dessert anytime!

You can find lots of great items perfect for the Fourth of July here and don't forget to pin this post so you can save it for later!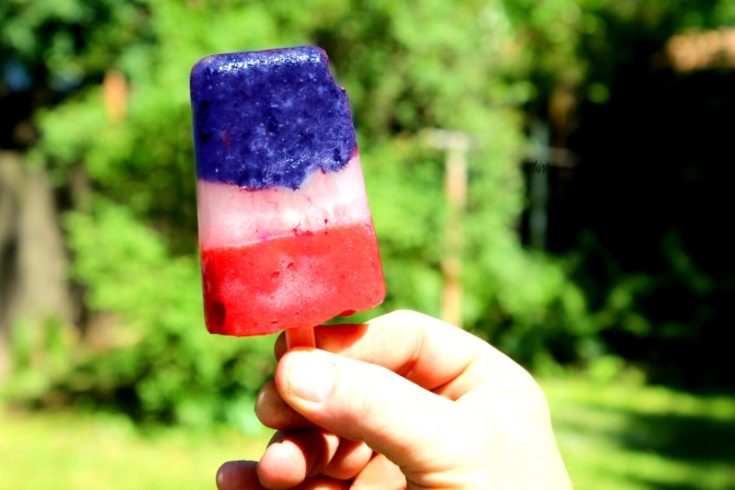 All Natural Bomb Pops Recipe
Ingredients
1 Cup of Strawberries
1 Cup of Blueberries
1 Lemon
1/2 Cup of Water
Instructions
Blend the blueberries and then add them to the popsicle forms while sticking in a popsicle stick. Add a bit of water if needed to make the blueberries move freely around the blender.
Freeze for a half an hour.
Next squeeze the juice of a lemon into a cup of water.
Add that mixture to the popsicle mold and then freeze again for about 1 - 2 hours or until frozen solid.
Blend the strawberries and add them to the popsicle forms and freeze for another hour or so to make sure it is solid before serving.
Enjoy!