This shop has been compensated by Collective Bias, INC. and The Coca-Cola Company, all opinions are mine alone. #ServeWithACoke #CollectiveBias
All of the flowers in my garden are starting to bloom which lends a beautiful background to a fun Summer cookout with friends and family. I recently decided to take advantage of the serene setting and wanted share the delicious recipe I came up so you can learn How to Make Calzones on the Grill, too.
I ran to my local Hy-Vee and picked up some Mission Tortillas along with Diet Coke® to create the perfect Summer grilling recipe.
I love shopping there because the lines are never long and they offer price matching, you literally can't beat their prices!
Everyone is so friendly there and always available to help me find anything that I may have trouble locating.
When getting my ingredients for the Calzones, I needed to pick up sauce, cheese, sausage, Missions Tortialls, and of course Diet Coke to complete the flavor of the meal.
I was able to find everything I needed for my cookout and even picked up some extra Coca-Cola™ because I love the glass bottles that they have at Hy-Vee.
After picking up all of my ingredients needed to make calzones on the grill, I headed home.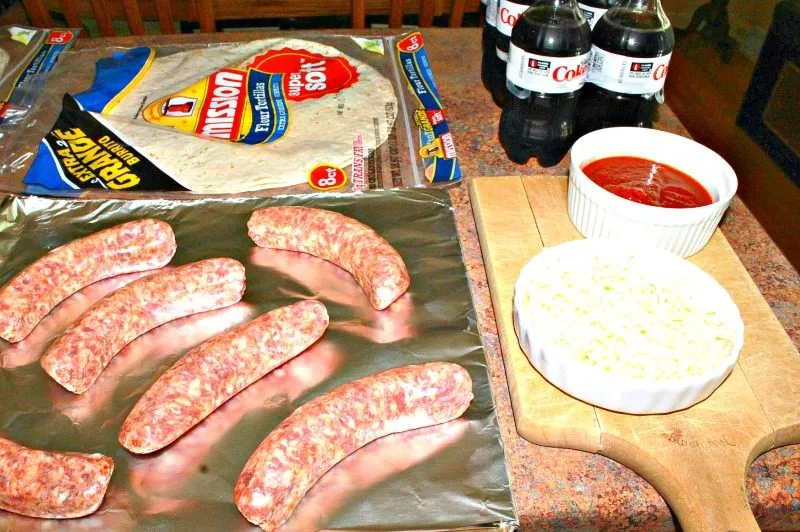 It's really pretty simple to make and once you have all of your ingredients set out, you will be amazed at how easy it is to make calzones on the grill.
Brown your sausages on the grill until they are cooked throughout and have a crisp edge with sear marks like the ones pictured above. Depending on the placement of your racks and how hot the charcoal is the amount of time to cook your sausage may vary between 15-20 minutes.
Once the sausages are ready, add a couple of them to a Large Burrito sized Mission Tortilla. Place them in the center to allow for rolling once all of the ingredients are added.
Add pizza sauce and mozzarella cheese as well as any veggies you may want to add to your calzone.
Roll the calzone up until you reach the end. Make sure you tuck in the sides and sprinkle some cheese in that space before pressing together.
Place the calzone on the grill and let the heat melt the cheese, this will make the edges to stick together and keep your calzone in one piece.
Cook for a couple of minutes or until all of the cheese has melted and you are left with a crisp edge.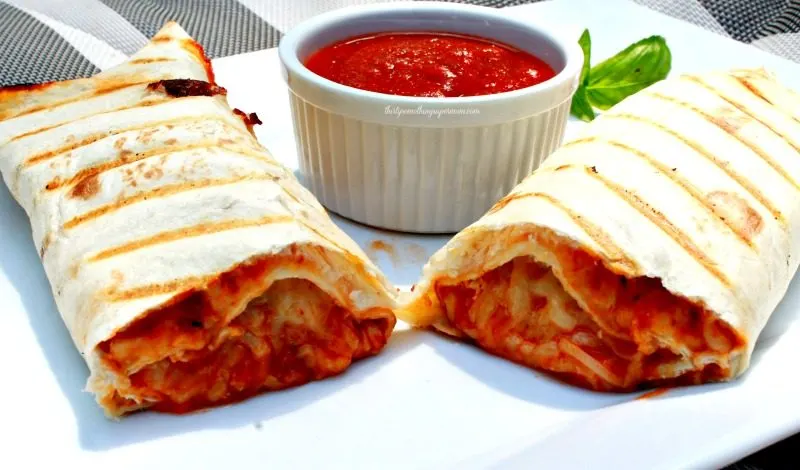 I like to serve my calzones with a little extra sauce and of course an ice cold Diet Coke®. Now that you know how to make a calzone on then grill, I encourage you to get some friends together and enjoy a cookout and some Coca-Cola before the Summer gets away from us.
If you head to the store now you can Save $1.50 one package of beef or chicken when one purchases Coca-Cola™ 8-pack 12oz OR 1 500ml Gold Peak AND any 1 Mission Tortilla. You will find the savings on a tear pad in-store. This offer expires 9/15/17 be sure to pick it up while Supplies last!
Ingredients
Pizza Sauce
Mozzarella
Mission Tortillas
Sausage
Instructions
Grill the sausage for about 6 minutes on each side or until it is cooked throughout.
Put sausage in a tortilla and add sauce as well as cheese.
Roll up and add a sprinkle of cheese to seal the edge of the calzone closed.
Cook on the grill for another 2 -3 minutes per side or until cheese is melted and the outside is crisp.