I received a complimentary stay at Best Western Hotels and Resorts in order to facilitate my feature. All opinions are my own.
My family recently took a fun road trip from Cedar Rapids, Iowa to Eastern Colorado. It was a long trip totaling over 2,000 miles spanning a total of 6 days. We stayed in three different Best Western Hotels and Resorts. I am excited to share photos and tell you more about every one of the Best Western Hotels and Resorts we stayed at.
In Colorado, we stayed in a town called Loveland, it was within driving distance of every place we wanted to visit while in the state. Not only was the location super convenient for all of our travels but it turns out that Loveland is a beautfiul town with lots of beautiful views and a very welcoming Best Western Plus right off of the highway.
When we arrived at our hotel, we were immediately greeted by several gardens full of beautfiul flowers, a colorful sculpture, and a gorgeous mountain view.
As we entered the building to check in, the staff greeted us so warmly and even offered up bag full of goodies for my daughter full of fun toys. They were worried it may be a geared towards younger kids but in my opinion you never outgrow glow sticks, chalk, and bubbles.
She even had a few pieces of candy inside to make up for the fact that we were never at the hotel during free cookie time, yes there is actually a time each day where you can get fresh baked cookies at most Best Western Hotels and Resorts.
Since we traveled from Cedar Rapids, Iowa all the way out to Loveland, Colorado, we decided to break up the trip by staying a couple of nights in Nebraska. On our way out to Colorado we spent the night at Best Western Hotels and Resorts in Kearny, Nebraska and on the way back home we spent a night at a Best Western Plus in Lincoln, Nebraska.
Each hotel was extremely comfy, very well maintained, and the staff was very friendly. I could go on all day about the comfortable beds, the amenities each hotel offered and the breakfast, oh my the FREE breakfast!!!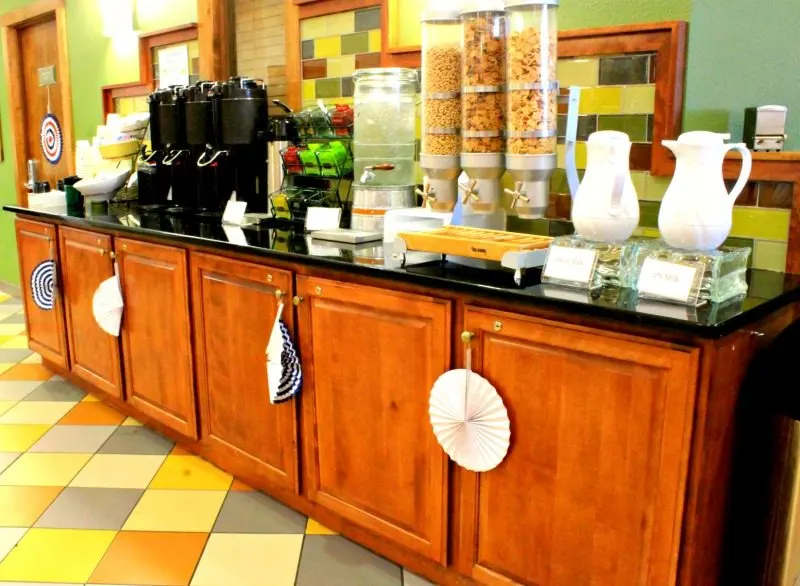 Each day seemed to have even more food to offer and it wasn't just eggs, or biscuits and gravy, or cereal, it was a little bit of everything.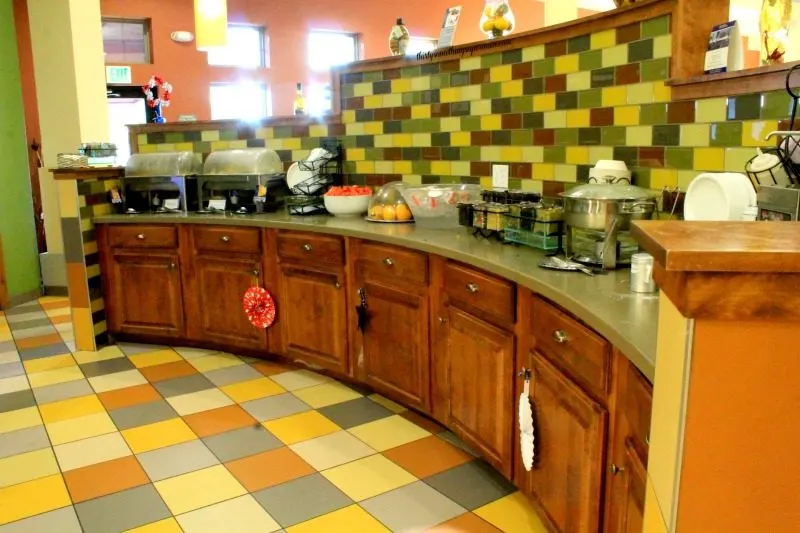 The waffle bar rivaled any breakfast buffets spread with their large assortment of toppings with everything from fresh fruit to chunks of chocolate cookies.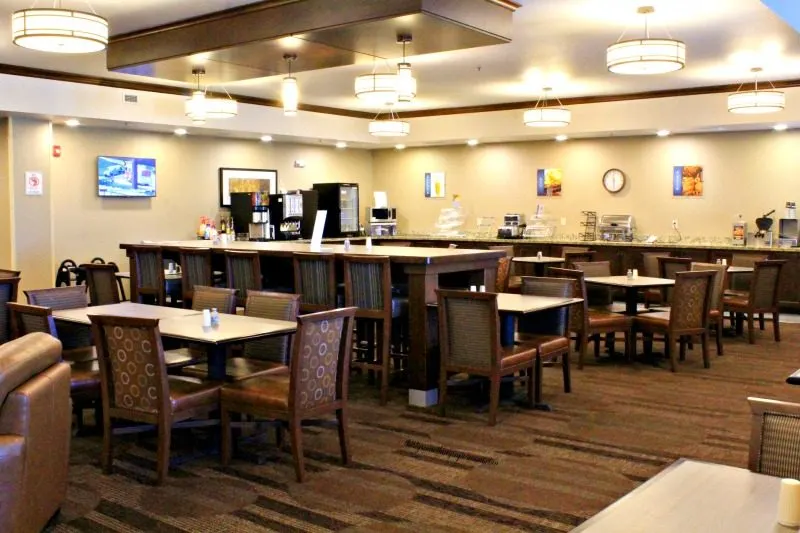 I really liked the Best Western logo inside of the waffle maker, it pressed a cute little Best Western heart onto each delicious waffle.
My daughter especially liked the m&m's and whipped cream on top of her waffles, what kid wouldn't? My husband and I enjoyed the sausage omelette rolls as well as the hazelnut coffee blend. I wish we could buy both of those things at the grocery store but it seems we will have to visit Best Western Hotels and Resorts again soon to get our fill of goodies.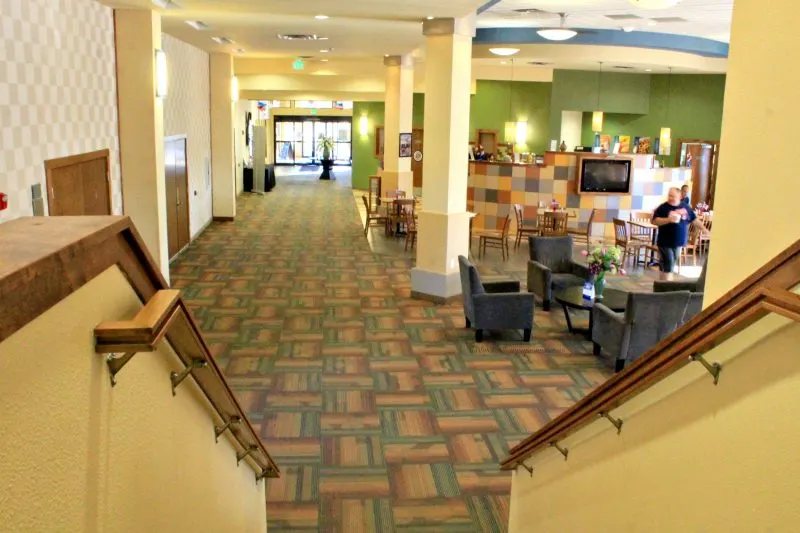 Every time we arrived at one of the Best Western Hotels and Resorts, we explored the grounds and we were always impressed. I especially liked the pool at the Loveland, Colorado location.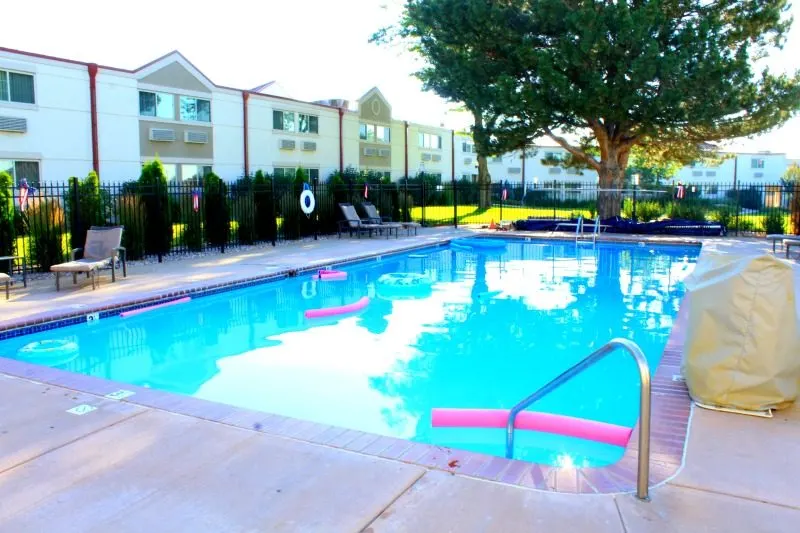 It was nice that there were already pool noodles and toys inside the pool for the kids to play with. The parents all seemed to enjoy the area outside of the pool with a beautiful fire pit.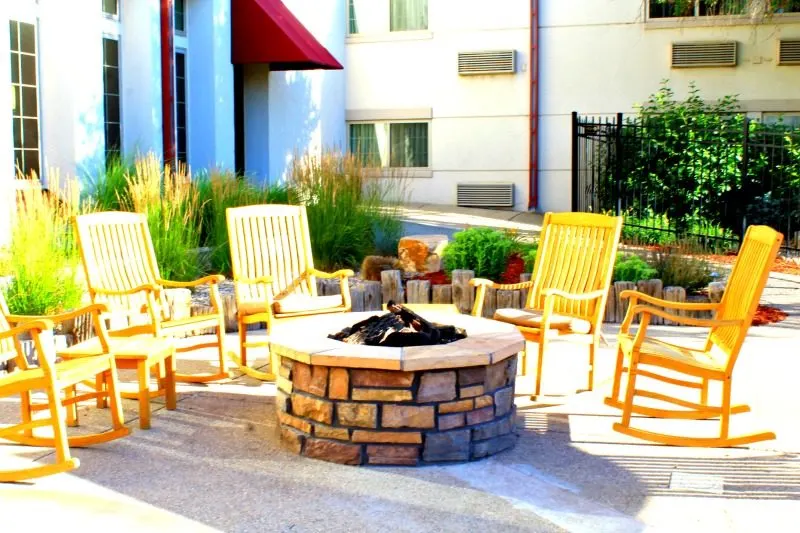 There is nothing like a mountain view in my opinion so when you are able to relax by the pool and see a beautiful view of the Rocky mountains, you are sure to have a good time.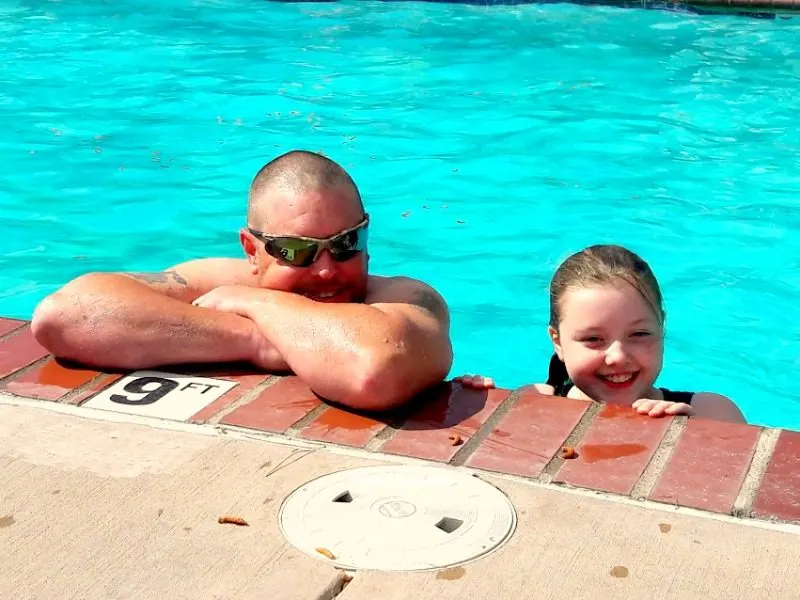 My daughter's favorite view comes from inside of the pool, she really had a lot of fun swimming at all of the Best Western Hotels and Resorts.
I was able to get a workout in at the fitness center while my husband and daughter took a dip in the pool. I was excited to use so many different machines because I was initially expecting to just hop on the treadmill but I also got in an arm workout and used the elliptical as well.
I was the only one in there so I even used machines I didn't quite know how to use at first without getting any weird looks. The fitness center was closed off from the rest of the hotel so there were no weirdos looking in on me like I have seen in other hotels, I like the privacy all of the Best Western Hotels and Resorts offer.
After a long day at Rocky Mountain National Park and after all of the driving we did everyday, I was always excited to see the bed at each of the Best Western Hotels and Resorts.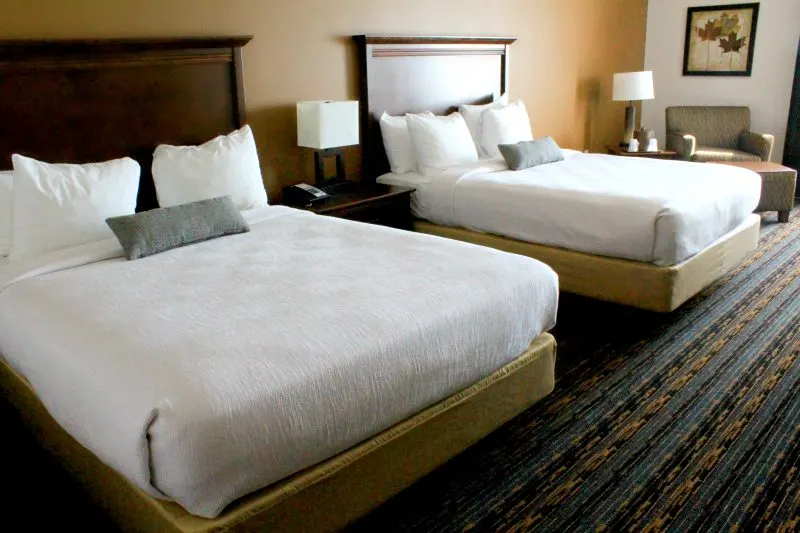 Pictured above are the beds we enjoyed sleeping in at the Lincoln, Nebraska Best Western Plus. Not only were the beds comfortable but the sheets and blankets were so soft! I can never get much sleep at hotels normally but I had no problem sleeping here!
I also really enjoyed the decor and extras that the bathroom, it's the little things that really make you feel like you are home away from home.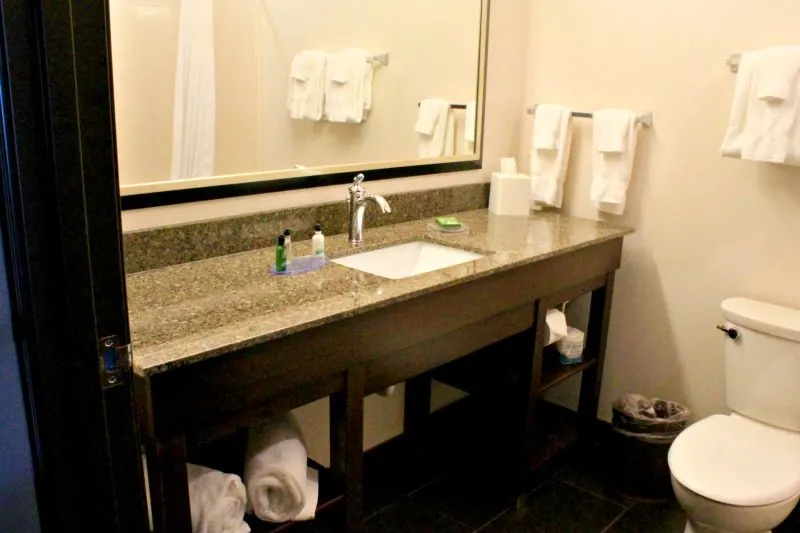 The bathroom was decorated just like I would decorate my own bathroom so it was a very welcoming place to take a refreshing shower at the end of the day.
I thought it was pretty amazing that the one thing I forgot to pack was makeup remover and I only realized this because one day on vacation I decided to wear makeup when we went out to dinner. I don't normally wear a whole lot of makeup so it was easy for me to forget remover, well that was until I got out of the shower and saw my raccoon eyes.
My mascara and eyeliner was stuck to my face and there was just no way I was getting it off with regular soap. I laughed out loud when I looked down and on the counter in front of me was makeup remover wrapped up in a towel embroidered with the word makeup, it was like a blessing from the Best Western Gods.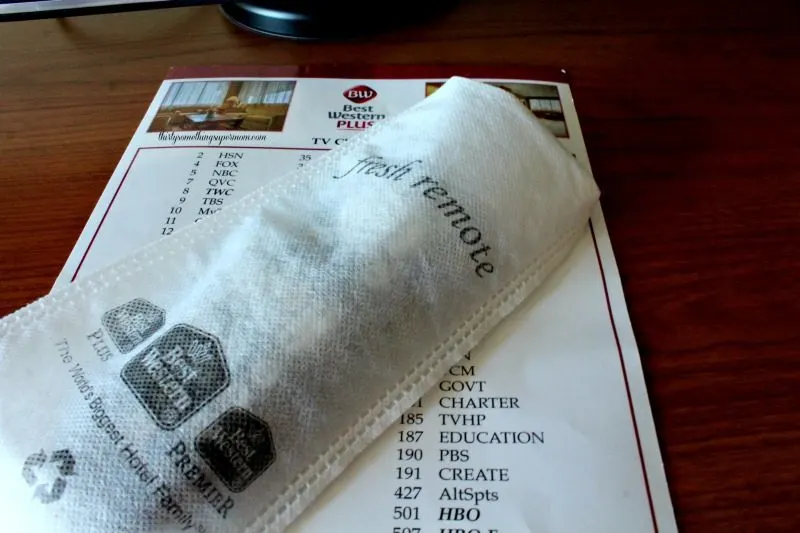 Another great thing about Best Western that seemed as though it was specifically designed just for me was the Fresh Remote sleeve.
I remember reading all about how hotel remotes are some of the most germ covered,nastiest things you can come in contact with so when I saw that they go above and beyond to clean their remote, I was really impressed.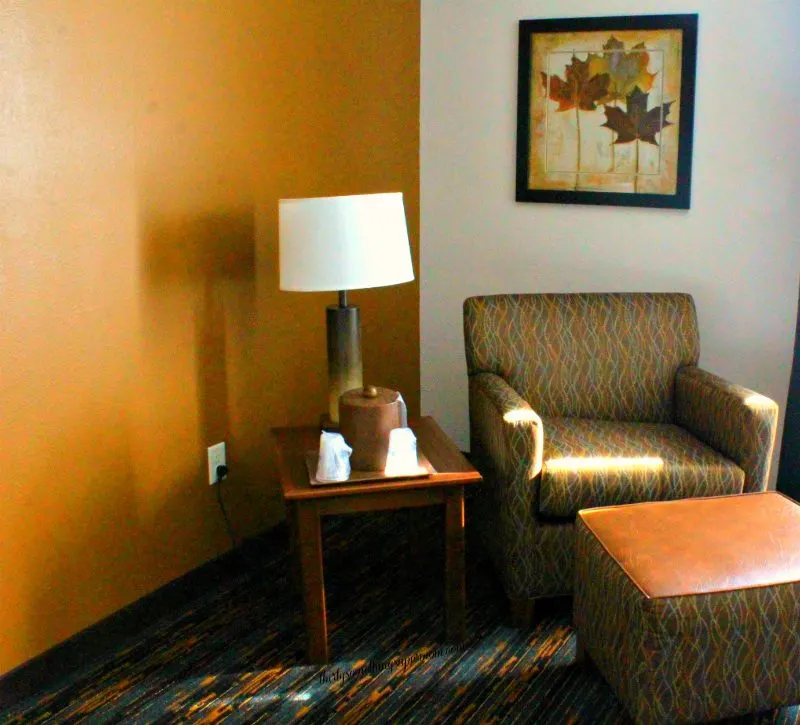 It helped me to relax knowing that the room was nice and clean as well as super comfy for spending a quiet evening after all of the travel we had done each day. We enjoyed the free Wi-Fi at each location while we winded down at the end of the day.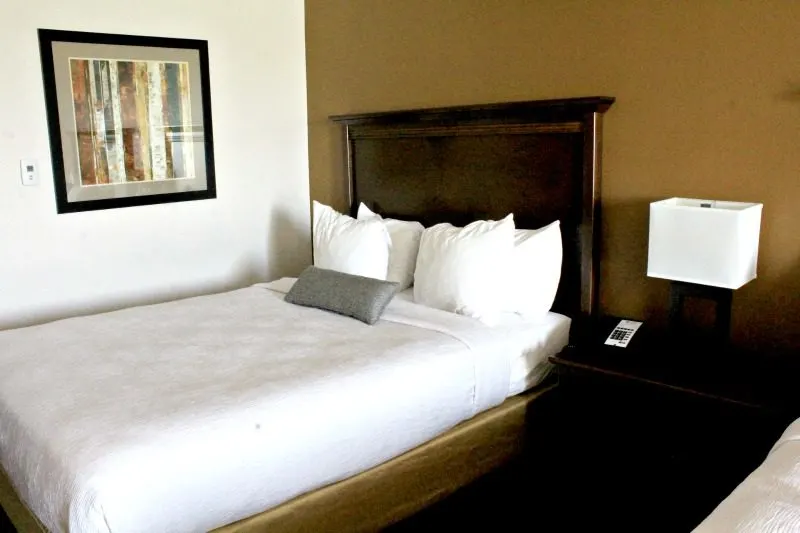 I loved that we were able to book a Best Western in so many different locations. Best Western Hotels and Resorts have over 4,100 properties in over 100 countries and territories worldwide. Wherever Life Takes You, Best Western is There.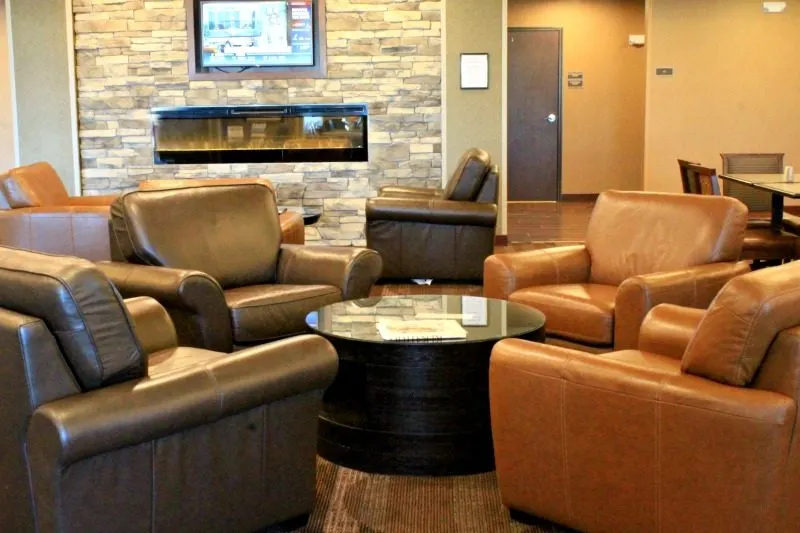 It pays to stay at Best Western Hotels and Resorts because they have an awesome rewards program! Best Western Rewards is an award winning loyalty program that is free to join. Your points never expire and they offer what they call – Status Match No Catch – they will instantly match your status that new members have attained in other hotel loyalty programs.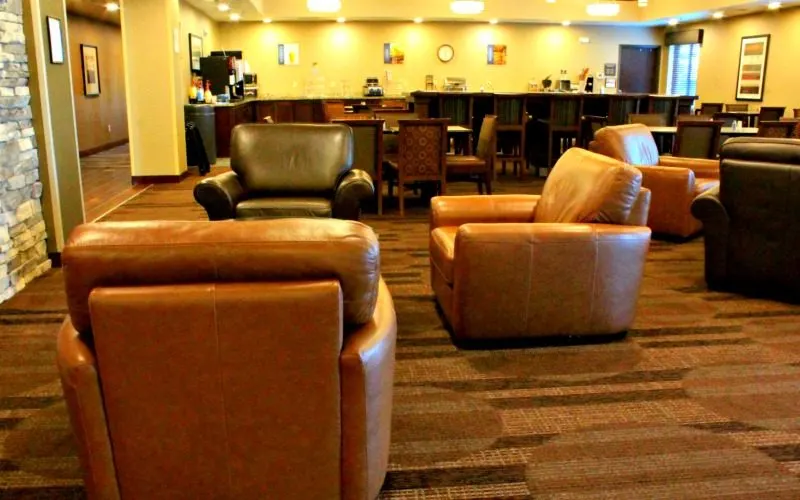 You are not going to find a better value or better hotel in my opinion. It really does pay to stay at Best Western Hotels and Resorts and you will not regret it!
Every location we visited exceeded my expectations and I can not wait to plan our next vacation which will definitely include another stay at some of the Best Western Hotels and Resorts no matter what state we end up in next!
Start planning your trip, no matter where it is by booking a room at Best Western Hotels and Resorts.