These Tips for Spending the Day at the Theme Park are brought to you through a partnership with Elitch Gardens Theme & Water Park. I received tickets in exchange for coverage on my site, all opinions are my own.
These Tips for Spending the Day at the Theme Park will help you remember what to pack, what rides to hit first, and what extra charges you can avoid!
When you are visiting any Theme Park it is always best to arrive early and head to your favorite ride first.
Usually the roller coasters are jam packed throughout the day and it only gets worse with time so if you enjoy the thrill rides, don't waste any time, head right to your favorite.
As I get older I realize how I seem to worry more about heading to the theme park rather than anticipate the fun I will have. I think a big part of this is that most of the time when I was a kid visiting the local theme park we were not prepared to spend the day and often forgot important items.
Now that I am the one in charge of planning the day at a theme park or water park, I always make sure to pack everything I will need and then some.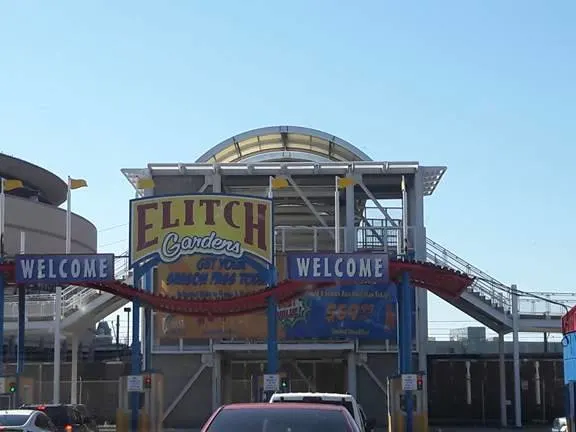 So before heading out make sure you have these important items packed to make the most out of your day at the theme park.
Sunscreen
Sunglasses
Extra Clothes if you plan on hitting the water rides
Bathing suit for the water park
Poncho if you don't want to get wet
Towel for the water park
Lunch
Drinks
Hair brush & extra hair scrunchies
Sandwich Bag for holding items that you don't want to get wet
Quarters for a locker
Extra Cash for Games, Souvenirs, and Food
Of course if you have medical needs be sure to bring an extra supply in case you get locked out of your locker or if your items get wet.
If you are like me than with age came all kinds of changes like getting motion sickness from certain rides that you once loved.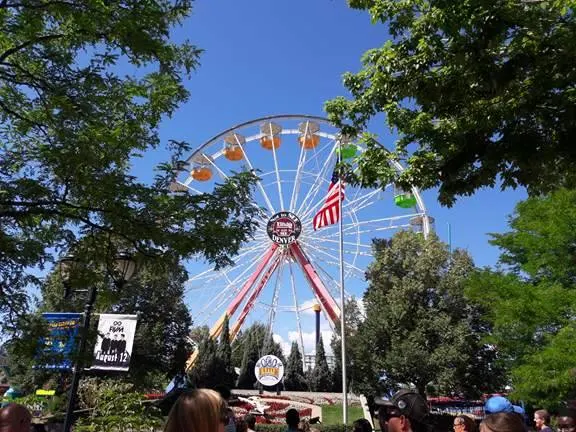 The Tilt-A-Whirl was my favorite ride as a kid and now my daughter loves it too. Unfortunately I am unable to ride with her because I get really dizzy and really sick whenever I attempt it these days.
Luckily they make medicines that can combat this sort of thing so if you are anything like me and get dizzy easily, I would pack some motion sickness medicine to make sure you can enjoy ALL of the rides!
My daughter was lucky because my husband was brave enough to ride the Tilt-A-Whirl with her and they had a lot of fun spinning while I enjoyed the stability of just taking pictures while observing their fun.
I was able to ride the Tea Cups with her and to my surprise it was actually a lot of fun. I like that you control how much you spin in circles and by the end of the ride we were spinning pretty fast!
Another ride I really enjoyed when I was a kid was the swings! They are perfect for enjoying then breeze and cooling off if you visit the theme park on a really hot day.
The swings at Elitch Theme Park are the highest and fastest I have ever seen in person. I love that you can bring someone else along for the ride with the two seater option.
Some theme parks have a fast pass or rapid ride pass available to let you skip lines and beat the crowds no matter what time you show up to your ride. Unfortunately not all parks offer this option and even worse is when the theme park you visit sells the rapid pass but the employees aren't trained on the use of it so it really does no good.
If you are heading to Elitch Theme Park in Denver, I would be sure to check which rides the pass works for before making a purchase. It only covers certain rides so be sure to find out if the ones that you want to ride are covered and also find out about the path you are supposed to take to the front of the line because this is different for each ride.
We all know that carnival games tend to be dishonest and that most of them can't be won but that is not the case with the games at Elitch Theme Park.
My family had a blast playing the Water Gun Fun game and I am proud to say that I won a purple monster for my daughter. I love being able to bring home a souvenir from the theme park, so this was perfect and totally worth the $6 for my whole family to play.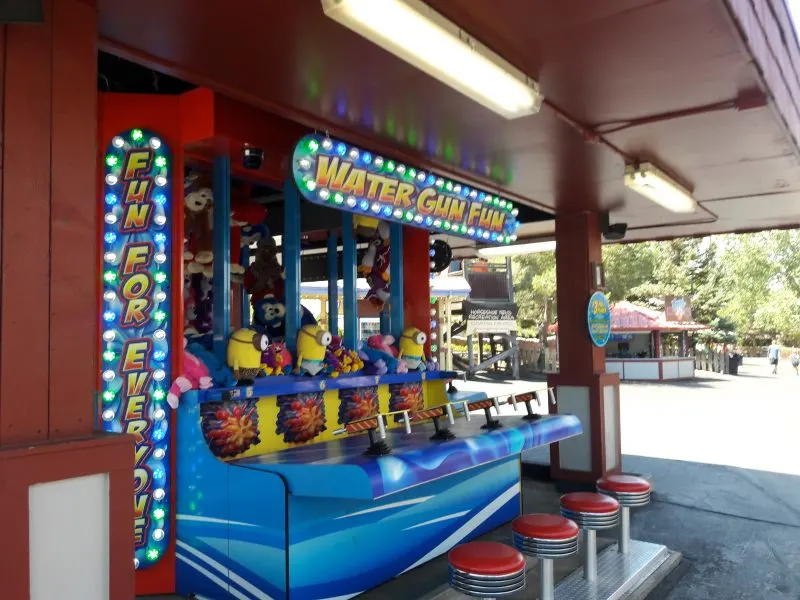 I don't usually win the gun games, my husband is the family expert in that area but I even put him to shame! This theme park brought out the best in me because when we rode Ghost Blasters, I also got the highest score!
I really enjoyed that ride and it is nice to get out of the heat for a little bit to enjoy a fun game with the family.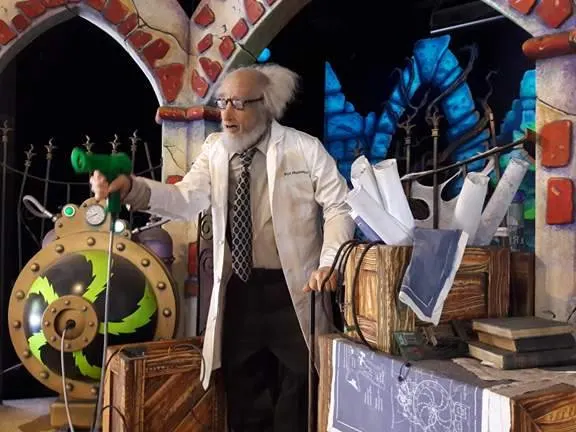 Anytime a theme park combines a fun ride with a game, count me in. All of the fun decor and props really made this ride more fun!
Another ride we really enjoyed was Shipwreck Falls, we got soaked after flying down the steep hill this ride has at the end.
Even if you don't like to get on the rides but you want to cool off, there is a bridge that you can wait on and when the ride hits that steep hill, the bridge gets soaked with a giant splash.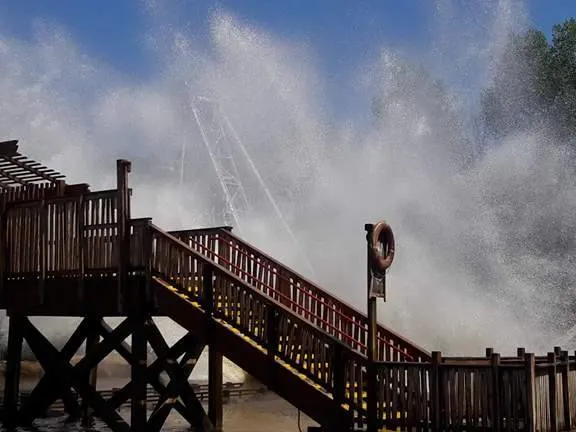 If you time it just right, you can hit the hill on the ride then head to the bridge and get soaked again within a couple of minutes.
Save this post for later by pinning the image above or share it on your favorite social media network so your friends can be prepared for their next theme park trip, too.
I hope these tips have helped you plan a day at the theme park, click here for more information about planning your trip to Elitch Gardens Theme & Water Park in Denver, Colorado.