This Summer has been full of adventure and on our recent road trip to Colorado, my family was able to take an excursion through Estes Park, Colorado thanks to a partnership with VisitEstesPark.com. Although our excursion was complimentary in exchange for coverage on my site, all opinions are my own.
In my opinion there is no place more beautiful than Estes Park, Colorado. There are so many beautiful sights to take in from the breath taking beauty of the Rocky Mountains to the picturesque lakes and rivers running through.
I uttered the same thing repeatedly while visiting the area, I just can't take enough pictures and no matter how many pictures I do take, they just don't capture the beauty of Estes Park, Colorado.
I was excited to get off of the beaten path and ride some trails on a 4 passenger UTV. I love that my entire family could experience the adventure together, my husband even said that riding through the mountains on this UTV was the coolest thing he has ever done.
As we headed to the rendezvous point to meet with the crew of Backbone Adventures, we looked through our map of the trails and read through the safety information provided. The warning stories are pretty intense and very real so that helped put things into perspective, this could be the most fun day of your life or the worst, depending on how responsible you are when riding the trails.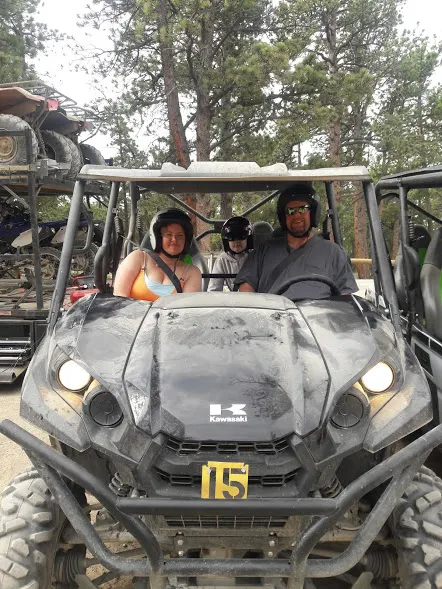 We decided to check out the easier trails first and then hit the more advanced trails after we got a feel for it and of course it didn't take long to figure out how to have fun!
They warn you about hitting rocks or what I would refer to as boulders, when they hand over the keys to your UTV.
It's not the warning I would have expected to get, they told us to hit the rock dead on, don't try to avoid them because that is when the damage happens.
We complied by conquering giant rocks and boulders at 20 mph throughout the Rocky Mountains.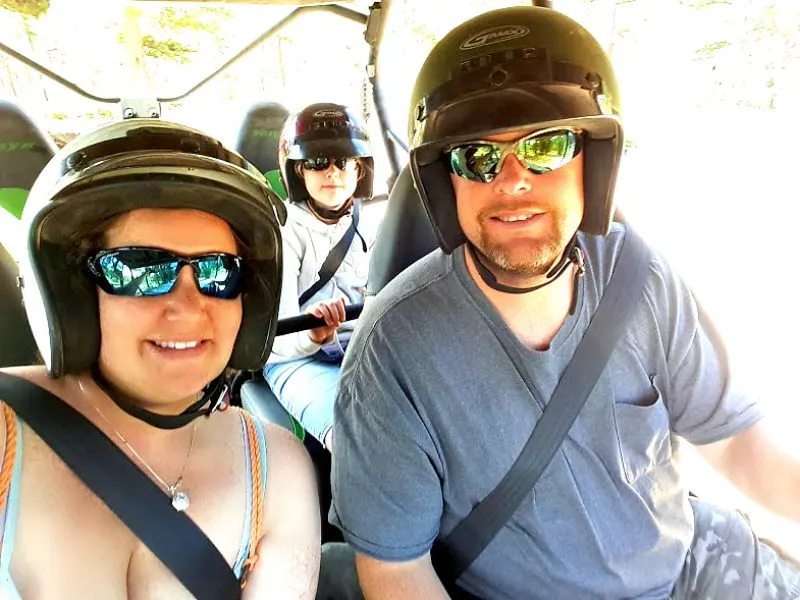 You will never believe how much fun you could have aggressively driving on dirt roads and through mud holes on the edge of a mountain until you try it for yourself.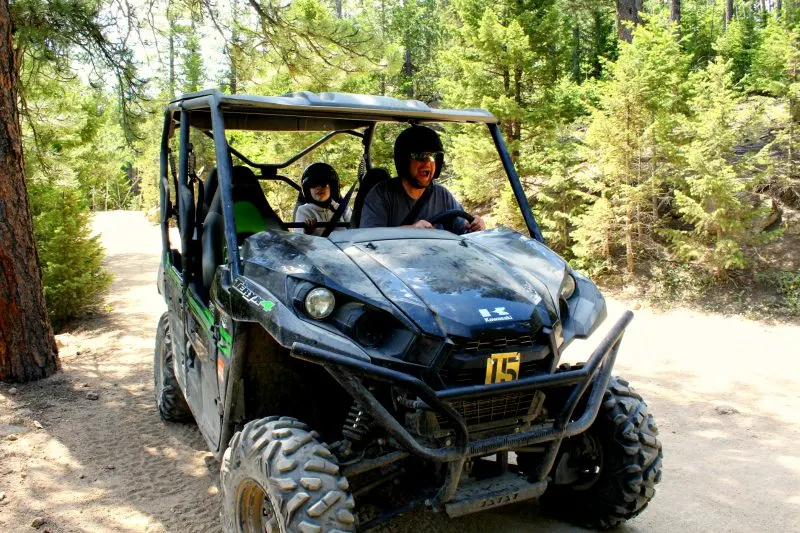 It was so much fun that I didn't even feel like I was missing out on anything by not driving, I really enjoyed being the passenger and taking in all of the magnificent views.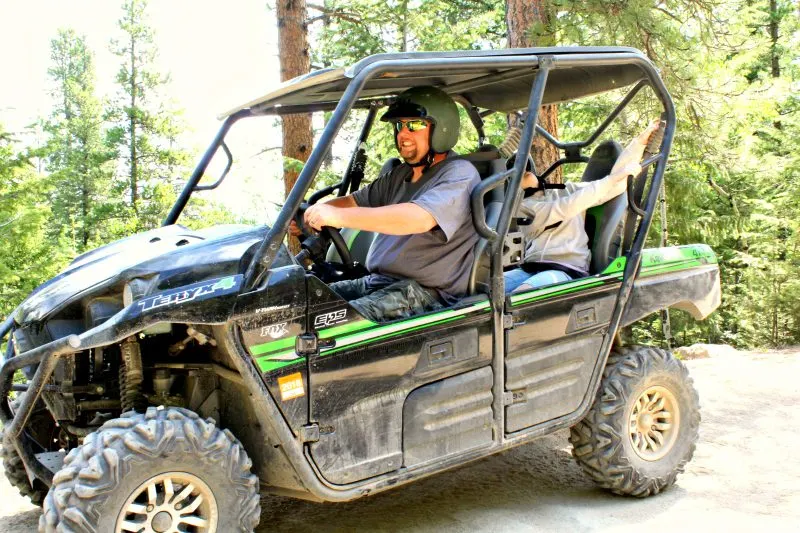 When my husband told me it was the most fun he had ever had, I knew I had to try it for myself!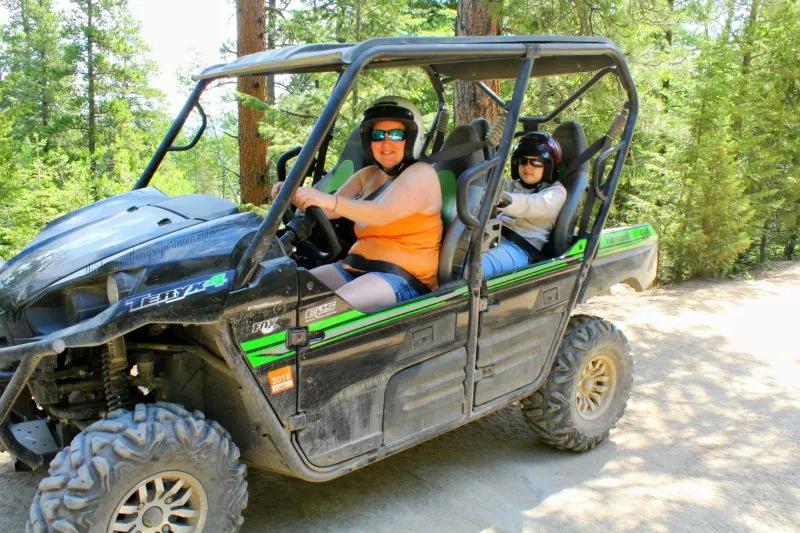 I hopped in and went full throttle, much like I do everything else in life, and I am sure my husband regretted encouraging me to take the wheel but I know he was happy to see me having fun.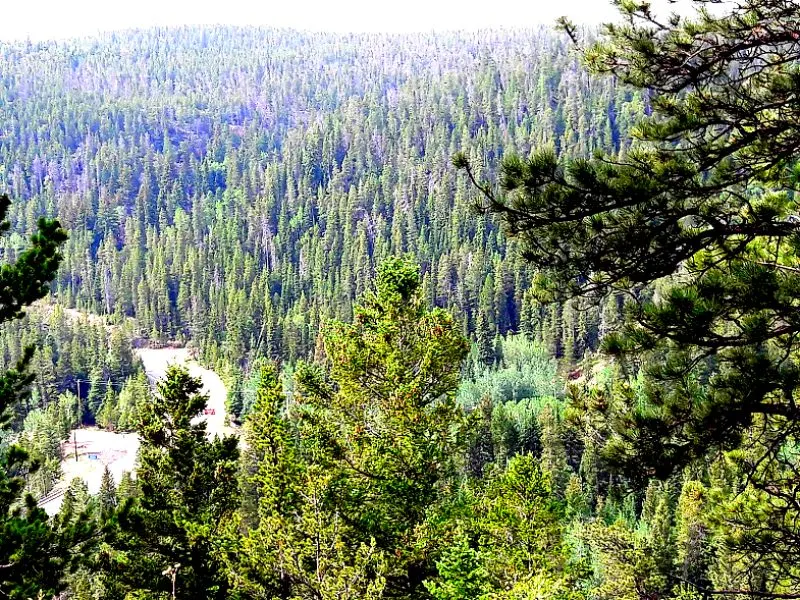 Riding the edge of a mountain cliff from the passenger seat was not really the way he wanted to take in the beauty of Colorado but that is exactly why I wanted to visit the area so I gave him back the keys and continued to take as many photos as my memory card would hold.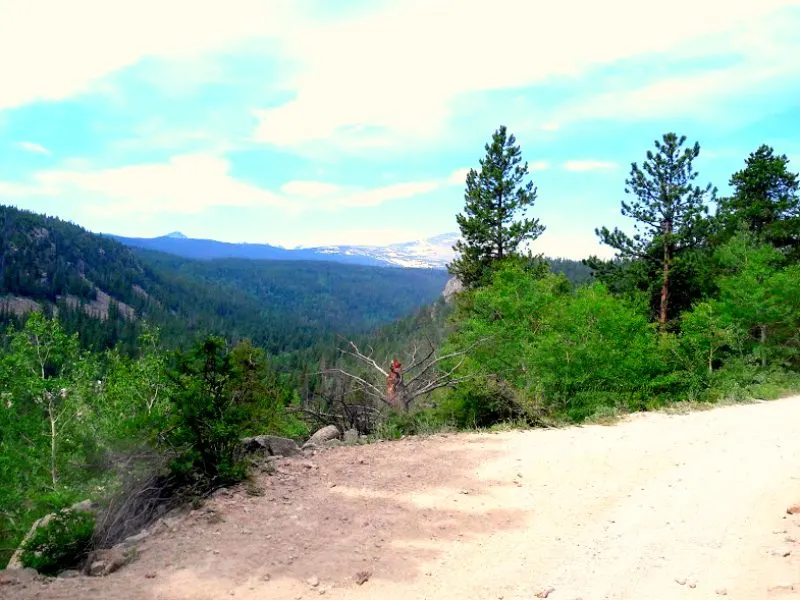 I never really understood when people said that a photo does not do justice until I visited Estes Park, Colorado. I took photos from every angle I could get and they just can not capture the beauty.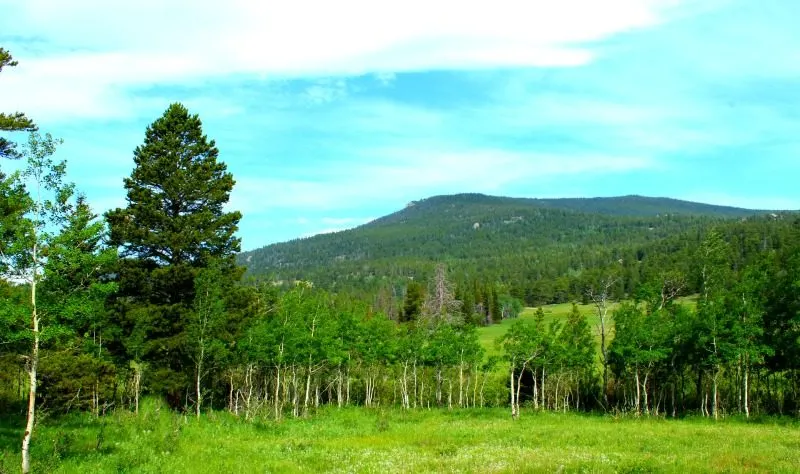 We enjoyed the view at Moose Meadows from our UTV and headed to Pony Lake next on the same trail.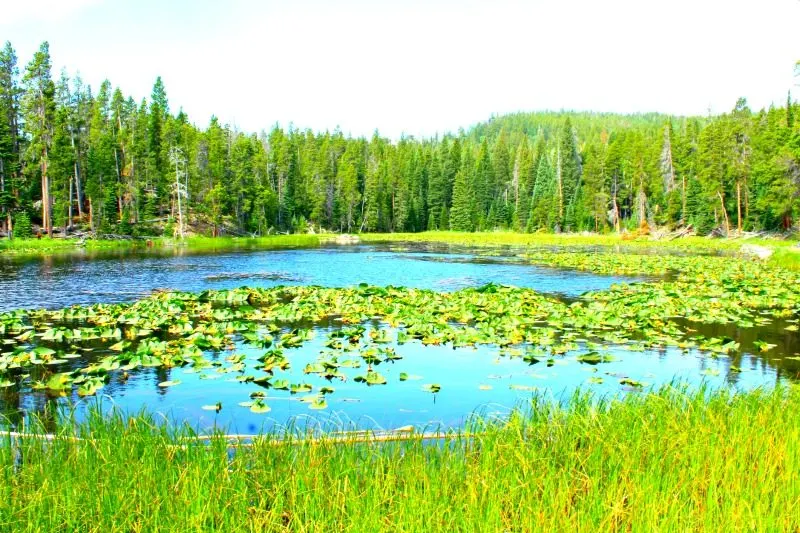 We parked our UTV and after a short hike we were able to take in the beauty of this lake covered in Lilly pads and flowers.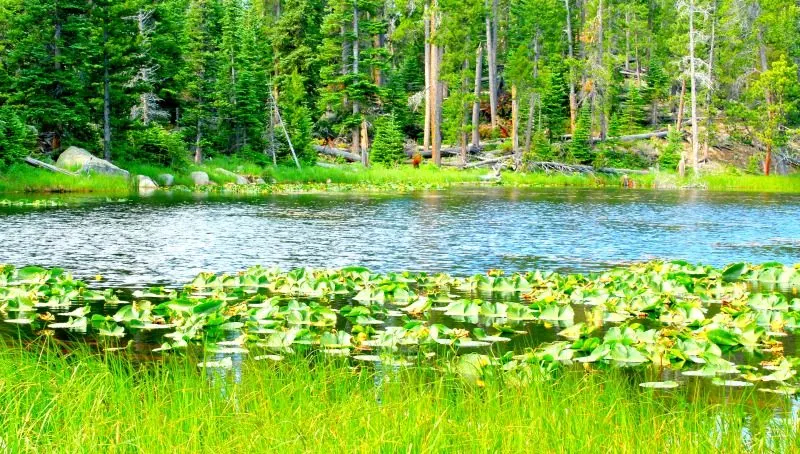 This was a favorite sight too see along the trail and it was one of the only things that would get my husband out of the drivers seat!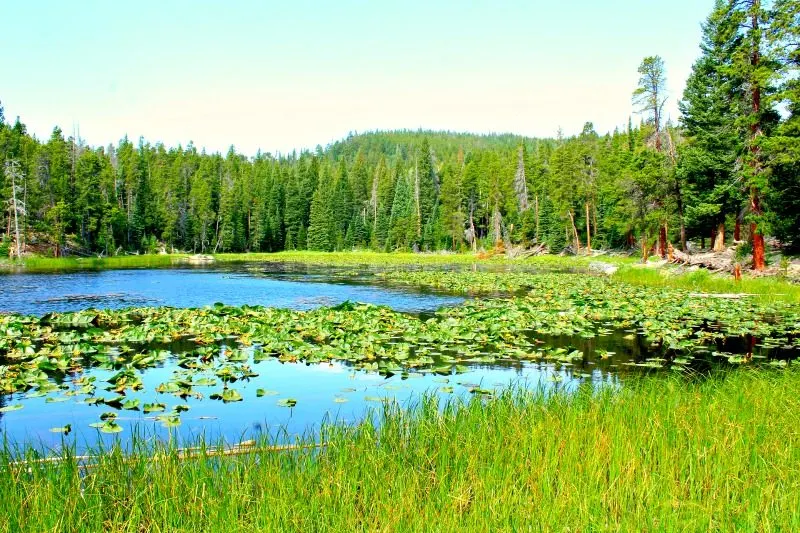 We took a few family photos while visiting Pony Lake and enjoyed the calm setting for a few minutes.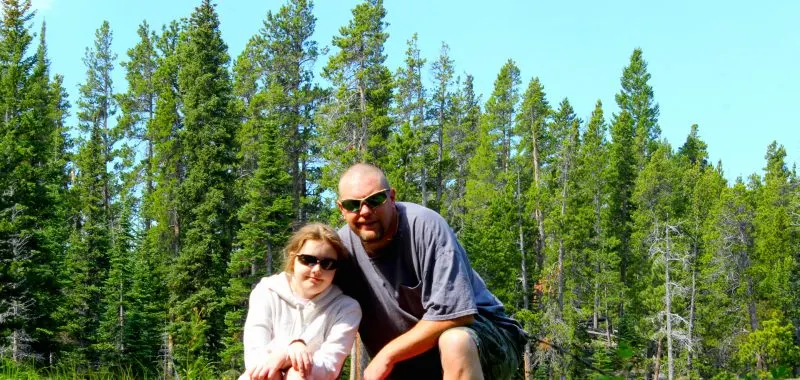 It truly was one of the most beautiful sights you could hope to see and it was nice to take it in before heading back to the dirt trails.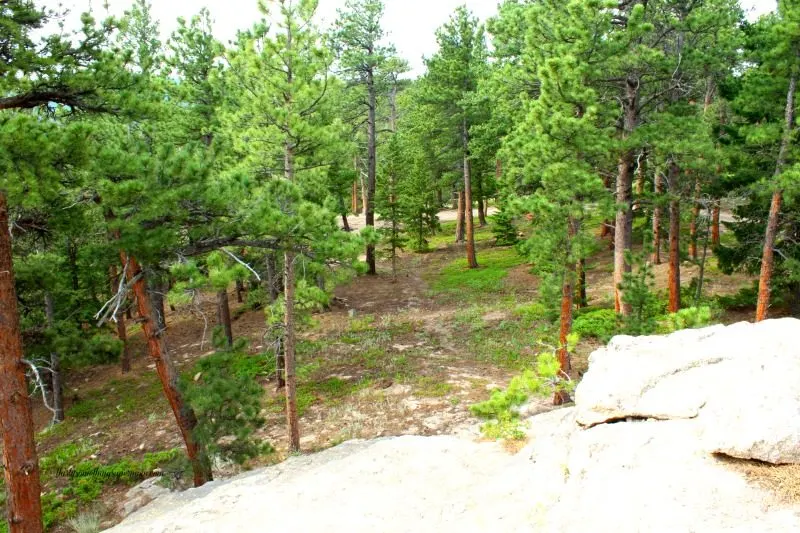 There were many points throughout the trails that you can pull over and take photos, one of my favorite places to do this was on top of any giant rock I could find.
I don't know what the allure is about heights for me but I just can't get enough of those views from 10 thousand feet above sea level.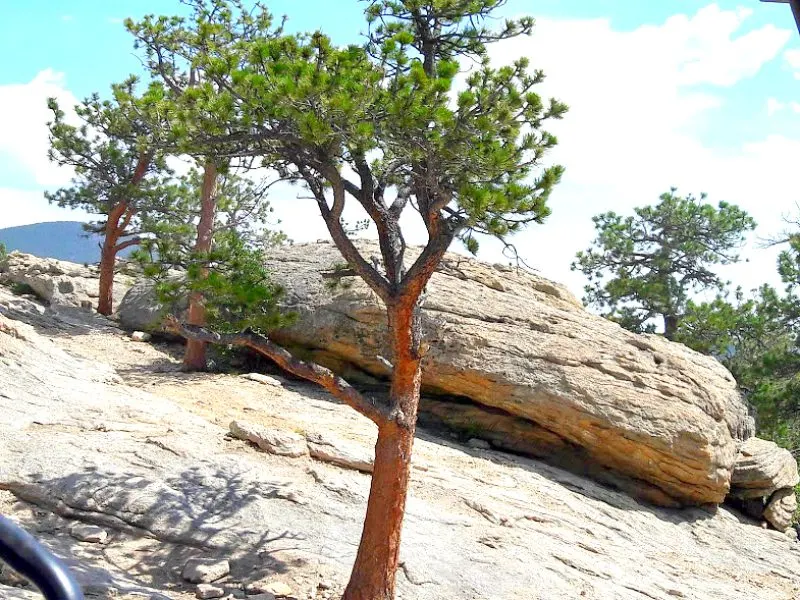 I wish I could walk out of my backdoor at home and see this everyday. Could you imagine getting your workout in with a view like this one?
Just like all good things, the UTV ride had to come to an end but the beautiful views didn't.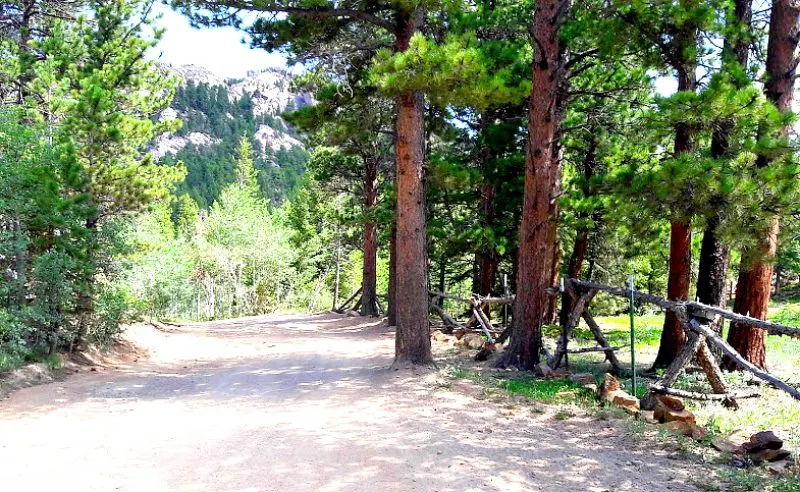 After we left the trails and headed into town to visit the shops and other attractions that Estes Park has to offer, we kept stopping to take photos of the beautiful nature we encountered along the way.
When we encountered this creek running through Estes Park, we had to get out and drink some of that fresh mountain water.
I have always been curious about how pure it would taste and if it would even taste good, it turns out that yes, it tastes amazing and it was the perfect temperature!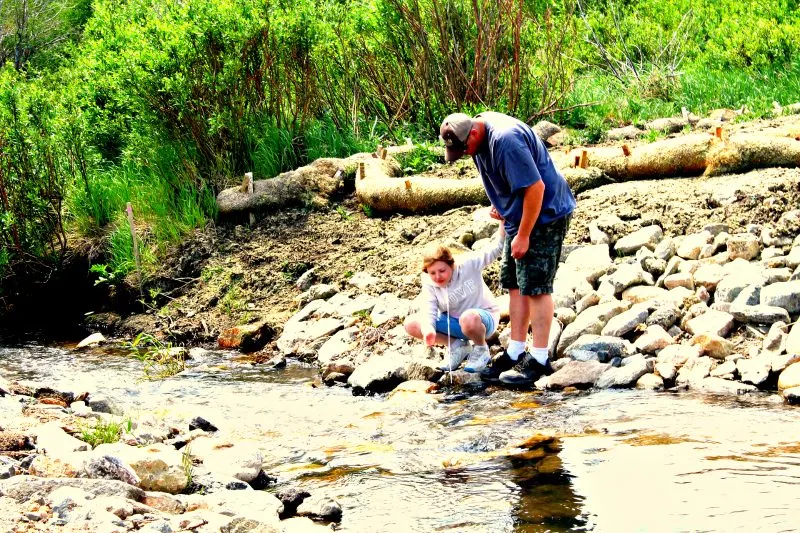 At first I thought that my family was just really into experiencing nature and Colorado to the fullest but then I observed other visitors tasting the water as well, so I guess everyone is curious about the taste.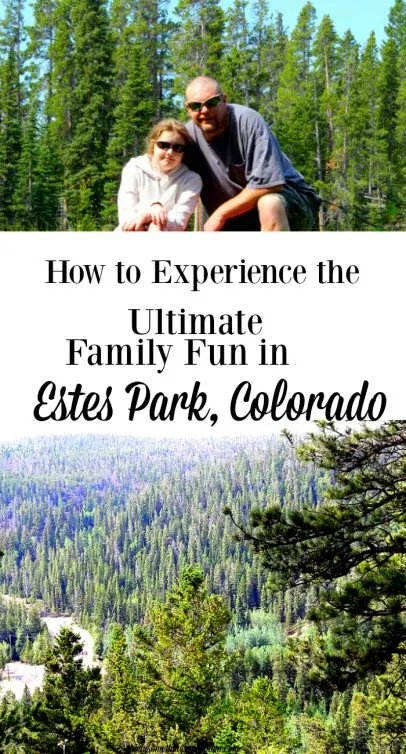 I urge you to start making plans to visit Estes Park, Colorado with your family, you will not regret it! There are so many fun things to experience and memories to be made, head over to find out more about what Estes Park, Colorado has to offer your family.