When my husband and daughter are busy with their own projects, my favorite two things to do are to decorate my home and get lost in a craft project.
I enjoy filling my home with things that make me happy and that includes this DIY Rope Basket.
This may not fit the traditional sense of a decoration but it is something that I use daily so why not get creative and turn something so ordinary into a beautiful decorative piece?
Even if its only purpose is something not so glamorous like a place to store dirty laundry?
No Sew DIY Rope Basket
All you will need to create your own DIY Rope Basket is a few items that you can either head to the store or click the affiliate links below to pick the items up but keep in mind if you do make a purchase after clicking a link, I will make a small percentage of the sale at no additional cost to you.
A Basket from the Dollar Store (Don't buy this overpriced one but you can click over to look at it as an example)
I have seen these baskets really cheap at several stores, I picked this one up at the local Dollar Store.
I picked this rope up at Walmart but you can click here to get it on Amazon if you don't feel like leaving your house.
Once you gather your supplies you can plug in that hot glue gun and let it warm up.
I know I have gone over this before but I have to tell you that I have used many glue guns in the past and none of them can live up to this one.
It has not failed me yet after so many projects and very little care on my part, I don't even put it away, I just leave it hanging over the edge of random things in my office.
This behavior is not advised but true and it just goes to show you that it is possible to have a glue gun that doesn't suck.
You wouldn't know that from my glue gun history but I have had countless glue guns that drip glue from day one.
That makes me crazy!
Another thing I may have gone over in the past is that I don't like to spend money.
I am a fan of upcycling, thrifting and reusing items I have around my house so I try to search my cabinets when crafting or starting a DIY project.
If you don't have any fabric or pillowcases to use for this Rope Basket, you can get one of these pillowcases for a dollar.
I already had a pillowcase with a pattern I liked so I just grabbed it from the stack of pillowcases that never get used but I can't bring myself to throw away, then got started on my Rope Basket.
Line the basket with the pillowcase facing the inside of the pillowcase against the basket, facing the bright colorful side out.
Pull the edges out over the sides and then press down on the insides to ensure good coverage but not too much material that it will bunch up on the inside.
Cut off the excess material.
You will only need enough fabric to fill the inside of the basket and hang over the edge slightly on the outside, covering the rim.
Cut a piece of the rope to tie around the rim.
This will keep the pillowcase fabric in place and make it easily removable for when it is time to wash.
Then you can begin wrapping the basket in rope, adding a bead of glue every chance you get to ensure a good adhesion to the basket.
Hold the rope in place for a few seconds, applying pressure as you go around the basket.
Once you reach the rim, hold the fabric out of the way making sure you don't accidentally glue it to the rope basket.
Tie a pretty little bow on the side with a bit of the rope overhung for a cute touch or line it up evenly and glue the end onto the rope basket leaving no extra hanging.
It's up to you!
Now you can use your DIY No Sew Rope Basket to store whatever you want.
I use mine for kitchen laundry and store it under the sink.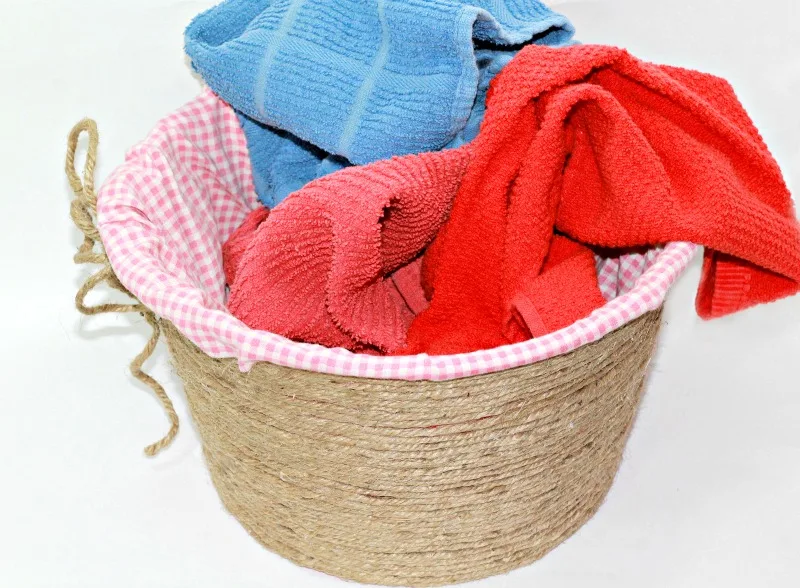 I have lots of plans for making more rope baskets to use for other things in my house like storage for dog toys or even a decorative place to put the mail.
I have so many ideas for how to use these DIY Rope Baskets throughout my home so you will be seeing some more DIY & Craft projects like this one in the future.
This would be a good time to subscribe to my newsletter where you will receive an email each time I post, you can sign up in the sidebar to the right.
You can also follow me on your favorite social media like Pinterest, Instagram, Youtube and like my Facebook Page, this will let you see everything I am up to without even having to check your email.
Don't forget to share this DIY Rope Basket Tutorial and leave a comment below to let me know how you would use this DIY Rope Basket in your home.