This DIY Countertop Makeover from Laminate to Butcher Block post is brought to you through a partnership with Giani. Although I received products to facilitate this post, all opinions are my own.
I have always wanted butcher block countertops but I never really thought it would happen until we moved or until the countertops were so old and worn out I would be forced to replace them.
Then I found out about the Giani Butcher Block Countertop Paint Kit and realized that I could turn my existing laminate countertops into butcher block at a fraction of the cost.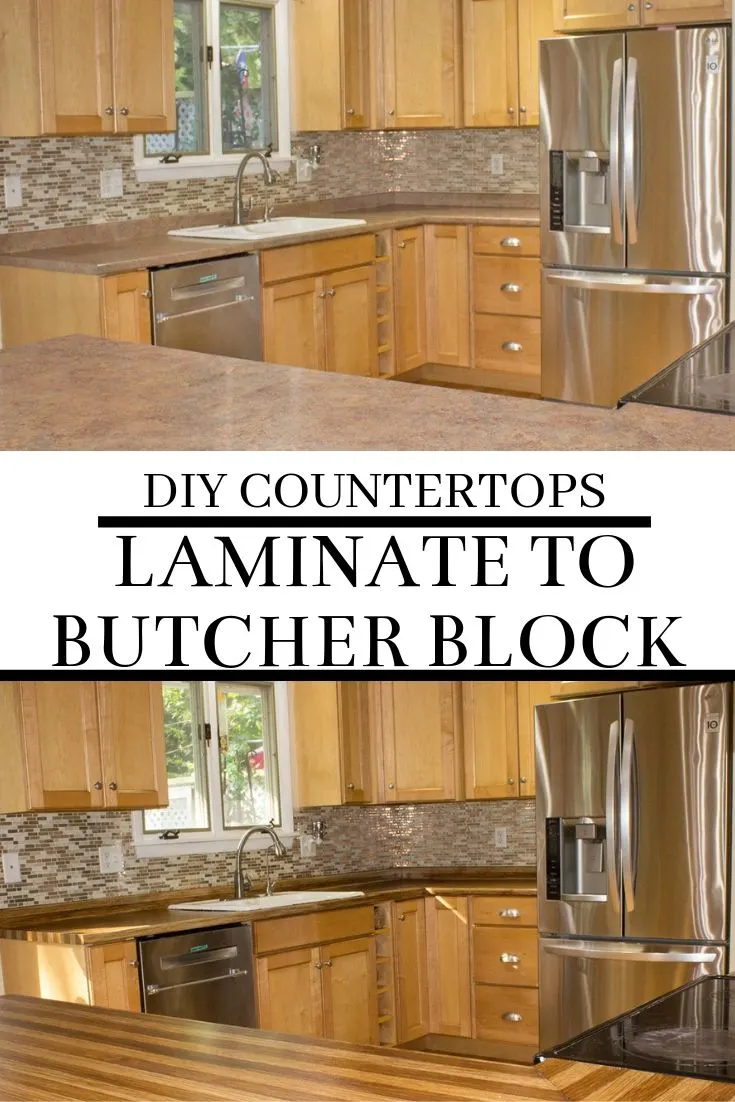 If I would have known that all I had to do was spend one weekend with my kitchen out of order while my husband and I got to work transforming our boring laminate into an eye-catching butcher block, I would have done this a long time ago!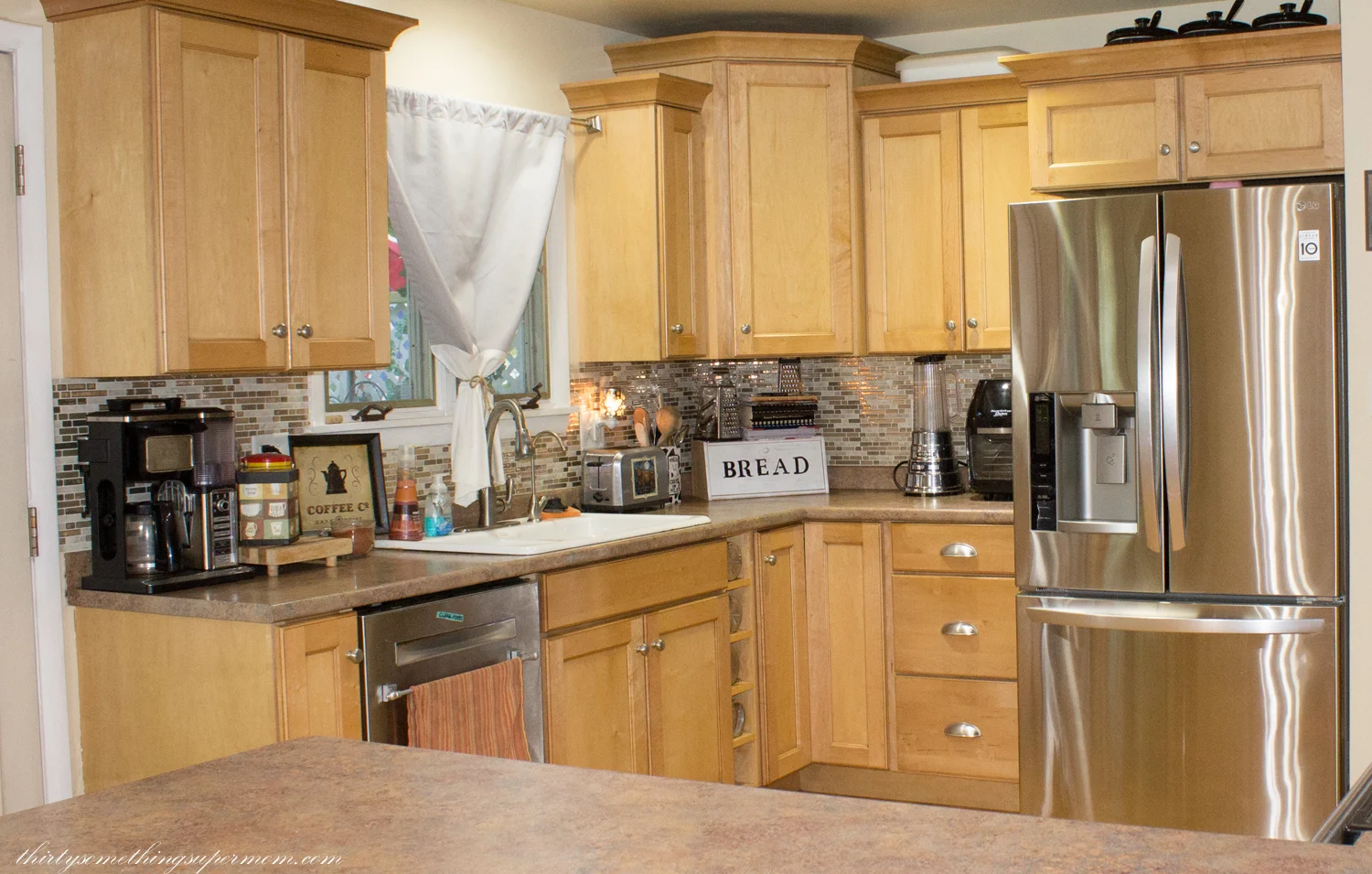 When we moved to Iowa and bought this house, the thing that I loved the most about it was the kitchen. I loved it so much that I couldn't complain.
I had just sold my previous home with a galley-style kitchen that was so small we had to put our table in the living room for eating because it just wouldn't fit in the small space.
Needless to say, this kitchen was an upgrade and had more to offer than I felt like I even deserved so I was thrilled to take it as is, after all, it was like I was getting the kitchen of my dreams.
So you can see why I settled for the laminate countertops that were just a few shades off a color that I would have chosen for this kitchen for so long.
I loved it, it was still the nicest kitchen I have ever had but I always thought it would be nice to update the countertops.
So when I received the Giani Butcher Block Kit, we got started preparing the kitchen for the transformation.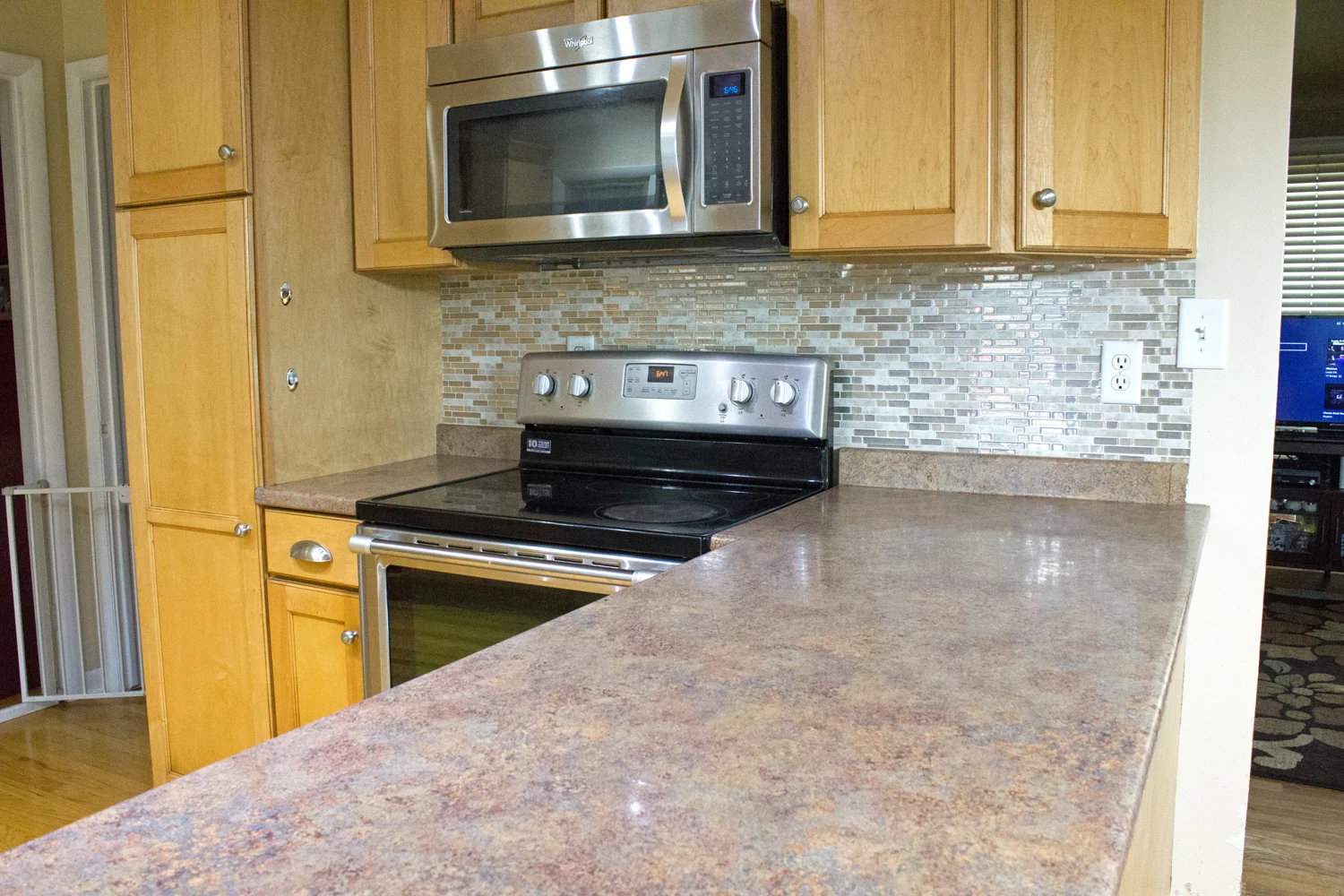 That included making plans to eat out for a couple of nights which sounds kind of fun but once you are forced to do it for a few days, it lost its allure.
I was happy to know that the next time I was able to cook, it would be in a kitchen with butcher block countertops which was totally worth the inconvenience to me.
So after clearing all of my countertops and storing my kitchen items in the living room for a few days, I got started taping.
The kit came with all of the items you would need to do 35 square feet of countertops, including tape.
I did overdo it on tape at times and needed to run to the hardware store to pick up another roll but now I have some extra tape for all of the DIY projects I will be doing in the future so it worked out perfectly.
Once everything was taped, I was able to start with step number one, the wood base primer.
I felt like I had lost my mind at this point because as much as I wanted butcher block countertops, I wasn't really prepared for the idea that I may hate the outcome and now there was no going back.
I am always so nervous about things like this though. I second guess my decorating decisions every time I do something drastic. Luckily I haven't had too many blunders in the past so I should learn to trust myself a little more.
Waiting for things to dry in between steps was by far the most time-consuming thing in this project, the actual work didn't really take that long and at times it went by really fast when trying to work before the paint dried.
It was kind of funny to see green stripes on the counter in-between steps and I was so excited when it was time to pull it off after the last step to reveal my new butcher block countertops.
I loved the way they turned out and I would recommend this kit to anyone wanting to update the look of their kitchen without breaking the bank.
The final look is exactly what I was hoping for and maybe even better because my husband even loves it.
I'm not sure if it's because he put his blood sweat and tears into the project or if it is because he likes the look of the wood but either way, the whole family loves this transformation.
Are you bored with your laminate countertops and want to upgrade to Butcher Block without spending the money? Try this DIY Butcher Block method for less!
UPDATE
It has been about a year and a half since we have done this project. I wanted to give an update on how these countertops have held up after constant use.
Keep in mind that when we first did this countertop makeover, we were left with quite a bit of topcoat. It was going on pretty thick at first but we applied a thin layer in most areas after, due to the mixture drying a little rough.
If you are planning on using this kit to do your countertops I would highly recommend applying the topcoat as heavily as possible.
Below you will see a photo from where I do most of my prep work in the kitchen, I took this photo today.
As you can see, there are some marks on the countertop.
As I mentioned, this area was one of the areas where we applied a thin topcoat.
The reason we only applied a thin layer was that the topcoat started to bubble up when applying. At the time, we were more concerned with a smooth finish although looking back, I wish we had applied the layer as thick as possible.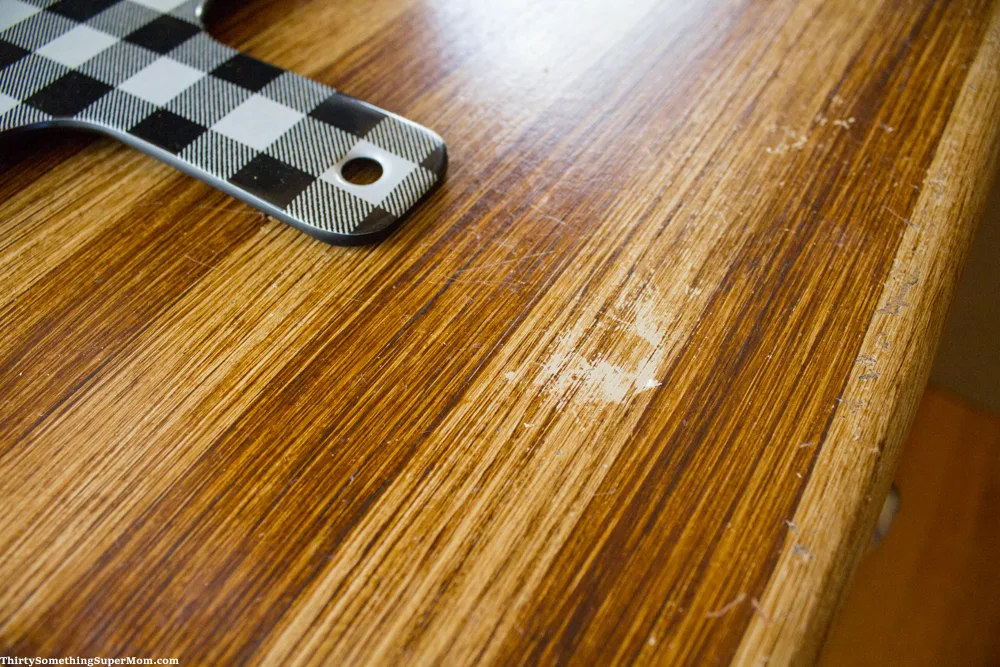 While you can definitely notice some marks on the countertops in these areas, overall I am still happy with my butcher block countertops. I plan on pulling out the leftover materials and going over the spots that have not held up as well.
When working with wood butcher block countertops you will also have some marks from constant use, so I feel like these imperfections make the finished product look even more realistic. Although I am a bit of a perfectionist when it comes to my kitchen so I am glad to have leftover materials to reapply in the areas where the product or my technique has fallen short.
I hope this update has helped answer the question about how my butcher block countertops have held up over the past year and a half. Have you tried a DIY butcher block countertop in your kitchen? I would love to hear about what has worked and what hasn't.
Please leave a comment below letting me know your thoughts and don't forget to follow along on social media as well as sign up for the free newsletter so that you never miss a post.