This Personalized Name Sign Craft Tutorial contains affiliate links which means that if you make a purchase after clicking a link, I will receive a small portion of the sale at no additional cost to you.
Are you looking for a baby shower gift or just want to create a pretty craft for your home? This Personalized Name Sign Craft is perfect, so easy to make and it can be easily customized to fit into any decor.
I have always loved to craft, I just wish I had more time to do it. I have lots of ideas and plenty of materials but it has been hard to find the time to craft.
So whenever I get a chance to create, I try to make each DIY project as easy to do as possible. This way I can start a project and actually get it finished in a reasonable amount of time.
Instant gratification is usually the theme of my projects so I have never been the type of person to tackle a project that has to span over a long period of time. I like to start working on something and see the end results before moving on to something else.
This Personalized Name Sign Craft is perfect for this kind of crafting, fast and easy, plus it can easily be customized for any occasion. This craft makes a great baby shower or anytime gift.
What You Need to Make this Personalized Name Sign Craft
The first step for making your own Personalized Name Sign Craft is to select the colors you would like to use and then paint the sign.
Tips for Painting
Use circular motions when painting the petals, half-circles in line with the petals and full circles in the center of the flower. Use a light color to start the first coat and then use a darker color to highlight certain areas of the flower.
This works best when mixing the paint yourself. I used a dark purple and added white as needed. When applying the second coat, I used less white and more purple to make the strokes stand out.
If you are using the Cricut machine, I have found that the vinyl sticks better over paint rather than plain wood. So I paint the inside even though you will not see this part when the project is finished.
Outline the entire flower with glitter glue and allow it to dry completely before moving on to the next step.
How to Hang Your Personalized Name Sign
I picked up the wooden sign at the local dollar store and it came with a hole already in the center. This made hanging the sign much easier when using ribbon. If you are using wire and hanging your sign, you will need to drill a couple of holes using a drill.
After drilling the holes on both sides of the flower, if you chose this method, run the wire through on both sides, twisting the ends to hold in place.
If you are hanging from the center using ribbon, run the ribbon through and tie a bow at the end to keep the knot in place.
How to Decorate Your Sign
If you are using wooden letters, you will need to use a hot glue gun to keep the letters in place. If you are using your Cricut machine with vinyl letters, you will want to use this cut file and edit it to add the name you want.
The cut file also includes the flower and circle for the center of this sign. If you are using wooden letters and want to use wooden designs, you can get those here.
Add Finishing Touches to Your Craft
After adding the vinyl flower and letters, the next step is to add the finishing touches. These flower appliques are pretty cheap and really make the sign pop.
Use glitter glue to add a sparkle to the letters and highlight the petals with a few sparkles at your discretion. This has always been the hardest part of crafting and painting for me, knowing when the craft is done. I have a bad habit of adding too much or changing things endlessly but with this project, I think I walked away and called it done at the right time.
You can add an outline of glitter glue to the sides of each petal or put a dab in the center of the flower. That is what I like best about this craft, you can customize it in any way you like so easily.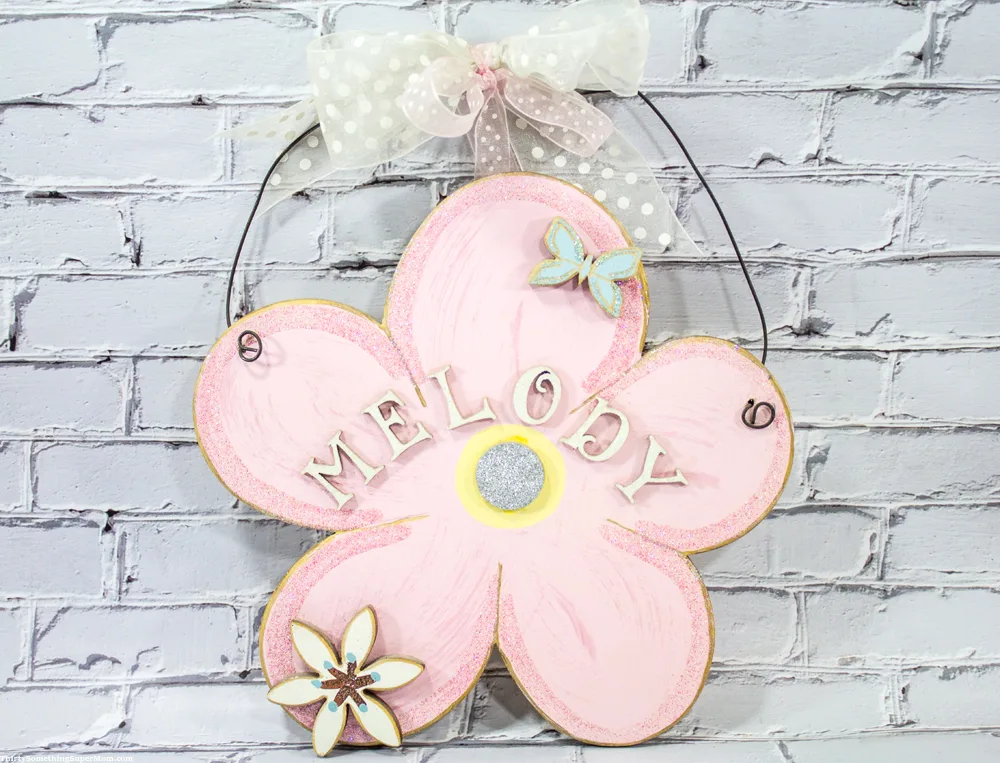 These Personalized Name signs make the perfect gift, so be sure to pick up extra supplies so you can make it again and again. Personalize it for different occasions, holidays, and customize it to fit in with any decor.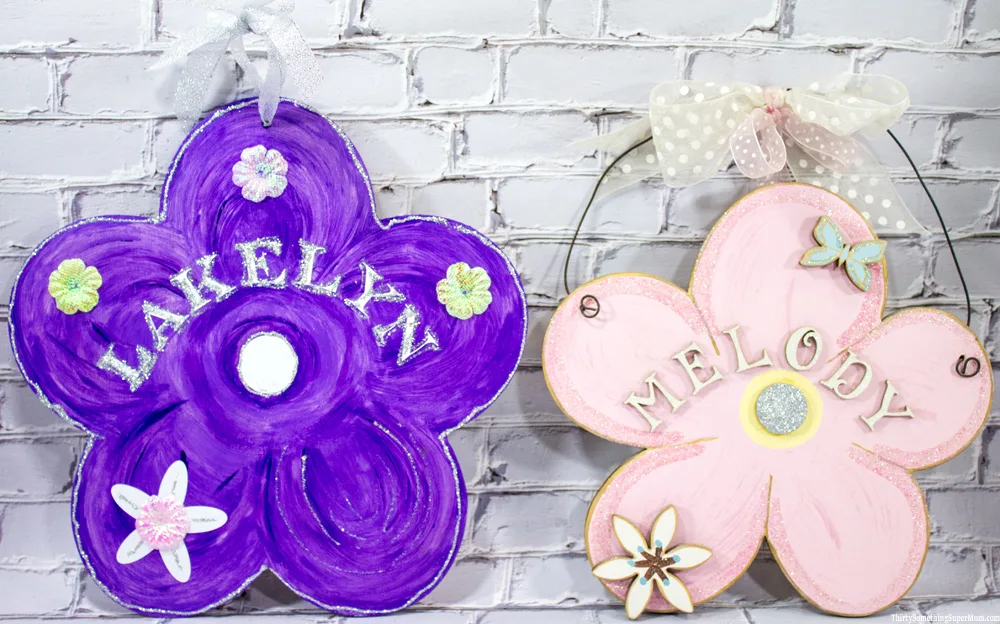 I hope you enjoyed this tutorial showing how I made this Personalized Name Sign Craft. If you are like me and don't always have the time you need to craft, share this project on Pinterest so you can do it later. Also, don't forget to sign up for the free newsletter so you can get all of my posts right to your inbox.
Do you like to craft? Leave me a comment below letting me know what kind of crafts you would like to see shared in the future. I could always use that extra bit of motivation to get me crafting again.
Check out these other crafts while you're here.
Make Your Own Garden Light Post
See How I Turned Trash into Treasure with this Upcycled DIY Tray
Make Purses from Skirts with this Easy to Follow Tutorial