These tips to stop your dog from eating too fast have affiliate links within the post. If you make a purchase after clicking a link, I will receive a small percentage of the sale at no additional cost to you.
Is your dog eating too fast?
This is a common problem for a lot of different breeds and can be hazardous to your pet's health.
If your dog is eating too fast, it can lead to health issues that need to be addressed by your vet but with these tips, you can stop your dog from eating too fast before it ever gets to that point.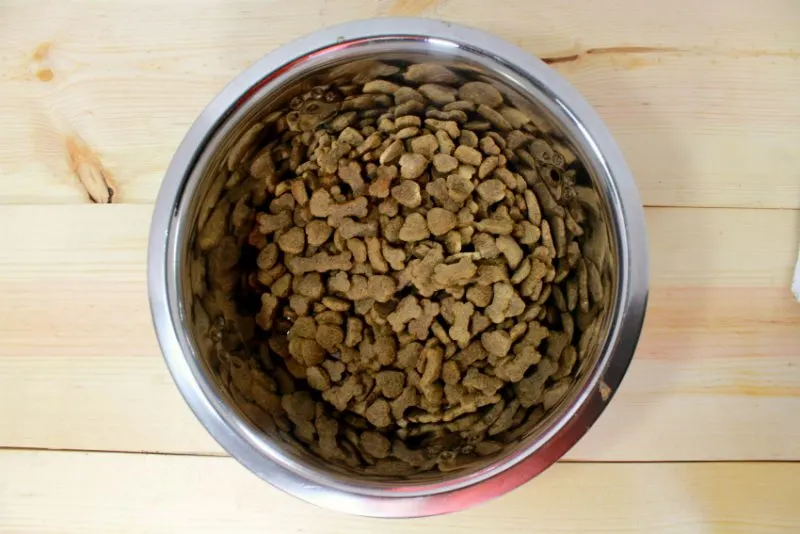 The first thing you need to know about your dog eating too fast is that it can be a real health risk and it needs to be taken seriously.
Not only is your dog more susceptible to choking and regurgitating their food when eating too fast but they are also at a higher risk for developing an often fatal condition called Gastric Dilatation-Volvulus which is more commonly known as "bloat".
While working at an emergency animal hospital I saw a few dogs suffering from bloat and learned that many vets are not too familiar with it, which means it can be hard to treat.
Luckily for us pet owners, there are many ways to prevent these issues like feeding several small meals throughout the day and trying these proven ways to Stop Your Dog from Eating too Fast without a trip to the vet.
Freezing Small Portions– Using a freezer safe bowl, add water and kibble then freeze.
When it is feeding time, place the dig kibble ice block in your pet's dish.
Start out by freezing a little bit of water at a time, if your dog continues to eat too quickly, try adding more water to the bowl next time.
Tennis Ball– Put a tennis ball in the center of the dish before adding kibble.
This will force your pet to slow down and move the tennis ball around with their nose in between bites.
Muffin Pan– Use a muffin pan to spread food out and make it harder to grab each bite of dog food.
Flip a muffin pan upside down and then add kibble in between each muffin cup.
You may want to place the muffin pan against the wall to prevent your pet from dragging it across your entire house during feeding time.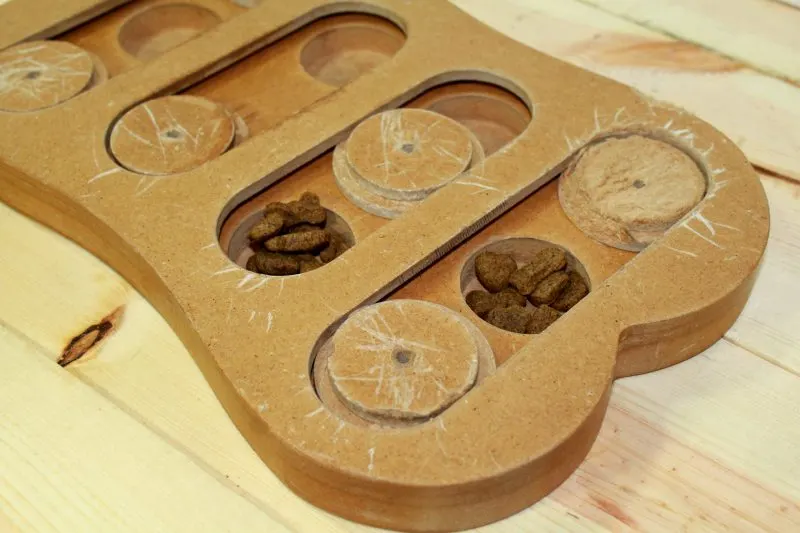 Dog Puzzle or Kong- This is one of my favorite solutions because not only does it force your dog to eat slower but it is a lot of fun to watch.
You can pick up a Kong that is smaller for little dogs or a bigger one for larger breeds.
Keep in mind the size of your kibble when making the purchase because if the hole is too large, the kibble will fall right out.
I also enjoy watching my dog figure out dog puzzles.
These are perfect for teaching your dog to eat slowly and a great source of entertainment for the whole family as well.
I am always amazed at how fast Daisy can solve this puzzle but even at her fastest, it is leaving time in between each bite to ensure she is chewing her food well.
Special Bowl- If you are not interested in a DIY type of solution for stopping your dogs fast eating, you can pick up a special bowl that is meant for this problem.
The design allows you to pour the kibble into a bowl as usual but your pet has to navigate each kibble in between the prongs meant to slow down their eating.
Have you found a different trick to help Stop Your Dog from Eating too Fast? Tell me about it by leaving a comment below and don't forget to share with your dog lover friends!