I have received product from Smart Tiles in exchange for my honest review. All opinions are my own.
Easy DIY to Transform the Look of Your Kitchen
Ever since I bought my home in Iowa, I have always wanted a backsplash in the kitchen.
Don't get me wrong, I love my kitchen and it is the main reason I purchased this house, I just kinda felt like it was missing something.
I have had several quotes from professionals to find out exactly how much a backsplash was going to set me back and it was always way out of my price range so I kind of gave up on the idea, kinda.
I still always wished I had one and would check out tile while at the hardware store but the problem was no matter how great of a deal I got on the tile, the installation cost was too high for my budget.
Apparently putting up a tile backsplash requires a bunch of tools I have never even heard of and would have no other use for other than installing tile, so it wasn't worth buying these tools to attempt installation ourselves.
Just when it seemed hopeless and like I would never get my backsplash, I cam across Smart Tiles.
I was thrilled at the idea of peel and stick wall tiles, I couldn't believe how easy it was to install, even I could manage this easy DIY project.
So I eagerly picked out my favorite tiles, I chose Bellagio Sabbia.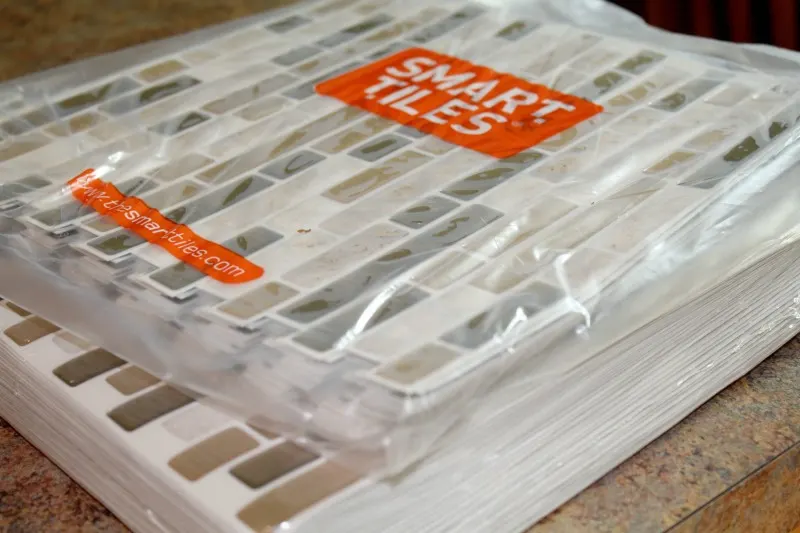 I tried to match up the cabinets with the browns in the pattern as well as the grays to match with my stainless steel appliances. I looked through all of the patterns and colors several times before choosing the one I wanted.
I was still kind of nervous because I had seen 2 other patterns I liked as well but once the tile arrived, I knew I had made the right choice!
The first step is to clean off your walls with a good degreaser to ensure the tiles will stick properly to the surface. Then you remove your switch plate covers and of course remove everything from your counters to have a clear work space.
After watching a couple of quick videos on The Smart Tiles website we started installing our backsplash. All we needed for this job was a box cutter, pencil, tape measure, and we used an angle square as well.
After adding the first tile which my husband referred to as a full boat throughout the entire job, we would line up the next tile, peel off part of the back, line it up, stick it to the wall, and then remove the rest of the backing while securing the tile in place.
When you get to an outlet or a window, just use a pencil to mark the spot you need to cut and use a box cutter to score the lines.
It really is as easy as it sounds and I am amazed at how beautiful it turned out. I feel like I have a brand new kitchen!
My favorite part of this project is how the wall behind my stove has been transformed, I think the stainless steel against this backsplash really makes the colors pop.
That photo shows what the area looked like before the easy DIY backsplash installation. I don't even recognize that kitchen anymore.
The sink area has also been transformed and the backsplash is making the stainless steel fixtures pop!
This is one of my favorite Easy DIY projects I have ever done, the before and afters are quite impressive, if I do say so myself.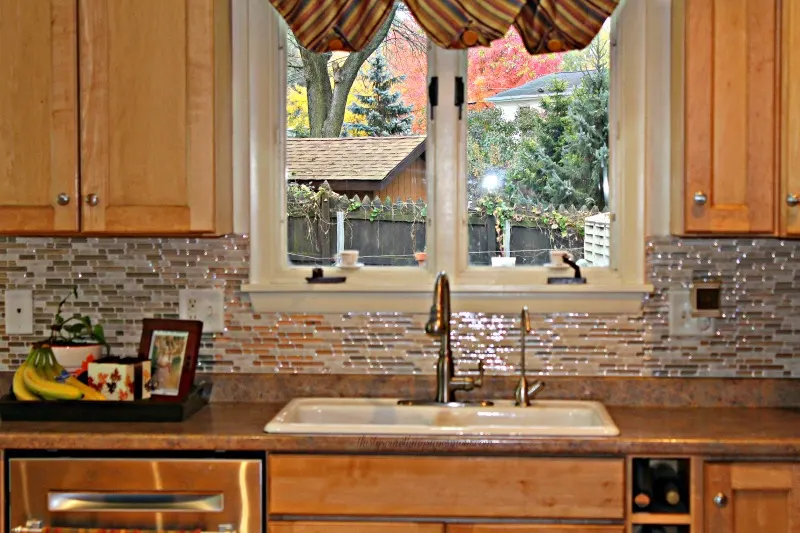 I also love the way the white trim pops and feel like the backsplash really tied the whole kitchen together.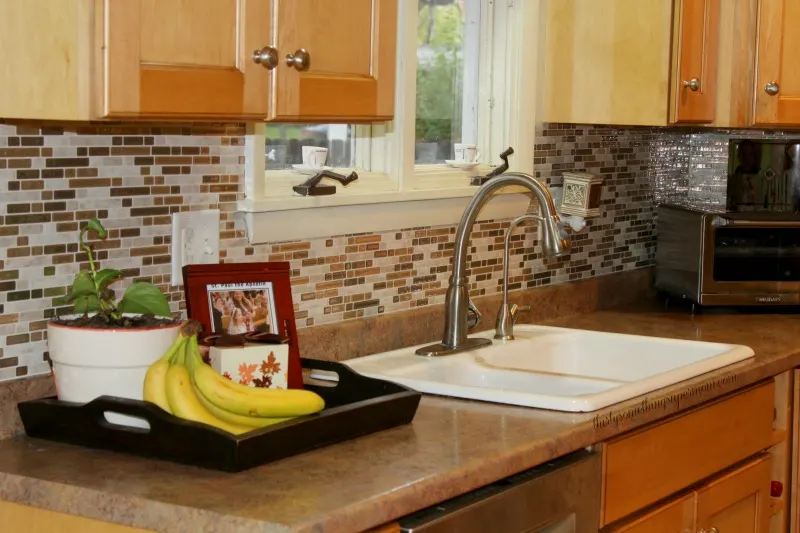 So now that I have my kitchen exactly as I have always wanted it to be, I will be cooking and baking up a storm!
So expect to see a bunch of new recipes coming your way from this beautiful kitchen.
Head over to The Smart Tiles Website and make your kitchen dream come true with an Easy DIY project that can transform your home in a few hours.