This post-sharing kitchen cleaning hacks contains affiliate links which means that if you make a purchase after clicking a link, I will make a small portion of the sale at no additional cost to you.
These kitchen cleaning hacks will get your kitchen clean without high-priced, chemical-filled cleaning products. Plus, these cleaning hacks actually work! I have tried so many cleaning hacks that claim to work better than the store-bought solutions that left me frustrated and even more annoying, they left me with a dirty kitchen.
Yeah, I saved money by not having to pick up a solution for each appliance or surface in my kitchen but what good does that do when they don't work? Saving time can be just as important as saving money so I like to use tried and true methods when cleaning my house.
These Kitchen Cleaning Hacks Will Save You Time & Money
Don't get me wrong, I still find ways to do a deep clean that can take all day. Reorganizing cabinets and sorting through the clutter to find things to donate can eat up some time. Taking down the curtains or blinds for cleaning is also a real-time sucker. This isn't something that I do during my regular kitchen cleaning but these chores are reserved for those days that I can spend the entire day cleaning.
If you have never spent an entire day cleaning your home, you have no idea what you are missing. I always feel better after working hard on cleaning my house, especially the kitchen. In my opinion, this is better than therapy. Nobody has to hear my secrets and after building up a sweat from working so hard cleaning, I have results that I can be proud of instead of a bill to pay.
Usually, I work out whatever is bothering me by the time my kitchen is done and if I don't work it out, at least I have one less thing to worry about. Plus, being stressed in a clean kitchen is always better than being stressed in a dirty kitchen. Although, when I spend the day cleaning, I usually exhaust myself to the point that I lose the ability to focus on my problems. This can be really good for anyone like me who overthinks things, that is usually my biggest issue.
Anyway, these Kitchen Cleaning Hacks will help you work smarter, not harder. No need to bottle up those feelings to get ready for a day of cleaning, you will save so much time with these kitchen cleaning hacks.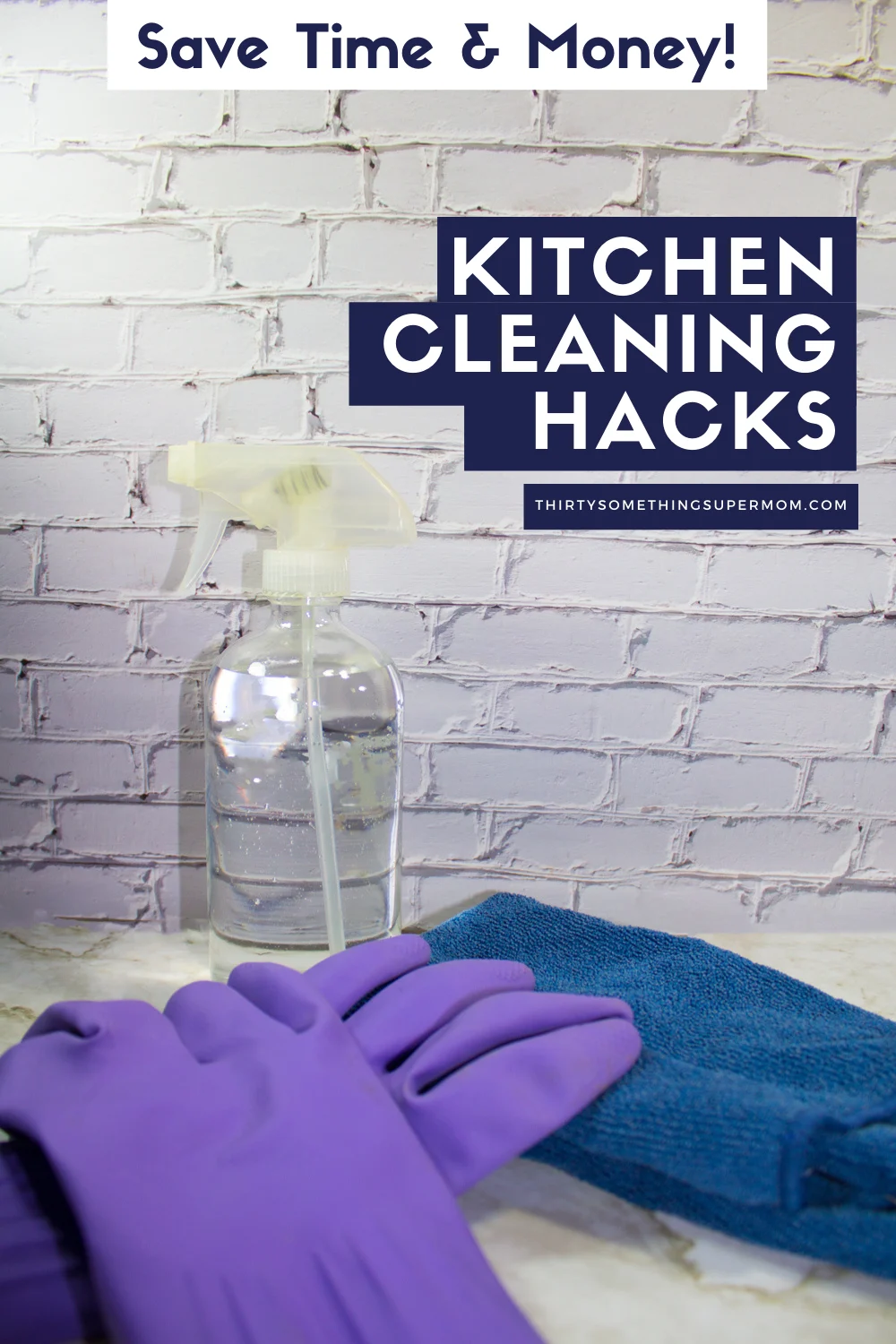 Things to Stock up on for these Kitchen Cleaning Hacks
vinegar
Clean Your Sponges
Problem: Sponges retain water and are rarely dry which means that they are the perfect breeding ground for bacteria.
Warning: Make sure you are not putting sponges made of metal in the microwave. The dishwasher may be a better cleaning option for that type of sponge.
Solution: Submerge your sponge in water and make sure that it is completely wet. Microwave your sponge on high for 60 seconds to remove bacteria. Be careful when taking the sponge out of the microwave as it will be hot. Be sure to let it cool off before handling it, you'd be surprised how hot a sponge can get.
Clean Cloudy Windows
Problem: Cloudy, dirty windows with lots of fingerprints.
Solution: Mix 1/2 Cup of rubbing alcohol and one quart of water in a glass spray bottle. Spray onto windows and wipe down with a microfiber cloth for a streak-free finish.
Clean Your Microwave Easily
Problem: Food splatters inside of the microwave regularly and when you don't clean it right away, it can be really difficult to remove.
Solution: Mix one cup of water and 1 cup of vinegar in a microwave-safe bowl. Full tutorial on how to clean your microwave easily.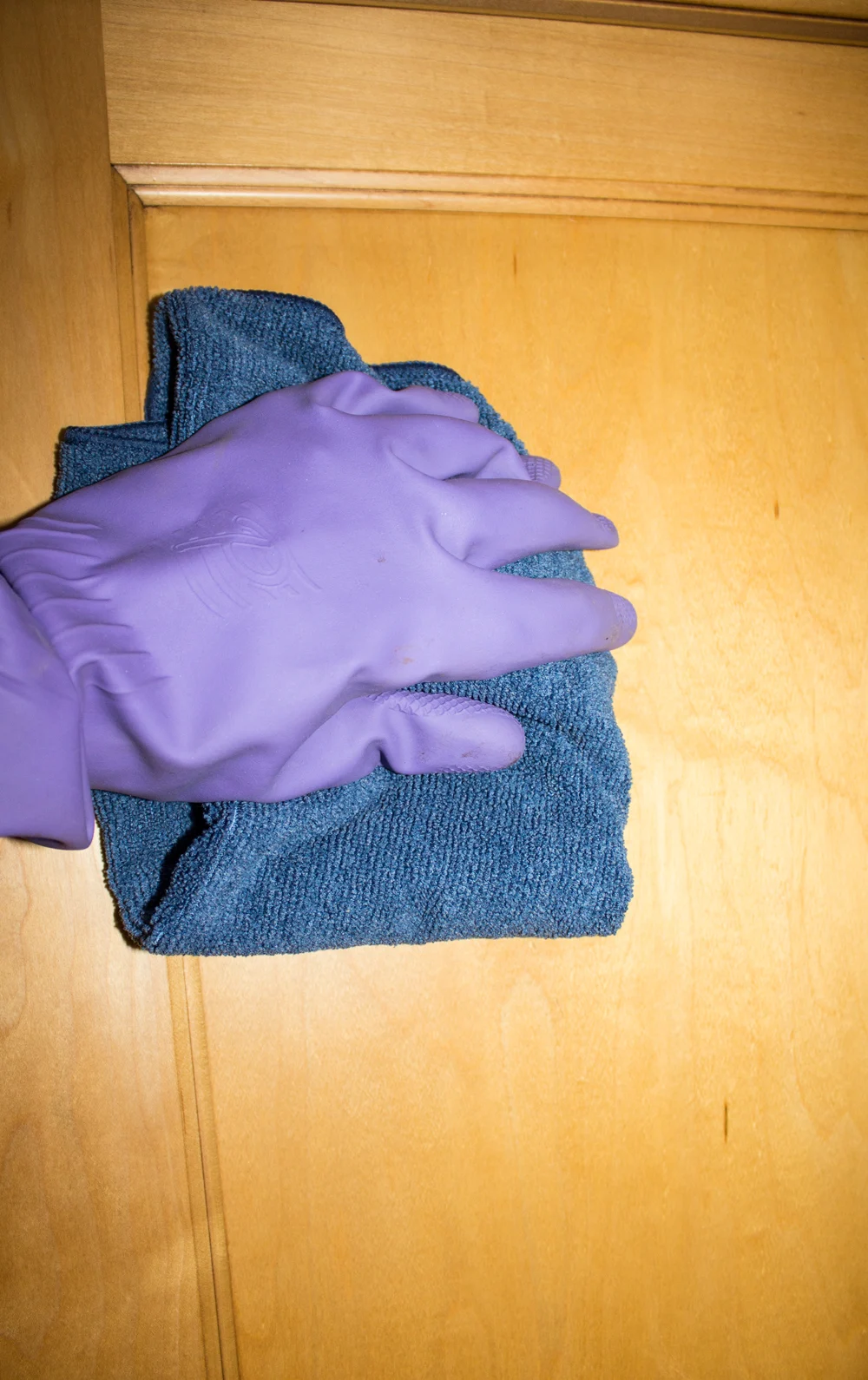 Make Your Cabinets Shine
Problem: Stained cabinets with lots of build-ups.
Warning: Test this solution on a small inconspicuous area before really going to town on your cabinets. If you have a low-quality finish or paint on the surface, scrubbing may damage the cabinets.
Solution: Mix 1/2 Cup of vegetable oil with 1/4 Cup of baking soda to clean and shine your cabinets. Rinse the cabinets with warm water and dish soap after cleaning. Thoroughly dry with a clean cloth to reveal clean and shiny cabinets.
Remove Grease Stains
Problem: Grease splatters all over the kitchen and leaves a mess that can be hard to clean up.
Warning: Always test a small inconspicuous area first to make sure that the surface you are cleaning doesn't react poorly to the solution. Some surfaces handle this solution without issue but others can be damaged, it is always a good idea to test the area first.
Solution: Mix 1 Cup of Alcohol with 4 tablespoons of salt to get those hard to remove grease stains off of your backsplash, countertops, and everything else that was unfortunate enough to be in the splash zone.
Garbage Disposal
Problem: Stinky garbage disposal.
Solution: Freshen the scent of your garbage disposal by placing cut lemons inside.
Remove Hard Water Spots on Faucet
Problem: Hard water builds up on faucets and leaves a mess caked on that can be difficult to remove with traditional cleaners.
Warning: Vinegar can damage wood as well as other porous surfaces, be sure to not overspray onto countertops and cabinets when using this mixture.
Solution: Use vinegar to remove hard water spots on the faucet. Mix one part water to one part vinegar. Spray the area and let it sit for about 5 minutes to give it time to work. Use a clean, wet cloth to wipe down the surface and remove the vinegar.
Clean Stainless Steel
Problem: Stainless steel is a magnet for fingerprints and smudges.
Warning: Stainless steel scratches easily so it is best to wipe down the surface with a dry microfiber cloth to remove any debris before cleaning. I have yet to find a kitchen cleaning hack that fixes stainless steel scratches so if you accidentally scratch your fridge, you're on your own.
Solution: Rubbing alcohol on a microfiber cloth can clean those smudges off of your appliances.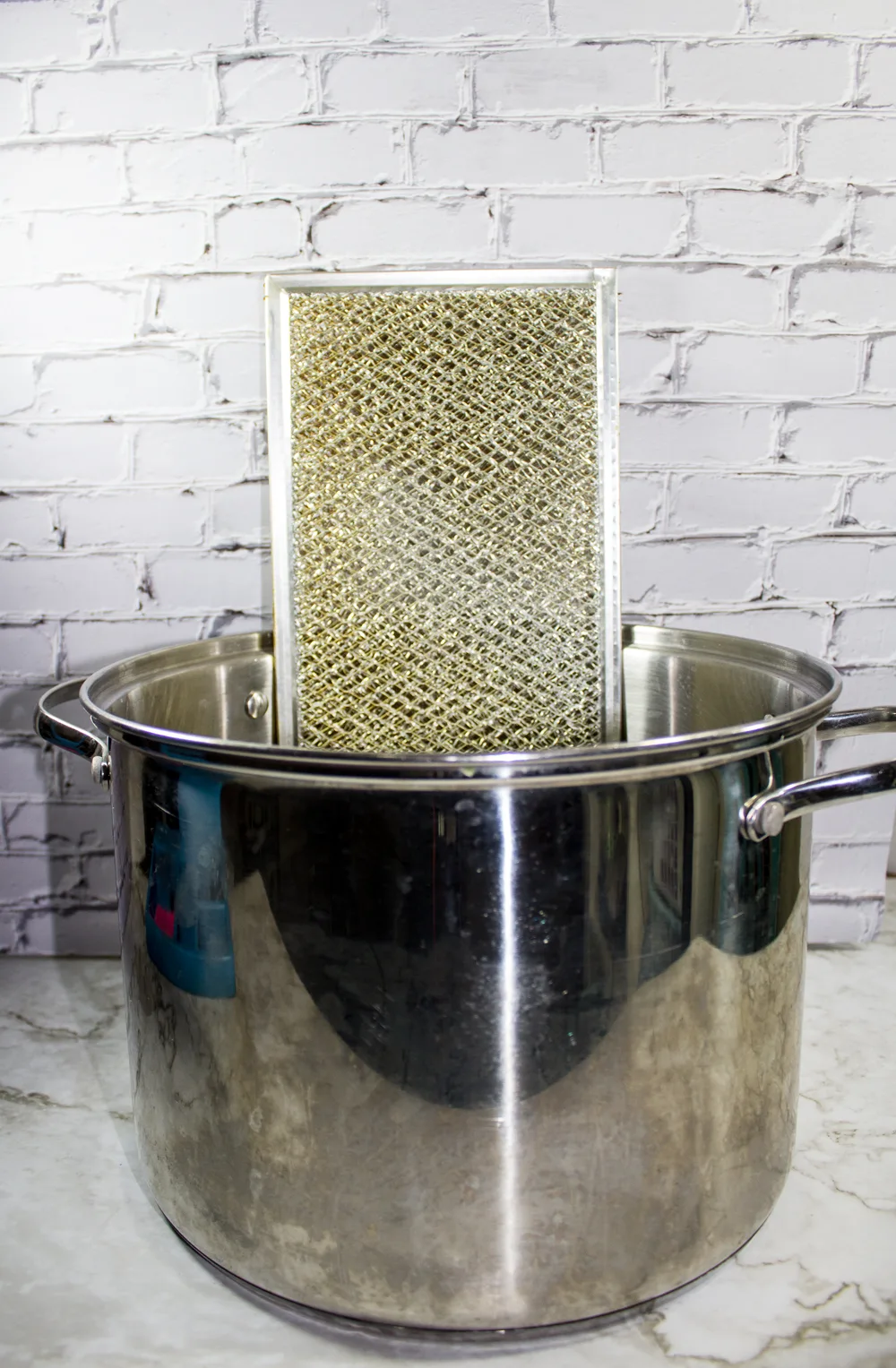 Clean the Stove and Microwave Vents Easily
Problem: Stove and microwave vents collect grease and other remnants from cooking, leaving a film that makes the filter unable to do its job.
Warning: The water is going to be boiling, make sure you use a pair of tongs to retrieve the vents and let them cool off to a comfortable temperature before scrubbing. Also keep in mind, if your filters are plastic, you will need to make sure that they are not melting when boiling. I have the metal kind so this isn't an issue for me but I remember having a plastic filter in a previous model, so be sure to check yours before trying this kitchen cleaning hack.
Solution: Boil water and 1/4 cup of baking soda and a degreasing dish soap. Soak for ten minutes. Use a non-abrasive scrub brush and a little elbow grease to get those bad boys clean. If your filter is bigger than your pot, flip it over and do both sides for an equal amount of time.
Planning a full house clean? Check out this Printable Checklist for a Super Clean Home or this Spring Cleaning Checklist to make sure you don't miss a spot.
Be sure you follow along on social media and sign up for the free newsletter so that you never miss a post. While you are here, please leave a comment letting me know about any cleaning hacks that have helped you save time, I can't wait to hear about them!