My daughter has always loved mint desserts but her new favorite creation is this Mint Chocolate Chip Cookie Recipe.
These easy and delicious cookies are perfect for dunking and they are great right out of the oven or left over for a quick dessert.
If you are looking for a mouthwatering dessert that will have your family begging for your to make more, these Mint Chocolate Chip Cookies are perfect!
My family was enjoying a fun game night when my husband started craving chocolate chip cookies and decided he was going to run to the store to pick up a pack of ready to bake cookies. I didn't want to see the fun end and I am super mom after all so I decided to check my cabinets and see if I had some ingredients to whip up a batch of cookies that would hit that spot.
I do a lot of baking so I had all of the staples like flour,baking soda,sugar, and butter but I really felt like super mom when I came across a bag of Nestle Toll House DelightFulls Chocolate Morsels with Mint Filling.
I am not working with Nestle on this post by the way,
I seriously had some left over in the cabinet after failing at making some fudge last month. The fudge was such a flop that it never made it to the blog, I will try again next year but so far it's been like 5 years and still no good fudge. I just can't get it right so for now, I will stick to cookies!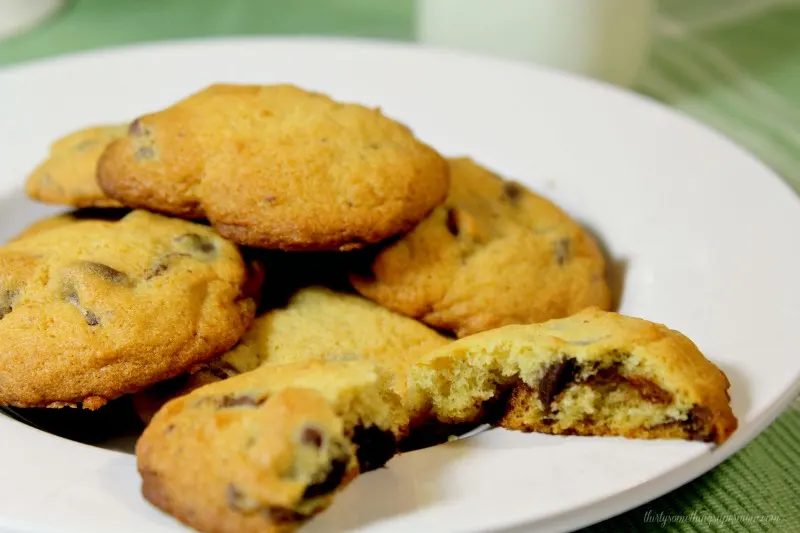 They came out so good that I am not even worried about not being able to make fudge. I have never seen a chocolate chip cookie that was more perfect than these, they really are perfect for dunking, it just doesn't get better than these.
Trust me if your family is craving a mint cookie recipe or chocolate chip cookies or better yet mint chocolate chip cookies this is the go to recipe for you! They even pair great with a cup of hot cocoa!
What you will need for this Mint Chocolate Chip Cookie Recipe
1 1/2 cups of Flour
1/2 Teaspoon Baking Soda
1/2 Teaspoon Salt
1 Stick Butter
1/4 Cup Brown Sugar
1/2 Cup White Sugar
1 Teaspoon Vanilla Extract
1 Egg
4 Ounces of Dark Chocolate Morsels with Mint Filling
Instructions:
Preheat Oven to 375 Degrees
In one bowl mix together the flour, salt, and baking soda.
In another bowl mix together the butter, both sugars, and vanilla extract.
Add the egg and mix well.
Add dry ingredients to the wet ingredients.
After all the other ingredients are mixed well add the morsels and stir together. Add by teaspoonful to a parchment paper lined baking sheet.
Also a big money saver for me is I started using silicone baking mats and I save a ton on parchment paper and washing of my baking sheets.

Bake for about 10-12 minutes
The cookies are done when they have a golden brown outer layer perfect for dunking. Take them out before the edges begin to brown, this will happen while they are cooling.
Do you think your family would enjoy this Mint Chocolate Chip Cookie Recipe?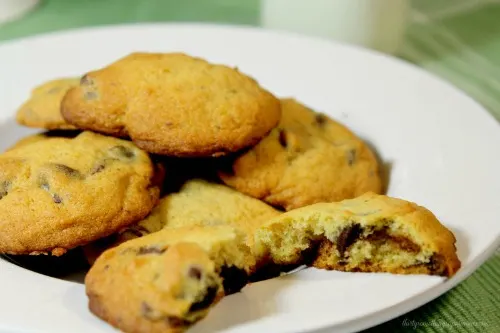 Mint Chocolate Chip Cookies Recipe
Ingredients
1 1/2 cups of Flour
1/2 Teaspoon Baking Soda
1/2 Teaspoon Salt
1 Stick Butter
1/4 Cup Brown Sugar
1/2 Cup White Sugar
1 Teaspoon Vanilla Extract
1 Egg
4 Ounces of Dark Chocolate Morsels with Mint Filling
Instructions
Preheat Oven to 375 Degrees
In one bowl mix together the flour, salt, and baking soda.
In another bowl mix together the butter, both sugars, and vanilla extract.
Add the egg and mix well.
Add dry ingredients to the wet ingredients.
After all the other ingredients are mixed well add the morsels and stir together.
Bake for about 10-12 minutes