Checking out the Fall scenery can be a lot of fun but nothing can be more fun than doing it in a 2019 Mazda MX-5 Miata. I have never had more fun driving a car, I am very thankful to have been given the opportunity to check out the new Mazda MX-5 Soft Top in exchange for my honest review in this feature, all opinions are my own and I can not wait to tell you all about it.
There is nothing more exhilarating than easing off of a shiny silver clutch as you put the MX-5 into first, second, third, and then fourth gear before ultimately shifting through all the way up to sixth gear.
I haven't driven a manual in many years due to my need to purchase only practical vehicles that will seat a whole family for road trips, and daily errands.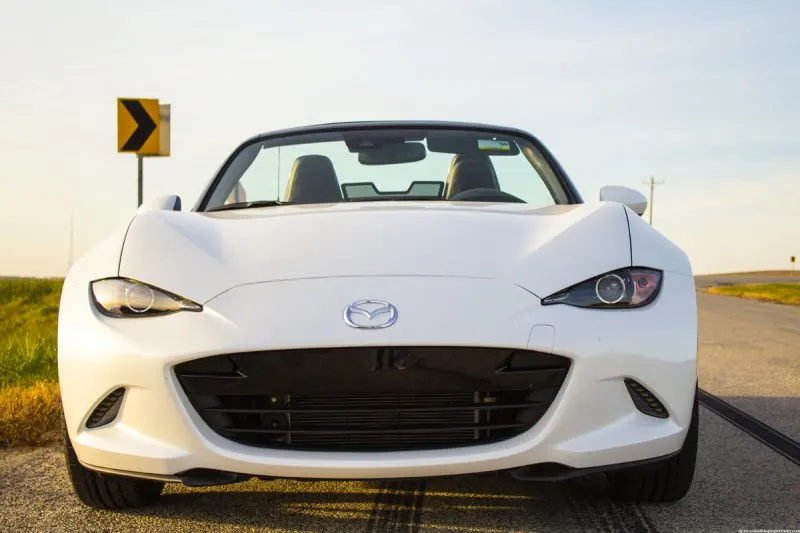 The Mazda MX-5 is far from practical because it encourages drivers to think more about the journey than the destination.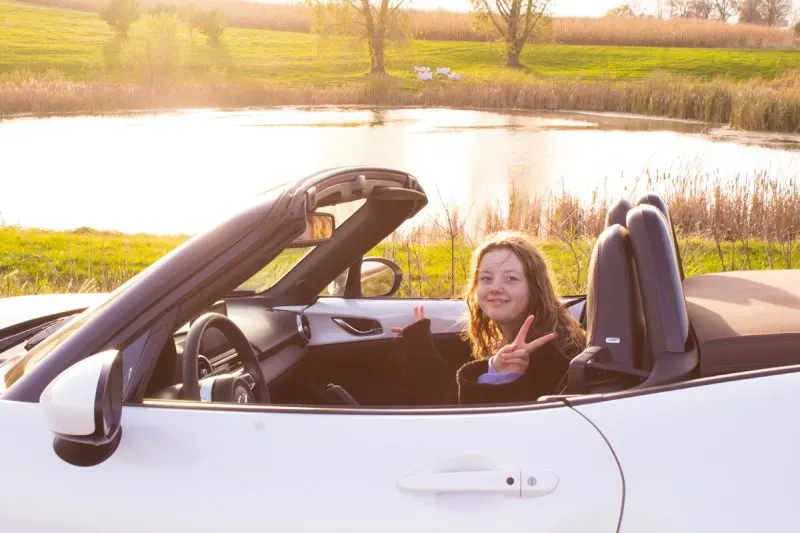 This roadster is all about the experience of driving, it's about enjoying every moment, especially the ones that include the sounds of a perfected SKYACTIV-G 2.0 liter engine with a power increase of 26 horsepower and 3 lb-ft of torque.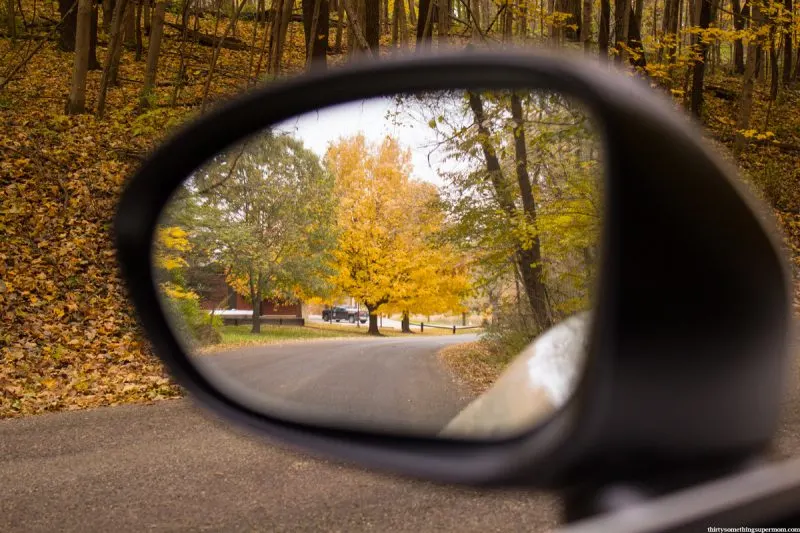 After nearly thirty years of perfecting it's roadster, Mazda has increased the redline compared to last years model from 6,800 rpm to 7,500 rpm.
Smoothly shifting between gears and easing off of the clutch while taking in the nature that surrounds me when the top is down has become my new hobby.
I thoroughly enjoyed driving through my favorite spots where the sun is shining, the cows are grazing, and the drive is fun. Whenever I need a little inspiration or just a little time to relax, I head out to these places but being able to do it in the Mazda MX-5 has allowed me to appreciate the solitude at a whole new level.
Zipping down the country roads with a grand view like this one just can't be beaten and it definitely can't be done right, in just any car.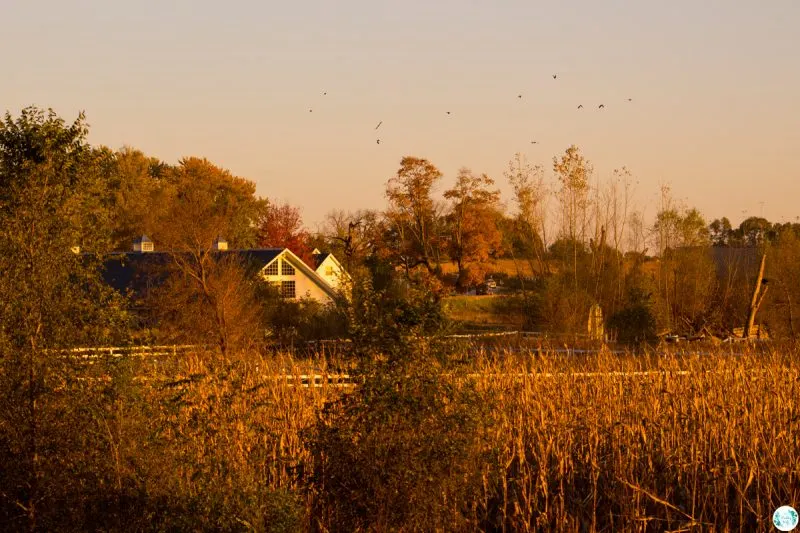 The Mazda MX-5 allows you to enjoy the journey to your destination, making you live every moment with purpose and excitement.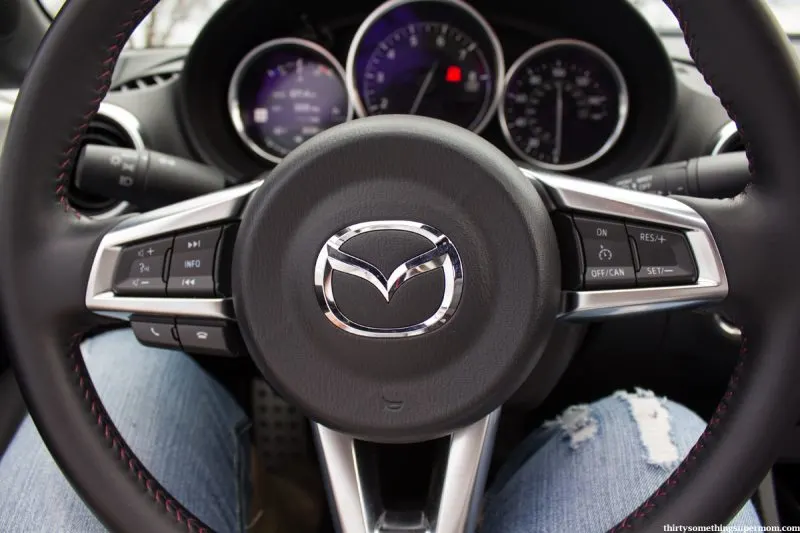 You are getting so much more than just a car, owning the 2019 Mazda MX-5 Miata would be a lifestyle change. It can magically make the once boring ride, an exciting experience.
This lightweight sports car offers new packages like the Sport i-ACTIVESENSE package which includes Smart City Brake Support, Lane-Departure Warning and Blind Spot Monitoring with Rear Cross Traffic Alert.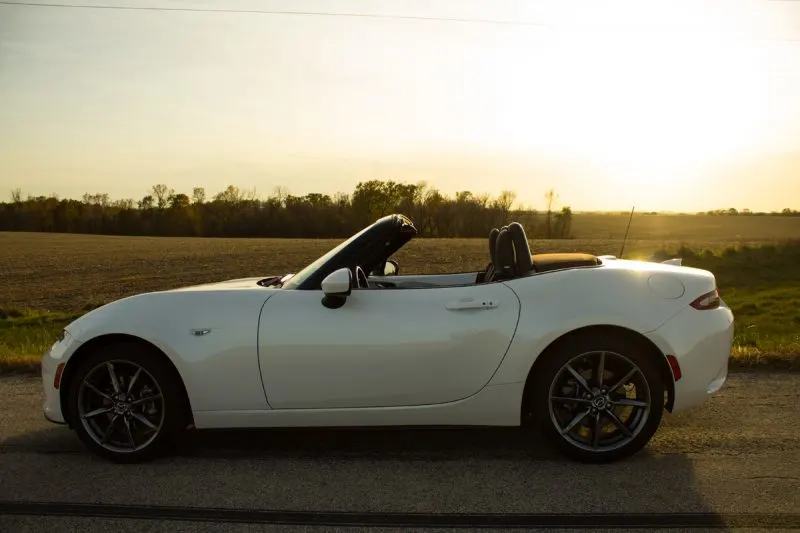 The New Club i-ACTIVESENSE Package which includes Smart City Brake Support and Lane-Departure Warning as well as the New GT-S Package which includes a limited-slip rear differential, bilstein dampers, and shock tower brace. (6MT only)
I really recommend the manual transmission, luckily I already knew how to drive a stick but as I said, it has been years since I have driven a car with a stick. I forgot how much fun it is and if you don't know how to drive one I would highly suggest grabbing a friend who does know how to teach you, it doesn't even take very long to learn.
You never know when you may be in a situation where a car with a manual transmission is your only way out, you will be glad you learned then.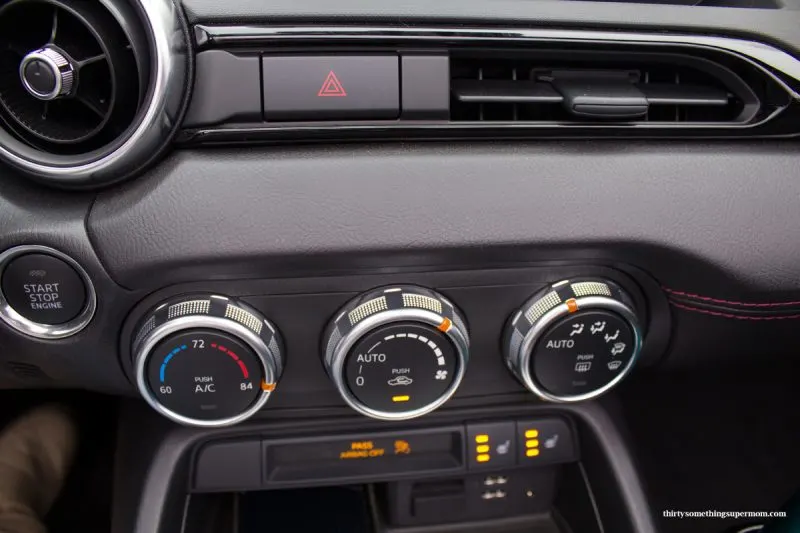 The Mazda MX-5 also boasts improvements in technology including Mazda Advanced Keyless Entry, a BOSE 9-Speaker audio system with headrest speakers, Bluetooth hands-free phone and audio streaming as well as an Adaptive Front-lighting System.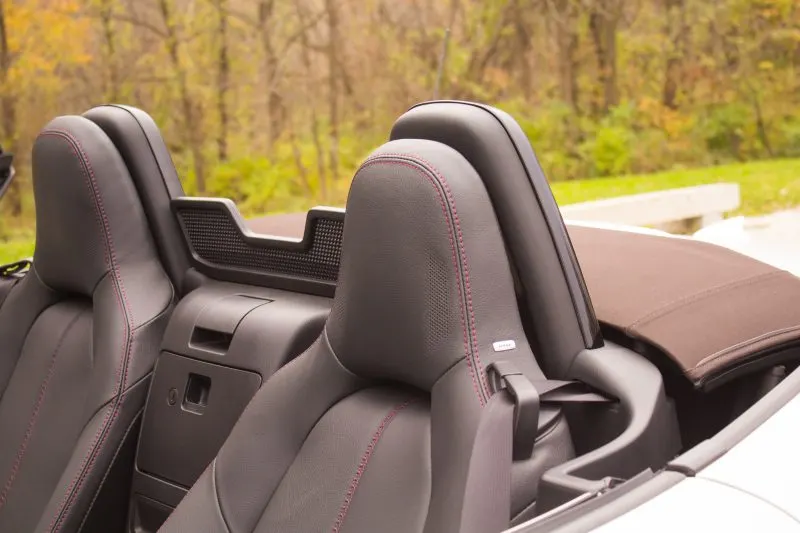 The Mazda MX-5 comes equipped with some of my favorite little details from previous models like heated seats, easy access to the heating/cooling system with big knobs that are simple to control, as well as insanely comfortable seats with speakers in the headrest.
The speakers in the headrest are a new feature for me, I have never driven a car like that in the past. It really helped me realize how I had not been utilizing the headrest in the past. Apparently, I sit straight up without taking advantage of any back support while driving, you know like an old lady.
That is another thing, people make fun of the midlife crisis character in all of the movies but as a mom approaching her mid-thirties, who spent her entire life serving others, feeling young again even if it is from a car, is kind of nice.
As soon as I hear the engine fire up, I feel like a kid who was given the keys to their parent's car for the first time.
Almost like I am doing something bad but it feels really good.
I never understood how people could name their cars or talk about them as if they were human beings but after driving the Mazda MX-5 Miata which my daughter has named Priscilla, I totally understand the desire.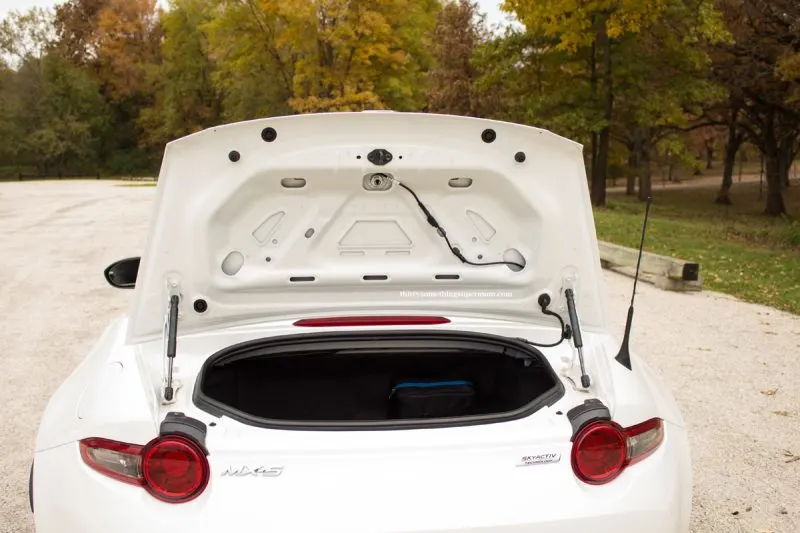 This car brings new meaning to my life, it makes the mundane seem like an adventure. Errands I once dreaded are now the highlight of my day.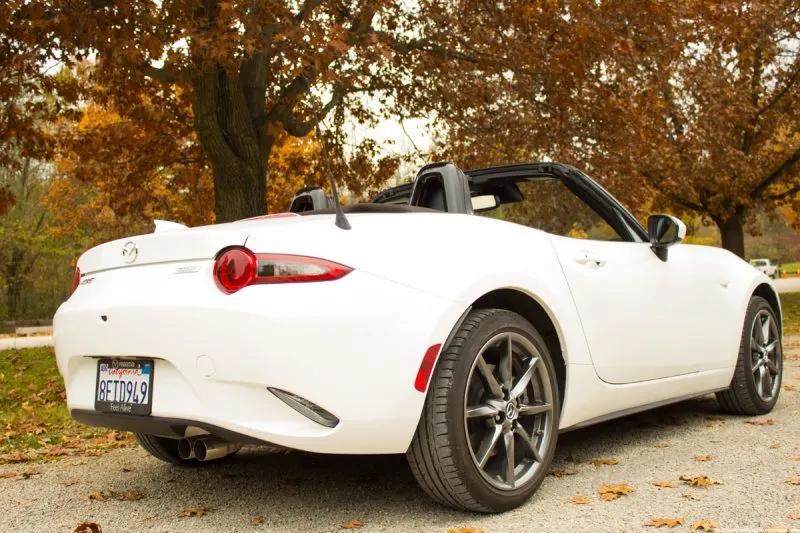 Making something extraordinary out of something so ordinary is what the Mazda MX-5 does best, it ignites a passion for driving that can only be sparked by a lightweight sportscar named Priscilla.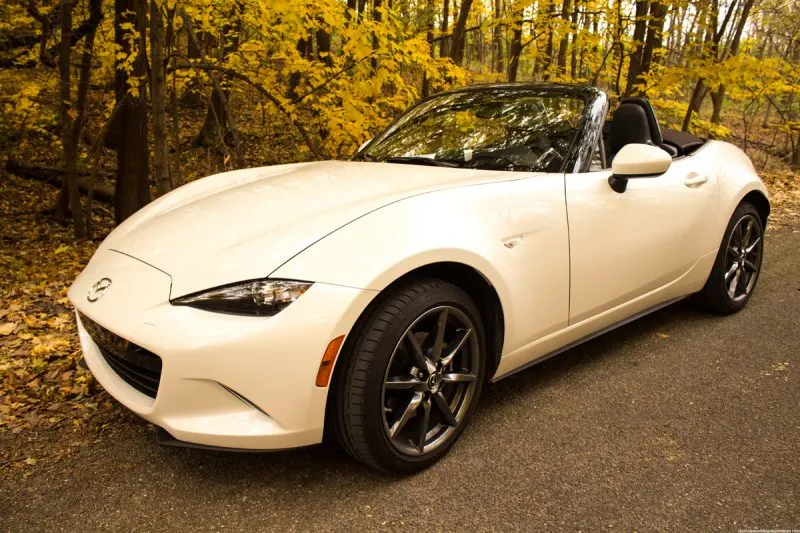 Imagine enjoying all of the mundane things in life, instead of dreading them. Think about how much happier life would be for everyone if each day was full of lots of little adventures rather than chores.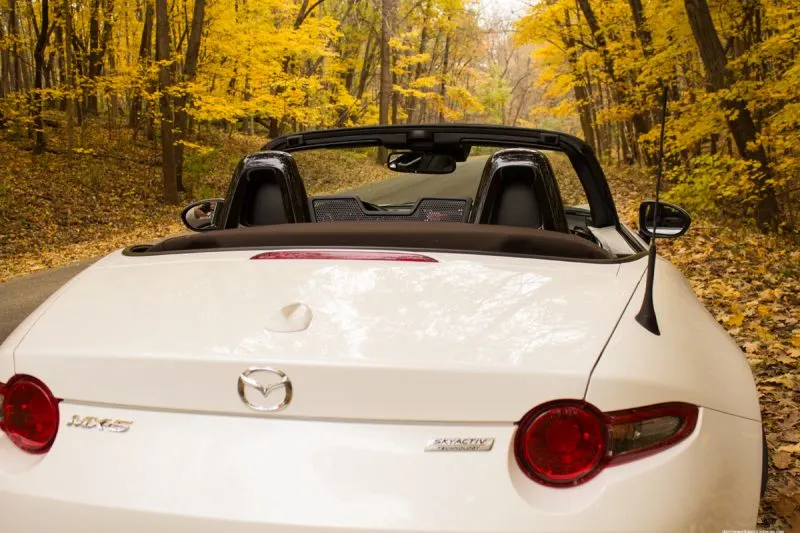 Sitting in traffic becomes a bridge between accelerating and shifting, something to look forward to, the next adventure.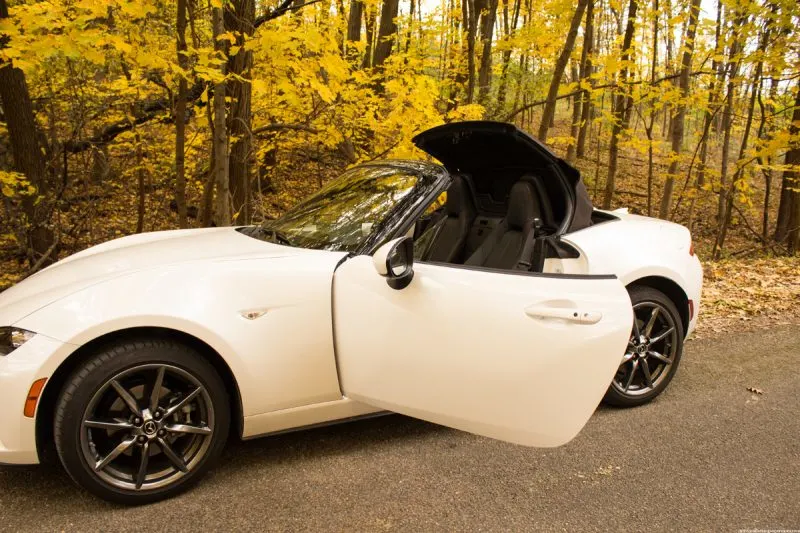 The afternoon sun beating down now means that it's time to pop the soft top open and enjoy the open road. Driving to work in the morning becomes something you look forward to rather than something you would dread.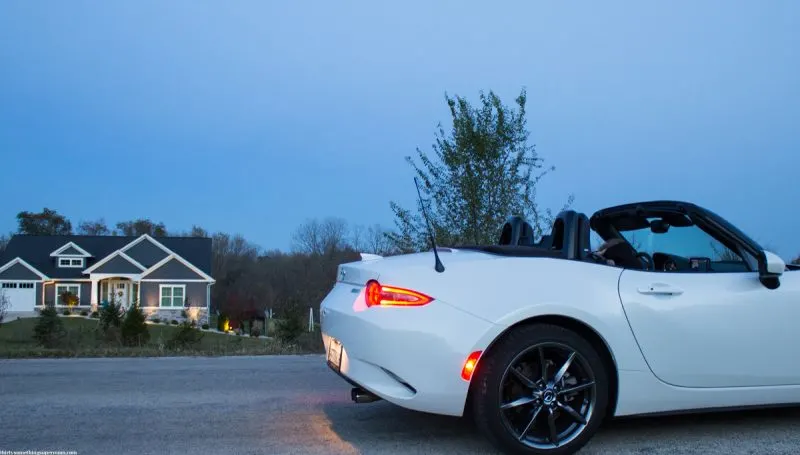 Driving home at the end of the day and parking your car becomes more like pressing the pause button on fun.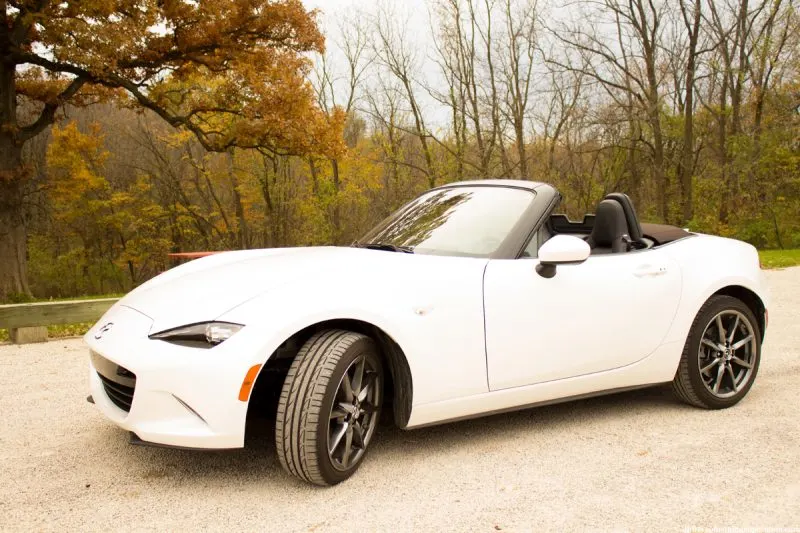 Slowing down and enjoying the little things in life has never been easier than taking in the sights from the driver's seat of the new Mazda MX-5 Miata.