This post sharing the best pens for bullet journal lovers contains affiliate links which means that if you make a purchase, I will receive a small commission at no additional cost to you.
When buying supplies for bullet journaling, it can be hard to find the best ones that won't bleed through the pages. Plus, there are so many pens to choose from when on the search for the perfect pen. The best pens for bullet journalers will be high-quality pens that feel comfortable in their hand and will ultimately become their favorite pen to use.
I have always been a fan of ballpoint pens but when I started bullet journaling I wanted a wide range of colors that will last a long time. This has put me on a journey to find the best pens for bullet journaling despite what my personal preferences were.
I knew I wanted a good pen that came in a variety of colors but with so many new pens available I struggled to find the right pens. So I am sharing my favorites for beautifying those journal pages.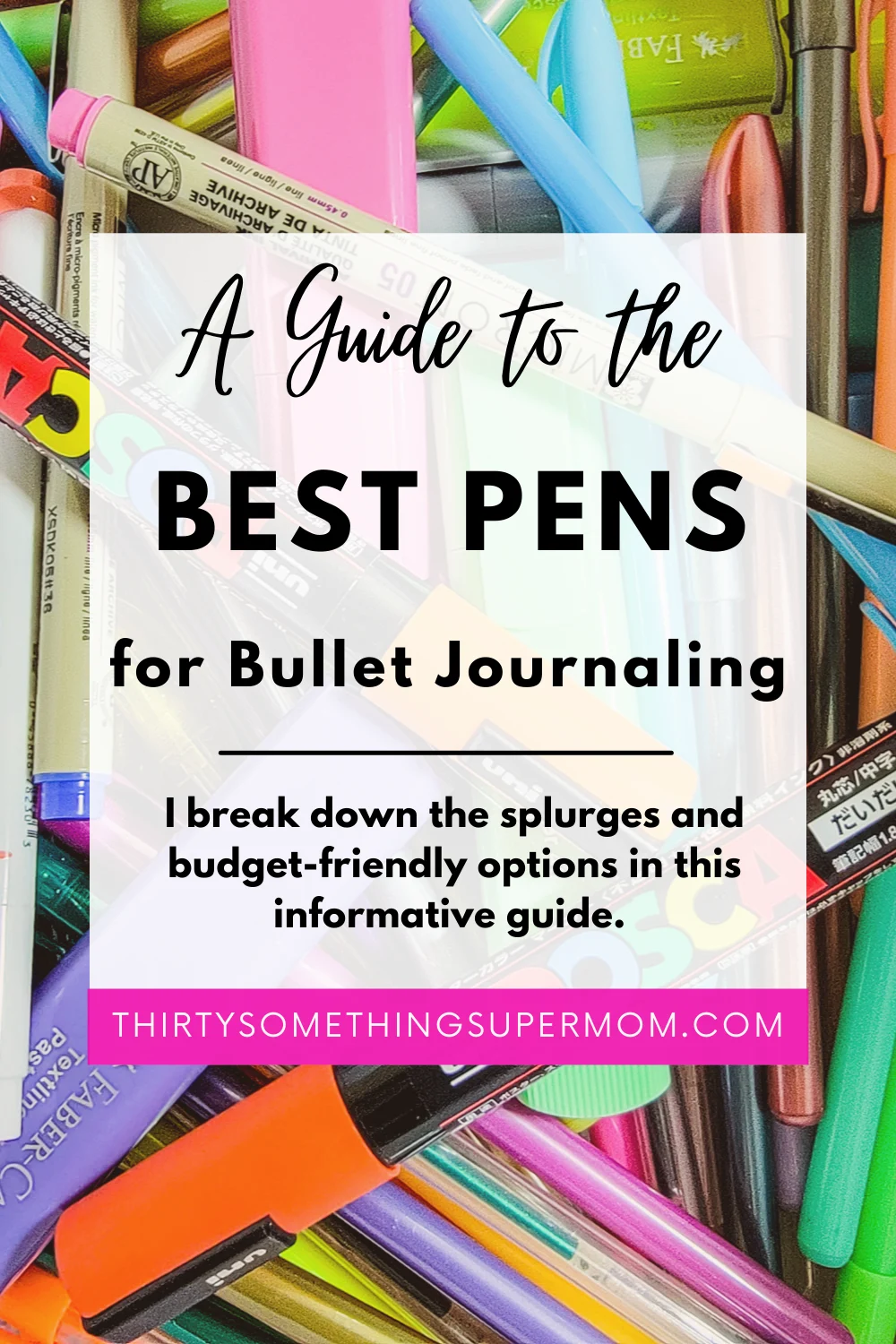 Finding the Best Bullet Journal Pens
I love to doodle and spend the evening drawing in my bullet journal while watching a bad movie with my daughter. This has become a tradition for us and I really like the time bonding with her. We like to watch incredibly bad movies and talk over them with our own silly banter. We even started a fun journal that we both get to doodle and write in.
This is a great gift idea or a fun way for you to connect with your kids that they will be able to keep forever.
I have learned quite a bit about bullet journaling and art supplies from my daughter. She demands the best supplies and her work speaks to their necessity because she is a very talented artist.
Her portraits amaze me and her bullet journal is by far the cutest one I have ever seen. With that said, I am old school and usually grab the cheapest pens I can find for all of my writing.
I used to stock up during back-to-school sales time and get those cheap ball point pens that come 30 to a box for less than a buck. These are nice for shopping lists and taking a quick note but these days I will not put them anywhere near my bullet journal.
So, I decided to share some of our favorite pens to use when bullet journaling and doing our best impression of Mystery Science Theatre 3000.
Colorful Pens for Bullet Journal
Not only is this a steal but I have found the SAKURA Gelly Roll Metallic Gel Pen to flow smoothly while not bleeding through the pages. Another option is the pilot frixion pens.
They offer a different variety of colors and are some of the most comfortable pens I have ever used. This is really important for me when bullet journaling because my hand tends to cramp when doodling for hours.
Sometimes my hand cramps as soon as I begin but I enjoy creating beautiful pages in my bullet journal so much that I just deal with the discomfort. I have learned that it helps to have a good comfortable pen that sits nicely in your hand.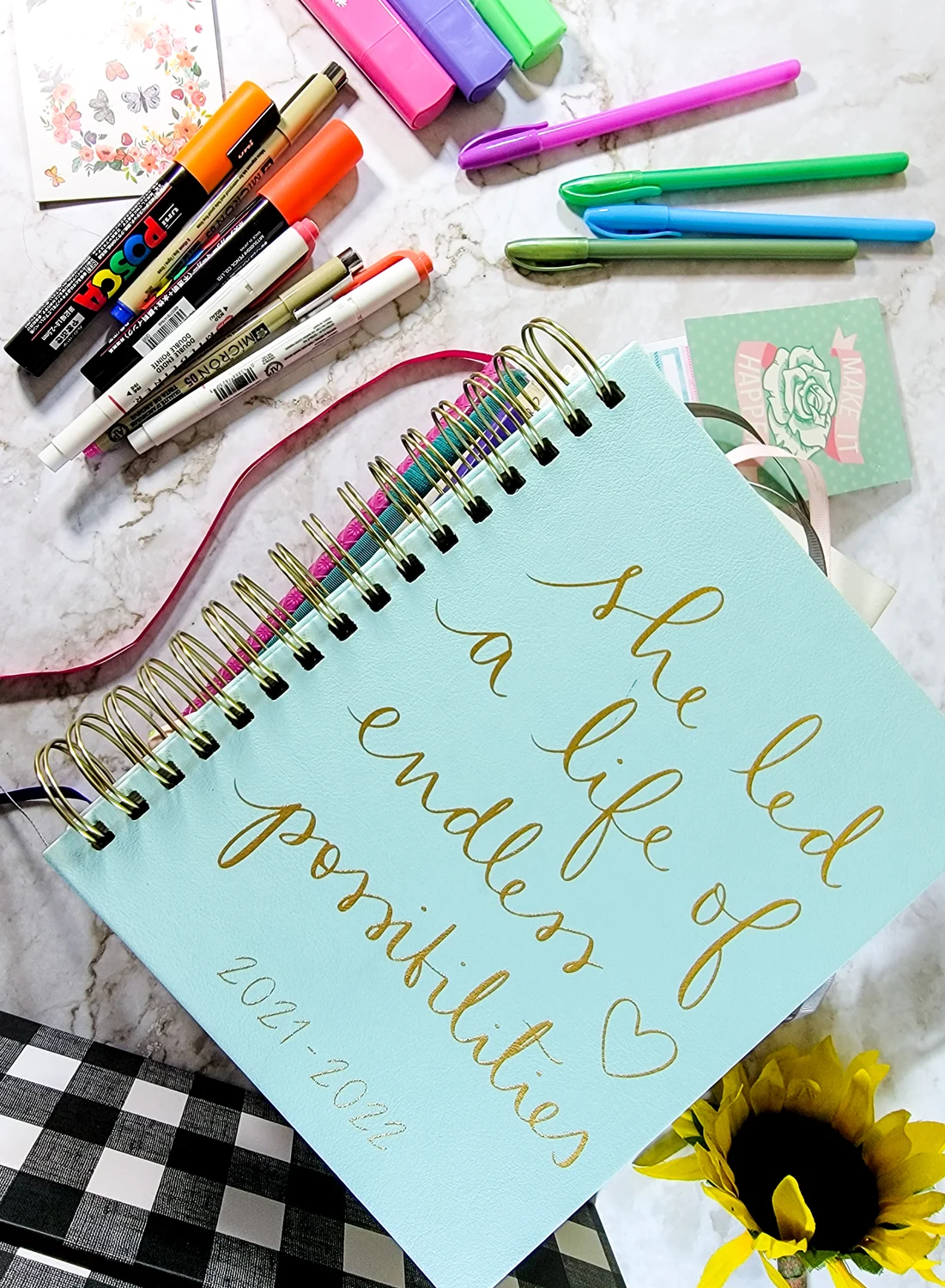 Paint Pens
If you want highly durable highly pigmented paint pens, Posca Paint Paints are the ones to get. These are the only paint pens that my daughter will use because they deliver on all of her must-haves in a paint pen.
These make quick work of filling in big spaces and adding vibrant colors to the pages of your journal.
In an attempt to save money I picked up these paint pens and I was really happy with them although I must admit they did not last as long as the Posca brand. This is a great one for beginners and those who use a lot of colors because you will save quite a bit by buying off-brand on this item when using it daily.
Fine Liners
When making fine lines, these Fineliner Pens are a great option. You can select different colors and buy them individually if you aren't quite ready to stock up.
When you want a variety of vibrant colors that dry fast, the staedtler triplus fineliners are a great choice.
These pens are titled fine liners for good reason because they are perfect for the fine details and fine lines. Although they can be pricey when purchased individually, the good news is that you can buy a set of pens and save a little money.
When I want a variety of colors and to save a little money by purchasing a set, I would go with the STABILO Point 88 Fineliner Pens.
These staedtler fineliners come in a 42 color assortment and are packed in a book-style case for easy storage.
Highlighting with Various Colors
I like the Zebra Pen Mildliner for assorted colors and a variety of my highlighting needs.
Sharpie Art Pens with a Fine Point is my favorite Sharpie Pen for hand lettering. You can add a pop of color to any bullet journal entry without a ton of color pens.
This is ideal for bullet journaling on the go which I often find myself doing on road trips. I find it is safer to use highlighters when traveling at high speeds with my husband driving. Less chance of me grabbing on for dear life and accidentally pouring ink all over my car seats.
You can get a highlighter on your seats if your spouse is an aggressive enough driver but it is much easier to get out of the fabric.
My husband isn't that crazy of a driver for the record, I think I am just an anxious passenger. It can be difficult to focus on my bullet journal when we are darting in and out of traffic.
Most of my time is spent looking up and behind us, then at his speed, just to make sure everything is going smoothly. I have been known to create silly little graphs in my bullet journal of every sharp turn we take or make note of the times I notice he is speeding.
Unfortunately with that kind of evidence laying around, I would have to eat the pages to dispose of that in the event that he was to get pulled over. Be sure to stay tuned for my next post listing the best water-soluble bullet journals for road trips.
Fountain Pens for Bullet Journaling
Some bullet journal enthusiasts enjoy using fountain pens for brush lettering. The Pilot Metropolitan Fountain Pen works great for journal entries and is really comfortable to hold. It can be hard to find a good deal on a great fountain pen but the Waterman Graduate Allure Fountain Pen delivers both quality and budget-friendly at the same time.
I have always enjoyed getting creative with fountain pens and this is especially true when writing lists in my bullet journal.
Tips for Choosing Fountain Pens
Select your fountain pens based on the following criteria.
Dual Brush Pens
I love a good dual brush pen, it makes storage easier and these Tombow 56187 Dual Brush Pen Art Marker come in a variety of colors. I am also a big fan of the Tombow Fudenosuke Brush Pen Another dual-tip pen purchase that I made was this pen set is because it offers a variety of bright colors and has a fine tip.
Sometimes dual brush pens are the best brush pens because you are getting two for the price of one. Well, that isn't exactly true when using a lot of ink but when you want different colors on your planner pages, this is an excellent choice. You will have lots of bold colors without having to purchase a bunch of different pens.
Best Black Pens for Bullet Journals
If you are looking for the best bullet journal pens in black ink, there are many options. They come in a wide variety of tip sizes and are a great way to make bold lines. The sakura pigma micron pens offer smooth writing and they are a great choice but kind of pricey. I like the ink flow and the brush tip but I wish they were offered at a more affordable price. While I usually keep some on hand, I find myself not using them as often because I want them to last.
It's always a good idea to have a quality pen but you may be surprised by how much you enjoy a cheaper option like the Sharpie Art Pens.
They have a fine point tip and offer a variety of vibrant colors. They are a great choice for stocking up on bold colors and saving money compared to the sakura micron pen set for almost double the price.
The Pilot G2 Premium Refillable & Retractable Rolling Ball Gel Pens is what I use most of the time when bullet journaling. These pens are perfect for writing lists and jotting down quick notes to finish later.
Colored Pencils for Bullet Journaling
When adding shadows or shading I have found the Prisma colored pencils to work great. This is a brand that my daughter has always loved so she has always had a good supply. I try not to use up her more pricey tools but since we are bullet journaling together I try to replenish her supply when I use it.
I like to use the bargain brands and save when I can for more of my journaling so the ones I use most often are a better deal in my opinion. If you are looking for a great deal on a variety of colored pencils these Arteza Colored Pencils are your best bet.
Like many people, I have been using colored pencils since I was a kid. Until recently, I had no idea that the cheapos I was using were of lesser quality. I really thought the ones you pick up in the back-to-school department were the only option for colored pencils until my daughter let me use hers.
After seeing them in action, I was blown away by how smoothly they write and how much better they were made. So I upgraded my supply and use a mixture of the two listed above.
Best Bullet Journals
Like many bullet journal enthusiasts, I have purchased quite a few bullet journals over the years. This has given me the opportunity to try the cheapest ones as well as the heavily overpriced journals. Each one with its own bragging points and problems. The Vivid Scribbles Dotted Journal has a beautiful cover and is filled with premium paper that will not bleed.
I really wanted a spiral bullet journal to keep track of my plants and this bullet journal was perfect. The cover design was exactly what I wanted and it came with stickers for an unbelievable price.
We tried a bullet journal kit that came with everything we could need to decorate including stickers, fineliner colored pens, stencils, and washi tape. This made storage a bit of a problem for me but I quickly found the perfect solution. This journal case holds a ton of supplies and is perfect for any B5 Planner.
Bullet Journal Embellishments
I like to decorate my bullet journal with lots of stickers and Washi Tape. It really adds a pop of color with little work on my part and sometimes that is the only way I can get motivated. I find that whenever I have a creative block and can not decide on a layout, adding stickers and washi tape gets the ideas flowing.
A little lace tape and a bit of these green leaf foliage stickers can quickly become a full-page floral display. Add a vintage look with these bullet journal stickers and craft paper.
When adding photos or other keepsakes to your bullet journal using these adhesives is the perfect way to keep them where they belong without making a big mess.
Where to Get the Best Bullet Journal Supplies Cheap
There are many discount stores that carry supplies that are perfect for bullet journaling. You don't always have to drop a ton of money on supplies to get the best. Sometimes you will stumble upon an awesome deal at the dollar store or almost dollar stores like Five Below.
We recently picked up a pack of their fineliners for less than 4 bucks and even my daughter was impressed with the quality. I can not say how long they will last but at this point, we are regretting stocking up on the more expensive brand earlier this week.
The golden rule when it comes to bullet journaling supplies is to find what works best for you. When purchasing supplies keep your budget in mind but don't let that stop you from buying high quality items that will pay themselves off in the long run.
A little extra money upfront may prevent you from having to replenish your supply so quickly. If this is a hobby that you plan on keeping for a long time, let yourself splurge and see which items are worth the extra cost and which you would rather not splurge on.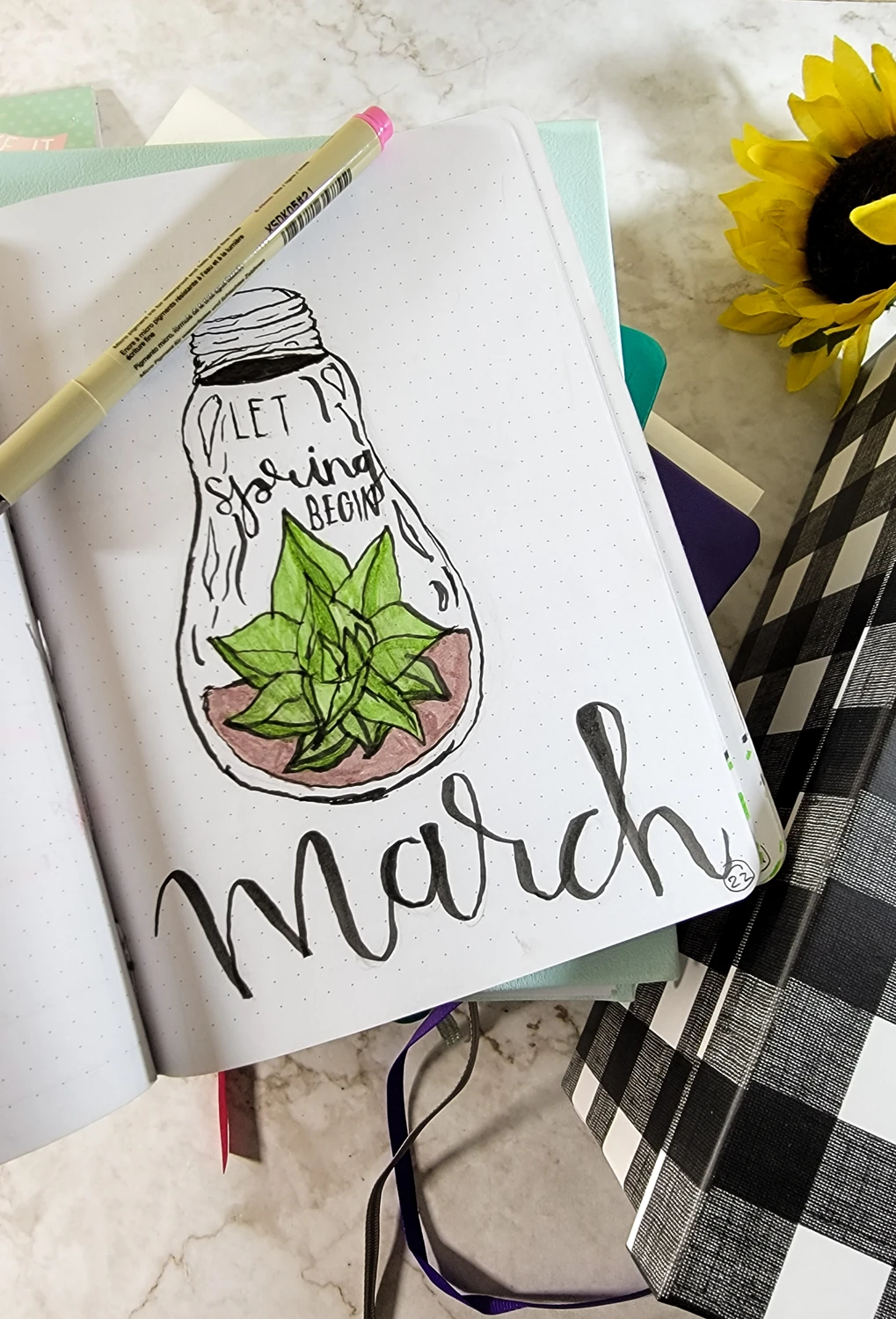 Have Fun Journaling
The most important thing to remember when bullet journaling is to have fun. I have found with a good stock of supplies and a bad movie, it's impossible to have a bad time. Start bullet journaling with your kids or grab a friend and watch a silly movie while journaling.
This is the fun hobby you didn't even know you needed but once you begin, you will become addicted.
There is nothing wrong with that. This hobby is a great way to stay organized and jot down your upcoming plans. Plus, it is a fun creative outlet that you can enjoy for many years. I plan on saving all of my bullet journals to give to my daughter along with my closet full of diaries from childhood. It can be really helpful to look back at certain dates and see what was going on in my life during that time.
Plus I put a lot of time and work into my journals so I like to keep them for inspiration. Sometimes I look back at previous years to get bucket list ideas and see which ones I haven't marked off yet.
I hope these tips help you find the Best Pens for Bullet Journaling. Don't forget to sign up for the free newsletter and follow along on social media so that you never miss a post again.
Share this post on your favorite social media channel to save it for later and it will remind your friends that these are the gifts you want to receive when the holidays roll around.