Who doesn't love doughnuts? I have always wanted to make my own but I used to think you needed a bunch of expensive supplies to make a good one so I never attempted it until now.
I am so glad I did try making them because it turns out that I make doughnuts like a boss! This post contains affiliate links.
It turns out that making doughnuts is a lot like making cookies and much easier to do than I originally thought.
You just whip up the ingredients in a mixer adding each item slowly to make sure you don't create a cloud of flour all over the kitchen. I have done that a few times and it is such a pain in the uterus to clean up.
I found a shield, that you can pop onto the kitchenaid that keeps this from happening but I would rather add the ingredients slowly than drop the dough on that attachment.
See what I did there?
My daughter always laughs at my puns so I use them a lot and they just come naturally to me now no matter how corny they sound I always giggle because of her and I plan on continuing this behavior, so deal with it! We could all use a little light humor once in awhile, life gets pretty intense sometimes, laugh while you can.
After you are done mixing the dough, on a flour covered work area, form the dough into a ball. The dough will be really sticky so you will want to have plenty of flour easily accessible.
Or you could ignore my suggestion fumble around your kitchen with chocolate covered hands trying to get the flour out when you realise you don't have enough.
Using the palm of your hand press the dough into a circle while leaving a thick edge, try to be as uniform in the size as possible to prevent over or under cooking of the whole batch.
Once you have a good shape, cut out a small circle in the middle. If you have cookie cutters go ahead and make them into any shape you want. These puzzle piece shapes (click here to see the cookie cutter on Amazon) would be fun to try out.
I don't have any fancy cookie cutters for cutting out the center so I improvised by using a cap from a water bottle. I am way too cheap to buy something specifically for making doughnuts and this method works great.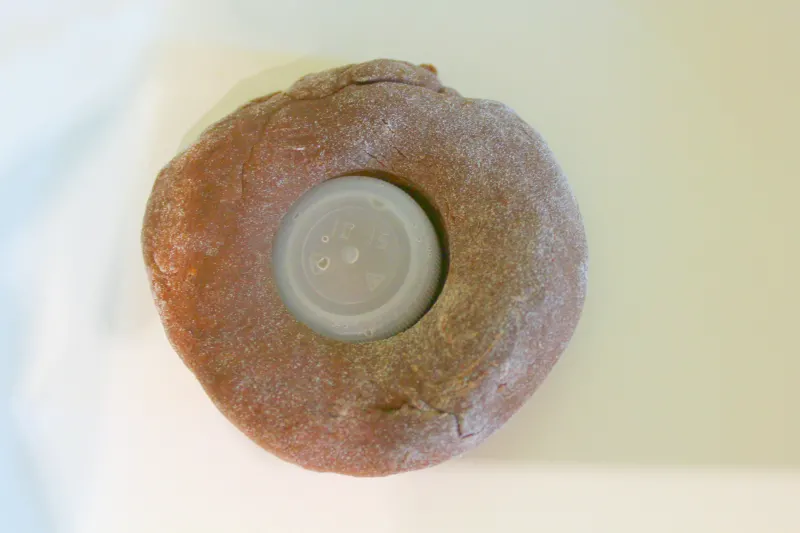 Once you have all 12 of your doughnuts formed and the center circle cut out, deep fry them for a couple of minutes.
I cook about 3 doughnuts at a time to make sure they don't touch. You want to keep them separated just like the song by Offspring says which was stuck in my head for most of the 90's.
Once they are done frying, let them cool completely on a napkin to absorb the extra oil. Then place them on a plate for frosting.
They are most delicious in my opinion when refrigerated or if you like your doughnuts hot, enjoy them right out of the fryer but keep in mind that the frosting is going to melt which sounds delicious so I plan on trying this method soon.
You can give it the old Martha Stewart try but I wanted doughnuts immediately so I the last thing I was going to do was spend more time making them look pretty, I wanted to eat them!
Just plop some frosting on them bad boys and take a bite! Stop stressing about them looking perfect and live your life already, eat a freaking doughnut!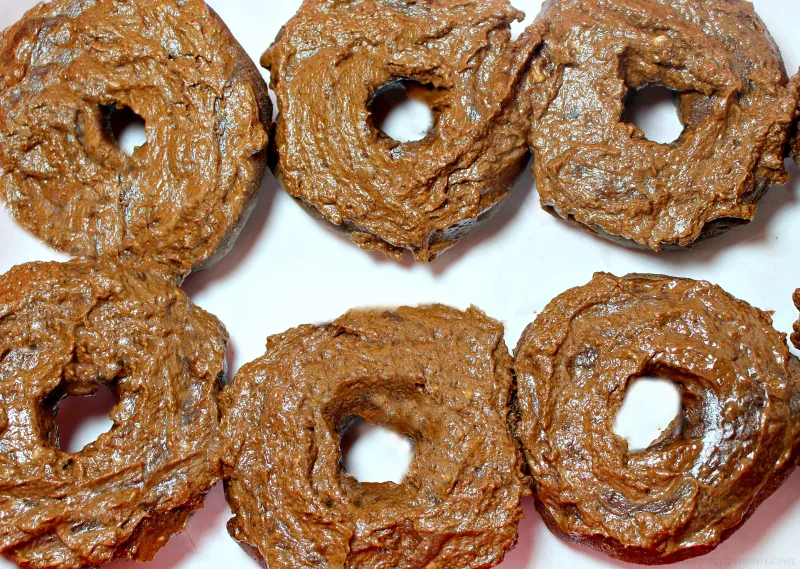 This recipe makes 1 dozen doughnuts and they keep well when refrigerated in an airtight container for about 1 week.
You may get more time out of them but they weren't around long enough in my house to find out how long they would taste fresh.
Now that I know how easy it is to make homemade doughnuts I am going to create all kinds of fun flavors. What kind of doughnut do you think I should make next? If it turns out delicious enough, you may see it on the blog soon!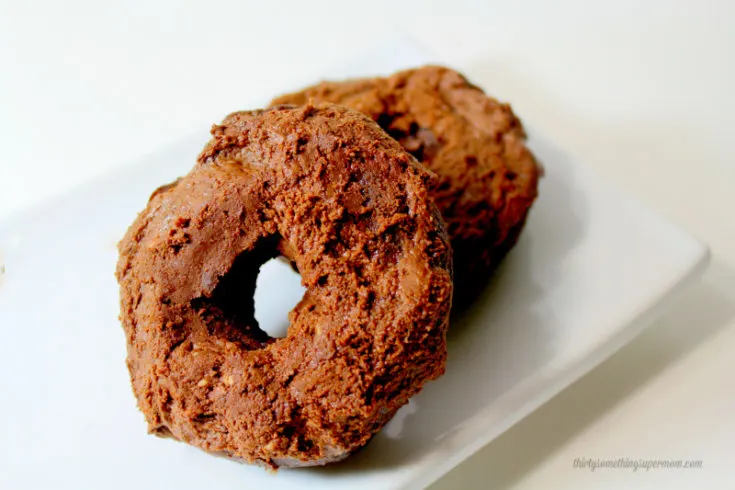 Easy Chocolate Covered Chocolate Doughnuts
Ingredients
Chocolate Doughnut Recipe
1 and 1/2 Cups of All Purpose Flour (you will need more for work surface)
1/2 Cup of Sugar
1 Cup of Cocoa Powder
1 Dash of Salt
1 Teaspoon of Baking Soda
1/2 Cup of Milk
3 Eggs
4 Tablespoons of Butter
2 Teaspoons of White Vinegar
1 Tablespoon of Vanilla Extract
Chocolate Frosting Recipe
1 Stick of Butter
1/2 Cup of cocoa
1 Cup Powdered Sugar
3 Tablespoons of Milk
2 Tablespoons of Vanilla Extract
The amount of oil needed will depend on the size of your deep fryer. I add oil until there is about 2 inches of it in the fryer.
Instructions
Preheat a deep fryer to 400 degrees
To make the doughnuts you will need to whisk the eggs for about one minute then add sugar, melted butter, wet ingredients and then all of the dry ingredients. Add the dry ingredients slowly.
Flour a work surface with about a 1/2 of a cup of flour. You may need to add a little to your hands when attempting to remove the dough from your mixer before forming them into balls.
Roll the dough into a ball and then press down firmly with the palm of your hand to form the circle. Use a bottle top to cut out a circle in the center or use an actual tool you may have for this process, my parents aren't royalty so I learned to be a little more resourceful with what I had. Anyway, cut out the hole and add it back to the dough. Continue this process until all 12 doughnuts are formed and on the last one use the remaining dough to test the oil. Pop that sucker in the hot oil for a couple of minutes and take a bite once it cools off a little bit. If it is perfectly cooked through you will know your oil is ready. Fry for about 2 minutes flipping halfway through cooking. Test the doughnut and if it is crispy on the outside and cooked through the center, they are ready!
To Make the Frosting
Whip all of the ingredients together in a mixer and you have yourself one easy peasy frosting that is fantastic on anything! I use it to frost cakes, brownies, cupcakes, and now doughnuts! It is so yummy!
Spread it on cooled doughnuts and enjoy!
Nutrition Information
Amount Per Serving
Calories

581
Total Fat

21g
Carbohydrates

88g
Protein

12g