Thanksgiving means something different to everyone but the food is usually the focus each year. That's why serving Gluten-Free Thanksgiving Recipes is a great idea.
I remember a couple of years ago heading out to Terre Haute, Indiana to spend Thanksgiving at my dad's house. That sticks out in my Thanksgiving memory bank because I was on the Specific Carbohydrate Diet due to my recent diagnosis of Ulcerative Colitis and was not really able to eat anything that was prepared.
Apparently traditional Thanksgiving food is not exactly the definition of health so that has inspired me to compile a list of delicious yet Gluten-Free Thanksgiving Recipes that everyone can enjoy!
When you have a houseful of people over for dinner, it can be hard to make a special dish for everyone.
That's why creating gluten-free Thanksgiving recipes is a great idea!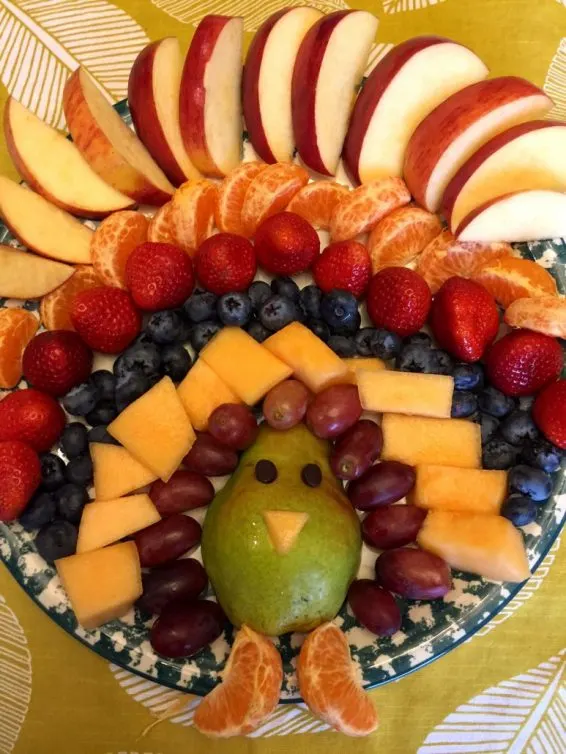 This Thanksgiving Turkey Fruit Tray will be a crowd pleaser and most diets allow fruit so it seems like a safe snack to have out for your Thanksgiving guests to enjoy.
Another thing to keep in mind when preparing Thanksgiving foods is simplicity.
You will have everyone and their mother trying to strong-arm their way into your kitchen so if you are like me and try to avoid letting people who are known for not washing their hands regularly into your kitchen, stick with a quick dish like this Fast and Easy Creamed Spinach.
This way you can say no thank you to the dirty-handed kitchen invaders with confidence!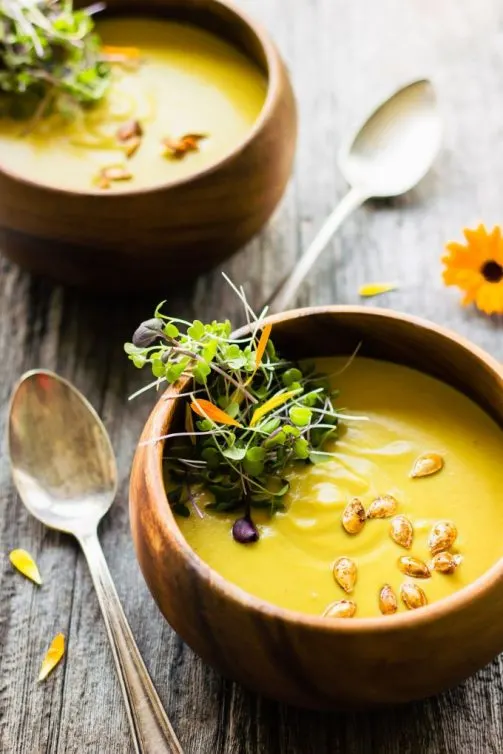 Another way to get people out of your kitchen to serve an appetizer that requires them to sit down at the table like this Curried Acorn Squash Cream Soup.
Serve it to your guests and slip out of the room unnoticed so you can get back to cooking in peace, this should allow you at least another 15 minutes of avoiding small talk.
Another prompt for those happy helpers is the clean up after dinner.
If you serve a delicious dessert like this Vegan Pumpkin Pie, they will be so busy stuffing their faces after the meal that you can load your own dishwasher, the right way.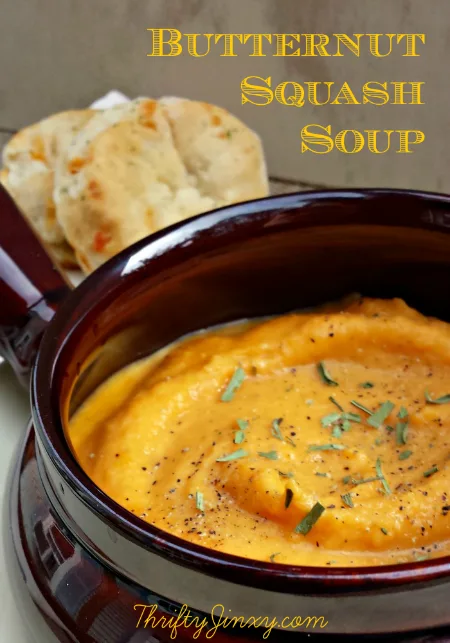 Another delicious soup to serve on Thanksgiving is this Butternut Squash Soup, it not only sounds delicious but looks so good, too!
If you have a large family coming over with lots of kids who for some ungodly reason want to make as much noise as possible while trying to destroy your house in one afternoon, make plenty of this White Chocolate Cranberry Fudge.
A lot of people think avoiding sugar is the best way to get these kids to behave but I call BS on that, give them an unlimited supply.
Their parents won't know because they are too busy trying their best not to watch their kids and eventually the sugar crash will happen.
You will now be able to plop them on a couch with the Thanksgiving Day Parade and get back to those little house destroyers not being your problem again… Ah finally something to be grateful for!
Gluten-Free Thanksgiving Side Dishes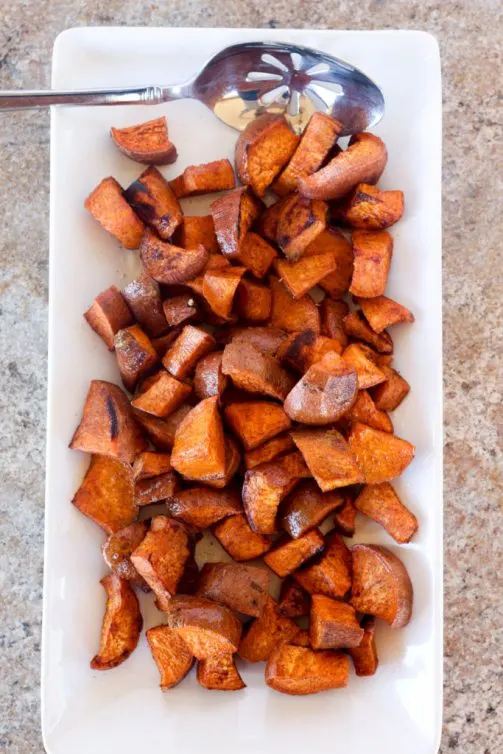 If you are feeling bad about contributing to the diabetes diagnosis that is in their future, don't sweat it.
Cinnamon is a natural way to reduce glucose levels so serve up this Cinnamon Maple Roasted Sweet Potatoes and clear your conscience. This is one of the best gluten-free thanksgiving sides in my opinion.
Of course, bacon makes everything better so adding it to your menu will make your gluten-free thanksgiving dinner even better.
You can even add it to Brussel sprouts and I bet more people will reach for it than usual because just the words Brussell sprouts bring out a negative reaction in people but if you serve Bacon Wrapped Brussell Sprouts with Balsamic Mayo Dip, your guests will actually give it a try and probably love it!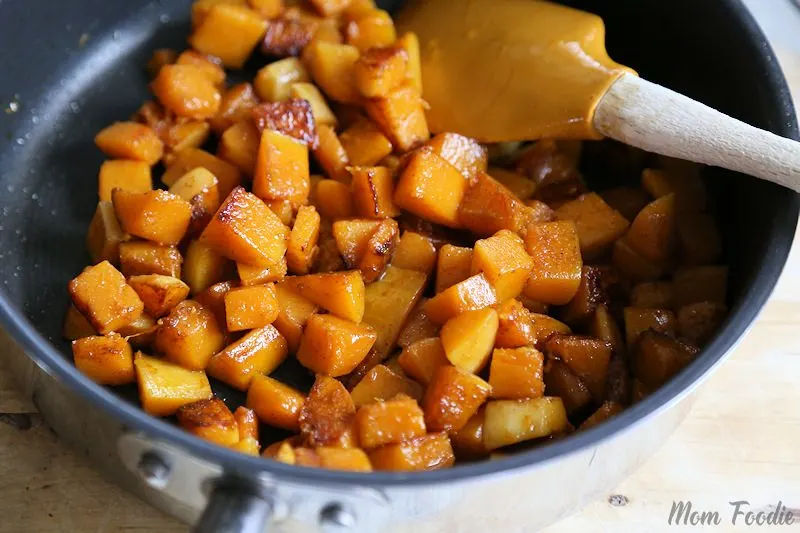 If you want to serve something that sounds cool, you have to make this Pan-Fried Butternut Squash with Garam Masala, plus it really looks tasty! That ought to shut up the people who always have to say something about how someone else cooked some amazing meal that you obviously are not good enough to cook for whatever reason.
You know the type, the people who never actually host Thanksgiving at their house but they always have something to say about the free meal you prepare for them.
There is one part of Thanksgiving that you don't want to mess up despite that nagging voice in the back of your head that tells you to just serve these ungrateful people crappy food so they don't come back. The turkey!
Well, traditionally that is the most important part of the Thanksgiving meal but these days there are so many people who go out of their way to be different that this may not be the case anymore.
The main meal is probably a bowl of twigs or something that identifies as a bowl of twigs or whatever but this Roasted Turkey recipe will be a hit no matter how many easily offended people show up at your home.
This recipe has both the fancy title and bacon, you can't go wrong with this Bacon Wrapped Asparagus with Lemon Balsamic Reduction recipe.
Another Thanksgiving staple is the stuffing but most recipes are packed with grains that a lot of us cannot tolerate in our diet so try this Grain-Free Stuffing and please everyone at your home this Thanksgiving.
Another twist on a traditional side dish is this Mashed Sweet Potatoes with Goat Cheese and Honey Walnuts and boy does it look good!
I love the looks of this Oven Roasted Butternut Squash & Brussel Sprout Salad!
More Gluten-Free Thanksgiving Desserts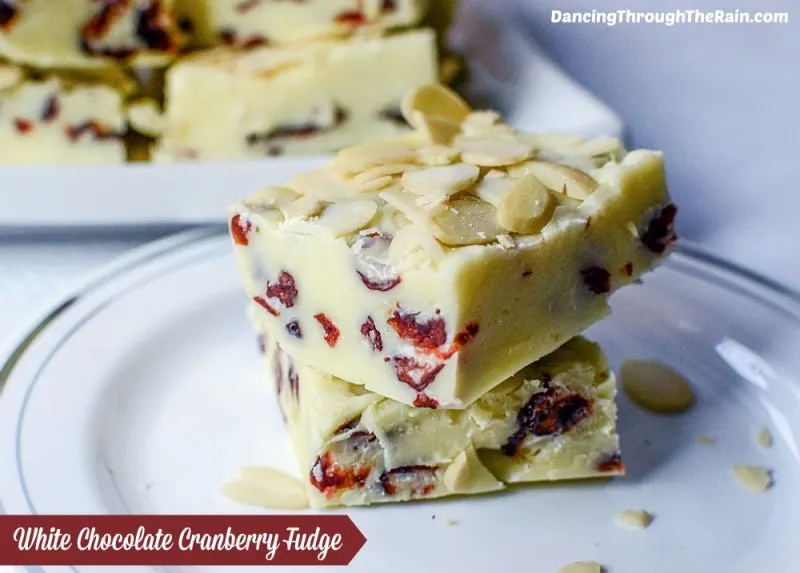 After doing all of this work, you deserve a gluten-free treat, enjoy this White Chocolate Cranberry Fudge and relax knowing that it will be another year before your house will resemble a three-ring circus again.
Ahh, something else to be grateful for!
One more quick way to make Thanksgiving easier is to use your crockpot or slow cooker, whatever you call it. This SCD Crockpot Apple Cobbler is like having someone helping out in your kitchen without having to actually have someone in your kitchen.
Just dump your ingredients in and let it do the rest of the work, plus it makes your house smell amazing!
All kidding aside, Thanksgiving is a great time to get everyone together, no matter how much they get on your nerves.
I have learned to enjoy my family while they are still here and with Covid-19 things are going to look a bit different this year. Although it is still a great time to reflect on the things we are grateful for and the perfect time to appreciate the family we have.
Have your thanksgiving plans been impacted by Covid-19? Will you be serving Gluten-Free Thanksgiving Recipes this year?