This post sharing tips for creating a functional home office work outroom contains affiliate links which means that if you click a link and make a purchase, I receive a small portion of the sale at no additional cost to you. I have received a Total Gym Fit to facilitate my post. All opinions are my own.
My home office has accumulated a lot of stuff over the years and it has been difficult to keep things running smoothly at times due to the clutter.
In order to run a home business, I need a lot of supplies but I have learned that keeping things organized is the only way to stay productive.
One thing I have never had an abundance of is space but that hasn't stopped me from turning my cluttered office into a functional office and workout room combined.
Get Rid of Excess
While I may have an unhealthy attachment to some of my things, I have learned a few tricks for purging my cluttered space that anyone can use in their home office.
One way I have learned to part with things that I feel a special connection with but just don't have the space to store is to take a picture.
I was stockpiling notes and drawings from my daughter's childhood to the point where I had 6 shoe boxes full, so I spread them out on the floor and snapped a photo.
Now I can keep them forever, in the cloud and in a photo album, it has saved me a ton of space.
Get Organized
Use baskets and shelving to help keep like items together. Labeling each basket and sorting through its contents regularly is the best way to keep things tidy.
Creating a space for everything will make it easier to keep up with clutter and help to keep your home office organized.
Getting creative with your space by making some items work overtime, will help you to cut down on clutter. For example, I store my wrapping paper, contact paper, and photography backgrounds on an upside-down stool.
This storage method allows me to not only stay organized, and keep things within reach for ease of access but also allows me to keep a stool that would have otherwise been in the way when not in use.
Create A Command Center for Your Home Office Workout Room
Making use of vertical space by creating a command center is a great way to have more floor space for workout equipment and other office necessities.
Hanging dry-erase boards on the wall to keep track of workouts and to-do lists will help keep you organized and on track with your health plans.
Using a dry-erase calendar to plan ahead as well as keep track of workout goals can help motivate you for future workouts and keep your home office running smoothly.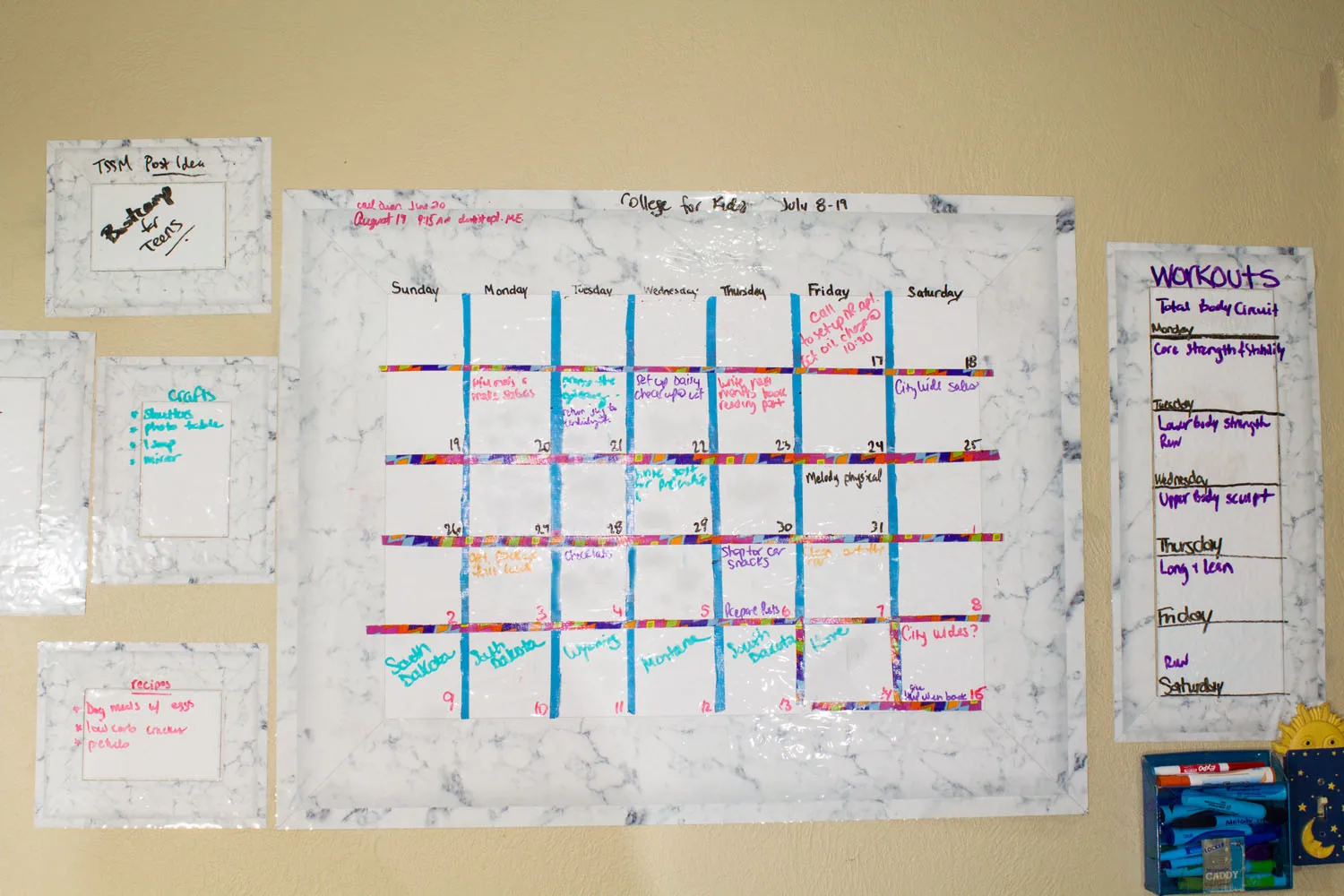 Select the Right Equipment for Your Home Office Workout Room
Choosing the right workout equipment is essential to a functional home office and workout room. Selecting a multi-functional, all-in-one machine makes the most sense.
The Total Gym Fit is like having a gym full of equipment all in one 1 machine. It folds up easily for out-of-the-way storage, allowing you to maximize your home office when not in use.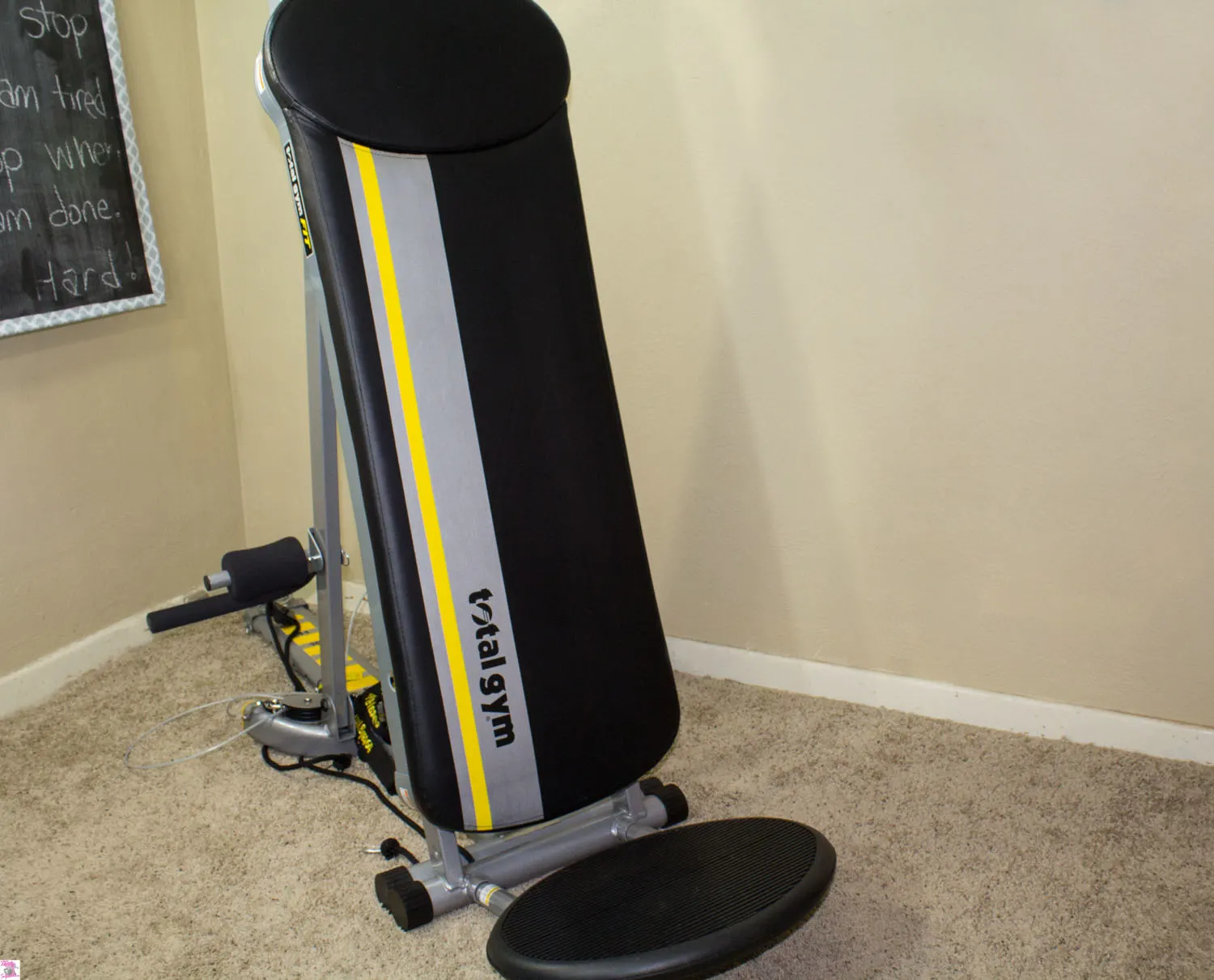 One of my favorite exercises using the Total Gym Fit is the incline crunch. My muscles really feel the burn so I know I am getting a good workout and I like the security of using the wing attachment to keep me in place.
I get a deep stretch whenever I get into position for this workout and I can feel it working right away.
Another favorite workout using the Total Gym Fit is the Trunk Rotation. Using the glide board to sit sideways and glide myself in and out of this workout makes the motion smooth.
I really enjoy the different positions and workouts that the Total Gym Fit makes possible because I can feel the burn, knowing that I have been neglecting these areas in the past.
Even when I had a full gym with no space for an office, I knew I wasn't getting a workout like I am now.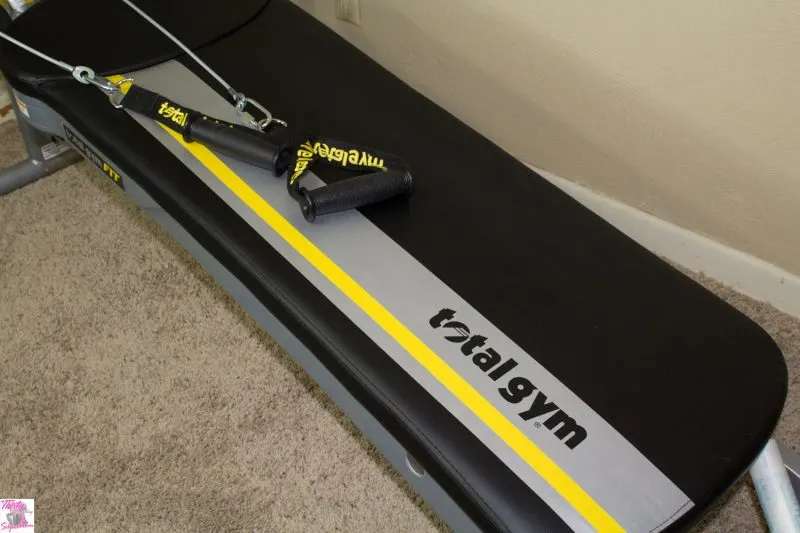 No need for several machines, Total Gym Fit has 85 exercises all on one piece of equipment. Whether it's leg day, arm day, or time to do those crunches, the Total Gym has you covered.
With a quick change from one exercise to another, this really is an all-in-one, easy-to-use home gym. This is the perfect way to make your functional office into a multifunctional space, perfect for getting your daily workout in.
More Tips for a Home Office Workout Room
Achieving a seamless blend between your home office and fitness haven calls for expert tactics. Here, we offer a set of unique tips to help you attain the ideal balance:
a. Multipurpose Marvels: Invest in furnishings and equipment that ingeniously serve both your professional and workout purposes. Think convertible desks that shift into treadmill workstations or ergonomic chairs that double as exercise balls, maximizing utility in minimal space.
b. Spatial Prowess: Strategically place your fitness gear to optimize the use of space and minimize disruptions during work hours. Select workout equipment that's easy to stow away when not in use, or consider wall-mounted options to reclaim valuable floor space.
c. Time-Sculpting: Create clear demarcations in your day by allocating specific blocks of time for work, fitness, and personal activities. This methodical scheduling ensures each facet receives dedicated attention and prevents them from overlapping.
d. Zonal Command: Designate distinct zones within your workspace – one for your professional duties, another for your fitness endeavors, and perhaps a transitional space. Employ design elements like area rugs or decorative screens to visually segregate these areas, fostering a mental boundary.
e. Sonic Harmony: To maintain a serene work environment, employ noise management techniques such as noise-canceling headphones or white noise machines. These tools shield you from distractions while ensuring the privacy you need for virtual meetings during workout breaks.
f. Organizational Mastery: Implement robust organizational systems to efficiently manage both your office essentials and exercise paraphernalia. Consider creative storage solutions like wall-mounted racks, floating shelves, or pegboards to keep everything tidy and within reach.
g. Embrace Nature and Light: Harness the power of natural light and the serenity of greenery. Position your desk or workout area near a window to bask in daylight's energy, and introduce indoor plants to purify the air and invigorate your surroundings.
h. Ritualistic Consistency: Cultivate a daily routine that seamlessly integrates work and fitness, ensuring each facet receives its due attention. This structured approach enables smooth transitions between tasks without feeling overwhelmed.
i. Virtual Fitness Hub: Embrace the world of virtual workouts. Participate in online fitness classes or enlist virtual personal trainers to tailor your workouts to your schedule and available space, eliminating the need for extensive gym equipment.
By applying these distinctive strategies, you'll master the art of harmonizing your home office and gym, resulting in a balanced, energized, and focused daily routine. This synergy enhances both your professional life and physical well-being, ensuring a healthier, more productive you.
Follow along on social media so you never miss another post, I share easy healthy recipes on all of my social channels, or sign up for the free newsletter so they get delivered right to your inbox.