This post sharing an easy low-carb raspberry muffins recipe contains affiliate links. If you make a purchase after clicking a link I will receive a small portion of the sale at no additional cost to you.
These low-carb raspberry muffins are a great snack, dessert, or breakfast muffin. Plus, they are such an easy low-carb recipe to make.
If you are familiar with my recipes then you already know that one of the most important things to me besides flavor, of course, is the simplicity of a recipe. I feel that eating a low-carb diet is hard enough without complicated recipes, so I like to make easy low-carb recipes whenever possible.
This low-carb raspberry muffin recipe is no exception, I can once again say that I prefer the easy keto version of this recipe over the traditional complicated version.
I wish there were more options at the grocery store for low-carb foods but I have found that most store-bought keto-friendly foods are really overpriced. Don't believe me? Check out these strawberry muffins or these blueberry muffins on Amazon. There is one example after another of overpriced foods when you search for low-carb muffins.
So despite my cravings at times, I would go muffinless because I just didn't have the time it would take to create healthy raspberry muffins.
But I am happy to say that after some experimenting in the kitchen, I have created a simple yet delicious low-carb muffin recipe.
Once you see how easy this recipe is to make, you will never go muffinless again.
After a large number of raspberries ripened at the same time I decided to start creating some raspberry recipes to use them all before they went bad.
My most recent creation was the low-carb raspberry creamsicles, they are such a delicious treat that wonderfully replaces traditional creamsicles.
Plus, being able to freeze them is a great way to use up a lot of raspberries at once.
I think I will try making a low-carb raspberry cobbler and some easy keto raspberry ice cream next.
Don't forget to sign up for the free newsletter so you don't miss those recipes and be sure to leave a comment letting me know what recipe you would like to see transformed into a low-carb or keto-friendly version.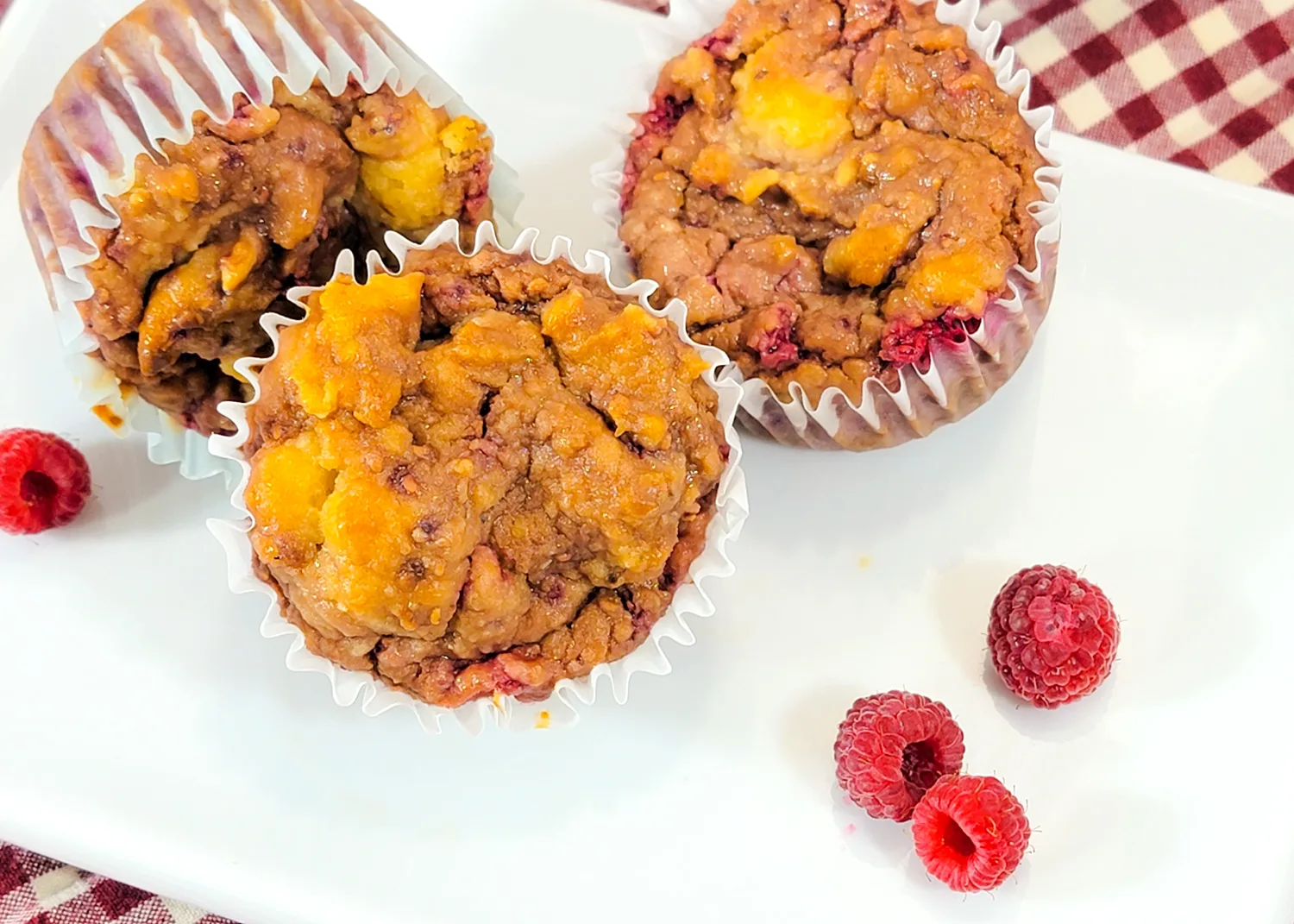 How to Make Low Carb Rasberry Muffins
This recipe uses almond flour, sour cream, fresh raspberries, stevia, baking powder, salt, cream cheese, lemon juice, and a bit of lemon zest.
Most of these recipes are staples of a keto diet so if you are anything like me, you stock up on those ingredients. Simple low-carb friendly ingredients that you probably already have in your kitchen.
If you want the raspberries to keep their shape, add them in last and mix with a spoon to avoid smashing them.
This raspberry muffin recipe makes 12 muffins.
Are you looking for more easy low-carb and keto recipes? Be sure to check out some of the most popular ones below this easy low-carb raspberry muffin recipe.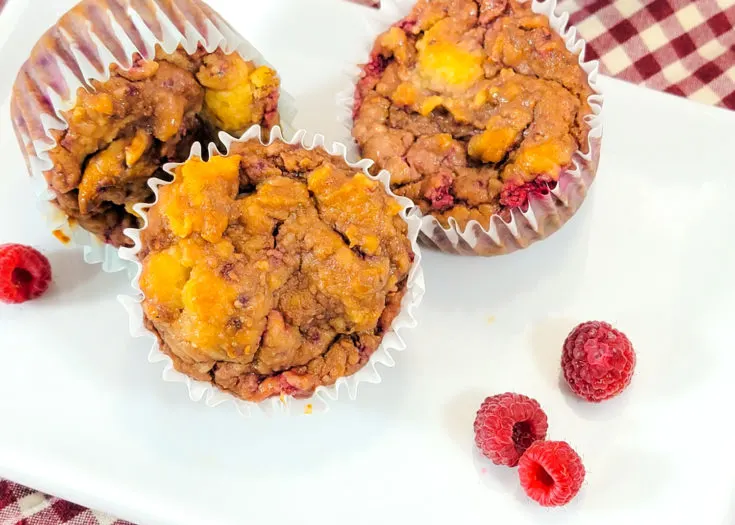 Low Carb Raspberry Muffins
Ingredients
2 Cups of Almond Flour
1 Cup of Stevia
8 Ounces of Cream Cheese
1/2 Cup of Sour Cream
2 Cups of Fresh Raspberries
1 and a 1/2 Teaspoons of Baking Powder
1/2 Teaspoon of Salt
1 Teaspoon of Lemon Juice
1 Tablespoon of Lemon Zest
Instructions
Mix all ingredients together until well combined. Pour into muffin tins and bake at
350 degrees for 25-30 minutes.
Looking for More Easy Low Carb Recipes?
You will never go back to traditional pasta after trying this low-carb cauliflower lasagna. It is the perfect comfort meal without all of the guilt that comes with store-bought noodles! Satisfy your pasta cravings with this low-carb dinner idea.
If you want the bold flavor of chicken fajitas but don't want to spend your evening preparing it, you will love this Low Carb Chicken Fajita Soup.
This easy Chicken Fajita Soup Low Carb Dump Meal has all of the delicious flavors you would expect from fajitas but without the carbs from tortillas.
Need a quick dinner idea that the whole family will love? This 15 Minute Pepper Steak Stir Fry (Low Carb) only uses one pan and is better than any of the traditional versions I have ever ordered at a restaurant.
Be sure to sign up for the free newsletter and follow along on social media so that you never miss another easy low-carb recipe again.