Although my family was hosted at the New Day Dairy Guest Barn in order to facilitate this post, all opinions are my own, as usual.
It's no secret that I love cows, in fact, I will talk about cows with anyone that will listen, and I often do. I seek out farmers on the regular and people who may be able to recommend literature that can help me to learn what it is really like to be a dairy farmer.
My dream is to have my own cows someday and while I work towards making it happen, I want to learn as much as I can to make sure I am fully prepared for when that day comes.
This past weekend feels like a giant step in the right direction as I was able to get a close look at the life of a dairy farmer and even more exciting, I got to sleep with the cows!
You may be wondering what that means and when I was first invited to visit New Day Dairy, I had a ton of questions, too. Now that I had the amazing experience of sleeping with the cows, I am excited to share all of the details of what you can expect from a visit to New Day Dairy in Clarksville, Iowa.
What to Expect from A Visit
This working dairy farm invites visitors to get an inside look (literally) at a dairy farm that helps feed over 8,500 people. All guests receive an Intro & Farewell Tour with their stay at the guest barn.
The beautifully decorated guest barn can sleep 6 in beds and 1-2 children on a sleeper sofa, there is even a pack n play available for small children.
New Day Dairy Guest Barn
Kitchen- The kitchen is fully equipped with everything you need to prepare your own meals including a full-size refrigerator, stove, dishwasher, coffee maker, and microwave.
The dining area has plenty of seating for everyone and is full of adorable decor to enjoy while preparing or eating your meals.
The cabinets are completely stocked with plates, cups, bowls, utensils, and cookware.
You will also find plenty of extras to make you feel right at home including coffee, a variety of teas, sugar, milk, butter, chocolate milk, juice, popcorn, and cereal.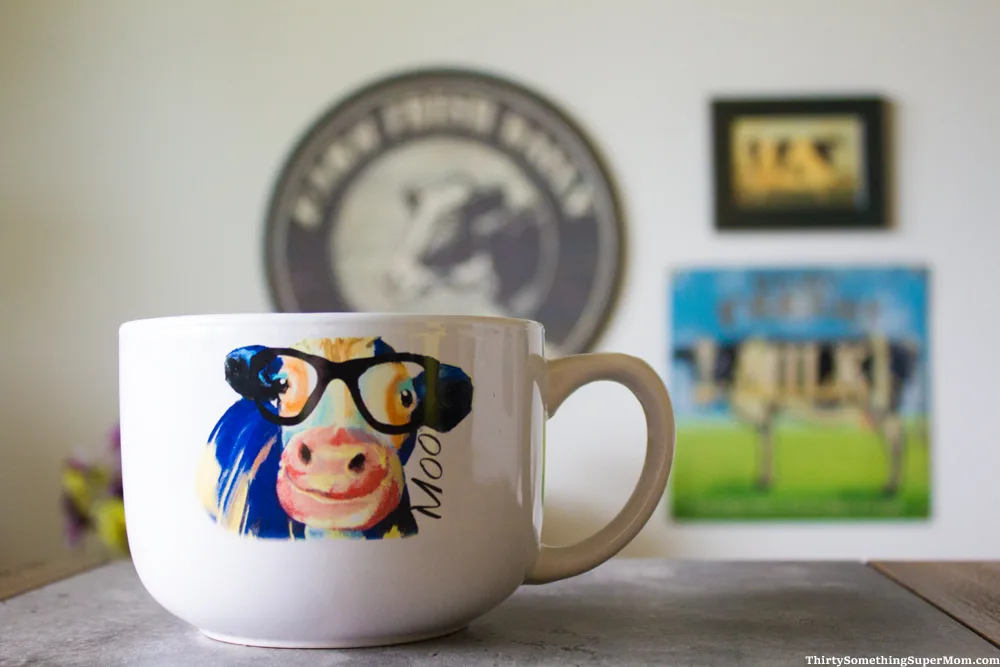 For breakfast, you can enjoy bagels topped with cream cheese or local jam or honey, pastries, yogurt, oatmeal, hard-boiled eggs, and/or granola.
Bedrooms
Choose from the Horizon, SunShine, or Garden Room for your stay or rent all three, depending on which fits your needs best. Each bedroom is stocked with comfy linens, plenty of pillows, alarm clocks, and ceiling fans.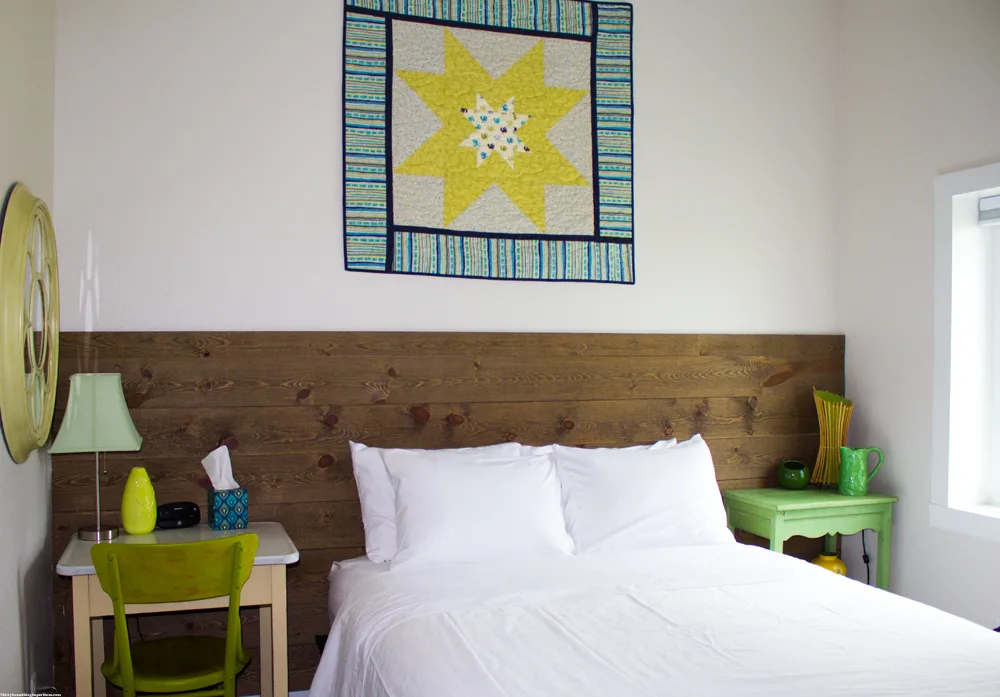 The Horizon Room features a Queen-sized sleep number bed, the SunShine room features two twin xl beds, and the garden room features a queen bed nearby the viewing area for a quick trip to get a glimpse of the cows.
Bathrooms
Each bedroom has its own full bathroom stocked with plenty of towels, hairdryers, cows milk soap, and hand soap. I was really happy to find hand soap in the bathrooms, this is just one of the many little things that really make New Day Dairy stand out above the rest.
Viewing Area
The viewing area is full of fun for the whole family. Not only will you be able to get a 24/7 view of the cows but there are plenty of toys for the little ones to enjoy and a television nearby the sleeper sofa.
There are also lots of games, movies, and things to do in this area if you want to multi-task your cow viewing. Although this was the highlight of my stay in the guest barn and I spent most of my time just looking at the cows, hoping one would give birth while I was there.
A lot of lucky visitors got to see this happen and even got to help name the newborns. While I wasn't this lucky, I still enjoyed staying up late and watching the cows just be cows in the barn.
I could do this all day and night, I don't think it would ever get old. You can get an idea of what you will see from the viewing area by taking a look at this picture I took in the middle of the night from this room. Pretty great, right?
Outdoor Patio Area- The outdoor patio area is a great place to enjoy the scenery, relax with the family, and even have a fire. New Day Dairy provides a grill for cooking and plenty of farm cats to keep you company while hanging out in this area.
Do You Actually Sleep with the Cows?
While you won't be snuggling up to a cow for the night, you will get a view of the cows throughout your entire stay in the New Day Dairy Guest Barn. The viewing room gives you an up-close look at the cows whenever you want to see what they are up to.
I wanted to spend all of my time here so I enjoyed a late-night snack of cheese and crackers while watching the cows.
The cow's milk from this dairy farm was made into swiss cheese and so was the cream cheese that we used for our morning bagels.
See What it's Like to Be A Dairy Farmer
Although I loved viewing the cows from the guest barn, my favorite part of this experience was the 'Be A Dairy Farmer Challenge'. We got to try our hand at some of the farm chores like locating a cow that needed to be milked, milking a cow, bottle feeding a baby calf, and even scraping up that seemingly never-ending poop.
While on the tour we were able to ask questions about the cows, the farm, and anything that came to mind.
One of the most surprising things that I found out on the tour was how much technology is used at the farm. Dan the farmer uses his phone to check on different stats about the cows and receives alerts when milk production goes down or when a cow hasn't made its way to the milking station when expected.
In the milking area, a robot name Rita milks the cows as they make their way into the milking station. While learning about the robot and how it works, we noticed one cow kept showing up to be milked, even though it was not her turn.
Lynn told us that Kay found her way into the milking station in hopes of a treat, which she eventually got when it was actually time to be milked. She was one of our favorites, so relatable.
A Unique Experience
From having an inside look at cows during your entire stay to getting a peek inside at the life of a dairy farmer, this truly is a unique experience. The 'Be A Dairy Farmer Challenge' is one of a kind, instead of watching from the sidelines this tour allows you to really get up close to the cows.
My mom really enjoyed locating the cows that needed to be milked and corraling them so Dan could redirect them to the milking station.
I also enjoyed being able to be up close with the cows, without any walls between us. This was a very unique experience for me because usually when I get a chance to visit a farm, the cows are still farther away than I would like but that wasn't the case here.
I absolutely loved our time at New Day Dairy and can now check #sleepingwiththecows off of my bucket list.
Plan Your Visit to New Day Dairy
Check the calendar and see what extras your family would most enjoy during their visit. I recommend the Be A Dairy Farmer Challenge but you can also try out some of the dine-in options during your stay if you would like.
This is a great place to get away and relax with a view of the cows and spend some time outdoors on a nice day.
Where is New Day Dairy Located?
New Day Dairy is located at 31000 175th St Clarksville, Iowa.
Head over to the New Day Dairy website to book your spot and learn more about what to expect from your stay.
Would your family enjoy sleeping with the cows? Tell me all about it in the comments below and don't forget to share this post on your favorite social media so everyone can learn about this unique travel experience.