This simple healthy gluten free cookies recipe is not only delicious but so easy to make. These almond flour-based gluten-free cookies will be your new favorite chewy cookie for the Specific Carbohydrate Diet.
No matter what diet plan you are following, this easy recipe can be easily adjusted to fit into a variety of diets such as keto or low carb.
What Makes this Gluten Free Cookies Recipe Healthy?
This recipe replaces traditional bad-for-you ingredients with healthier alternatives without compromising flavor. As with most Specific Carbohydrate Diet recipes, you will not find traditional all-purpose flour or sugar as an ingredient in this cookie recipe.
Instead, this recipe calls for natural ingredients like honey, coconut flour, and almond flour.
Simple swaps make all the difference, no need for hard-to-find ingredients that need to be ordered from the internet or picked up at a specialty store. All of these ingredients are easy to find at most traditional grocery stores because eating healthy should be easy for everyone.
These are the best cookies with the perfect texture and this has become my go-to cookie recipe for SCD because it only requires simple ingredients. If you are new to gluten-free baking, this is the recipe for you.
No need to head to the grocery store for a gluten-free flour blend, xanthan gum, oat flour, rice flour, or flax egg. The good news is that this simple recipe doesn't require hard-to-find ingredients. Just wholesome ingredients that come together to create a chewy texture that is sure to satisfy your sweet tooth.
Variations on this Healthy Gluten Free Cookies Recipe
For those with gluten intolerance, the original recipe in the recipe card below is perfect the way it is, but if you want to make some adjustments, I have some suggestions. If you want to divide the dough into two different batches, try the first batch as written and make some minor adjustments to create a different variety of baked cookies using the same dough.
Some of my favorite gluten-free cookie recipes are variations on this classic butter cookie.
Gluten-Free Chocolate Chip Cookies– For a gluten-free version of classic chocolate chip cookies, add in semi-sweet chocolate chips.
Maple Cookies– Replace some of the honey with maple syrup for an extra burst of flavor.
Sugar-Free Cookies– For a sugar-free healthy chocolate chip cookie recipe, add sugar-free dark chocolate chips.
Vegan Cookies– If you want to make vegan chocolate chip cookies, omit the butter and use vegan butter or applesauce to create healthy chocolate chip cookies without the dairy.
Chocolate Cookies– Add melted chocolate to the batter for the best gluten-free chocolate chip cookies. If you are adding melted chocolate it is a good idea to add a little bit less honey to account for the extra liquid. Add more flour if you want thicker cookies. Add sea salt to bring out the flavor of the chocolate cookies.
Peanut Butter Cookies– For a creamy peanut butter cookie, cut the butter and honey in half and replace them with an equal amount of peanut butter for the best results.
Almond Butter Cookies– I like to use almond extract whenever I can because I love the taste, add a teaspoon to this recipe for a new flavor.
My readers have tried their own variations on this recipe with lots of success. This is what Suzanne had to say:
"Thank you so much for this great recipe!! I also tried it another way, as I was looking to make a ginger cookie for my son and just added 1 Tbsp of ginger, 1 Tbsp of Cinnamon, and 1/4 tsp of cardamom. PERFECT texture and taste!! I look forward to trying some other recipes of yours! Thank you again."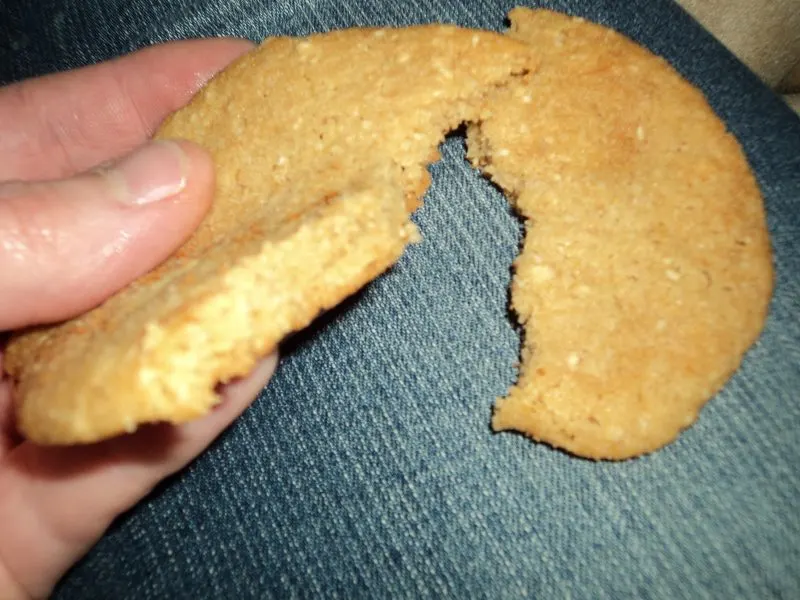 How is Gluten Free Baking Different than Traditional Baking?
Gluten-free flours such as coconut flour and almond flour lack the structural protein, gluten, which affects the texture. When baking with almond meal or Bob's Red Mill almond flour instead of wheat flour, you will find more wet ingredients added to the dry ingredients than with traditional baking.
This will result in a thinner batter but since the gluten-free flours contain more starches than traditional flours, they will also absorb a lot of the moisture during the baking process. Many gluten-free recipes call for ingredients like xanthan gum or guar gum to thicken the batter. This recipe does not call for these ingredients because I like to keep things simple.
Be sure to protect your baking sheet or cookie sheet with parchment paper to avoid a mess when working with a thin batter for the first time. I do this every single time I bake but it isn't always necessary.
How do you store gluten-free cookies?
Allow the cookies to drop down to room temperature before storing them. If your cookies are set up properly you can transfer them to a wire rack for cooling. These healthy cookies will stay fresh when stored in an airtight container for up to one week.
Since gluten-free cookies tend to lose moisture quickly, storing them in the refrigerator is recommended. If you want to make a double batch, you can store the cookie dough for later. Using a cookie scoop, scoop the dough into balls and store it in a freezer container or Ziploc.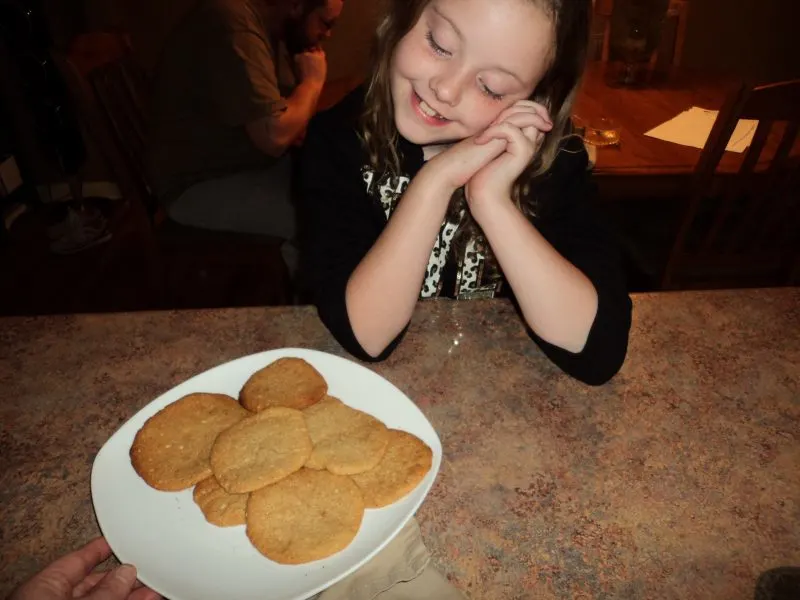 What Butter is Best for Cookies?
While the brands available will vary by area and budget, choosing unsalted butter is preferred. This way you can control the amount of salt in your recipe. While this recipe does not have salt, some of the variations do.
So if you want to add a little sea salt to these chewy gluten-free cookies it is best to use unsalted butter so you can keep track of how much is going into your recipe.
If your recipe includes salt you may want to omit it from the ingredients added in when you consider the amount already included in the butter. This isn't necessary for many recipes but too much salt can quickly ruin a cookie.
What is Another Name for Butter Cookies?
These golden brown cookies are similar to Danish cookies and oftentimes the names are interchangeable when referring to the kind made with regular flour. These cookies typically have crispy edges when made with sugar and all-purpose flour.
If you want your recipe to resemble Danish cookies, make the balls smaller and cook a bit longer to crisp the edges.
When making these cookies larger, they tend to be chewier and when making them smaller, they will crisp faster in the oven.
Should I Use Melted Butter in this Cookie Recipe?
Room-temperature butter or softened butter works best for the perfect cookies. Melted butter added to the wet ingredients can make this recipe hard to work with and if you add too much flour you will be left with a crumbly mess.
Softened butter is the best way to make this easy gluten-free cookie.
Ingredients Need for this Healthy Gluten-Free Cookies Recipe
Coconut Flour- You can use any brand that you prefer but I have used the brand found in the recipe card for most of my baking.
Almond Flour- I usually use the brand of almond flour included in the recipe card whenever I am baking.
Butter – Any butter will do but I prefer unsalted butter in most recipes to keep track of the salt content in my cookies.
Vanilla Extract- You can use any brand you like but I usually choose Spanish Vanilla for my recipe.
Baking Soda- I have purchased the store brand in the past but usually go for whatever baking soda is on sale.
Egg- This recipe uses large eggs, not egg whites.
Honey- I like to use locally sourced honey whenever possible.
How to Make this Healthy Gluten-Free Cookies Recipe
In a stand mixer set up with a large bowl. Mix all ingredients on high until well combined. Shape cookies into balls and then flatten them slightly with the palm of your hand when placing them on the baking sheet.
Bake for about 8-12 minutes in an oven preheated to 350 degrees. The time will vary depending on the size of your cookies.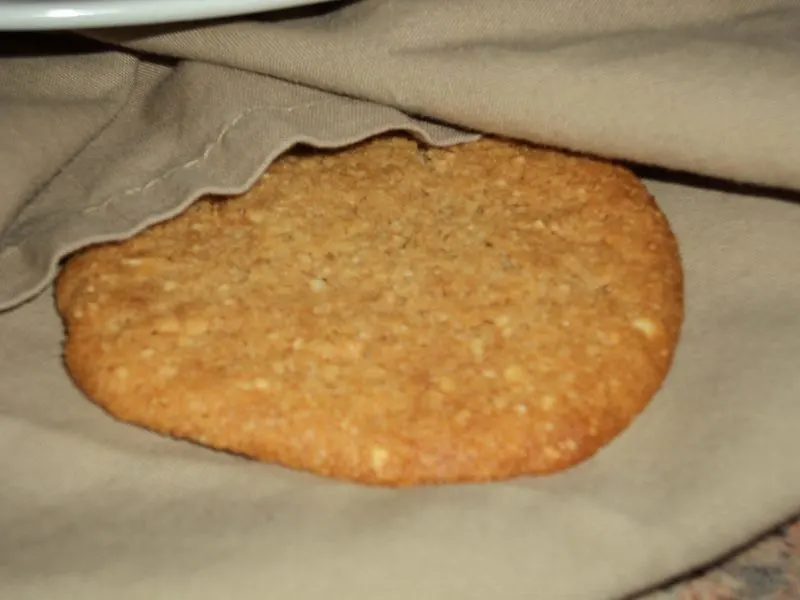 More Gluten-Free Baking Recipes I Think You'll Love
One of my favorite things to do is to create the best recipe I can using natural ingredients whenever possible. I like to transform traditional recipes into better-for-you versions that fit into any diet.
I often make healthy swaps that require little adjustments to the original recipe such as swapping out brown sugar for coconut sugar or coconut oil for butter. The best part is that all of my recipes are simple and don't require a lot of hard-to-find ingredients.
Enjoy a homemade glass of milk with these cookies when you learn how to make the best almond milk that is keto-friendly, SCD-friendly, and fits into most diets.
If you are following the Specific Carbohydrate Diet then you probably already know the many health benefits of homemade yogurt. If you are looking for tips on how to make this SCD staple check out this post that shares a Homemade Yogurt Recipe for SCD.
If you are looking for a crunchy yet healthy snack, these air fryer banana chips are perfect. It doesn't get much easier than a two-ingredient recipe like this one!
One of my favorite recipes to make for those on the Specific Carbohydrate Diet or those trying to cut down on sugar is this guilt-free dessert of apples and cream.
If you are looking for the best oatmeal cookies or want to add some chocolate chips for a gluten-free oatmeal chocolate chip cookies recipe, this recipe shows you how to make oatmeal cookies using instant oatmeal packets. Since they are gluten-free oats, are allowed on many diets but keep in mind that this oatmeal cookie recipe contains sugar and is not SCD-legal.
If you have liked this recipe and want to tell me about it, please leave a comment below. As you can see from this post, I actually read them and will be happy to share your thoughts in order to improve my recipes.
I appreciate every comment and will continue to do my best to provide easy recipes using simple ingredients that can fit into a variety of diets.
Consider signing up for my free newsletter so that you never miss another easy recipe again. Or follow along on social media and feel free to share or pin this recipe for later, it helps more people find my site.
Thank you for all of the shares on social media and for all of the wonderful comments on this recipe. This has inspired me to update this post to reach more readers and share the original recipe that so many of you have enjoyed.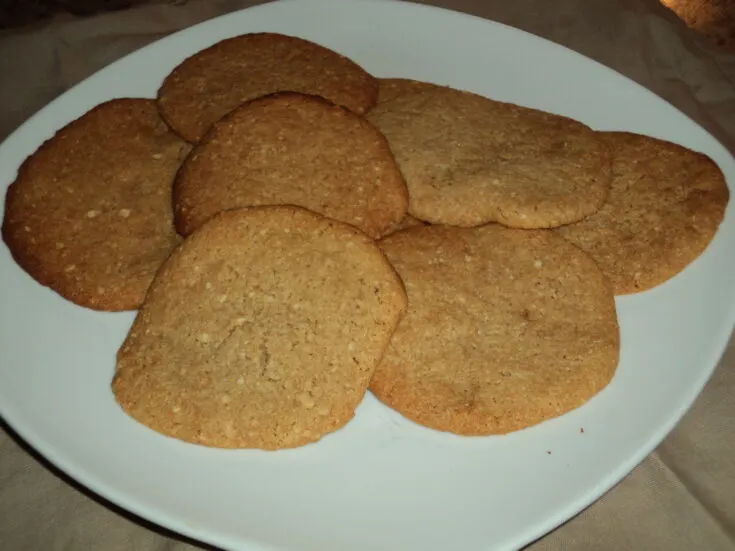 Healthy Gluten Free Cookies Recipe
Ingredients
1/3 cup Coconut Flour
1 cup Almond Flour
3/4 stick of butter
2 teaspoons of Vanilla Extract
1/2 teaspoon of Baking Soda
1 egg
2/3 cup of honey
Instructions
Line a baking sheet with Parchment Paper and Preheat your oven to 350 degrees. Mix all ingredients on high with a stand mixer.

Shape cookies into balls and then flatten them slightly with the palm of your hand when placing them on the baking sheet.

Bake for about 8-12 minutes and Enjoy!

This recipe will make 24 small cookies which are more dunkable crispier cookies or 12 larger more chewy cookies.
Recommended Products
As an Amazon Associate and member of other affiliate programs, I earn from qualifying purchases.