I received passes to Wizard Quest to add to facilitate my Things to do in Wisconsin Dells posts. All opinions and typos are my own, as usual.
When I was planning my family's trip to Wisconsin, I searched high and low for things to do in Wisconsin Dells. I was surprised by how many suggestions came back and how many attractions there were in the area. I really wanted to plan fun things to do in Wisconsin Dells that would be fun for the entire family though, not just little kids. I wanted to plan things to do in Wisconsin Dells that teenagers and adults would enjoy too.
Things to do in Wisconsin Dells
Lucky for me, I stumbled upon a whimsical place called, Wizard Quest. This magical attraction delivered more fun than I expected and my entire family hasn't stopped talking about the adventure we went on in there. In the hour we spent at Wizard Quest, we made tons of memories that will last us an entire lifetime and I am excited to share them with you.
When I first heard about Wizard Quest, I wasn't really sure what to think about it because as far as I knew, my family had little interest in wizards and that type of entertainment. We never really enjoyed wizard themed shows, movies, or games in the past but I am glad we didn't let that stop us!
All I really knew about Wizard Quest when planning our trip to Wisconsin Dells was that it was located near Ripley's Believe it Or Not and it seemed like it would be worth checking out. This was especially appealing because when planning our trip to Wisconsin Dells, I knew we would be spending a lot of time out in the sun and getting to escape the heat with a little air conditioning seemed like a great idea.
I was excited about the possibilities of going on a quest while visiting the Wisconsin Dells but I had no idea how much we would enjoy Wizard Quest until we started playing the game.
When we first arrived, we were given a tablet with the game built-in. It would give us clues about where to go next and it sent us on a journey through a whimsical world broken down into four quadrants. The four different areas were Fire, Earth, Air, and Water. Each of the areas were decked out with secret passages, fun props, animatronics perfectly in sync with each theme, and lots of adventure from slides to tunnels designed to get you from one place to another throughout each realm.
This game really puts your powers of observation and ability to navigate a new area to the test in a fun-filled way that is full of adventure for the whole family.
Each realm was more exciting than the next and I enjoyed stumbling upon secret passages and hidden buttons throughout each area.
Some of the secrets were harder to discover than others, but your quest is timed and in order to win, you have to constantly be thinking outside of the box.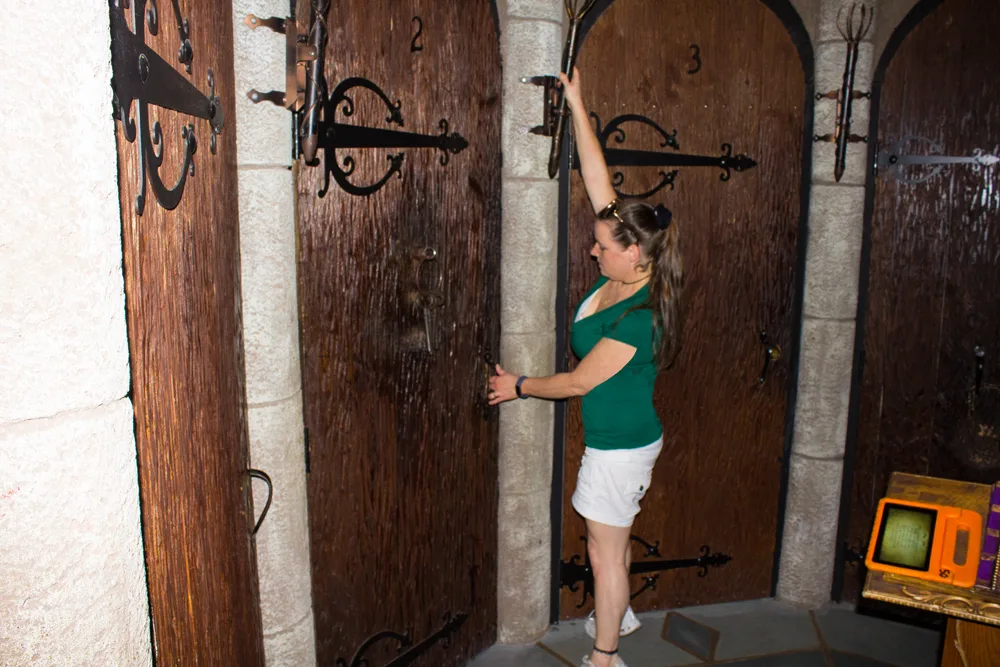 One of my favorite areas that we stumbled upon was this medieval themed hall of doors that looked like it was straight out of a movie. Part of our quest was to find a way to open them, without giving it away to those who will go on the quest, I just want to say that it took quite a bit to figure this one out but once we did figure it out, it led us to a really magical place.
In fact, every secret door and tunnel we stumbled upon brought us to a magical place. This place blew me away, it definitely went above and beyond my expectations.
We had such a fun time on our quest and can't wait to go back. The best part is that there are different quests to go on and depending on how you play your round, you will have a different outcome each time, so you can play again and again.
When planning a trip and looking for things to do in Wisconsin Dells. Wizard Quest is a must-see and keep in mind that they are expanding and moving to a different location downtown in 2021, so this is your last chance to play at this location.
Take your family on this magical, interactive scavenger hunt when visiting the Wisconsin Dells. Click here to learn more and start planning your family fun in Wisconsin.