I received a complimentary stay at Best Western Hotels and Resorts during my Wisconsin Travel in order to facilitate my feature. All opinions are my own.
Ever since moving to the midwest, I have wanted to explore the beautiful state of Wisconsin, and this past week, I finally go to do just that. There were so many destinations on my Wisconsin Travel bucket list that it was hard to figure out where to stay at first. We knew that we wanted to hit all of the major tourist attractions like Wisconsin Dells, Door County, and even see the bigger cities like Madison but we didn't want to move from one hotel to another, packing up every night.
So, when I started to plan this trip, I kept all of our destinations in mind and planned carefully around all of the important factors. I kept the operating hours of the destinations we wanted to visit in mind and allowed for travel time when setting up each days itinerary. Since we wanted to visit places in every direction, I had to find the perfect location to stay each night that would allow us to see everything during our Wisconsin travel.
I also wasn't about to settle for a hotel just because it was located in a convenient location, it had to meet my usual criteria for accommodations, and these days, the cleaning procedures matter more than ever. That is when I learned about Best Western's We Care Clean program.
The program addresses all of the concerns most travelers have right now like implementing new protocols that minimize contact between guests and hotel staff. They have also removed unnecessary items from rooms while offering extras upon request and have enhanced sanitization procedures throughout the hotels.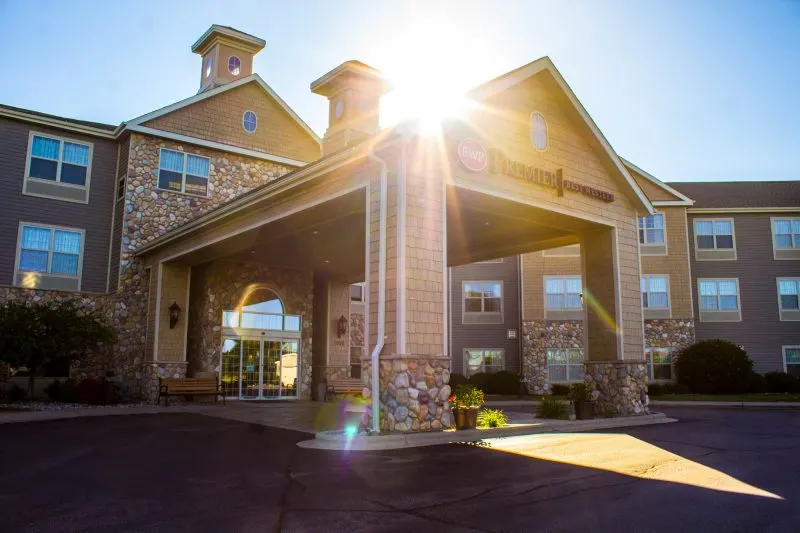 I feel much better about traveling and staying in a shared space because of the We Care Clean program. You can find out more about how the program addresses your concerns by clicking here.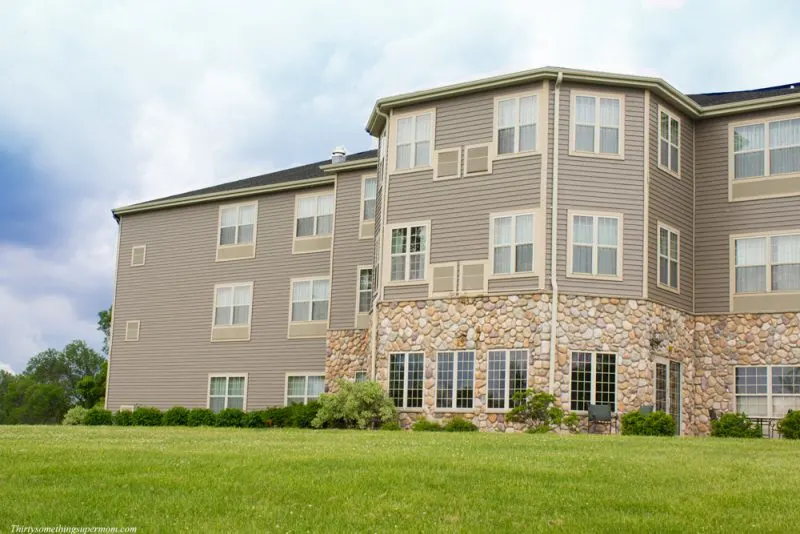 As soon as we arrived at the Best Western Premier Bridgewood Resort Hotel in Neenah, Wisconsin I knew we had made the right choice of where to stay during our Wisconsin travel.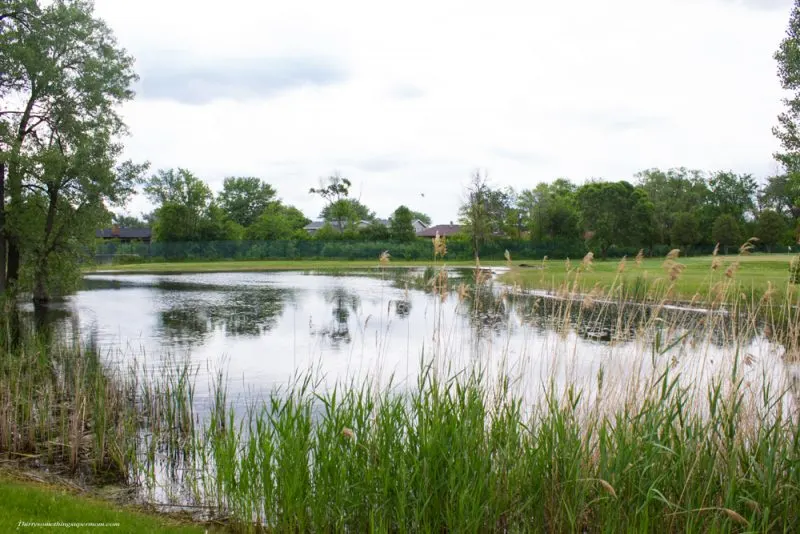 The hotel property is beautiful, offering views of nature including water, wildlife, and a gorgeous golf course.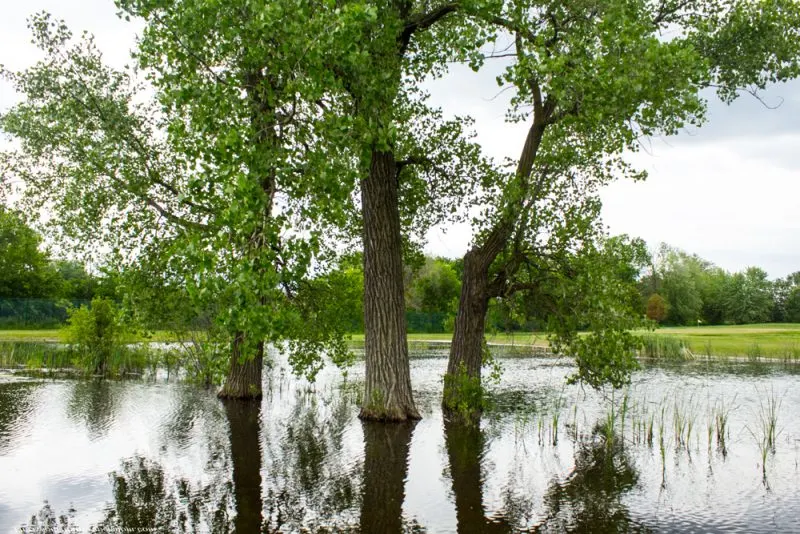 Although I have never been a fan of regular golf, I was thrilled to see the minigolf course offering ice cream and family fun right on site.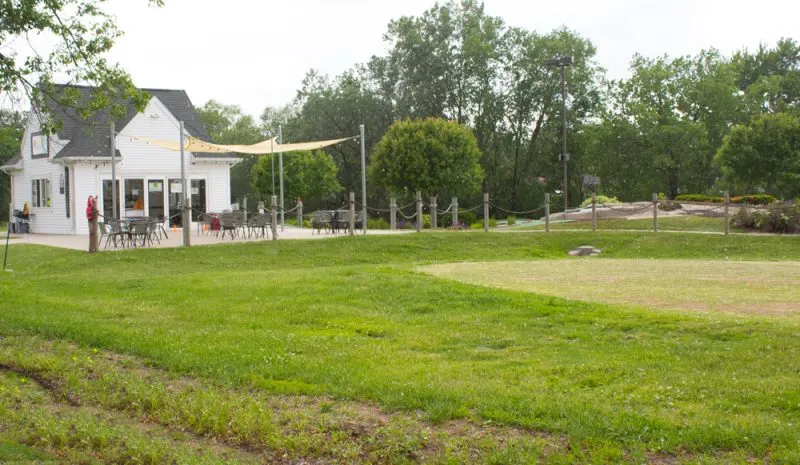 It seems that every trip my family has taken included minigolf, it has become a tradition at this point and we weren't going to let our Wisconsin Travel stop that tradition. It would be silly to do so because it has never been quite this convenient in the past, the mini-golf course was right outside of our hotel window.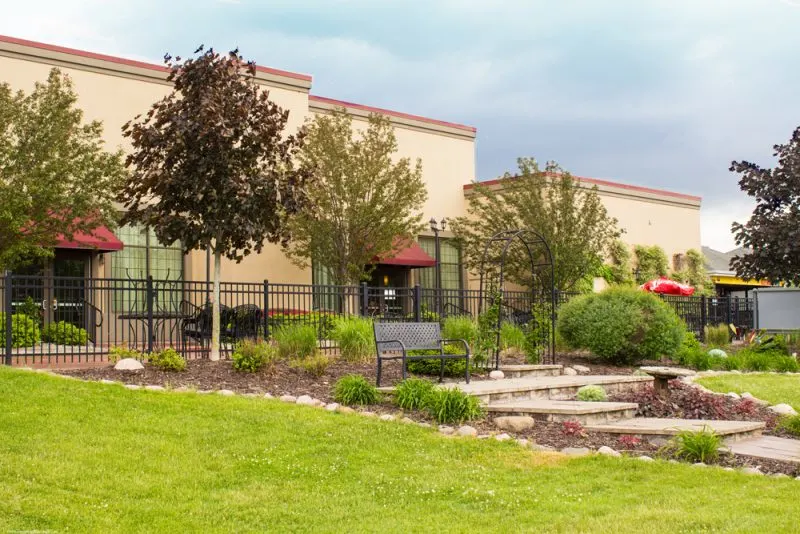 The beautiful landscape surrounding the property allowed for quite a few photo opportunities as well.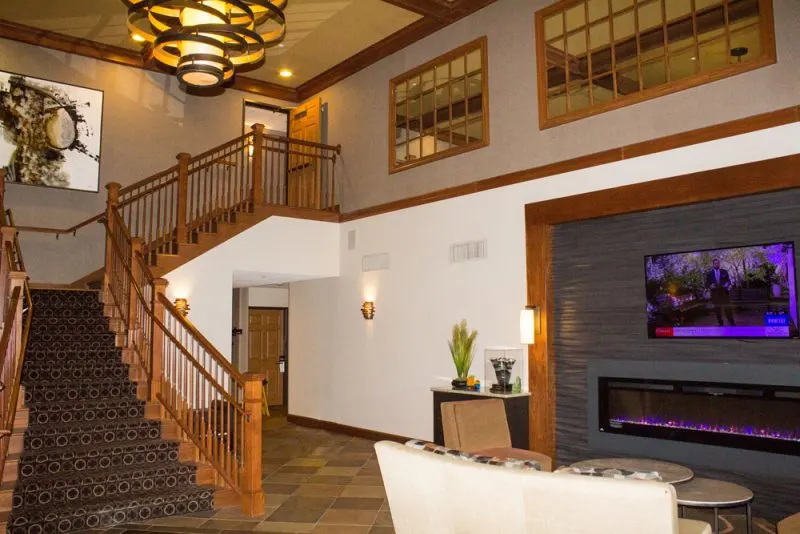 After checking out the grounds of the hotel, we entered the lobby to check-in. The staff was super helpful and let us know that if we needed anything, they would be happy to help. They offered to share fun things to do in the area and help us locate our destinations to ensure our Wisconsin travel went smoothly. With the new cleaning protocols and safety measures put in place for guests, there aren't any extras in the rooms but upon request, they are happy to provide extra pillows or blankets if needed.
When I entered the suite, I was thrilled to see the beautiful decor this spacious room had to offer. I just loved the color scheme, the wooden doors, and the pictures on the wall.
I just loved the artwork so much that I had to take a few pictures to share my favorites. I fell in love with this room and didn't want to leave. Would it be crazy if I redecorated my own home to look like this suite?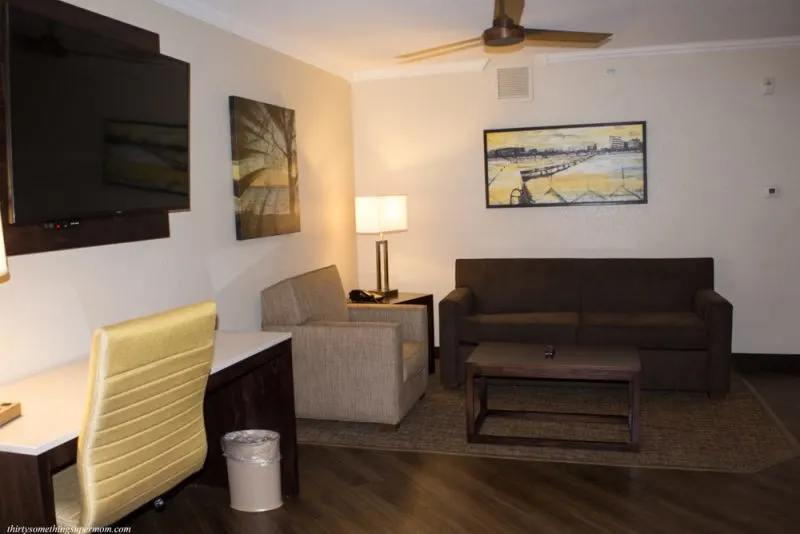 I was impressed by all of the space this room had to offer and really enjoyed having a private bedroom with a king-size bed.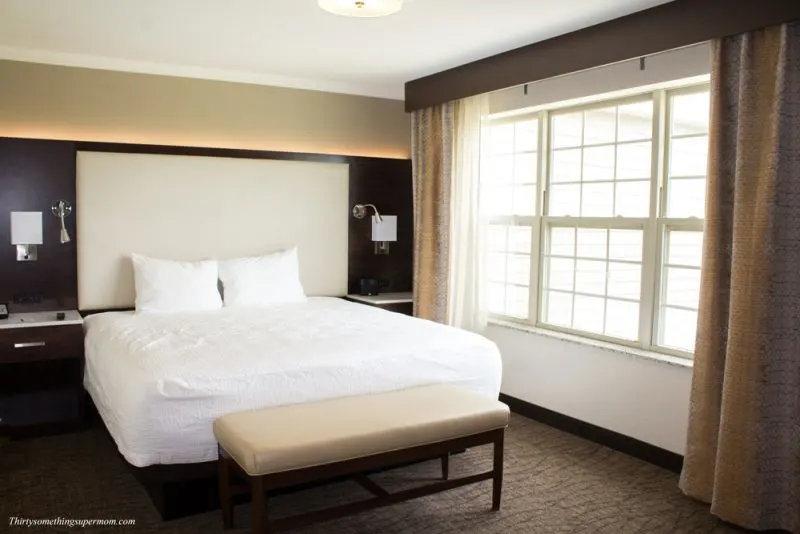 The private bedroom offered a gorgeous view of the hotel grounds and it's own television.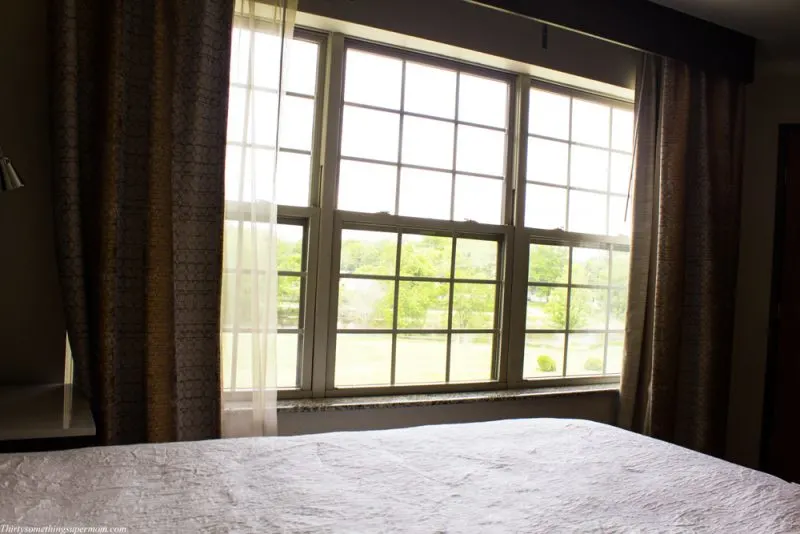 We brought along our Roku device and watched Hulu while winding down at the end of the night. It really felt like home.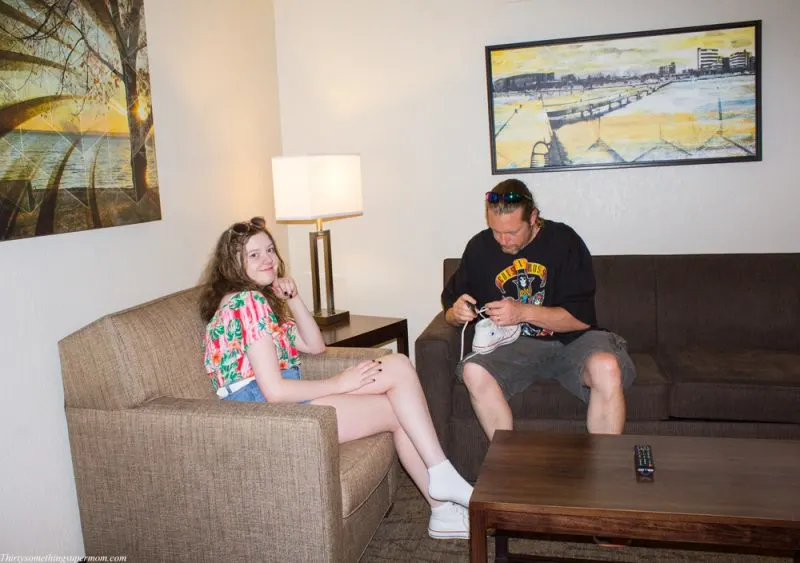 The livingroom offered us plenty of space to lounge during the day and it also served as a place for dad to help get a knot out of a stubborn shoe.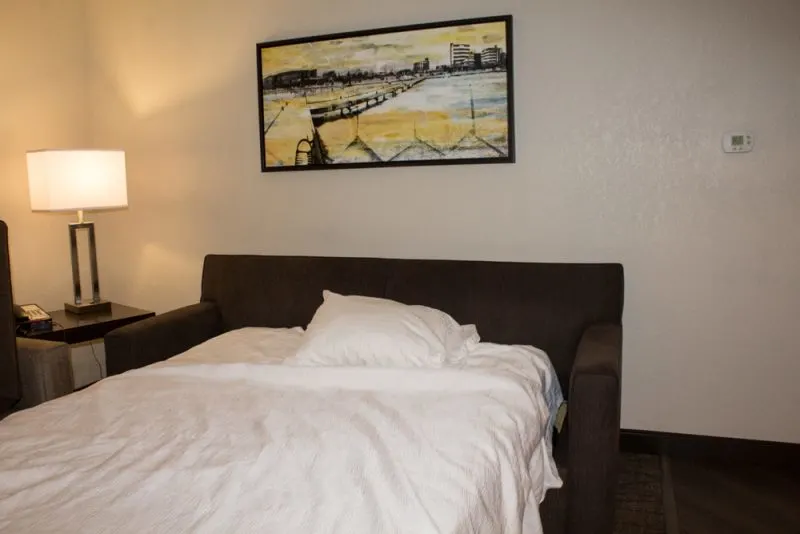 When it was time for bed, the sofa pulled out into a big comfy bed, perfect for resting up before another day of fun.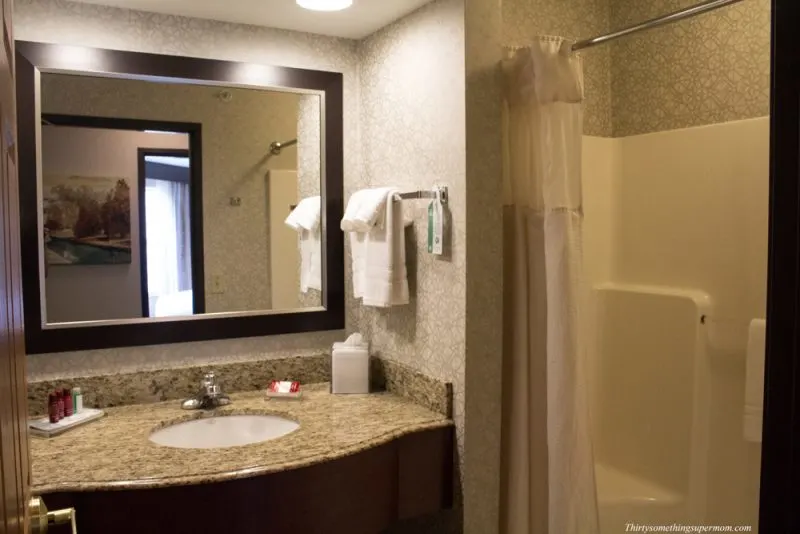 The bathroom was fully equipped with the essentials including makeup removing wipes, Q-tips, lotion, mouthwash, face and body wash, as well as shampoo and conditioner.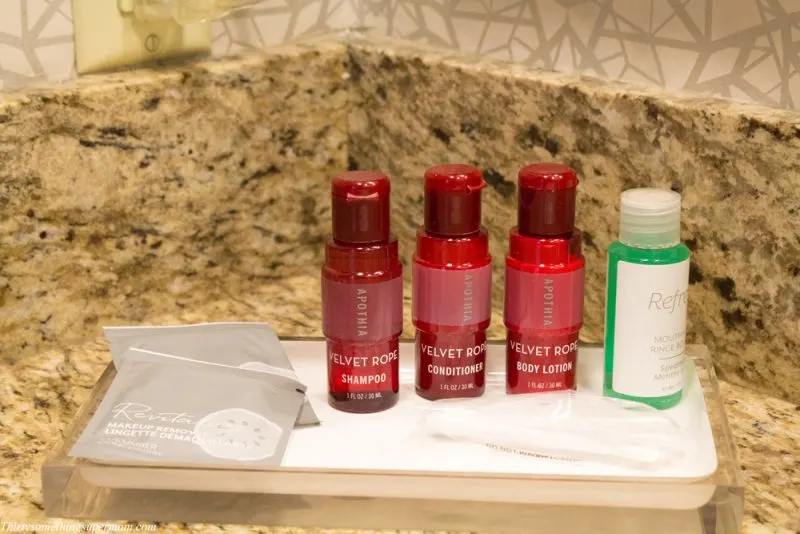 I was really happy with the water pressure and the showerhead, too. After staying at so many hotels over the years, I have really learned to appreciate a great shower and can't stand a bad one. This hotel went above and beyond in this department, I was very pleased and felt refreshed each day.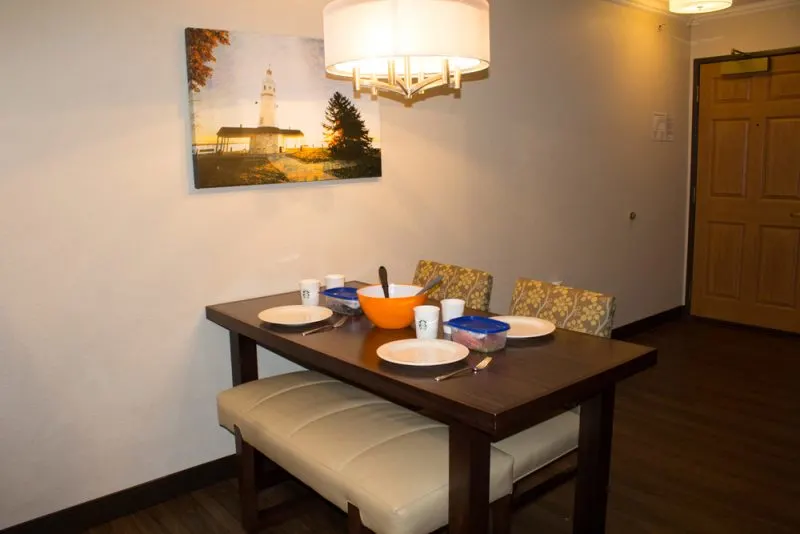 Another area that the Best Western Premier Bridgewood Resort Hotel went above and beyond is in the kitchenette.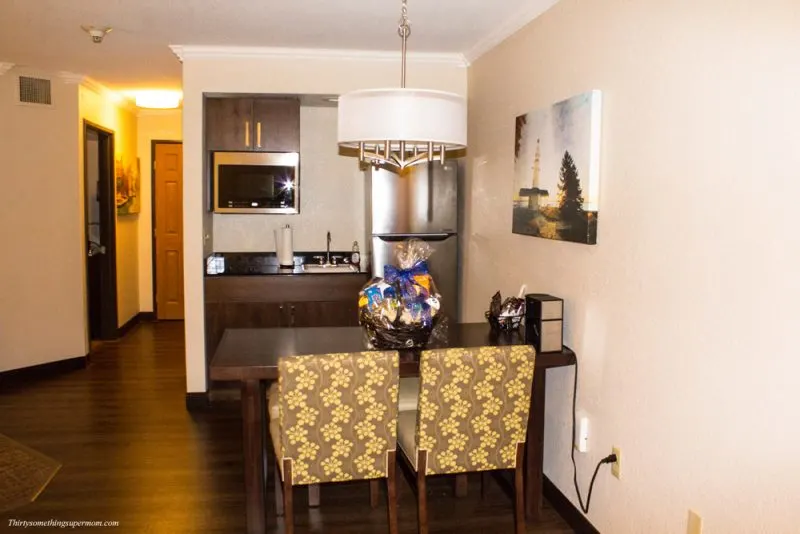 It had everything we needed to cook a meal and enjoy it together as a family.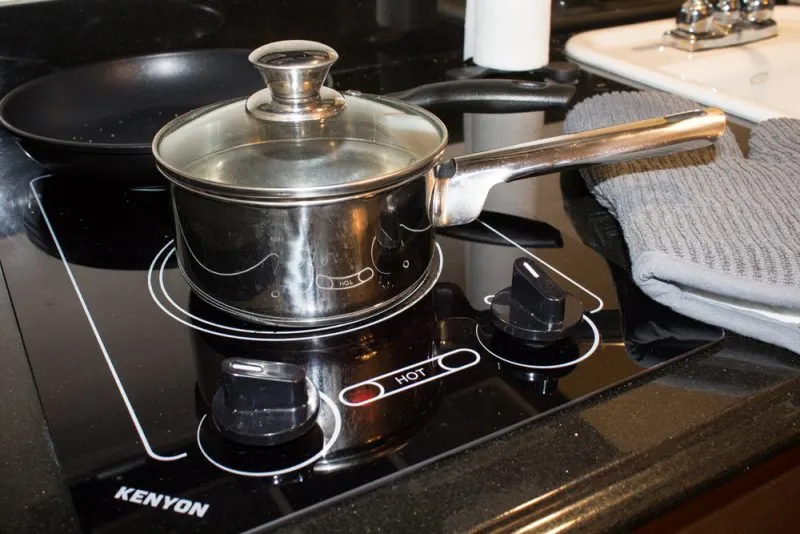 We had pots, pans, flatware, dinnerware, oven mitts, and two burners to prepare our own meals. The refrigerator offered plenty of space to keep our perishables and the microwave was nice to have for preparing quick meals, too.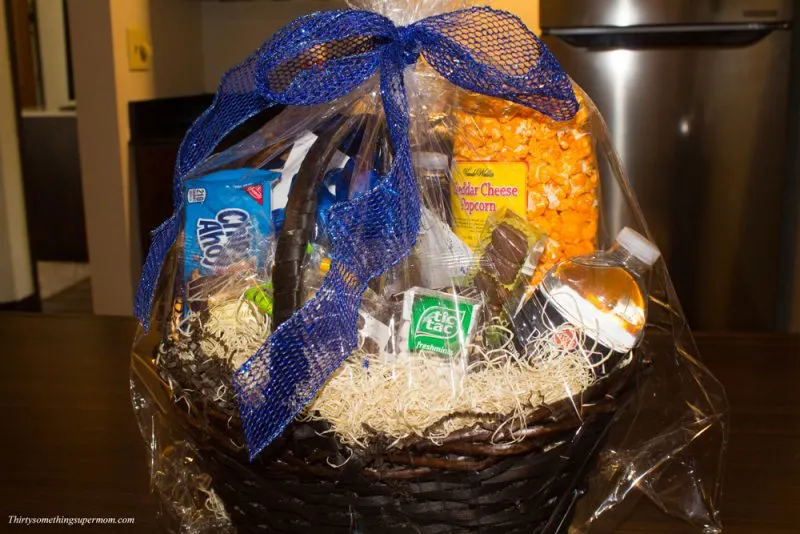 We were happy to find a gift basket in our room full of goodies including cookies, candy, and delicious popcorn from Vande Walle's Candies.
The popcorn was my personal favorite but the chocolate bolts and mixed nuts was a close second, what a cute combination.
The beautiful decor didn't stop with our room when heading into the hallway, we were surrounded by comfy benches and more gorgeous artwork.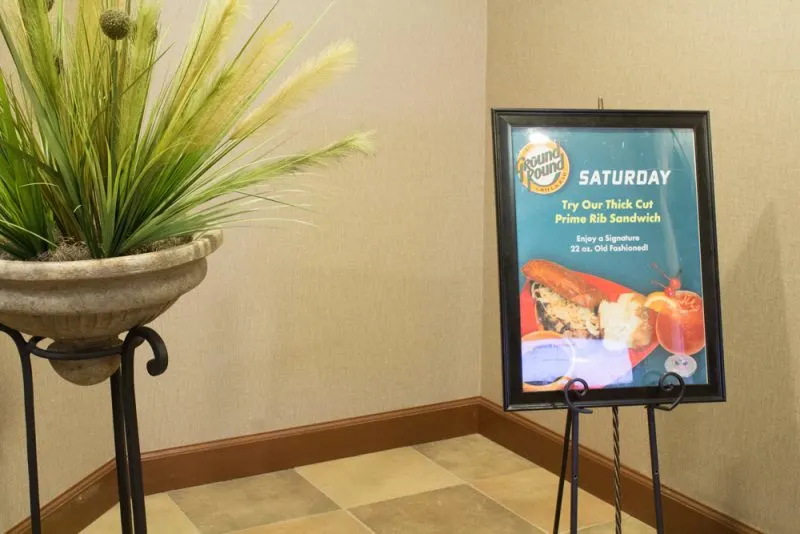 It seemed like every time we left the elevator we walked by a sign that advertised for the onsite restaurant, showing what specials we could find at the Ground Round.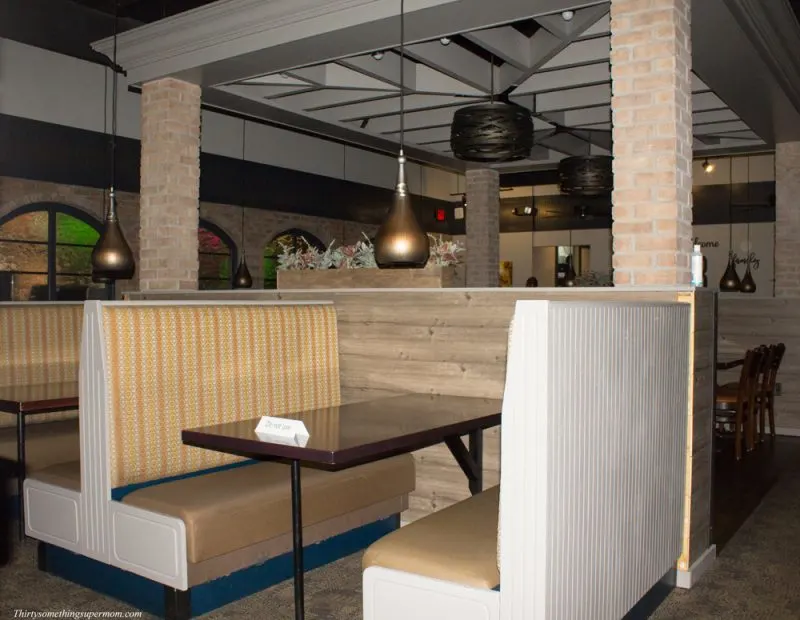 The first night we arrived, they were offering an all you can eat special which included ribs and chicken wings. We thoroughly enjoyed breaking our diet to enjoy that meal!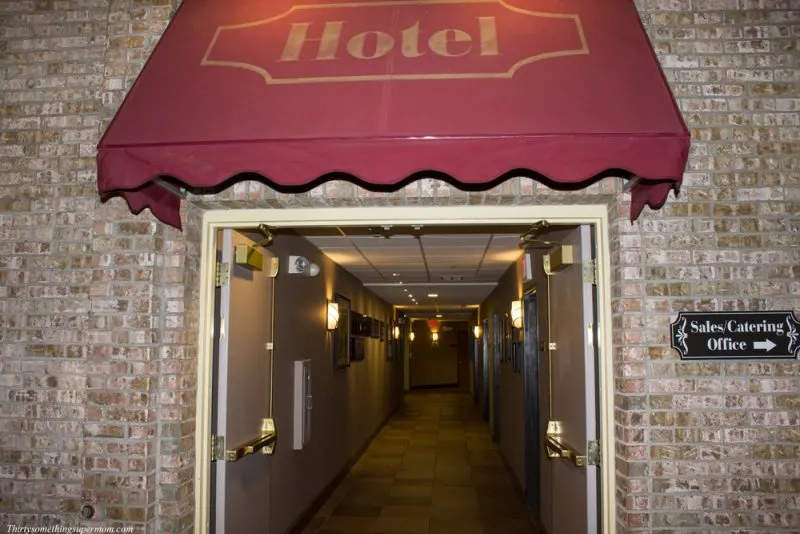 After enjoying our meal, we walked down a hallway towards the lobby and stumbled upon the cutest area.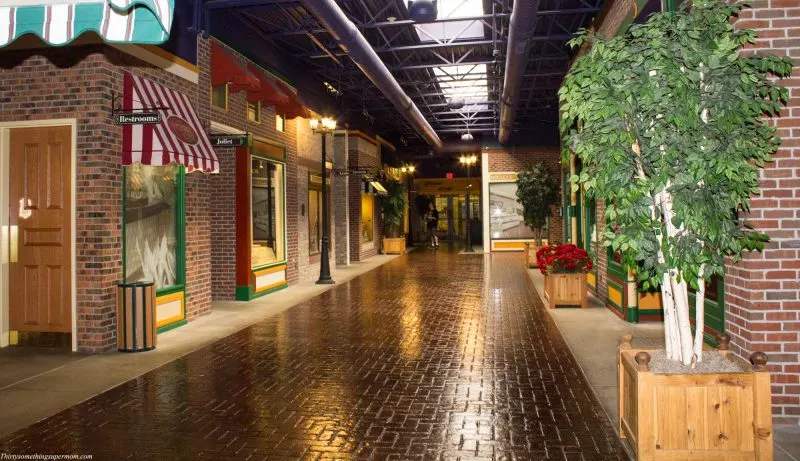 We couldn't get enough of the old fashioned decor, it really felt like we had gone back in time while strolling through this hallway.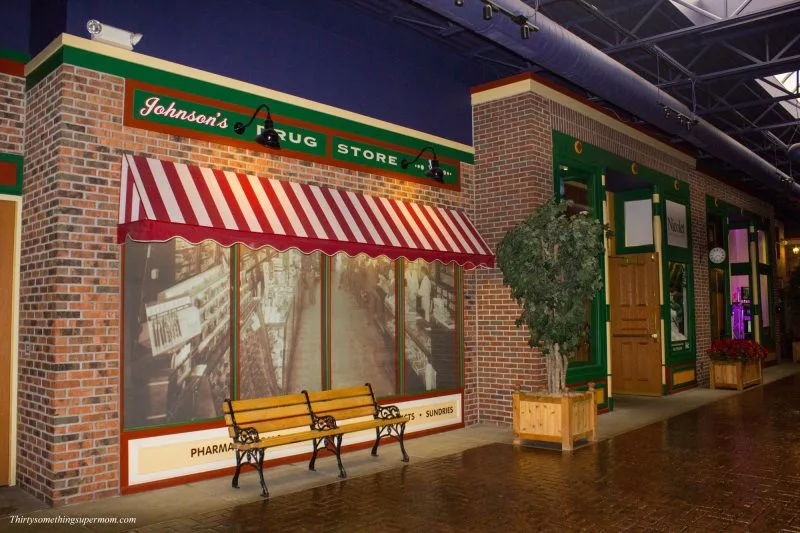 I couldn't think of a better place to take photos so we spent quite a bit of time here, posing and soaking up the scenery.
It actually felt like we went back in time for a bit and we enjoyed the storefront views as well as the brick roads and lanterns.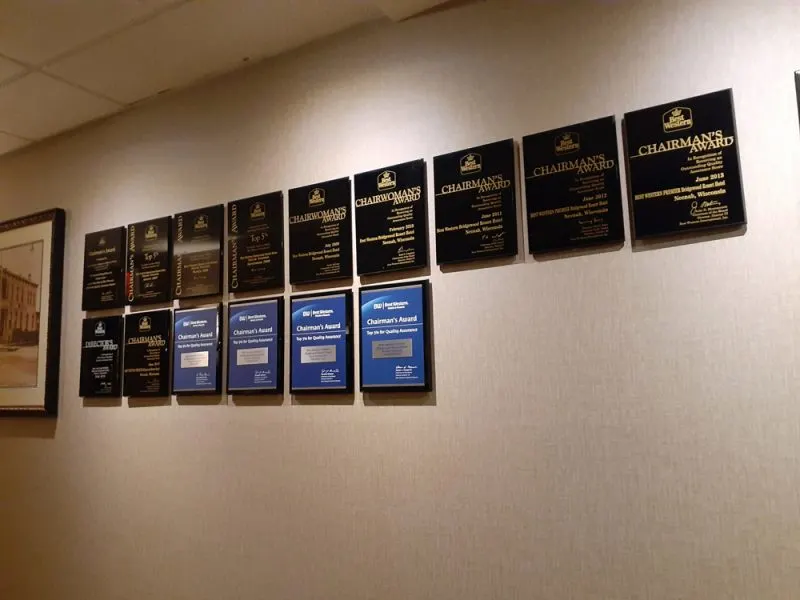 We loved staying at the Best Western Premier Bridgewood Resort Hotel during our Wisconsin travel so much that we weren't a bit surprised to see all of the awards this hotel had won.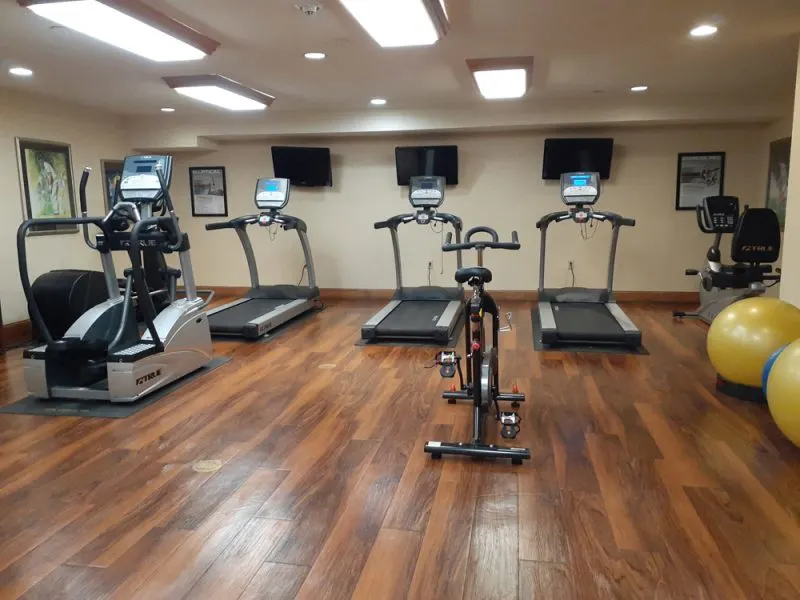 Another highlight for me was the fitness center because there were plenty of machines for everyone and they offered wipes to clean each one a well as a water cooler for after your workout.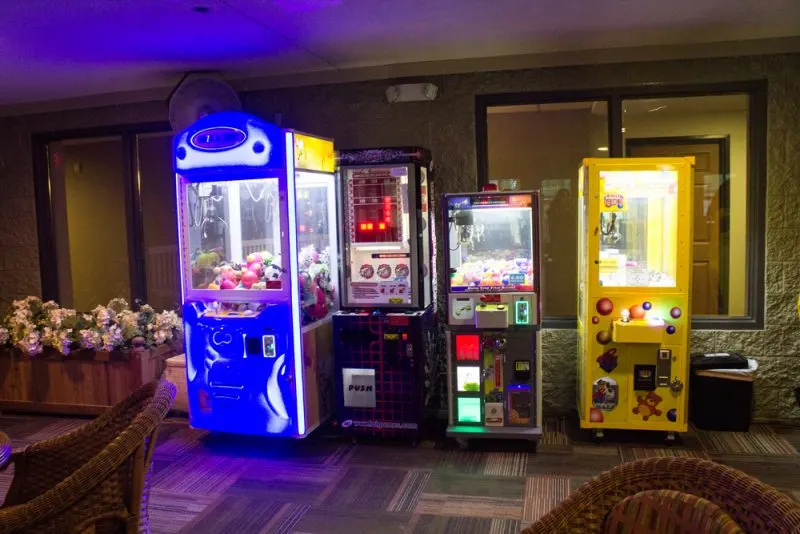 We then headed to the arcade to play some fun games and then down to the pool to enjoy some swimming as well as the two different hot tubs available.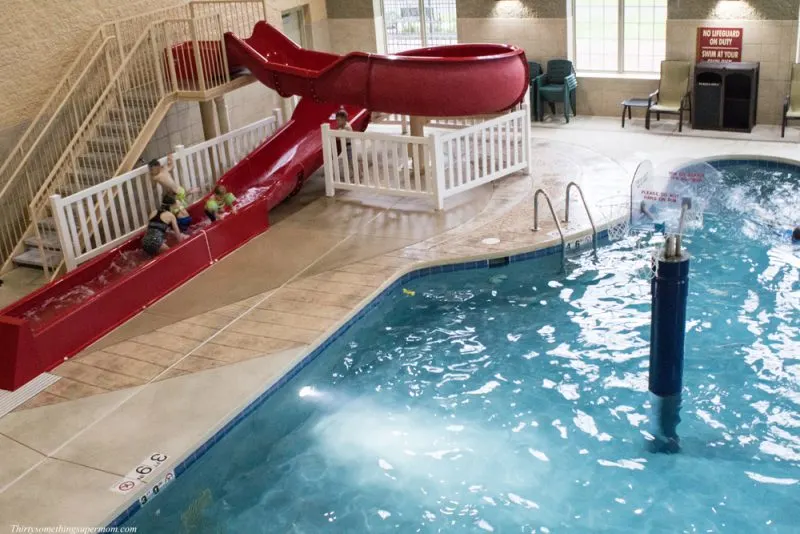 When we were checking out the pool area we noticed that the slide didn't go into the pool. At first, I thought it couldn't be much fun since it didn't connect to the pool, but boy was I wrong!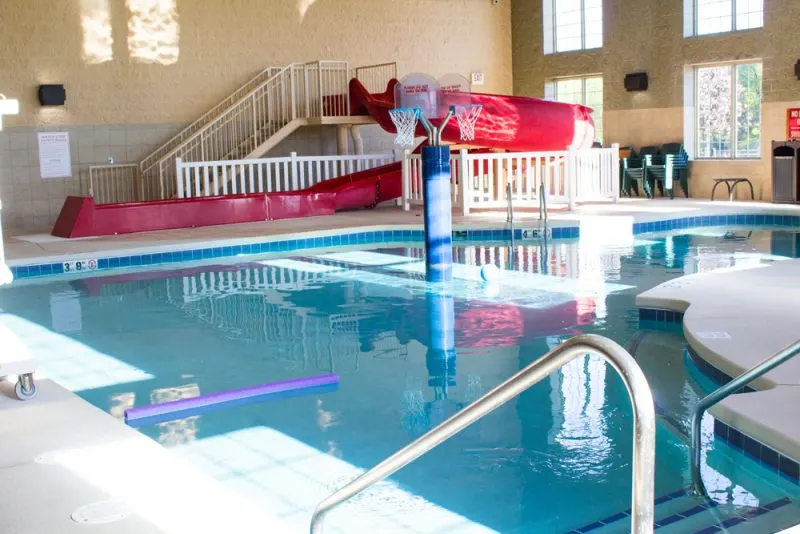 I can't even count the number of times my daughter and I went down the slide, it was more fun than the water parks in the area as far as I'm concerned.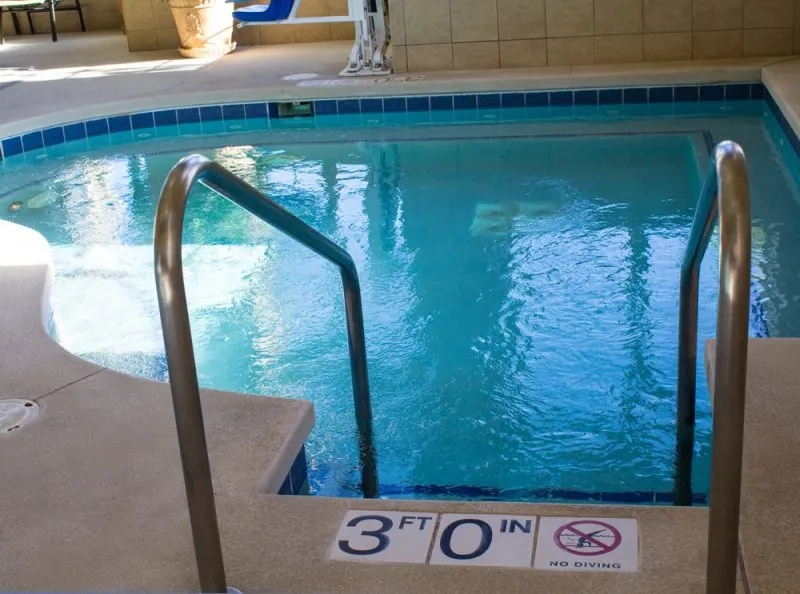 I like that only hotel guests are allowed to swim at the hotel, it really cut down on crowds and even when one area got busy, there was so much to offer that we were able to move to another area.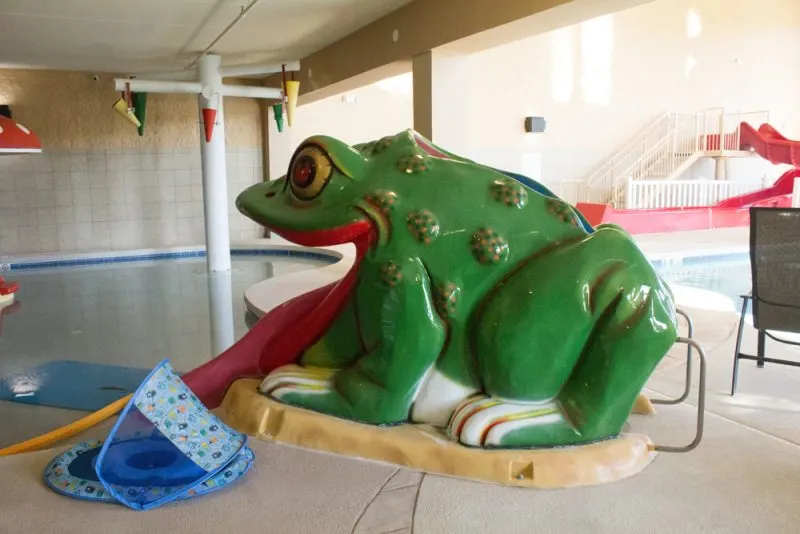 The kiddie pool has it's own splash station with buckets of water dumping periodically and a slide in the shape of an adorable frog.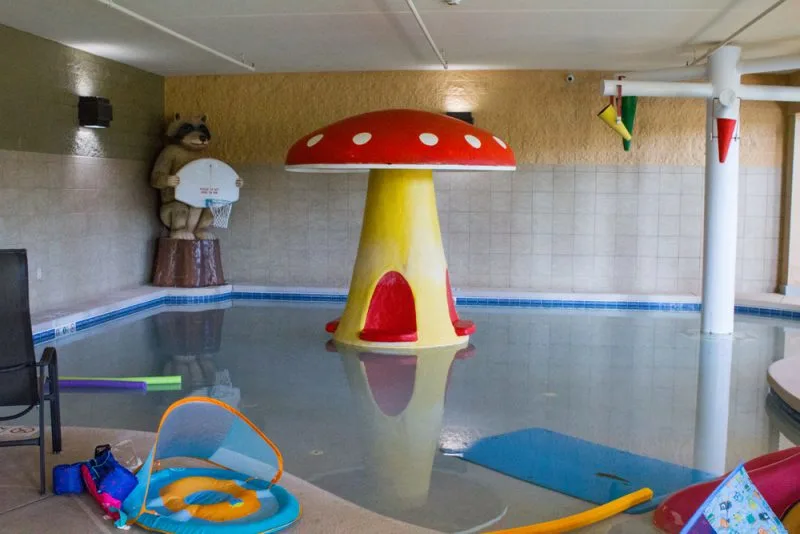 We enjoyed playing basketball in both the big and little pool area as well as all of the fun pool floaties that the hotel provided.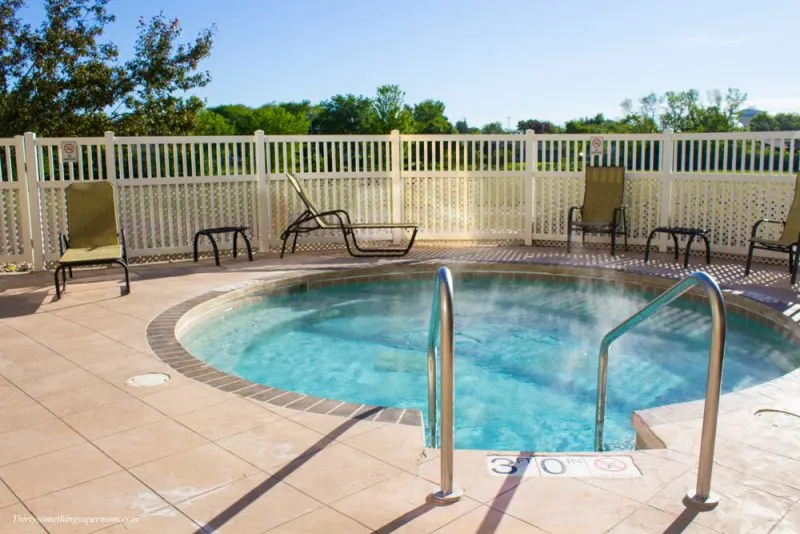 The outdoor hot tube was the perfect temperature and since it got kind of chilly at night, you could see the steam appear at the top of the water. It was a nice sight to see while relaxing in the hot tub.
When planning your Wisconsin travel, staying at the Best Western Premier Bridgewood Resort Hotel in Neenah is not only convenient but it may be the highlight of your trip like it was mine. I cannot say enough nice things about this hotel, it really felt like a home away from home and I wouldn't think of staying anywhere else when planning our next Wisconsin travel adventures.
Does your bucket list include Wisconsin travel? Find out more about what you can expect from a stay at the Best Western Premier Bridgewood Resort Hotel by clicking here.